Best Ways to Flip GIFs on Windows, Mac, Online, and Mobile Devices
Sometimes the key to awesomeness is a trick. Therefore, if you want to create an awesome GIF, do a flip trick then. This will make your GIF more adorable, resulting in a delighted receiver. However, you must remember not to use an ordinary flipping tool. Instead, use the extraordinary ones to maintain the high quality of your GIFs. Even though this trick is easy to do for others, others think it is critical. Hence you could realize how to flip GIFs after reading this entire article full of comprehensive instructions about the tools presented. Therefore, by reading the useful insights below, let's serve this article's purpose.

Part 1. How to Flip GIFs on the Computer
This part will show you the best GIF flippers offline and online tools you should use on your Windows and Mac computers. Therefore, those who are more comfortable editing their files using their personal computer, you better check this out.
Best GIF Flipping Tool Offline
Among the numerous offline media editing programs you see, Tipard Video Converter Ultimate is what we highly consider to be the best. It is a multifunctional video-converting software that comes with numerous tools and features. With its many offered functions, its flipping and rotating functions are one of its simplest yet dominant. You will be surprised that besides its ability to work on GIF files, it also makes users work quickly due to its ability to work on bulk GIFs simultaneously. You've read it right. It can flip GIFs regardless of their numbers at once. At the same time, even though you process countless GIF files, it will seem like you only work with one. That is how accelerated it is because of its advanced acceleration tools that help it to perform an ultrafast procedure. Meanwhile, this Tipard Video Converter Ultimate also comes with a separate video rotator in its Toolbox, where the flipping tool lies. This dedicated tool can customize your output's quality, format, bitrate, resolution, channel, and more.
In addition, this impressive Tipard Video Converter Ultimate enables you to enhance your GIFs to 4K and 8K. And if you want to work on your videos too, this software supports more or less 600 various formats that you can apply for both input and output. Hence, here are the instructions on how to mirror bulk GIFs using this adorable offline tool.
Step 1Click the Download buttons you see below to acquire this tool on your desktop or Mac.
Step 2Once you have installed the software, fire it up and begin to upload the GIFs you need to flip. To do so, hit the Plus symbol at the center of the Converter interface, then you may start locating your prospect GIFs.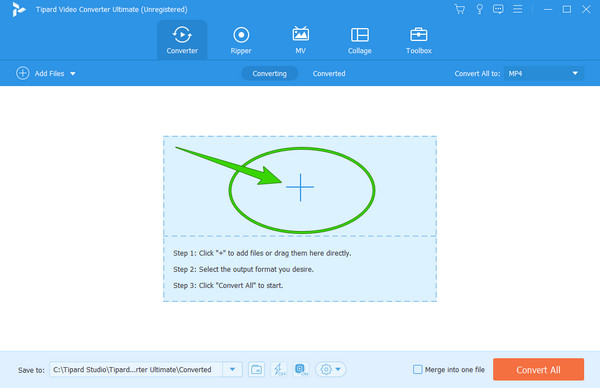 Step 3After you have uploaded all the GIFs, hit the Star symbol under one of them. In a new window, be on the Rotate & Crop menu, for you will see the flipper there. Now, click the horizontal or vertical flip in the rotation, whichever you need for your GIFs. After that, do not forget to click the Apply to All tab to apply the same flip to other GIFs and click the OK button.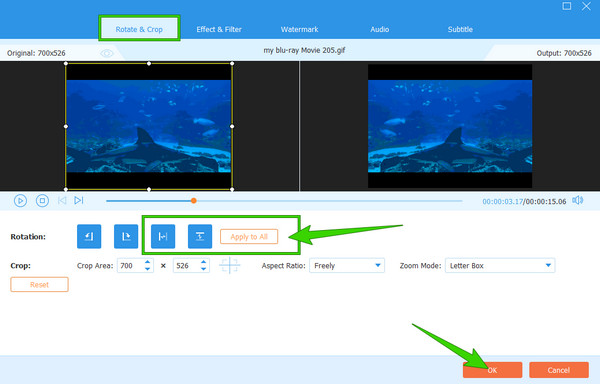 Step 4As quickly as that, you can now save and export the GIFs by hitting the Convert All button. A friendly reminder, before you export the files, please double-check the output format if they are in GIFs. Otherwise, click the Convert All To button and choose the GIF format from the popped-up window.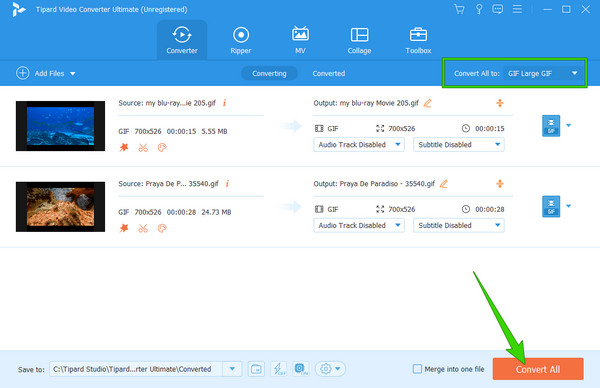 Remarkable GIF Flipper Online
Moving on to the best online tool to edit your GIFs, you can rely on EZGIF. It is a free web-based tool that can help you effectively flip your video vertically and horizontally or even turn it to 270 degrees. Furthermore, this tool supports many video formats besides GIFs as your output and input. What is more impressive is that it has great editing tools that you can use to put effects and filters on your GIFs. However, since you can use it for free, you can only upload up to 100 MB of files to work on. Let's take a look at the guidelines below to learn how it flips your GIFs.
Step 1Start by visiting it on your web browser. Then, you can upload your GIF files from your local folder or by pasting the GIFs' URL.
Step 2Now tick whether the Flip (Vertical) or Flip (Horizontal) options are located under the preview section. Then, click the Apply Rotation button.
Step 3Once the flip has been made, hit the Save button below the GIF output and save it.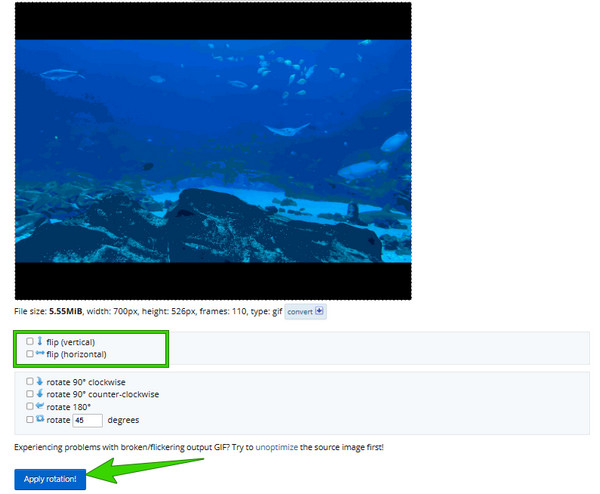 Part 2. How to Flip GIFs on Mobile Device
We won't let this slide without presenting effective ways to flip your GIF files using your mobile device.
How to Mirror GIFs on Android
If you are using an Android phone, then you better use Video Editor. It is a free app that doesn't only flip videos and GIFs efficiently. You will also appreciate its comprehensiveness and smoothness in the procedure, for it is easy to use, as shown in the steps below. Click here to learn how to reverse GIFs.
Step 1Get the app from the Play Store and launch it. Then, tap the Flip Video selection and upload the GIF you need to flip.
Step 2A small window will pop up, wherein you need to tick on the kind of flip you want to apply.
Step 3After that, tap the Done button and proceed to its saving procedure.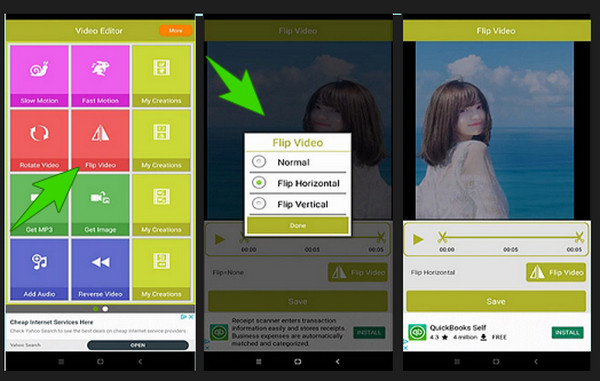 How to Flip GIFs on iPhone
We are glad to announce that your Photos app can do the trick for iPhone users. This means, unlike on Android, you won't need to install any third-party app just to flip your GIFs. If this excites you, then immediately proceed to the steps below.
Step 1Open the Photos app, and reach to open the GIF file you want to flip.
Step 2Once reached, tap the Edit tab, followed by tapping on the Crop icon. Then, you will see the flip icons above the cropping icon. Tap it.
Step 3Subsequently, tap the Done button to save the changes on the GIF. Click here to learn how to flip videos on an iPhone.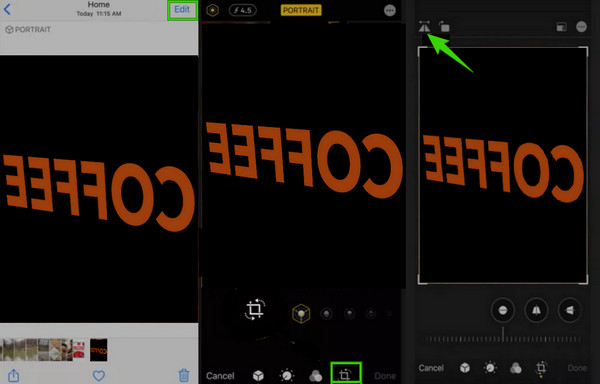 Part 3. FAQs about Flipping GIFs
How to flip a GIF on Instagram?
Unfortunately, Instagram doesn't support a GIF file type. Hence, there is no way you can flip a GIF in there. However, to do your task still, you can fulfill it by utilizing Tipard Video Converter Ultimate.
Can I mirror my GIF using the Photos app on Android?
No. Unfortunately, the Photos app on most Android phones doesn't have a flipping function.
Which is safer to use in flipping GIFs, online or offline?
Conclusion
With the great ways to flip GIFs presented in this post, you can flip your files anytime and anywhere with any device to use. You can use any of them as you wish, but you better use Tipard Video Converter Ultimate if you want a more excellent and seamlessly high quality.