How to Upload Videos to GoPro Cloud: Unleash Its Profile and Potential
Should you get this subscription from GoPro to access and have complete control over your GoPro Cloud media online? But first, what is the Cloud that GoPro offers? Grab the whole picture of this so-called Cloud, and see how you can maximize its utilities with the help of the right tools to access it. Through this article, you will also have ways how to manually or automatically upload your GoPro videos to the Cloud online and using your desktop and mobile phone. All those particulars are discussed below.

Part 1. What is GoPro Cloud
The GoPro Cloud Storage is one of the greatest perks of the GoPro Subscription. As a matter of fact, it has been the service's core element that allows customers to safely back up all their videos and photos online. The process of backing up the media files can be done with the help of the Wi-Fi from the GoPro's camera, through an app called GoPro Quik when using a mobile phone, and through GoPro.com when using a computer.
The media files that are stored in this Cloud are secured to be stored at their 100 percent quality. This means when pulling the videos and photos for editing and saving, no degradation is done. Furthermore, once you subscribe, you can access GoPro Cloud from PC and smartphones unlimitedly, making you store many files as you want.
Subscription Plan
GoPro can be used for free but doesn't have a free subscription. And as mentioned above, to access the Cloud of GoPro, you will need to subscribe to its plan, as described in the details below.
• GoPro subscription offers a monthly plan for $4.99 and an annual one for $24.99.
• If you happen to subscribe to GoPro Quik Cloud, it will cost you $1.99 per month or $9.99 per year.
Storage Limit
With any subscription plans you plan to get, you can assure that both resources offer unlimited storage for the Cloud. This means there is no storage limitation you need to worry about. And while you gulp into this information, you can also digest that all GoPro models, especially the HERO5, offer unlimited storage and a full replacement if needed. If you are unsatisfied with the GoPro cloud and happen to be an Apple user, iCloud might cover your needs while storing and syncing all your GoPro videos across Apple devices.
Part 2. How to Access the GoPro Cloud on Various Devices
There are three ways how to access GoPro Cloud and your media files saved there. You can use the GoPro Quick on your mobile on a desktop; the online way, through GoPro.com.
Through GoPro Quick on Mobile Phones
Step 1Install the GoPro Quik on your phone, and launch it.
Step 2Tap the Media button.
Step 3On the set of options, tap the Cloud button.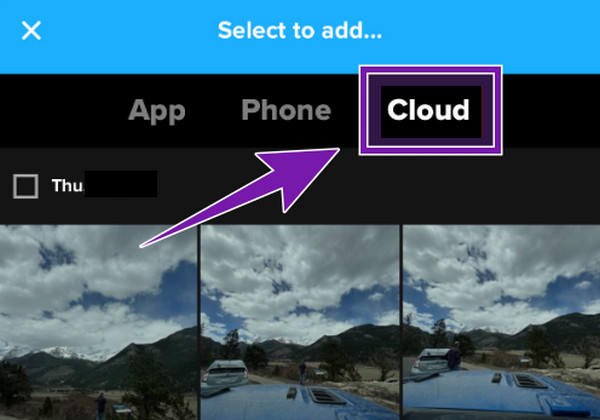 Through GoPro Quick on Desktop
Step 1Open Quik on your desktop.
Step 2Create a login account using your credentials.
Step 3After logging in, you will automatically get to the Cloud to populate your media.
Through GoPro.com
Step 1On your desktop browser, visit the GoPro.com site.
Step 2Click the Profile button, and log in using your subscription.
Step 3Then, click the View My Media button.
Part 3. How to Upload GoPro Videos to Cloud
Please note that with your paid subscription to GoPro, you can manually and even automatically upload your video recordings and content. How? Read along below.
Auto Upload Setup on Quick App
Step 1Launch the app, tap the Mural button, and go to the Settings tab menu.
Step 2Once you get to Settings, tap the My Account option.
Step 3Look for the Mobile Upload option and toggle it by sliding it to the right till it turns blue.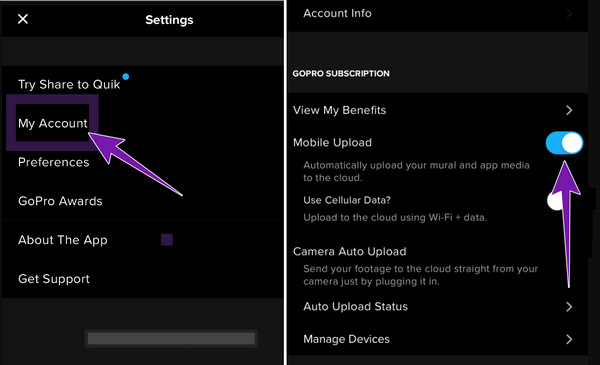 Manual Upload on GoPro.com
Step 1Login to your account when you reach the official website./p>
Step 2When you get to the My Media menu, click the Add Media button.
Step 3Then, click the Upload Your Media button on the popped-up options to upload the files. Otherwise, you can do the fastest way to upload gopro videos to the Cloud via drag and drop procedure.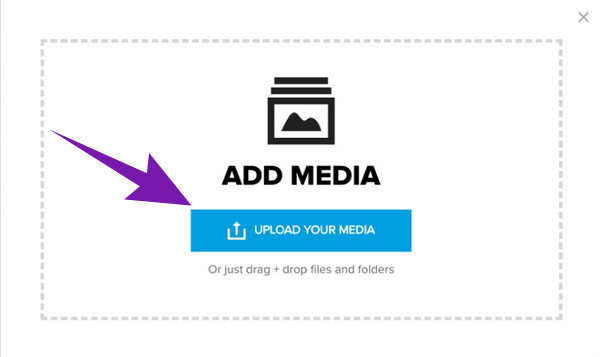 Bonus: Best Recommendations to Convert and Edit GoPro Videos
You will never go wrong if you convert or edit your recorded videos before uploading them to your Cloud. In that case, utilize the Tipard Video Converter Ultimate if you want an all-out conversion and professional-like enhancement for your files. This amazing software can convert any UHD, 4K, 5K, and 8K videos while maintaining their quality. Furthermore, its set of editing tools will strike you as it comes with an AI-powered video enhancer, cropper, trimmer, compressor, watermark remover, speed controller, color corrector, and many more.
So if your GoPro videos are not showing in the Cloud, Tipard Video Converter is a good solution to fix it. How? It can convert your GoPro videos to more than 500 various formats like MP4, WMV, AVI, MPEG, MKV, VOB, etc. Then, you can also enjoy its ultrafast batch conversion with the same level of output quality to expect. It is why many professionals recommend this Tipard Video Converter Ultimate in spite of the easy-to-master interface it offers.
Quick Steps to Convert GoPro Videos
Step 1Launch the best video converter after installing it. Click the Plus button and upload all your GoPro videos.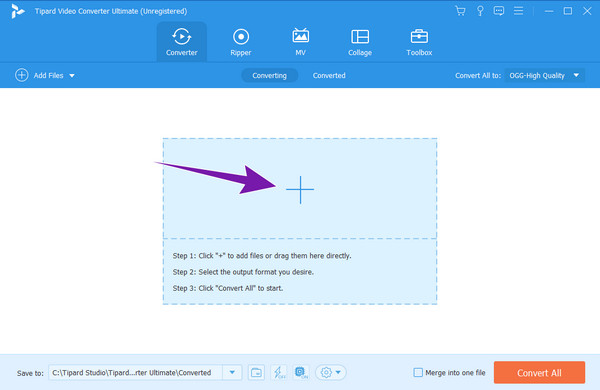 Step 2Go to the Convert All to portion and choose your desired format.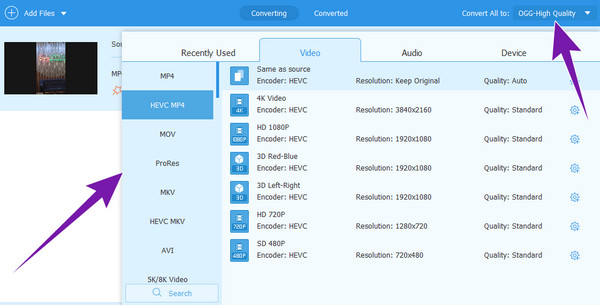 Step 3Hit the Convert All button and experience the ultrafast conversion process.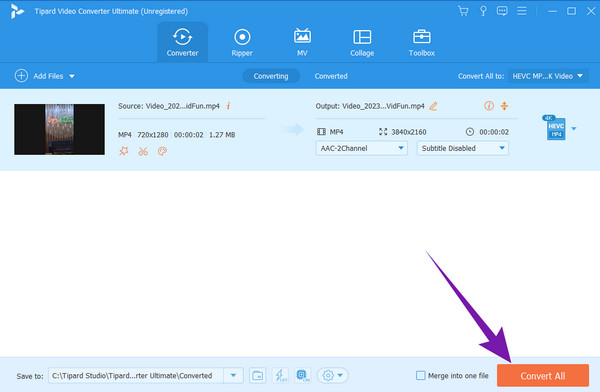 Part 4. FAQs About GoPro Cloud
Does GoPro Cloud store files in full quality?
Yes. GoPro stores media files in their full quality. Thus, if you are subscribed to GoPro, do not hesitate to back up your video and photo files by uploading them to the Cloud since it maintains the original quality of files.
Is there a file size limit for GoPro Cloud?
No, there is no file size limit for storing in GoPro Cloud if you are a subscriber.
Can I use GoPro without a subscription?
Yes, GoPro offers a free trial version that enables you to take advantage of some of its features. However, if you want to access its Cloud storage, you will need to unlock it by subscribing to its plans.
Does GoPro have free Cloud storage?
Unfortunately, GoPro's Cloud storage is still integrated with its subscription services. Even its free trial version doesn't come with free Cloud storage.
Conclusion
Indeed, the GoPro Cloud is the storage you need to back up your video and photo files and access them even without your GoPro device. While it gives you security to maintain and keep your original GoPro files, it is good to know that it can't give you free access. Nonetheless, money won't be an issue if it can cost you peace in keeping your files safe. Meanwhile, if you need to edit and transform your videos of any kind, don't forget to use Tipard Video Converter Ultimate.