The Most Effective Way on How to Improve GoPro Video Quality using Tipard Video Converter Ultimate [2023]
Do you want to improve your GoPro-captured videos that are hazy or unsatisfying? If yes, this is possible with the support of this tutorial, which will walk you through how to improve GoPro video quality. But first, this post will explain the factors that contribute to having low-quality GoPro films, such as why they appear blurry, unsteady, or sound noisy. And, because we want to assist you in resolving your issues, we give Tipard Video Converter Ultimate the most dependable program for improving video quality. This program includes a Video Enhancer feature that allows users to enhance unclear movies effortlessly. The program is available for free download and is compatible with Windows and Mac operating systems. This post will also offer you instructions on utilizing the software and its capabilities.
Furthermore, this article will teach you how to capture high-quality GoPro footage. That is why you should not quit reading this and instead stay in touch till you thoroughly grasp how to improve GoPro video quality.

Part 1. The Reasons Why GoPro Videos Are in Poor Quality
You may be wondering why your video clips using a GoPro camera are grainy, shaky, or sound noisy. As a result, we will provide trustworthy information on why these things occur. The first is that GoPro recording settings such as high ISO, quick shutter speed, and high frame rate increase the chance of grainy or noisy footage. The second issue is low light conditions, such as recording footage with a GoPro camera indoors or at night. The third problem might be using an unauthorized SD card; utilizing an unsupported SD card may cause pixelation of HD footage. The last reason your films become grainy, shaky, or sound noisy is attributable to poor video compression.
You may be one of the users experiencing this issue. Still, Tipard Video Converter Ultimate can undoubtedly solve your troubles within just a few clicks. That is why you should read on to the following section of this post to learn more about its capabilities.
Part 2. How to Improve GoPro Video Quality
It may seem impossible to retrieve video files from a GoPro camera, but Tipard Video Converter Ultimate is achievable. So, let's look at what this program can accomplish for you.
Tipard Video Converter Ultimate is a powerful video converter that improves GoPro video quality. Why? Because this program includes a Video Enhancer tool that offers various options such as Upscale Resolution, Optimize Contrast and Brightness, Reduce Video Shaking, and Remove Background Noise. This one provides a free download version that allows you to install and use it for free on either Windows or Mac systems. But if you wish to have all of its features, you can purchase its premium version for a minimal price. The good thing about this video converter software is that it is straightforward due to its intuitive and primary interface. As a result, its features and operations are conveniently accessible.
And, to completely grasp and analyze its characteristics, you can read the list below, which comprises the software's key features. Following that, this post will show you how to improve GoPro video quality with Tipard Video Converter Ultimate.
Main Features of the Tipard Video Converter Ultimate:
1. It has a toolbox that includes Video Enhancer, GIF and 3D Maker, Video Trimmer, Media Metadata Editor, Video Speed Controller, Video Rotator, Volume Booster.
2. It can convert over 1000 different file formats.
3. It supports 8K/4K/HD videos.
4. It can rip and copy homemade DVDs to ISO files, DVD folders, and MPG files.
5. It includes a video editing tool like cropping, watermarking, cutting, etc.
6. It has a GPU acceleration.
Step 1Download the software and go to the Toolbox
Please use your browser to look for Tipard Video Converter Ultimate. Then, click the download option that corresponds to your PC on the main page. After that, begin to install it on your computer and open it. Then, pick the Video Enhancer tool from the Toolbox.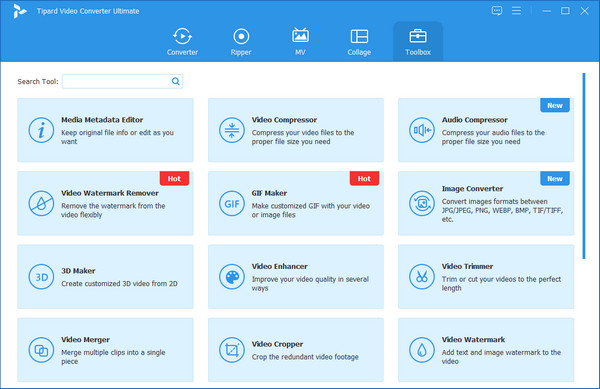 Step 2Upload GoPro Video File
After selecting the Video Enhancer feature, a new window will appear with a (+) symbol button in the center of the screen. Click or drag a GoPro video file from your computer's file folder to upload it.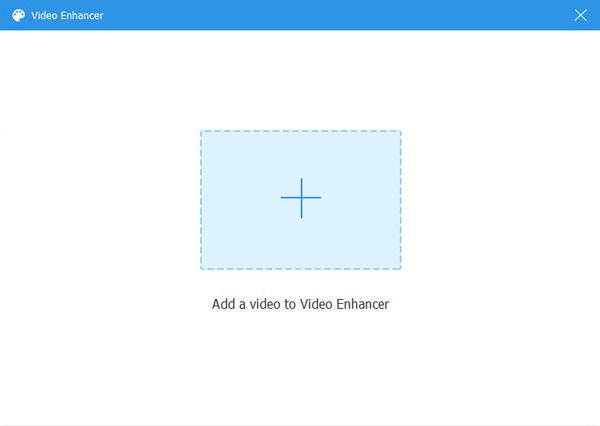 Step 3Improve GoPro Video Quality
After a few seconds, you will notice another window with options such as Optimize Brightness and Contrast, Upscale Resolution, Remove Video Noise, and Reduce Video Shaking. And also, don't forget to check all the boxes beside each option to improve GoPro video quality.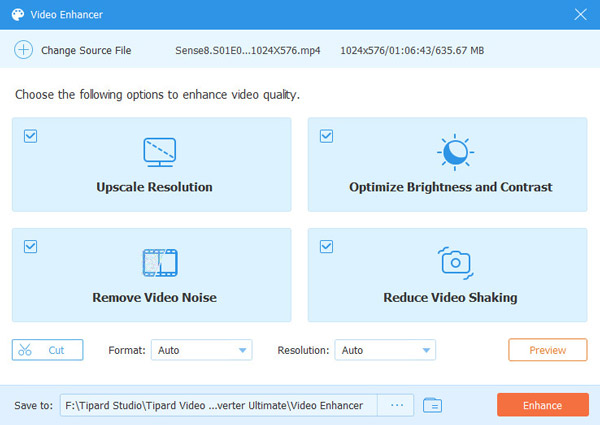 Step 4Choose a file location and Save the new Video Output.
After checking all the boxes, go to the Save to section and select a location for the new file. After that, you can preview the new video to see the result. Once your movie is OK, click the Enhance button to save the new video output.
Step 5Watch GoPro new Video Output
Finally, you can now play your GoPro video in high quality with Tipard Blu-ray Player in high quality. And you can use this software to improve other videos' quality.
Part 3. Tips to Shoot High-Quality GoPro Videos
Let us now proceed to some tips on shooting high-quality GoPro Videos.
1. Before filming, a film in well-lit places to minimize grainy video.
2. While filming, use proper GoPro settings to avoid grainy footage.
3. As a result, you must select a low ISO level, reduce the shutter speed, adjust the aperture, take video at a lower frame rate, maintain the sharpness on low or medium, and keep the white balance on auto, etc.
4. After filming, use video editors to eliminate grain in the footage. You can use Tipard Video Converter Ultimate.
Part 4. FAQs on How to Improve GoPro Video Quality
How to upload high-quality GoPro videos to YouTube?
Install the GoPro app to upload high-quality GoPro footage to YouTube. However, there is no possibility of directly submitting videos to sites like YouTube. On the other hand, the GoPro app allows you to export video files to your phone and then post them to YouTube.
What file types are GoPro cameras capable of producing?
GoPro cameras generate MP4 and HEVC data. MP4 is a format that can support numerous video editing tools. However, HEVC requires a higher powerful graphics card to play smoothly.
Is it possible to watch GoPro videos on Windows 10?
GoPro is a producer of action video cameras. And they can record videos in 4K resolution. However, there have been reports of GoPro video playing difficulties on Windows 10. The majority of these problems are the lack of codecs or the video compression option of GoPro cameras.
Conclusion
Finally, we hope you can now successfully recover your GoPro camera movies by following the best approach on how to improve GoPro video quality. As a result, you should not overlook Tipard Video Converter Ultimate because it will undoubtedly meet your requirements. This program includes a robust Video Enhancer tool for recovering all of your fuzzy films, including footage from your GoPro camera. In addition, if you have any additional concerns, please get in touch with us, and we will gladly address them.
Also, if you find this material useful, please share it on your social media platforms so that others can also benefit.