Top 5 DivX Video Players to Playback 4K DivX Movies without Lag
Whether you download some movies online in MP4 format, or AVI format, you might find the files are encoded with DivX video codec. It is a popular video codec that supports 4K, high definition, and high-quality playback. What are the best DivX video players to watch the movies with the best audio-visual experience? The article shares the 5 best DivX players for Windows and Mac. Just learn more about the excellent features and choose a suitable one according to your requirement.
Part 1: 5 Best DivX Video Players for Windows and Mac
Top 1: Tipard Blu-ray Player
Tipard Blu-ray Player is an all-in-one DivX player that is capable of playing various kinds of DVD/Blu-ray movies, 4K and 1080P DivX codec movies, and other popular video/audio formats. It has an easy user interface that gives the audience home theater visual enjoyment. Moreover, you can choose titles and you can find interesting film bloopers.
1. Support all video formats, including MP4 and AVI with DivX video codec.
2. Play audio files with some advanced built-in audio encoding technologies.
3. Choose the desired audio track, subtitle, and chapter during the playback.
4. Grab your favorite moment and save it as an image file in the form of JPEG.
Top 2: VLC Media Player
VLC Media Player is a popular DivX player that supports 4K video formats. It has basic playback features, such as playback frame by frame, speed control, and time shift for DivX files. It also enables you to add subtitles of a DivX video within the program.
1. Support most of the video codec, including MPEG-1, MPEG-2, DivX, etc.
2. Easy and user initial user interface to play the high-quality DivX movies.
3. Enhance the sound of DivX files without distorting with an equalizer filter.
4. Provide a built-in DivX converter to transcode DivX to another video format.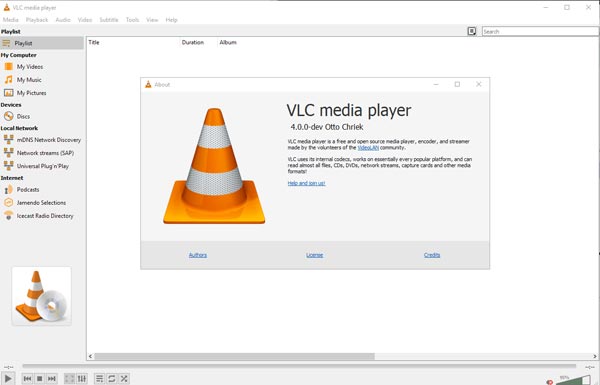 Top 3: KM Player
When you want to playback ultra high-quality DivX videos, KM Player is a DivX player to enjoy high-quality videos, such as 4K, 8K, UHD, and 60FPS. It enables you to create different playlists for your music and movies. Moreover, there is a control box for audio, video and subtitle.
1. Improved performance to increase the playback speed of DivX contents.
2. Sync and stream the DivX content from a computer to a smartphone.
3. Resize, Align and Reposition the subs using simple hotkey combinations.
4. Provide DXVA acceleration to ensure the smooth playback of DivX videos.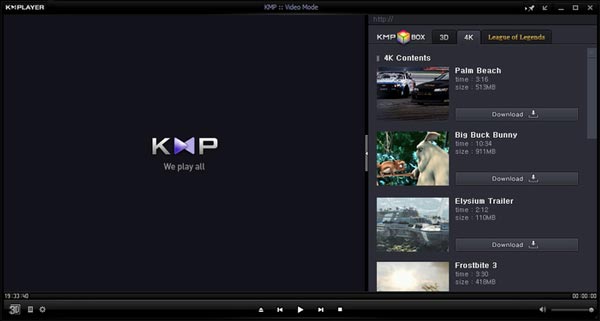 Top 4: GOM Player
GOM Player is another free DivX video player for Windows. It allows you to find the DivX codec, play damaged files, or downloaded videos. You can search and sync the subtitles for the playing movies automatically from the collected Subtitle Library.
1. Provide a comfortable playback environment that does not display ads.
2. Support AVI, MP4, WMV, MKV, and more other formats with DivX codec.
3. Play 1080P or 4K DivX codec movies in original quality without buffering.
4. Enjoy a high level of immersion in a 360-degree mode in your possession.
Top 5: Windows Media Player
Windows Media Player is well equipped with and all major audio and video formats, including DivX codec. As the built-in DivX player for Windows, you can simply click the DivX movies to play the high-quality videos with Windows Media Player without downloading.
1. Provide intuitive navigation of the audio and video library and interface.
2. Create playlists for the DivX movies by actors, genre, rating, and more.
3. Enable you to play some audio and video streams directly from the Internet.
4. Extend the features of the DivX player with any advanced plugin online.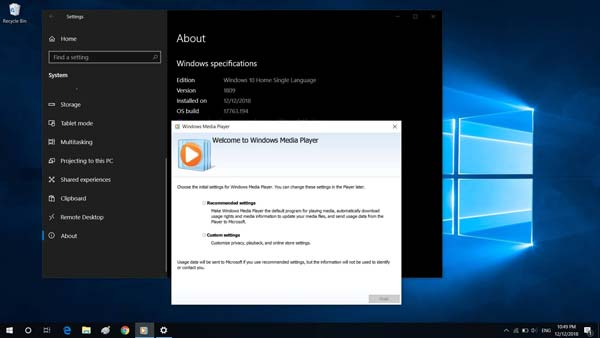 Part 2: FAQs about DivX Player You Should Know
1. Where Can I Download DivX Codec for a Media Player?
If you just download the DivX codec for your media players, such as QuickTime or Windows Media Player, the K-Lite video codec pack is one of the best choices. Moreover, you can also go to divxmovies.com/codec to download the video codec and turn your media player into a DivX Player.
2. Where Can I Download DivX Movies for a DivX Player?
Once you have installed a DivX player, you can go to AZMovie.to, Popcorn Flix, Tubi TV, Retrovision Classic Movies, SnagFilms, The Internet Archive, and more other websites to download the DivX movies with high quality. But you have to learn more about the restrictions beforehand.
3. How to Choose DivX Codec for Playback with VLC Media Player?
Go to the Tool menu on VLC Media Player, you can choose the Preferences option. Check the All option under Show settings for advanced preferences. Then you can click on the Input / Codecs option to choose the maximum video quality for the DivX Player in Preferred video resolution.
Conclusion
When you need to play high-quality DivX movies, you can learn more about the 5 best DivX video players from the article. If you want to enjoy high-quality DivX movies from different channels, including DVD and Blu-ray disc, Tipard Player is the desired one that supports 4K video formats. Just free download the program and have an excellent audio-visual experience.