What You Should Do When Videos Are Not Playing on Chrome
"I just tried to play a YouTube video in my Chrome browser, but the video does not play or load at all, how to fix this problem?" According to google, some videos are not playing on Chrome due to extensions, plugins, something saved in your cache or browser data. It sounds not complicated, but you may feel confused when it comes to fix videos issues in Google Chrome if you do not have technical skills. Here are 8 solutions to resolve it quickly.
Part 1: How to Fix Videos Not Playing on Chrome
Solution 1: Restart Router
Playing online videos requires lots of traffic. So, when video stop playing on Chrome, the first thing you should do is to restart your router. There is a physical button labelled on/off. Just press it to turn off your router and then power it back on. Or take off the power plug, wait for 30 seconds and plug in the power.
Solution 2: Update Chrome
The outdated Chrome may lead to video not playing as usual. The solution is simple, updating your browser right now.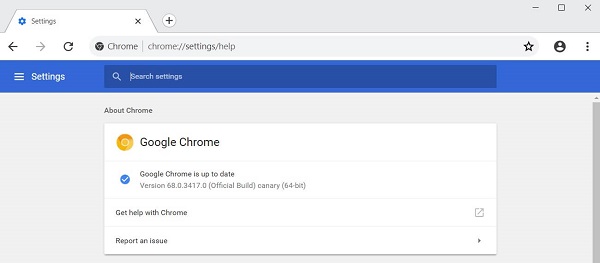 Step 1Open Chrome, click the More icon at the upper right corner, select Help and choose About Google Chrome.
Step 2Then you will get the current version number and check for the updates automatically. If there is an update available, Chrome will install it immediately. Then you can try video playback again.
Solution 3: Check the Video
Sometimes, the video is responsible for the playing issue on Chrome. For example, the video is private. To check the video status, follow the steps below: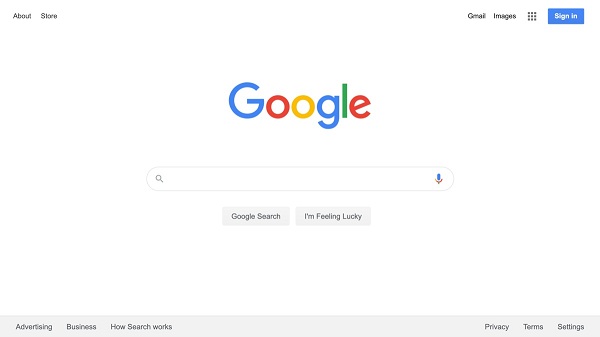 Step 1Open Google or other search engine in Chrome.
Step 2Search for the video name. If you cannot find the video link, it is not available to public.
Solution 4: Enable JavaScript
Some videos are encoded with Java Script. If the language is disabled, video won't play on Chrome. Fortunately, it is not difficult to enable JavaScript.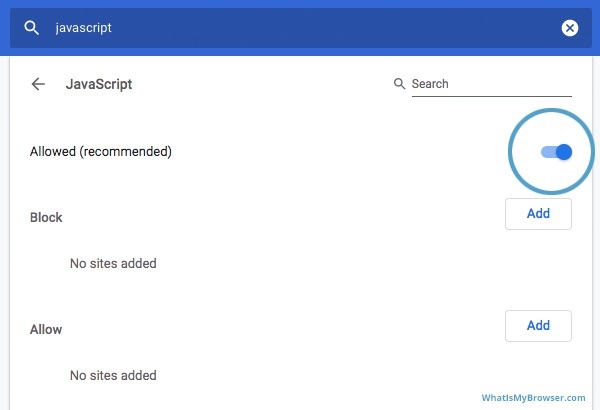 Step 1Click More option on Chrome, select Settings, choose Privacy and security, and then Site Settings.
Step 2Scroll down to find JavaScript section, and toggle on Allowed option.
Solution 5: Install Adobe Flash
By default, Adobe Flash is disabled on Chrome. That may be the reason why videos are not playing on Chrome. Here are the steps to fix it: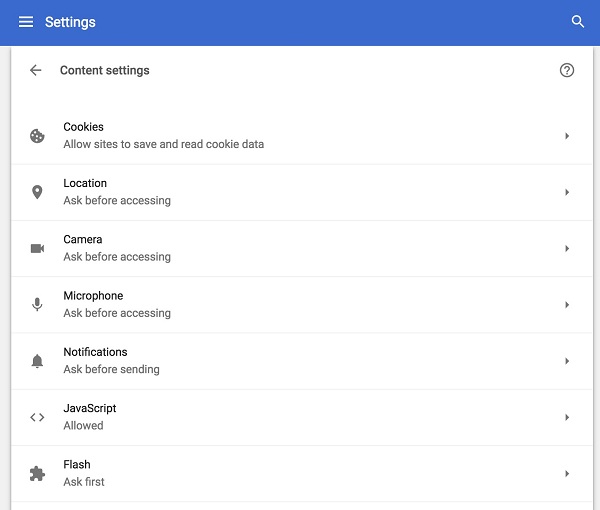 Step 1Type chrome://settings/content in the address bar of your Chrome and press Enter key.
Step 2Find the Flash option and click on it, and select Ask first or Allow.
Solution 6: Clear Cache
Too much cache data is another reason why YouTube videos are not playing on Chrome. The steps below show you how to clear Chrome cache.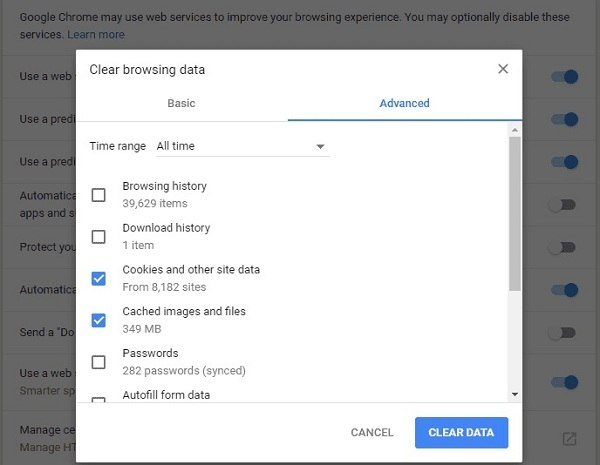 Step 1Also click the More button on Chrome, hit More Tools, and select Clear Browsing Data.
Step 2Choose All time from the Time range option. Check Cookies And Other Site Data, Cached Image And Files, and more.
Step 3Click the Clear Data button.
Solution 7: Disable Extensions
As Google said, extensions may lead to your videos not playing on Chrome as usual. You can try to disable them and try the online video again.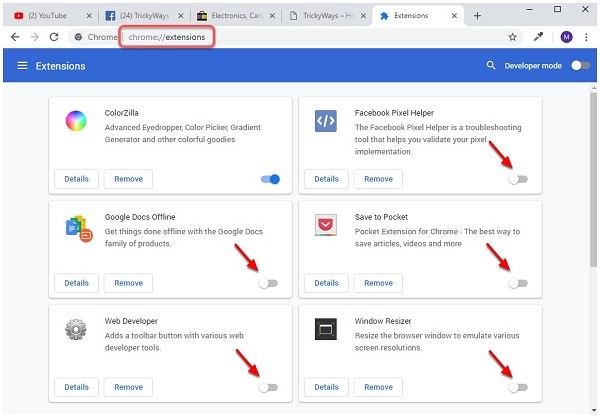 Step 1Input chrome://extensions into the address bar on Chrome, and press Enter key.
Step 2Then you will get all extensions on your browser. Toggle the switch off and it will be disabled. You can also remove unneeded extensions here.
Solution 8: Disable Hardware Acceleration
Sometimes, Chrome use your GPU to render online videos. If your GPU is too busy, videos won't play on Chrome. Disabling hardware acceleration will fix it.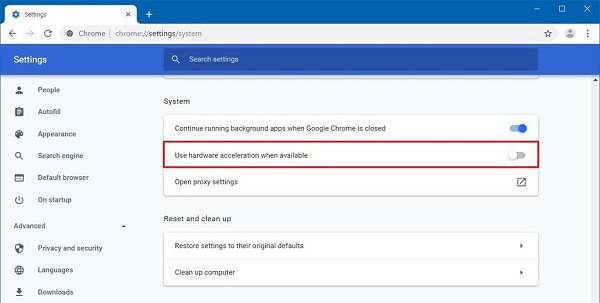 Step 1Access chrome://settings/system in Chrome to open the System settings page directly.
Step 2Scroll down to find Use hardware acceleration when available and toggle it off.
Part 2: Best Alternative Way to Watch Videos
When videos are not playing on Chrome, the best alternative solution is to watch your videos offline with Tipard Blu-ray Player. It is a powerful media player offers pro-level features in the way that everyone can learn in seconds.
Main Features of the Best Video Player
1. Compatible with almost all video and audio formats.
2. Play Blu-ray and DVD discs/folder/ISO images.
3. Keep 4K, UHD, 1080p HD videos with the original quality.
How to Play Video When Chrome Not Working
Step 1
Open a video
Launch the best video player after you install it on your computer. It is compatible with both PC and Mac. Then click Open File button and open the downloaded video you want to watch. To play optical disc, hit Open Disc instead.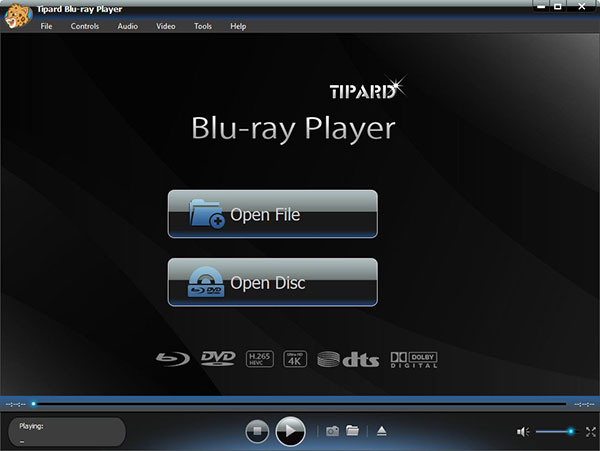 Step 2
Control video playback
After video loading, you will see the main interface. You can fast forward, rewind, pause, and stop the playback with the buttons at the bottom. The Camera icon is used to take screenshots. To get more advanced controls, locate the top menu bar.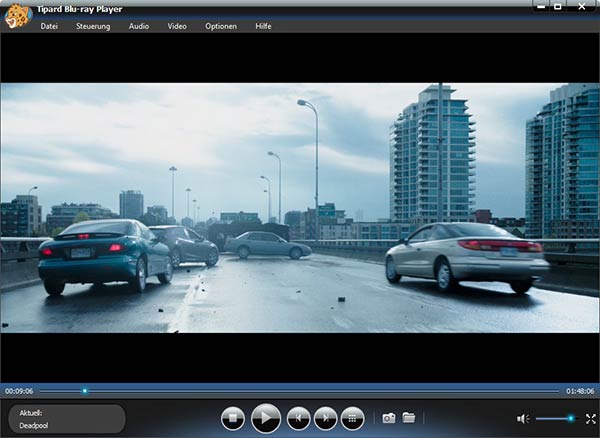 Part 3: FAQs about Video Not Playing on Chrome
Why are YouTube videos not loading?
The reasons why YouTube videos are not playing include poor internet connection, outdated software or app, browser issue, and more. When the problem happens, you can check these causes and fix it.
Can Chrome play videos?
Chrome is able to play HTML5 and flash videos on websites. However, it is a web browser but not video player, so it is not available to video files on your hard drive.
Why is VLC not playing videos?
Sometimes, VLC won't work or play video files normally. The main reasons are the video codec issue. In such case, you can try an old version of VLC or convert the video files.
Conclusion
This piece of troubleshooting has talked about how to fix the issue that videos are not playing on Google Chrome. If you encounter the same problem, you will find this post very helpful. The solutions can help you resolve the issue in various situations. If the problem persists, download the video and play it in Tipard Blu-ray Player directly. This media player also supports playing Blu-ray and DVD movies with ease. More questions? Please contact our support team by leaving your message below.