How to Crop a Video on iPhone: Learn the Best Practice
Leave no trace of the unwanted area on your video by cropping it. If you use an iPhone, then you shall be wise enough to handle the captured video, for they will indeed have a seamless quality, unlike the others. This is why everyone is asking how to crop an iPhone video without damaging the quality. As this has been one of the frequently asked questions that we always get, we have decided to provide and teach proven ways to crop a video on iPhone. Therefore, iPhone users make time to read this entire article to learn something helpful today. So, without further adieu, let's get it on.

Part 1. How to Crop iPhone Videos on a Computer
If you want to use your computer and wish to learn how to crop a video for iPhone, then make sure to use Tipard Video Converter Ultimate. We recommend this video cropping software since we know how troublesome it is to cut the video display using a mobile device. This popular video editing software offers many outstanding features. One of its features is the Toolbox, which has multiple tools you can lavish, including the video cropper. Furthermore, this tool will allow you to breezily change the aspect ratio of your video by choosing from the options of 16:9, 4:3, 16:10, 21:9, 1:1, and more. On top of that, it also enables you to personalize your output's video quality, resolution, frame rate, encoder, audio bitrate, channel, and sample rate.
What's more, as its name suggests, besides the video cropper, it is the ultimate video converter that converts your numerous videos to various formats without losing the quality. In addition, this Tpard Video Converter Ultimate allows you to make your own music video easily and as quickly as using three steps. These are just a few of its whole, and many more reasons to use it for your video files. Meanwhile, the guides below will teach you how to crop an iPhone video on a computer.
Step 1Before you begin the task, you must install the software on your computer device first. If you want, you can click one of the Download buttons below that fits your computer's OS.
Step 2Once the software is available, run it and click the Toolbox option from the menus above. Then, on the next window, look and click to open the Video Cropper tool among the tools. Now on the popped-up window, click the Add icon you see at the center. This is to upload the video you need to crop.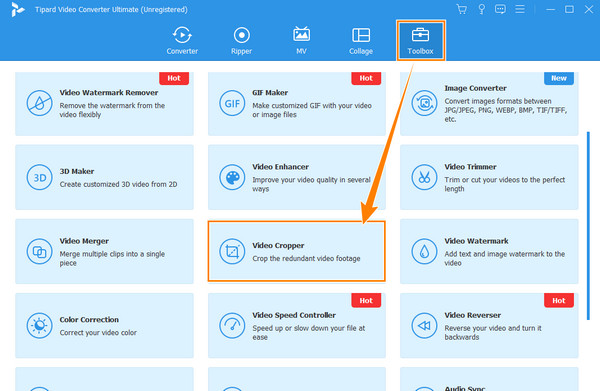 Step 3Then, you can directly crop the video on the main cropping interface by dragging the yellow Cropping Bar freely. Also, you can navigate the Crop Area and Aspect Ratio options alternatively.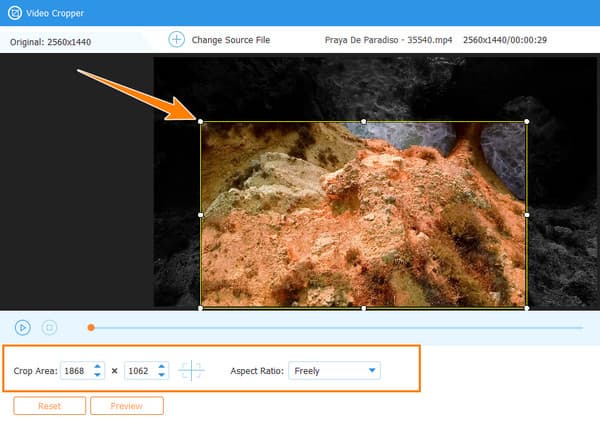 Step 4Once you are done with the cropping procedure, you can click the Coggle icon to access the output settings. Otherwise, click the Export tab at the corner right of the interface. Then, after the quick process finishes, click the OK option from the dialogue prompt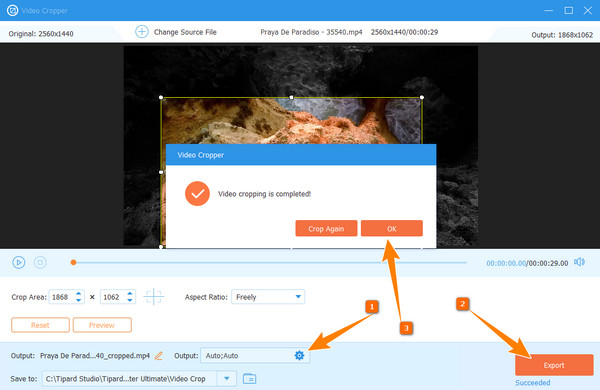 Part 2. How to Crop a Video of Android in Google Photos
Photos app is the tool if you can't help but use your iPhone device to crop your recorded videos. It is the initial method that an iPhone user can utilize, for it is a built-in storage app with basic yet essential editing tools, including cropper. Aside from that, it also provides various choices of effects and filters that will bring more radiance to your video clips. Therefore, prepare to follow the how-to-crop a video iPhone steps on the Photos app.
Step 1Launch the Photos app, and open the video you want to crop by tapping it from the gallery.
Step 2Then, tap the Edit tab at the top right corner of your screen once the video is playing. On the next page, tap the crop icon and begin cropping the video by adjusting the white line boarding the video.
Step 3After that, tap the Done button when you get your desired crop.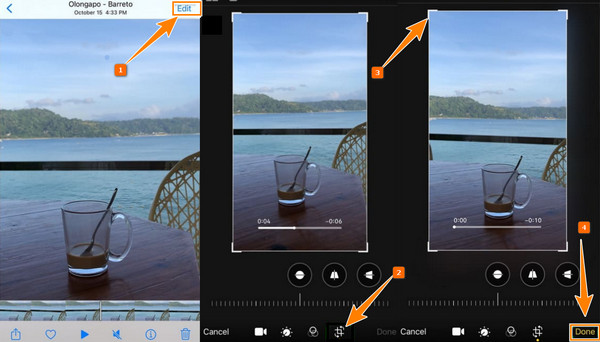 Part 3. How to Crop a Video with iMovie on iPhone
Another recommended app to use on your task is iMovie. It is the all-out movie maker and video editing tool that Apple patrons can use for both Mac and iPhone. Furthermore, it holds various features that you can use for free. And when we say it is free, you can use it without limitations. Despite that, you can also use it to work on 4K videos. Meanwhile, iMovie crops video on iPhone by just pinching the video display and zooming it in and out. It is quite an exciting method since it is super easy to do. You also can use iMovie to cut videos. However, not all like how their videos need to be zoomed in first, making them find another solution to make. On the other hand, if you want to try it, you can follow the quick steps below.
Step 1Run the iMovie on your iPhone and load the video when you tap Create Project>Movie. Then, tap the video you need to work on.
Step 2When the video is on the screen, tap it on the timeline. Then, tap the Magnifying Glass or pinch the video and spread it wide to zoom it in.
Step 3After that, tap the Done button to save or share the cropped video.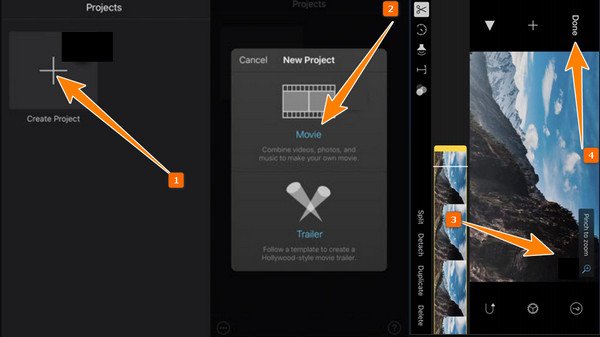 Part 4. FAQs about Cropping Videos on iPhone
Does iMovie crop video on iPhone with a watermark?
No. iMovie doesn't produce a watermarked output. This app is a beautiful app that won't impart its name on your video or photo files. Likewise, it cannot remove the watermark from your files because it doesn't have a tool.
Does video cropping damage the quality?
Yes. Cropping a video is a process that involves re-encoding. This re-encoding causes a downgrade in the video quality. Hence, it is very important to use a powerful cropping tool such as Tipard Video Converter Ultimate to maintain or enhance the quality.
Can iPhone share my cropped video online?
Yes. iPhone will save the cropped videos in the storage, and you can post them online by tapping the share button.
Conclusion
After learning how to crop a video iPhone with the steps in this post, you can now do it on your own. You don't need to install a third-party application on your iPhone to crop your videos proficiently. IMovie and Photos apps are good enough. However, if you want an all-out video enhancement and editing, Tipard Video Converter Ultimate is what we highly recommend. Then, be excited to edit your files like an expert in a rookie-style procedure.