Effective Ways on How to Sharpen Video Offline, Online, and on Devices [2023]
Do you want to have exceptional video and movie files? If this is the case, you will need to polish the video with a good editing application. That is why we give Tipard Video Converter Ultimate, a program that allows you to sharpen video quality with the Video Enhancer feature. And, to make your life easier, this post includes instructions on how to utilize it in the simplest way possible so that you may achieve your aim. The program is helpful since you can download it on Windows and Mac operating systems. Hence, improving the quality of your movies offline is possible.
Furthermore, by reading this post, you will learn how to enhance video quality via the internet without installing or paying for software. You will also know more about improving video on Android and iPhone devices. So, hang in there and keep reading this post so you may know how to sharpen video quality.

Part 1. How to Sharpen Video Quality Offline
Tipard Video Converter Ultimate is a video editing software that can fix and sharpen video and movie files on both Windows and Mac platforms. And guess what? This one offers a free downloading, allowing you to install it on your PC. Thus, you can use it even if you do not have access to the internet or offline. Furthermore, this program comes with a Toolbox that offers great features for video editing. One of these is the Video Enhancer feature. This feature can help you in restoring the quality of your videos. Specifically, it helps you upscale resolution, optimize brightness and contrast, remove video noise, and reduce video shaking.
We will walk you through the process if you want to try it. But first, you should examine the most excellent features of this reliable software.
Leading Features of the Tipard Video Converter Ultimate:
1. It can play 8K/5K/4K/HD videos.
2. It has a simple and user-friendly UI.
3. It can convert over 500 different formats.
4. It allows you to make your music video.
5. The program is free of viruses and malware.
6. It can convert files at a 70x quicker rate.
7. It enables you to make lossless copies of handmade.
How to sharpen video quality in Tipard Video Converter Ultimate?
Step 1To begin sharpening video quality using this program. Remember to download and install it on your computer. However, while downloading it, make sure you use the appropriate download button for your operating system. Then, go straight to the Toolbox and hit the Video Enhancer feature.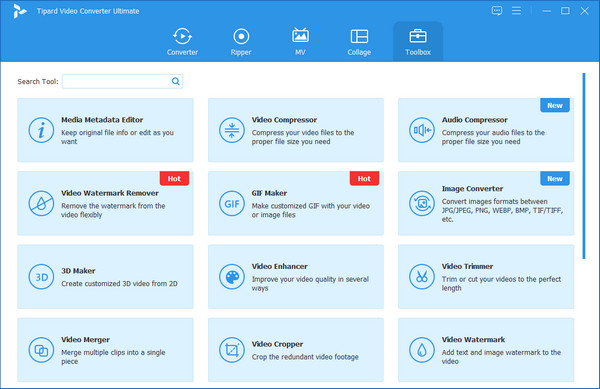 Step 2To upload a video file that you want to sharpen. Click the plus (+) icon at the middle of the screen.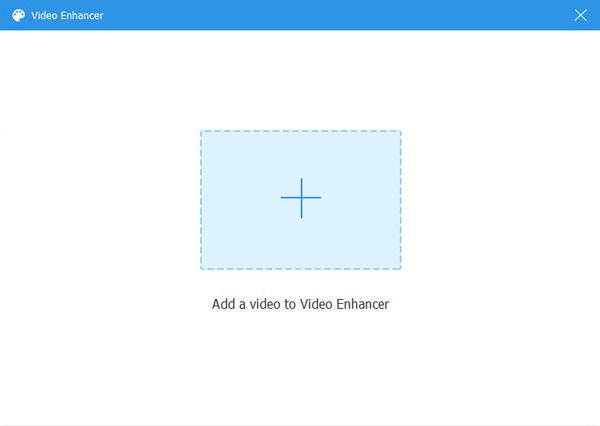 Step 3When you add a video file from your computer's file folder. The program will provide you with a number of options for sharpening video quality. You will also notice that each option has a box beside it. Then, to make modifications, tick all the boxes.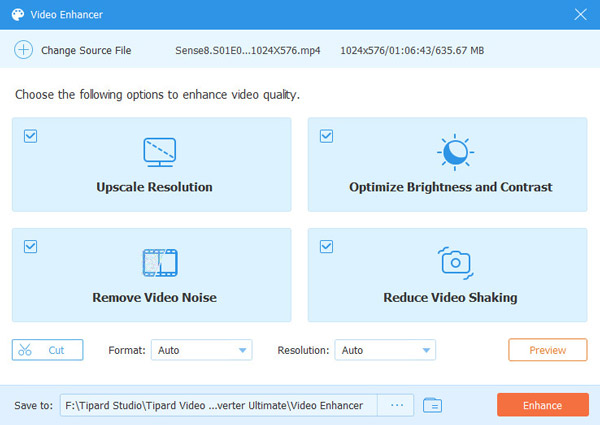 Step 4Click the Preview button if you want to see the changes of your video. After that, click the Enhance button if the movie has become more pleasant to your eyes. Wait for a second, and new video output will appear.
Step 5Lastly, Tipard Blu-ray Player will help you playback your new videos seamlessly.
Part 2. How to Improve Video Quality Online
If ever you want to sharpen your video files without installing software. In addition, we provide more information on how to improve video quality online. Suppose you are in a rush or do not have enough space on your smartphone or PC. In that case, we also offer you ways to enhance video resolution over the internet. You can do it by doing the steps shown below.
Step 1Use your browser to look for FlexClip. To begin utilizing the FlexClip program, click the (+) Start from Scratch button when it opens.
Step 2A new window will appear once you click it, then click the Choose button. It will then take you to the main interface. After clicking the Media option, go to the Local File section and select a video file to upload.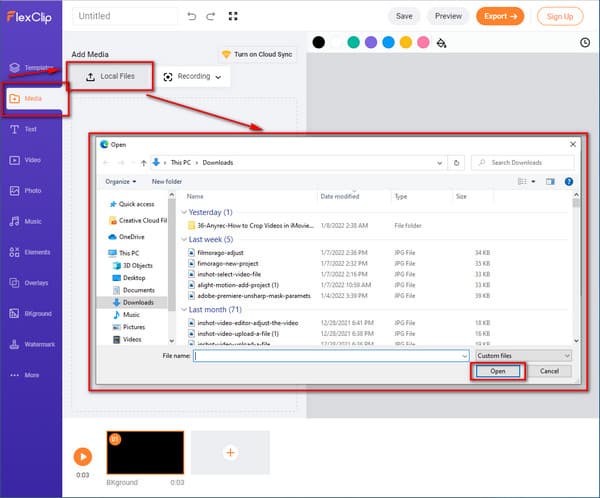 Step 3After importing a video clip, you can begin sharpening it by selecting the Adjust option. This area will present you with various settings such as brightness, contrast, temperature, saturation, etc. Each parameter has a slider in the options. As a result, you can change it by simply moving the slider.
Step 4Finally, click the Save button if your video now seems good to you. You may also get a preview of your video by using the Preview button. After that, choose Export to save the new output to your file folder.
Part 3. How to Sharpen a Video on iPhone/Android
In some cases, you do not have a desktop to enhance your video files. Now, the question is, is it possible to sharpen video on iPhone or Android devices? Definitely, yes. You can trust FilmoraGo, and this video editing app will enable you to sharpen your video files easily. To use it, follow the steps below.
Step 1In your browser, type Filmorago. After that, download and install it on your iPhone or Android smartphone. You will see the main screen when you first open it up, and you may pick a video file by clicking New Project. After selecting a video file, click the Import option to upload it.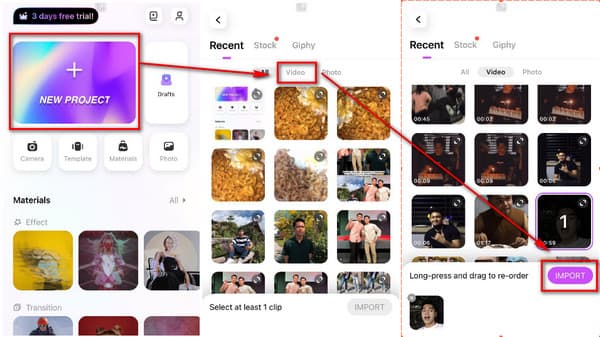 Step 2After that, select a video file. Examine brightness, saturation, contrast, color, and other properties by selecting the Adjust option. A slider will also appear to assist you in improving your video. Click the Apply to All to save your changes.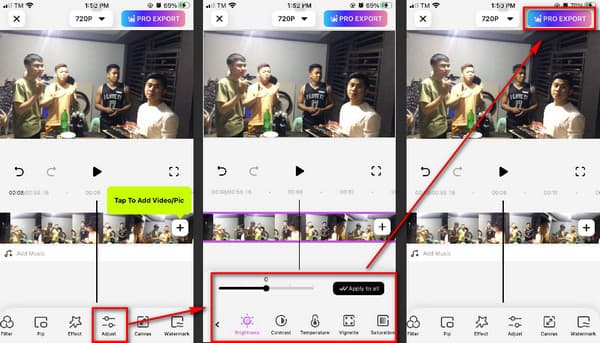 Step 3Finally, you can now save a new output by hitting the Pro Import button at the top of the screen.
Part 4. FAQs How to Sharpen Video
What is the best software to sharpen video quality?
We highly recommend Tipard Video Converter Ultimate. This software is perfect for sharpening all your video files without compromising video quality. Moreover, it offers a free download on both Mac and Windows.
How can I avoid capturing blurry videos?
It is critical to employ active filters on your camera when filming a video. It keeps your video from having grainy effects, so use proper filters. Record it in good quality as well. Furthermore, it would help to record all of the videos in high quality. Also, clean the camera's lens.
How can I fix blurry movies on Windows 10?
Click the Start button, then Settings > System > Notifications & actions, and finally switch off Display Settings. Choose Action Center, then Focus Assist. This Windows 10 feature allows you to control when alerts display.
Conclusion
After reading this piece, we presume that you have a better grasp of how to sharpen video quality using the Tipard Video Converter Ultimate's Video Enhancer function. Thus, having amazing video clips is now attainable if you follow all of the methods we provide for you. And, if you find this content beneficial to your needs, please share it with your friends. In this approach, we may also assist them in resolving their difficulties.
Do not hesitate to mail or contact us if you have any more questions. Rest in the fact that we will entertain you.