Easy Methods on How to Combine AVCHD Video Files
AVCHD files are recording formats used to record high-definition videos for DVD media, hard disk drives, and memory cards. This type of file uses high-efficiency compression coding technology. In addition to that, this type of file enables you to record long videos with high quality. So, if you have a couple of AVCHD files stored on your computer and want to merge them, you might want to use these amazing tools. Read this whole post to learn how to combine AVCHD video files quickly.

Part 1. How to Combine AVCHD Files Using the Most Ultimate Tool
If you have the right tool, merging multiple AVCHD video files is easy. Although you can find many video merger tools online, it is uncertain if their features can satisfy you. Luckily, we found an all-packed application to help you easily merge AVCHD video files.
Tipard Video Converter Ultimate is an application you can use to merge multiple AVCHD video files. This video merger app is downloadable on all media platforms, like Windows and Mac. And as mentioned above, this software application is all-packed because it contains many advanced editing features, such as video merger, video trimmer, color correction, video enhancer, and more. Additionally, it supports up to 500+ file formats, including AVCHD, MP4, MKV, MOV, FLV, AVI, etc. This offline tool enables you to merge your AVCHD file with other formats it supports. What's more, is that it is a user-friendly tool because it has an easy-to-use software interface. So, if you want to merge your AVCHD files, this might be the most suitable tool to use.
Join AVCHD video files using Tipard Video Converter Ultimate:
Step 1Download the Tipard Video Converter Ultimate on your computer by clicking the Download button below for Windows or Mac. After downloading it, open the app.
Step 2Go to the Toolbox panel on the software's main interface and click the Video Merger option.
Step 3And then, click the plus (+) sign button in the middle of the interface to upload the first AVCHD video file.
Step 4To upload the second AVCHD video file that you want to merge, just click the + sign button beside the first video you uploaded.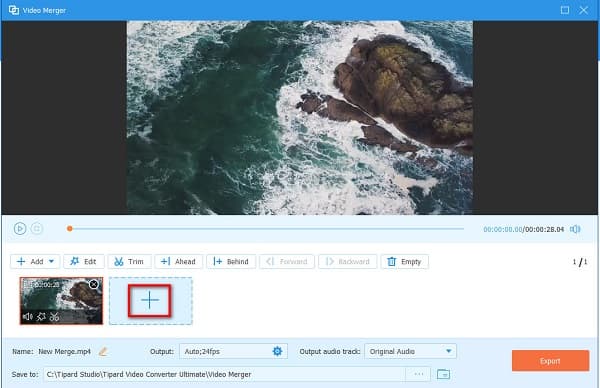 Optional. If you want to change the position of your videos, you can hold and drag the video you want to change position and place it where you want it to be.
Step 5And then you can preview your video, and if you are satisfied with it, click the Export button to save your merged AVCHD files.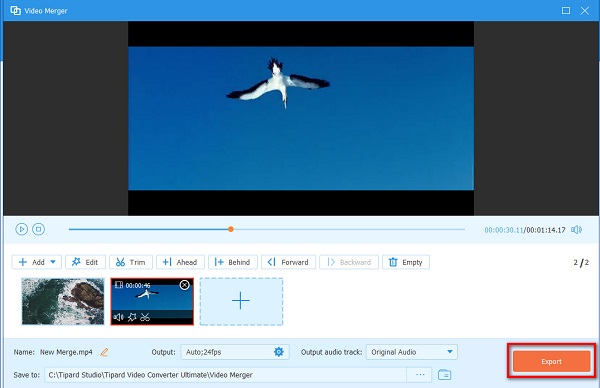 Simple right? With those easy steps, you can merge multiple AVCHD files using the ultimate video merger app.
Part 2. Bonus: Other AVCHD Video Joiners You Must Try
If you are searching for more choices, then do not worry. This part will present more AVCHD video joiner apps online and offline. Therefore, if you are interested in knowing them, read this part thoroughly.
Gihosoft Video Editor
Gihosoft Video Editor is an offline tool that you can use to merge AVCHD files. This app is downloadable on Windows and Mac. In addition, it has a simple user interface, making it a beginner-friendly tool. It also supports the most common file formats, such as AVCHD, MP4, MKV, and AVI. Also, it enables you to merge two or more files easily. What users like about this tool is that it is free to download.
How to quickly connect AVCHD videos using Gihosoft Video Editor:
Step 1First, download Gihosoft Video Editor. Follow the installation process, then open the app.
Step 2On the first interface, click the Add Files button in the top left corner to upload your AVCHD video files.
Step 3To merge your videos, click the Join button on the bottom right corner of the interface. And that's it! Your video will automatically be saved on your device.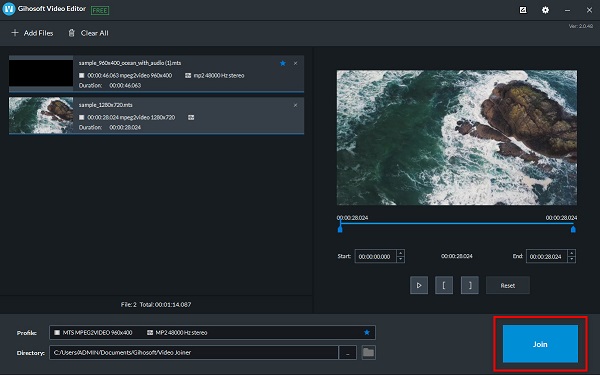 Pros:
1. It is easy to use.
2. It is free to download.
Cons:
It has a few editing features.
Clideo
Clideo is one of the top-knowing online video mergers on the internet. It allows you to join multiple files with standard formats, like AVCHD, MP4, AVI, and FLV. Clideo is 100% free and safe to use. It is a beginner-friendly app because it has a straightforward user interface. And unlike other online tools, it does not contain pesky ads that might disturb you.
How to edit together AVCHD videos into one clip using Clideo:
Step 1Open your browser and search the Clideo video merger on the search box.
Step 2Then, click the Choose Files button on the main interface to import the first AVCHD file.
Step 3Next, click the Add more videos button on the Timeline to import another AVCHD video you want to merge.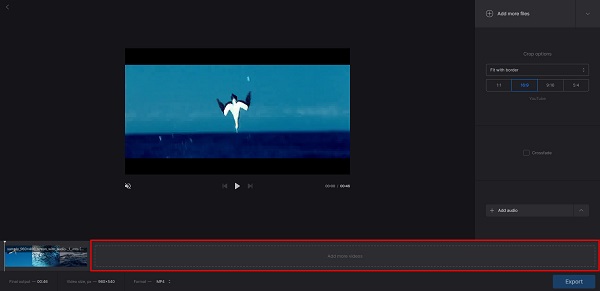 Step 4Finally, tick the Export button to save your merged videos into your computer folders.
Pros:
1. It is safe to use.
2. You can access it for free on all web browsers.
Cons:
It sometimes has a slow uploading process.
OnlineConverter.com
Another online video merger that is worth trying is OnlineConverter.com. OnlineConverter.com is a video merger that supports the most standard file formats, like AVCHD, M4V, FLV, AVI, MKV, and more. Many beginners also use this tool because it has a simple user interface. Moreover, this AVCHD video merger can merge four MKV videos into one. Also, this tool is accessible on almost all web-browsers, like Google, Firefox, and Safari. It also has other features that you can use to cut, resize, and rotate your video.
How to use OnlineConverter.com to merge AVCHD videos:
Step 1Search OnlineConverter.com video merger on your browser, and go to their main page.
Step 2Next, click the first Choose Files button to upload the video you want to merge.
Step 3And then, click the second Choose Files button to upload another video you want to merge.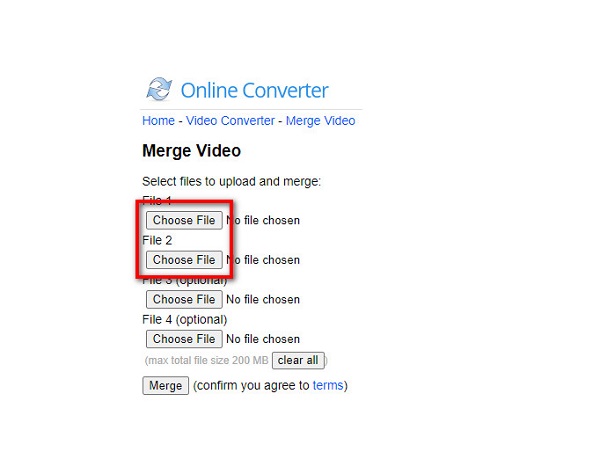 Pros:
1. It is a beginner-friendly tool.
2. Accessible on all web browsers.
Cons:
It contains many disturbing ads.
Part 3. FAQs about Combining AVCHD Videos
Are AVCHD and MTS files the same?
The AVCHD files and MTS files are almost the same. Both AVCHD and MTS are high-definition files that use AVCHD video format. An AVCHD file is normally copied from a camera to a computer, which is the same method as the MTS file format.
Are AVCHD files good for editing?
AVCHD files are good for recording videos from the camera but not for editing. If your clips stutter and drop frames when you do non-linear editing, it may be too hard to edit AVCHD files.
Can you merge AVCHD files with a 4K resolution?
Conclusion
How to combine AVCHD video files? With this post, you will know how to merge AVCHD videos easily. With the aforementioned tools, it is now easy for you to merge your AVCHD videos. So, if you want to merge videos and produce professional outputs, use Tipard Video Converter Ultimate now.