Complete Guide to Make Your Dark iPhone Videos Brighter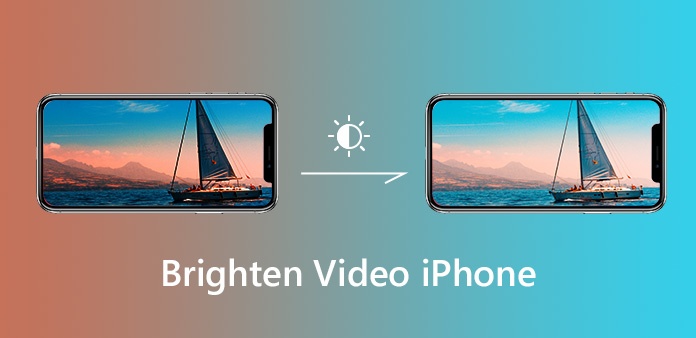 Since iOS 8, you can manually adjust the exposure and brightness of a video on your iPhone Camera app. It really helps on improving the quality of your videos while capturing them. When you focus on an object, the iPhone Camera app can optimize the exposure automatically. It makes taking high-quality videos with both light and dark objects easier. Even though your video looks dark after shooting, you can lighten it up simply. Anyway, you can learn multiple ways to brighten videos on iPhone.
Part 1: How to Brighten a Video on iPhone
To brighten a video on iPhone, you can do it while capturing the video as well as after shooting.
How to Brighten a Video with iPhone Camera App
As mentioned previously, iPhone Camera app offers the feature to adjust exposure automatically and manually. That can brighten a video on iPhone while taking it.
Step 1
Run the Camera app on your iPhone or other device running iOS 8 or above.
Step 2
Focus on the object you want to capture and wait Camera app to set the exposure automatically.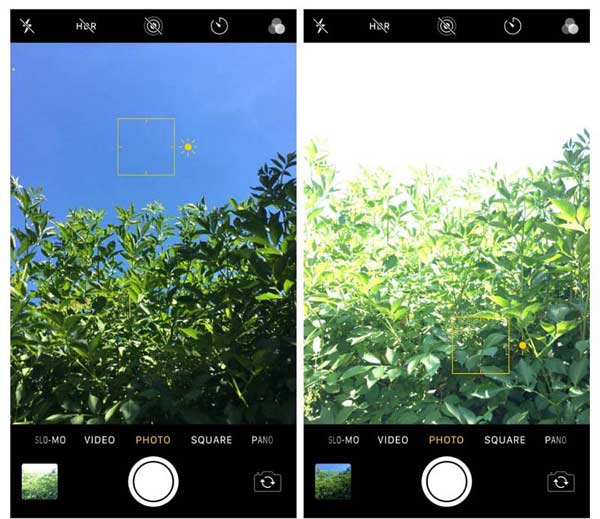 Step 3
If the video still looks dark, tap the shadow area for a while to display the Exposure tool. Then swipe upward to adjust the brightness of iPhone video.
Step 4
Now, tap the Record button to start taking the video. Then tap Stop to save the brighter video.
Note: This way can bright the dark area in your video and let you see more details. However, the brighter areas may appear over-exposed.
How to Lighten An iPhone Video after Capturing
After you take a dark video, there are still methods to make more light on iPhone. What you need is a video editor app that has the capacity to adjust the brightness. According to our research, most video editor apps can brighten a video on iPhone by adding filters. Only a few of them are able to adjust brightness of iPhone videos, such as Videoleap.
Step 1
Start the brighten video app for iPhone. You can download it from your App Store for free, but it has in-app purchase options. It is available to iOS 11 and above.
Step 2
Open the dark video from your iPhone. For the first time, you have to permit the app to access your Camera Roll.
Step 3
Preview your video and go to the Adjust tab from the bottom. Then you will get the parameters of the video, such as Brightness, Contrast, Exposure and more.
Step 4
Choose Brightness and move the slider to right side. Then you can increase the brightness of your video on your iPhone.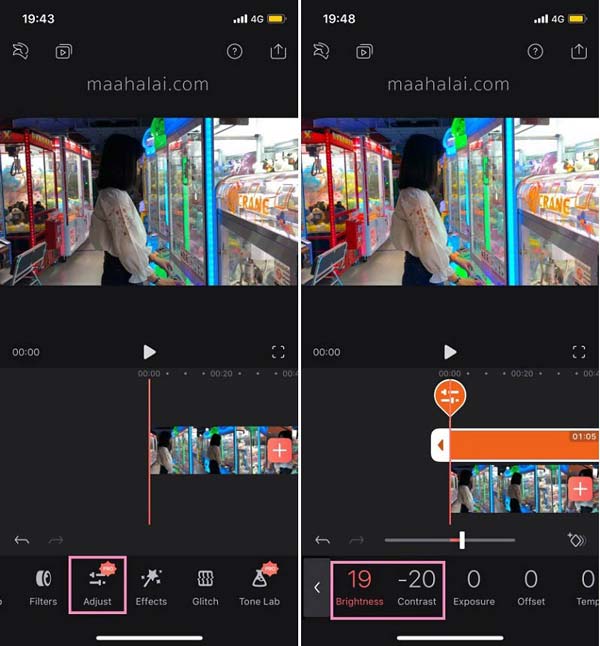 Part 2: Best Software to Adjust Brightness of iPhone Videos
Sometimes, it is not very convenient to brighten a video on iPhone. It takes much time to render your video. Moreover, the video editing usually requires a lot of space. It makes sense that computers are still the most popular platform to lighten up iPhone videos. So, we share a list of top video brightening software below.
Top 1: Tipard Video Converter Ultimate
The best software to brighten an iPhone video should be able to achieve it simply. More importantly, it should produce high quality after brightening. From this point, we recommend Tipard Video Converter Ultimate.
Although it is a video and audio converter, it also has many video editing features that you often use. This brightening video app for iPhone videos enables you to change the brightness of your video as you like. Besides, it also helps you crop your iPhone videos, rotate and flip them, etc.
1. Adjust brightness and other parameters of iPhone videos.
2. Batch process multiple videos with the multi-thread technology.
3. Optimize and enhance video quality while editing.
4. Support a wide range of video input and output formats.
5. Convert iPhone videos for playback on any devices.
In a word, it is the best way to adjust brightness of iPhone videos on your desktop.
Step 1
Get Video Converter Ultimate
Download and install the best video brightening software to your computer. Then launch it and click the Add Files button to import the dark iPhone videos.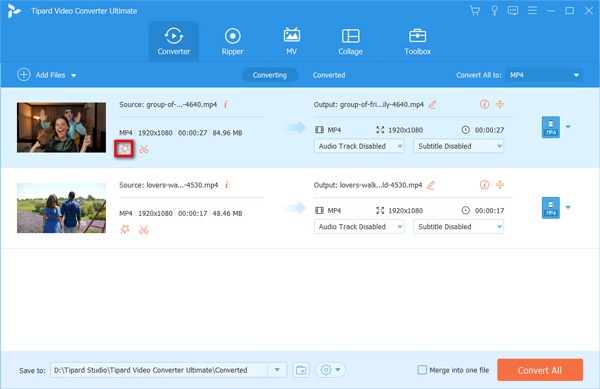 Step 2
Brighten iPhone videos
Click the Edit icon to enter the video editing window and switch to the Effect & Filter section. Then you can move the point on the Brightness bar from left to right to make your iPhone videos lighter. Click OK when you are satisfied with the video.
Step 3
Save brighter videos
Click the Convert All button to save the iPhone video with a brighter effect on your device.
Top 2: iMovie for Mac
iMovie is a free video editor for Mac computers. It has a lot of useful features related to edit and adjust videos. When it comes to iPhone videos, you can sync them to your computer via the Photos app and then get what you want in iMovie simply.
Step 1
Open iMovie and create a new project or open an existing video project. Then add a dark iPhone video into iMovie and drag and put it into the timeline.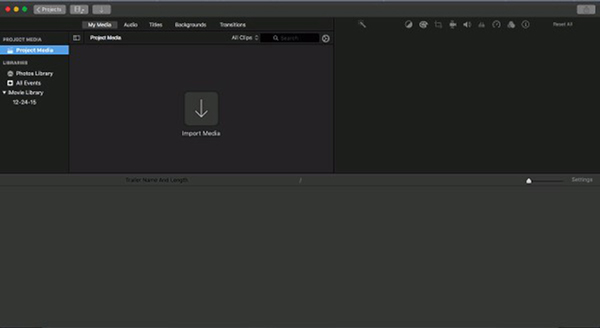 Step 2
Click the Color Correction icon on the menu bar above the preview window. Now, you will get three bars and find the one prompted Adjust Brightness to make the clip lighter or darker.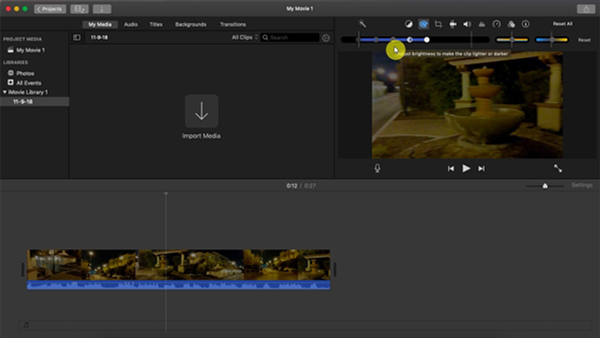 Step 3
Move the slider to the right side to make the iPhone video brighter. You'd better move the slider slightly, preview the effect in the Preview window, and then adjust iPhone video brightness further. Moreover, you can light up the iPhone video with the Adjust shadow slider.
Step 4
To save the brighter video, click Share -> File to save it as a new video file. Unfortunately, the video output formats supported by iMovie are limited.
Top 3: Windows Movie Maker
Though Microsoft introduced the Photos app for Windows 10, it is not available to brighten an iPhone video. Alternatively, the long-standing Windows Movie Maker can help you to simplify the work. It has several visual effects including brightness. Check the step-by-step guide below.
Step 1
Transfer iPhone videos to your PC and open Windows Movie Maker. It can be downloaded from the Microsoft official website.
Step 2
Drag and drop a dark video into the interface and it will display on the storyboard. If you only want to brighten several frames of the video, select them. Otherwise, the entire video will be brightened.
Step 3
Go to the Visual Effects tab on the top of the window and choose the Brightness effect. Then you will be presented a popup dialog with a slider. Move the slider left and right until the iPhone video is bright enough.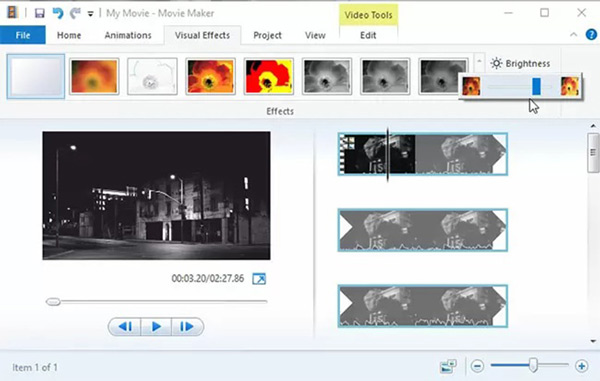 Step 4
Finally, click File -> Save movie -> Recommended for this project. Then the brighter video will be stored in your video library. Alternatively, you can share the video result to Facebook or YouTube directly.
Part 3. FAQs about How to Brighten Videos
How to brighten a dark video on Android?
The built-in video editor on your Android device can help you make a video brighter. In addition, you can install a video editor on your Android device like Vid.Fun to edit your video's brightness.
How to brighten a video in Premiere Pro?
Enter Adobe Premiere Pro on your computer and create a new project. Then add your video to the software and go to the Effects panel. Later, select the brightness and contrast option and drag and drop it under the video. Next, you can brighten your video by changing the number of the brightness.
How can I brighten a video without losing quality?
Conclusion
This guide has discussed how to brighten a video on iPhone during you capture it or after shooting. iPhone is well known on the lens technology. In addition to hardware, the built-in Camera app also integrates extensive advanced technology, such as automatic exposure adjustment. On iOS 8 and later, you can manually adjust brightness of videos as well. If you have other troubles related to brighten iPhone videos, please leave your messages below.