3 Free Methods to Remove GIF Background
Can I make an animated GIF file with transparent background? How to quickly get rid of a GIF image background? Is there any free GIF background remover?
In some case, you need to remove GIF background. You may notice that, many GIF editors can help you trim GIF, rotate or crop GIF. But they cannot remove the background of a GIF, especially for the animated GIF. So how to remove image background and create a transparent GIF?

Here in this post, we like to introduce you with 3 free and easy-to-use GIF image background removers to help you replace the original background of GIF with transparent, white or other colors.
Part 1. Free Background Remover to Get Rid of GIF Background Online
To remove GIF background free, you can rely on the popular online image background removing tool, Aiseesoft Free Background Remover. As an image background removing tool, it highly supports any frequently-used image formats including GIF, JPG, JPEG, PNG, and more. It has the capability to change the image background color to transparent, solid, or replace background with any image you have.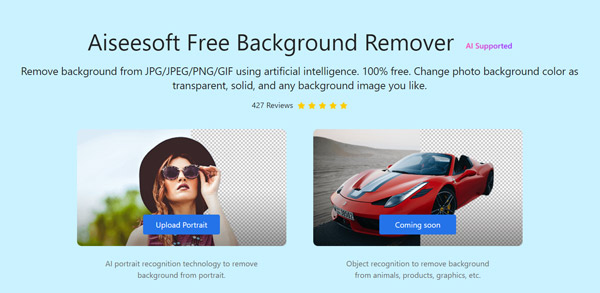 Aiseesoft Free Background Remover is designed with the advanced AI portrait recognition technology to quickly erase the background from a portrait photo. It is able to remove GIF background automatically. Moreover, it offers a brush feature for you to select the specific background region you want to remove. This GIF background editor also allows you to crop image and replace the image background color with white, red, yellow, blue, or another image file. Now you can take the following guide to remove GIF background online with it.
Step 1On your web browser like IE, Chrome, Firefox or Safari, search for the Aiseesoft Free Background Remover and go to its site. When you get there, click the Upload button to browse and add your GIF image to this free background remover.
Step 2This GIF background remover will automatically remove the background for you. During this step, you can use the Brush tool to keep or erase more content based on your need. You can freely adjust the brush size.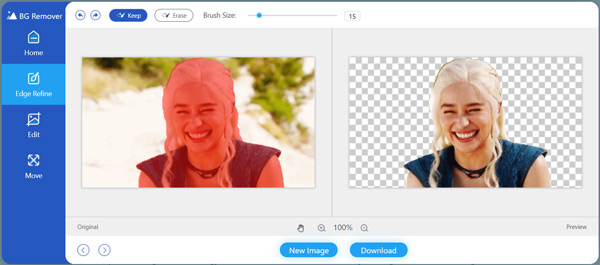 Step 3Click Edit on the left panel to enter the editing window. Here you are allowed to replace the background with another color or image you need. As you can see, this GIF background remover also offers a Crop function for you.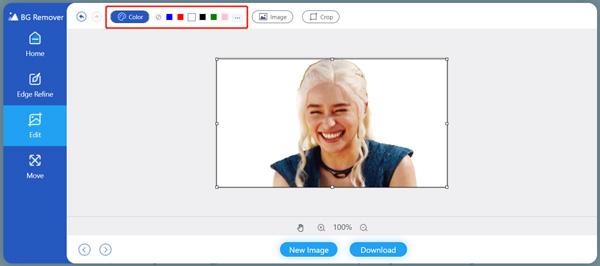 Step 4After the GIF background removing, you can simply click the Download button to save the edited GIF file on your computer. This online GIF background remover is totally free and 100% secure. No watermark will be added to your output GIF.
Best GIF editor you may want to know
Video Converter Ultimate is a professional video, audio and image editor that can help you edit various GIF files without losing quality. It is designed with many useful GIF editing features like crop GIF, cut GIF, rotate GIF, resize GIF, custom GIF effects, apply new filters to GIF, add text or image watermark to GIF, and set output GIF settings like resolution, frame rate, zoom mode, and loop animation, and more. You can also make a GIF from a video if you want to. Besides GIF, it also supports other image, video and audio formats including PNG, JPG, MP4, MOV, AVI, FLV, and MP3, AAC, M4A, FLAC, and so on. You can free download it and have a try.
Part 2. Remove GIF Background Using OnlineGifTools GIF Background Remover
OnlineGifTools is a famous online GIF editing tool that allows you to edit GIF and remove its original image background. It has a GIF background remover tool for you to remove background of a static or animated GIF file. It works well on all commonly-used web browsers. As a free GIF background remover, it offers a simple way to change the GIF background to any color you need.
Step 1Go to OnlineGifTools site on your browser, scroll down to locate the Remove GIF Background option, and click on it. Then you will be taken to the gif background remover page.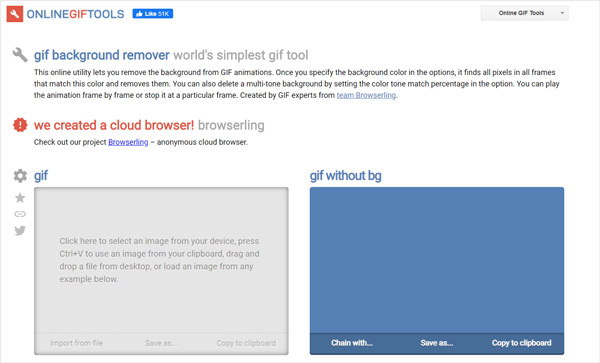 Step 2After uploading your GIF file, it will automatically loop the animation frame by frame. Then you can change the GIF background to white or another color you need.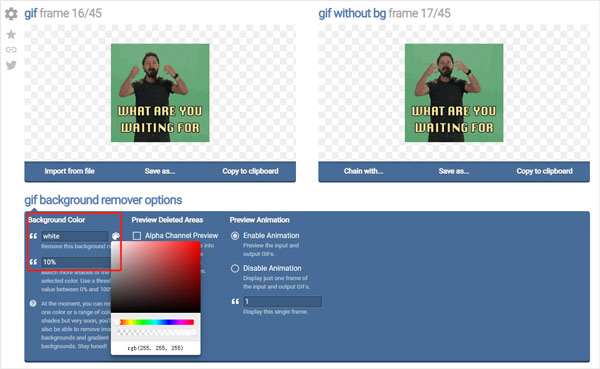 Step 3Click Save as and then Download to store the edited GIF file on your computer.
Part 3. How to Remove Background from a GIF Image with Ezgif
Ezgif is a free online GIF maker and editor that carries many basic editing features for you to edit animated GIFs. It enables you to remove GIF background directly on your web browser and change the image background as white, black, or other colors you need. In addition, it allows you to adjust the GIF image brightness, hue, saturation, contrast, and more. You can follow the steps below to remove background from a GIF with Ezgif.
Step 1Open Ezgif site and click on the Effects tab. The max file size of your added GIF is limited to 35MB. You will see some ads in this website.

Step 2Click the Select File button to choose and upload your GIF file. Click the Upload button to move on. Scroll down to locate the Replace color with transparency option, tick White, Black, or select a suitable color. After that, scroll down the page and click on Apply Selected button.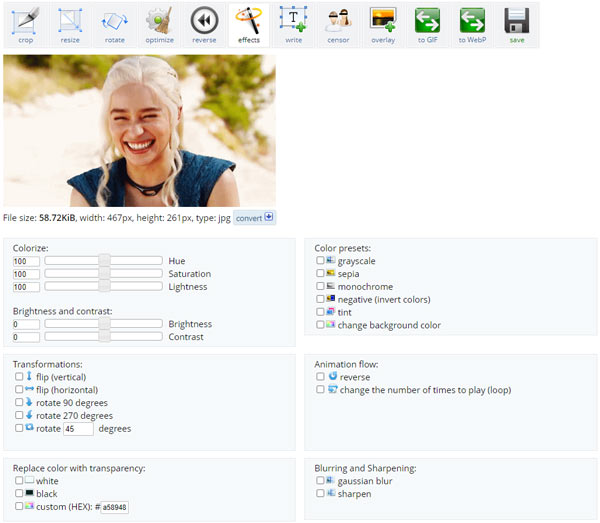 Step 3After the background changing, you can preview the edited GIF file. Then click the Save button to save it on your computer.
Part 4. FAQs of How to Remove GIF Background
Question 1. Can I remove GIF background on my iPhone?
You can easily find many third-party GIF apps and image background removers from App Store. While through our tests, almost all of them can't do a good GIF background removing job. So you'd better edit and remove the background from GIF on a computer.
Question 2. Can I remove GIF background using Photoshop?
Yes. Adobe Photoshop is designed with many image editing features. You can use its brush, crop, delete, and other tools to remove GIF background. But it offers a relatively complex way to add and edit GIF, especially for an animated GIF file.
Question 3. What browser should I use to remove the GIF image background?
When you remove GIF background using an online tool, like the recommended GIF background remover above, you can use it on any popular browser like Google Chrome, Firefox, Opera, Safari, and IE.
Conclusion
We have mainly talked about how to remove GIF background in this post. 3 free GIF background removers are introduced to help you replace the original GIF background with transparent, white, blue, black, another color or image you want. But we have to admit that, till today, all image background removing tools, including the recommended ones above and others offered on the market can't accurately remove the background from a GIF.