Unleashing the 6 Best AV1 Converters You Shouldn't Miss
AV1 is a video codec that serves as an open and royalty-free. It was developed by the Alliance for Open Media, also known as AOMedia, to be the successor to VP9. AV1 is the new generation's compression technology that works in achieving at least 30% higher compression of data compared to VP9. However, as a successor, at present, videos in AV1 still won't play on many devices. For this reason, an AV1 converter is indeed a necessity on your computer to manage the file's playback. Fortunately, to help you find the best converter for you, we have compiled the 6 best video converters you can use with and without the Internet.

Part 1. Top 6 Best AV1 Converters (Desktop and Online)
Top 1. Tipard Video Converter Ultimate (Desktop)
Tipard Video Converter Ultimate supports more than 500 video formats and devices as your output in converting AV1 content. Moreover, it is a video editing program that lets you work even on high-quality videos up to 8K. It is an ideal AV1 codec converter for it offers common yet powerful editing functions such as a cropper, trimmer, rotator, merger, flipper, enhancer, and many more to mention. Another remarkable feature that it holds is the advanced technology that empowers its process in all aspects. Not to mention its infusion with Artificial Intelligence that works best for enhancing your videos.
Features:
Batch conversion.
Ultrafast technology with 60x faster conversion speed.
GPU and Hardware acceleration.
A built-in video player for previewing your AV1 videos.
Extract audio from your AV1 video to make a ringtone.
Audio track and subtitle management.
Optimizable presets.
Bonus: How to Use This AV1 Video Converter
Step 1Fire up the newly installed video converter on your desktop, and upload your AV1 videos when you hit the Plus button seen at the center of the interface.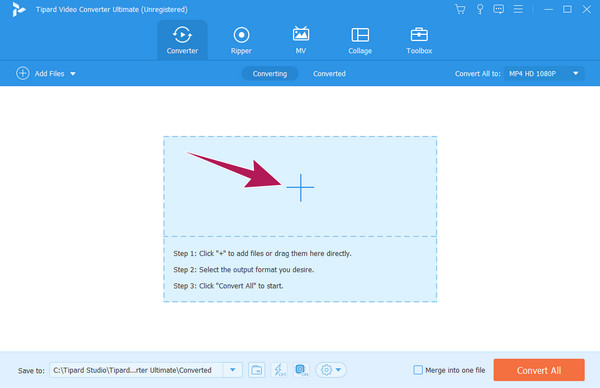 Step 2After uploading all your AV1 files, click the arrow button next to the Convert All To option. You will find this selection in the upper right corner of the interface. Then, on the prompted window, choose your desired video format as your output.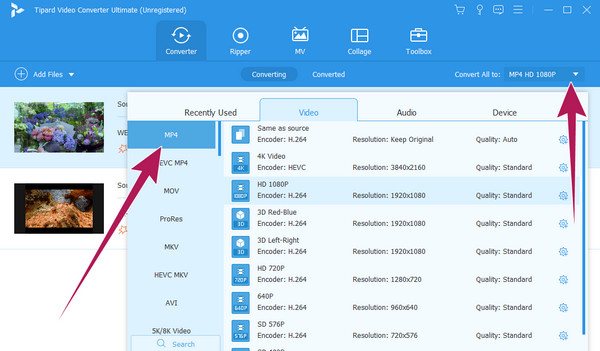 Step 3After that, hit the Convert All button to initiate the rapid conversion process. Please note that before you convert the videos, you are free to edit and enhance the pre-output by clicking the options.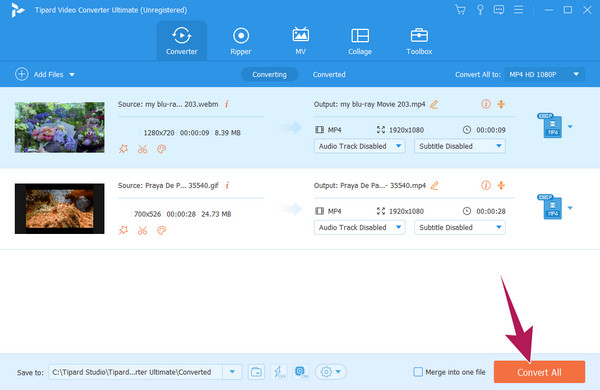 Top 2. Filestar (Desktop)
One of the most versatile and comprehensive desktop programs is Filestar. It is a tool designed to simplify and streamline various tasks related to files. Furthermore, the software is a one-stop solution to convert, manage, edit, and organize a wide range of media files, including AV1 and other videos, audio files, documents, images, and more. It comes with a diverse array of features and an intuitive interface. Also, it aims to empower you to handle your different media formats and perform tasks that include batch conversion, resizing, enhancing, merging, rotating, splitting, and more. However, you might have some issues merging your videos with this AV1 to h264 converter, as many users have experienced before.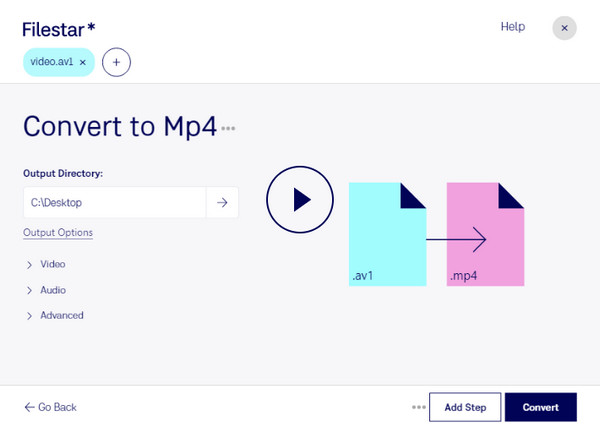 Features:
Wide file format support.
Document file handling.
Graphic tools.
Easy process for video conversion.
Top 3. HandBrake
Next on the list is this open-source, cross-platform, and free desktop program called HandBrake. This desktop software already has a big name in the industry of video transcoding due to its powerful features and process in handling transcodes. Furthermore, the interface might seem complicated to navigate at first, but once you get to familiarize yourself with it, you will find it convenient to use and can do more than just compressing videos. HandBrake will help you to do video transcoding, compressing, captioning, cropping, and, of course, converting. However, to be your AV1 converter, download the latest version of HandBrake, or else you might fail to work with AV1.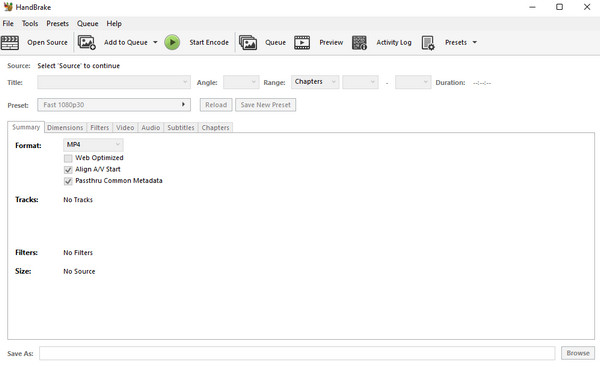 Features:
Pre-loaded device settings.
Batch process.
Blu-ray and DVD compatibility.
Top 4. Convertio
Here is an online media file converter platform called Convertio. It is an online converter that allows you to convert different types of media files to another format. Convertio supports a broad range of formats where images, documents, videos, audio, and more are included. Furthermore, you can upload your AV1 files to this converter's website and select your desired output format, such as MP4, for conversion. Then, this AV1 to MP4 converter online will process your file and will provide you a download link after the conversion.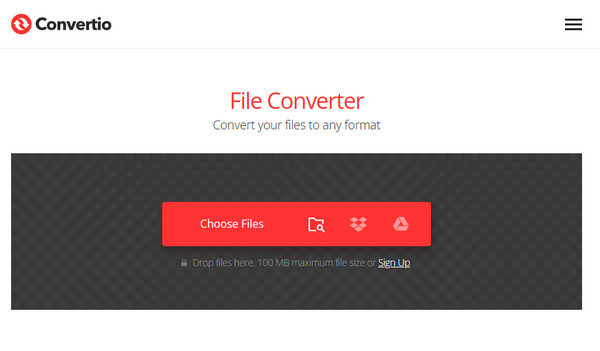 Features:
Batch conversion.
Cloud integration.
Speedy process.
Wide range for output format selection.
Top 5. MP4.to (Online)
Another online converter that will help you convert your AV1 files or your other video files to MP4, as its name suggests, is MP4.to. It is a web-based MP4 converter that allows you to upload batch files, with sizes from 2GB up to 100 GB, for free. Then, if you want to add extra ability or tools for the conversion, you can request to be added.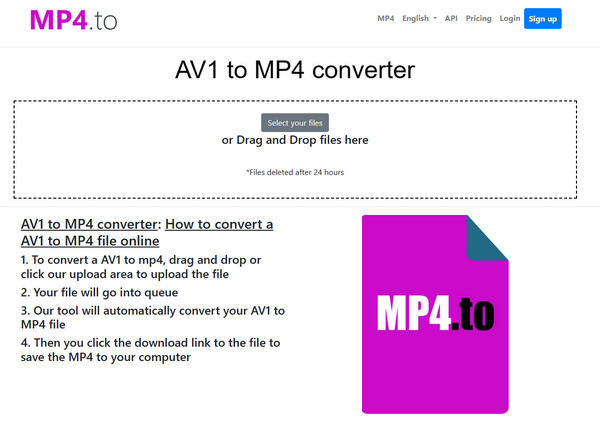 Features:
Unlimited file conversion.
Batch uploading.
Convert large files.
An MP4 to AV1 converter.
Top 6. AnyConv (Online)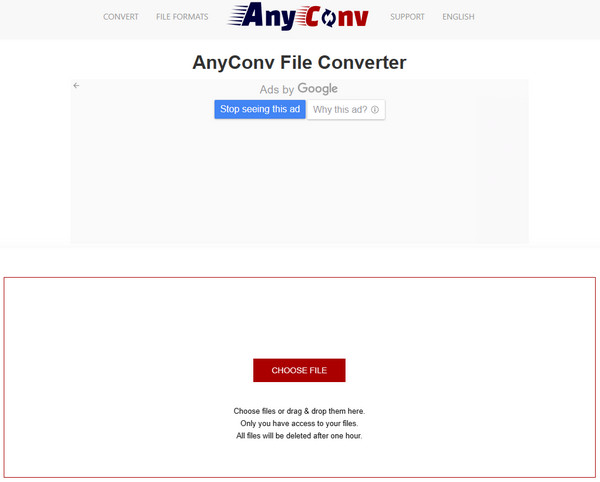 If you want a frag and drop importation process, AnyConv is another good option to use. AnyConv comes with numerous converter tools for different media files. It has an image, document, audio, video, eBook, font, CAD, mesh, and archive converter, whichever you can use for free! However, for this conversion process, you can only upload a maximum of 100 MB file size.
Features:
Free conversion.
Private file conversion.
Support for 400 various file formats.
Part 2. FAQs About AV1
Does AV1 have better quality than MP4?
The comparison of MP4 and AV1's quality is hard to identify. This is because both have different purposes and video technology aspects. But overall, AV1 can provide you with a high video quality.
What is the highest resolution of AV1?
AV1 doesn't have a resolution, but it is capable of handling 8K and higher.
Does Netflix support AV1 codec?
Yes, Netflix currently supports the AV1 video codec for streaming movies to some TVs. However, it is not yet available to all devices but to certain devices.
Can I convert AV1 with FFmpeg?
Yes. FFmpeg is a program that can be used in decoding videos in AV1. It is a command-based tool with versatile functions and support for a wide range of formats.
Conclusion
Those are the 3 desktop and 3 online AV1 converters that ranked on top. We completely understand that you may or may not try all of them. However, you must try at least one from each platform to do your conversion task, whether online or offline. The online tools are almost the same when it comes to their features. On the other hand, the desktop solutions have some distinctive functions, and if you want to acquire the best one, it must be the Tipard Video Converter Ultimate.