What is Metadata: Including its Types and Learn the Method to Edit Metadata
Do you want to know what metadata is? If that is the case, you have to read this informative review. To give you a brief insight, metadata is essential to a file, webpage, document, and more. It is about the data on the data. To understand the discussion more profoundly, we will elaborate on them further for you. You will learn the full metadata description, including its types and examples. Also, we will offer an excellent method to edit metadata. So, if you are interested, read this review and learn everything you need to know.

Part 1. What is Metadata
A collection of information called metadata defines other data. Metadata contextualizes other data by providing details about the date and method of collection. It makes it easier to identify, access, manage, and more. In other words, every voice, photo, movie, or file also contains mysterious data. You can manage and arrange data sets with its aid. Metadata can either be produced manually or automatically through information processing. Manual construction is usually more precise. It allows users to include details they deem pertinent or helpful in describing the file. Automatic metadata creation can be more straightforward, presenting details like file size, extension, creation date, and file creator.
Part 2. What is Metadata Used For
Metadata is created every time a document, file, or other information asset is edited, including when it is deleted. By assisting users in discovering fresh applications for existing data, accurate metadata can help extend the life of that data.
Moreover, Metadata organizes a data object by employing terminology related to that specific thing. To maximize the use of data assets, it also makes it possible to identify and pair things that are not similar to ones that are. As mentioned, search engines and browsers analyze the metadata tags attached to an HTML document to decide which web content to display. Metadata is expressed in a language that computer systems and people can understand to improve interoperability and integration across various applications.
Furthermore, Metadata is used by businesses in digital publishing, engineering, financial services, healthcare, and manufacturing to gain insights about upgrading processes or improving goods. To protect copyright holders while allowing authenticated users access to music and films, streaming content providers, for instance, automate the management of intellectual property information so it can store across various apps.
Part 3. Different Types of Metadata
In this part, you will discover the different types of metadata. Read and learn all the metadata types below.
Administrative Metadata
Information from administrative metadata helps manage resources. It offers details on security, access restrictions, and governance. It contains technical information on copyright details, rights administration, and license agreements. It might be made up of creation-related technological information. It entails managing rights, controlling access, and ensuring the caliber of the works.
Descriptive Metadata
Information from descriptive metadata helps find and locate a data resource. It explains a resource's who, what, when, and where. It includes details about the data's context and content. It is structured and follows one or more established standard schemes. It resembles MARC or Dublin Core. It could also specify the physical traits of the resource. It covers the proportions and media type. At the system level, it aids users in searching for and obtaining information. It gives users the ability to find resources on the Web. For instance, it uses document hyperlinking.
Structural Metadata
Structured Metadata gives information regarding a particular object or resource. It alludes to electronic media. A DVD movie, for instance, has numerous distinct parts. Each section of the movie has a set running time. Each one fits into the structure in a specific order. In other words, structural metadata keeps track of data regarding how to sort a particular resource. Users would be informed of the correct location of these components on the DVD through structural Metadata, as was previously stated.
Provenance Metadata
You can learn the resource of provenance from the provenance metadata. It contains details on who owns it. Moreover, any modifications the data may have undergone. Utilization and preservation of the data resource. This data aids in monitoring a resource's lifespan. Every time a new version of a data set is created, provenance metadata is produced. It denotes the connection between various data object versions. Users can query the link between versions, and either one or both types of fine-grained provenance information on data resources are included.
Preservation Metadata
Preservation metadata in digital repositories may cover rights management. It comprises details about the rights owners that permit such behavior. It draws on other structures like administrative and structural metadata. It relates to the examination and actions taken on a resource upon submission to a repository.
Definitional Metadata
Definitional metadata refers to the metadata that provides a common vocabulary. It facilitates a shared understanding of the meaning of the data. The meaning of the data includes information on the definitions of the data. It includes the rules that govern the data's context and calculations. It may also include the logic used when creating derived data to understand its meaning.
Part 4. What is an Example of Metadata
Metadata of an Image file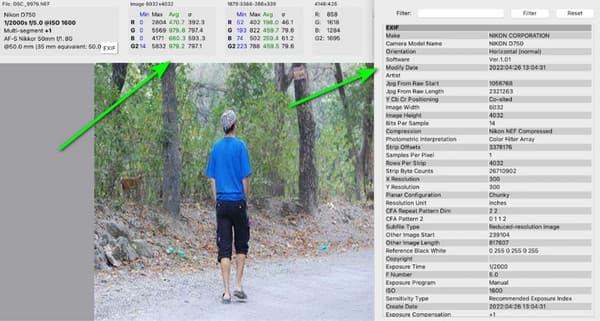 You can see the metadata below of the sample images. It includes the lenses used, focal length, image resolution, color profiles, the make of the camera, the time when the picture was captured, and the GPS coordinates of the location.
Metadata of a Book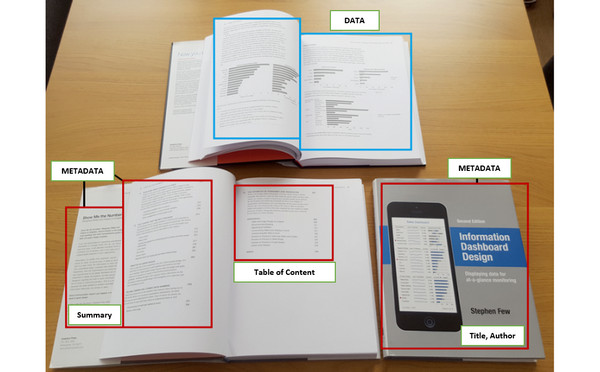 Each book has standard metadata inside. It includes the author's name, title, publisher, table of contents, page numbers, index, and description on the back.
Metadata of a Paper file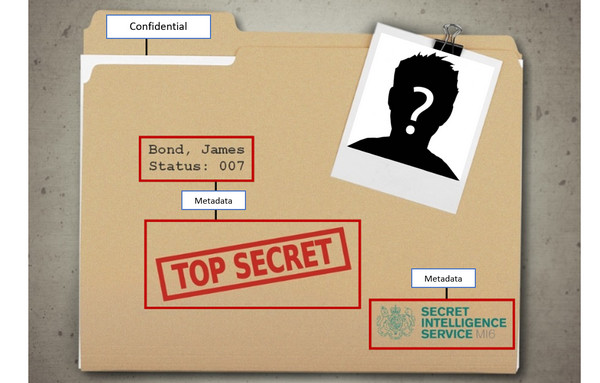 Administrative information in paper document files is frequently used to manage papers. It includes the letter of files alphabetically, the logo, access control information, and more.
Metadata of a Desktop File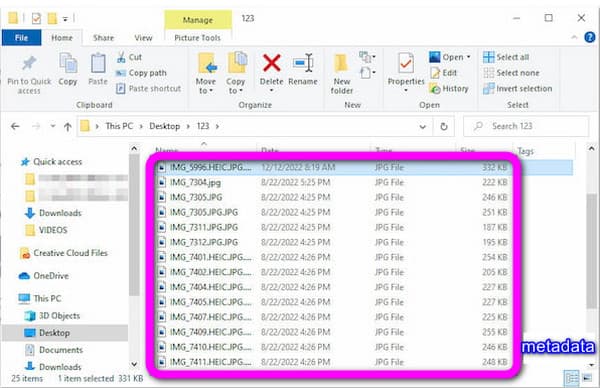 You may see metadata in every file you open in the File folder. The files themselves contain accurate data. You can see the file size, file name, last modification date and time, and the creation date and time.
Part 5. How to Edit Metadata
If you want an excellent way to edit metadata, use Tipard Video Converter Ultimate. With the help of this offline program, you can edit the metadata of your files easily and quickly. You can edit almost all the parameters when editing a file's metadata. The offline program allows you to edit the video's title, artist, composer, comments, and more. You can also put a photo on the cover to make it more satisfying and pleasing to view. Tipard Video Converter Ultimate offers an easy-to-follow procedure. It also has an intuitive user interface which is perfect for all users. Aside from that, you can change the file name. This way, you can freely change all the details you want for the video. In addition, Tipard Video Converter Ultimate is accessible on Mac and Windows operating systems. It is also free to download, making it convenient for users. Furthermore, besides editing metadata, there are more features you can encounter when using the downloadable program. Try to use Tipard Video Converter Ultimate and experience the software independently. Use the simple instructions below to edit metadata using your computer.
Step 1Download the Tipard Video Converter Ultimate on your Mac and Windows computer. To quickly access the offline program, click the Download button below.
Step 2After the installation process, launch the program. When the program's interface already appears, click the Toolbox panel on the upper interface. Then, select the Media Metadata Editor tool.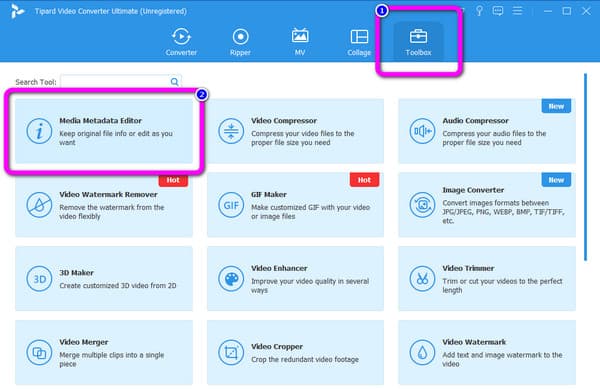 Step 3Another interface will pop up on the screen. Click the Plus symbol to add the file you want to edit. Select the file from your computer folder.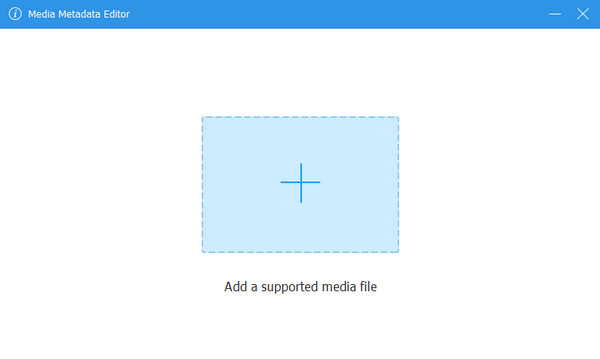 Step 4In this part, you can already edit the details from your file. You can change the file's title, artist, album, composer, year, and more. You can also add a photo for the cover of your file. Then, after the process, click the Save button.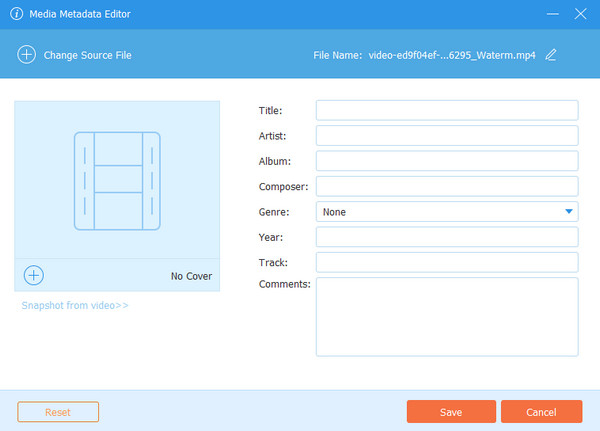 Part 6. FAQs about Metadata
What is the ID3 tag?
The ID3 tag is the component of audio files, specifically MP3s. ID3 tag is the metadata for an audio file to ensure they are displayed appropriately in desktop software. It includes a DAW, a musing streaming app, or a DJ streaming software. Some ID1 tag include the album name, track number, genre, artist, bitrate, and key.
What is the importance of metadata?
The significance of metadata has already been covered, and it is abundantly evident that a file's metadata has the potential to divulge significant information and cause significant harm. You must use extreme caution if you work with information security.
In what ways metadata and data are different?
With the help of metadata, it is possible to identify the nature and characteristics of the original data. In contrast, data can be a fact, a set of measurements or observations, or a description of a specific object.
Conclusion
There you have it! This genuine review gave you all the details you need about what metadata is. You also discover its example and various types. So, if you want to change or edit the metadata of your files, use Tipard Video Converter Ultimate. It offers an easy method with a simple interface to edit metadata.