Remarkable and Default Windows and Mac Metadata Viewers: Quick Guide to Their Utilization
Looking at the file's information is one of the must-do in video and audio editing. It is a must that before you edit the specific file, you must have enough knowledge about it so that it will be easier for you to acknowledge what your file needs. On the other hand, you can also view the data information just to see if the file will fit on your device. Such information will tell you the file format, size, duration, etc., enabling you to familiarize yourself with your files. Therefore, a metadata viewer is a must-have alternative to your device's viewer. Beginners who are not yet familiar with metadata viewing fail to see the default tool from their device since it is hidden.
With that being said, we have provided you with the solutions to find the default ways and the best data viewers you can use for your files. Thus, please continue reading below to start meeting them.

Part 1. How to View the Metadata on Windows [Default Way]
Let's start up with the default video metadata viewer on Windows. Yes, your desktop has its own metadata gazer, and you can use it without needing to install anything. You might have used it without realizing that it can be used as a data viewer, and it is the Windows File Explorer. From the word itself, the built-in explorer of Windows allows you to view your files and their contents inside and out. Through this explorer, you can open your files to whatever player you want, compress multiple files to zip, copy them as a path, and view and edit the files' properties. Suppose you haven't explored this explorer yet or forgot how to view metadata. In that case, here are the steps you need to follow.
Step 1Go to the particular folder and look for the file you need to view. Once the file is found, point your cursor on it, do right-click, and choose the Properties tab option.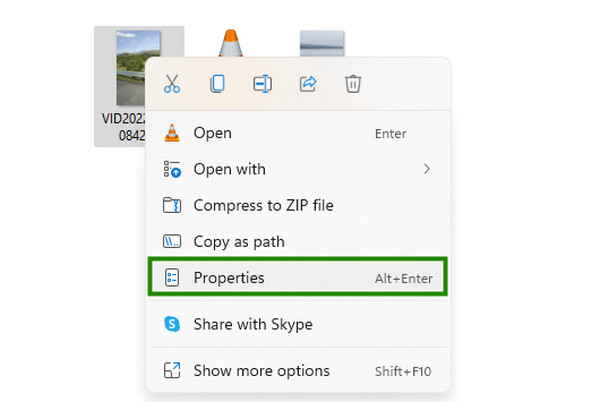 Step 2Then, once you click the Properties, a new window will prompt. From there, click the Details button to see the entire file information.
Step 3Scroll the details up to the bottom as much as you need to. Then, once you are done viewing the data, click the OK button to exit. And that is how you use this free metadata viewer of Windows.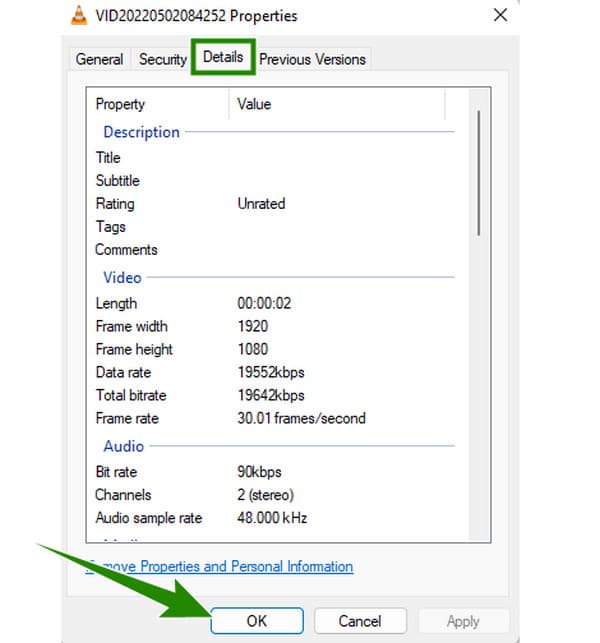 Part 2. Default Way to View Metadata on Mac
Moving forward is the default way to view your file's metadata using a Mac. Like Windows, Mac computers also come with a file viewer that you can rely on. Mac comes with a Finder that you can use to explore files and apps your Mac computer holds. By opening your file using this Finder, you will be able to view the file information, move the file to trash, compress files, share, and many more. However, this viewer is limited from editing your files, the same as the default way of Windows. Meanwhile, here are the steps you can follow if you ever want to know how to read metadata from video on Mac.
Step 1Click to open the Finder on your dock. Then, once it is launched, search for the file you need to view using it.
Step 2Then, when you find the file, right-click it and choose the Get Info option from its menu.
Step 3After that, a new window will appear containing the metadata of the file you opened.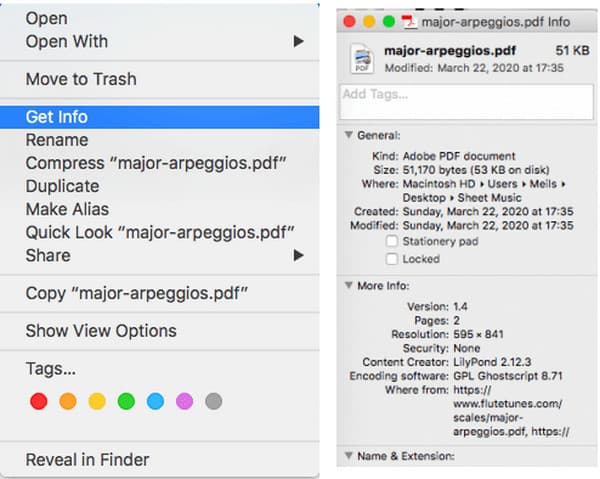 Part 3. Best Ways to View File Metadata on Windows and Mac
Way 1. Tipard Video Converter Ultimate
Indeed, default ways are more accessible and more practical to use. On the other hand, having the best third-party tool is a step toward professionalism. It is why we present you this Tipard Video Converter Ultimate, not just to give you the best way about how to check the metadata of your files but to edit them as well. You will be glad to know that this amazing software enables you to edit and enhance your video data, content, and all its properties that you want to modify. It comes with numerous editing tools hidden in its Toolbox that are AI-powered. One of them is this Media Metadata Editor that allows you to view, keep the original file, or edit the title, name, year, artist, album, etc. as much as you want without compromising its quality.
Another thing that makes it remarkable is that you can acquire it on Windows or Mac, whichever you prefer. On top of that, it protects and smoothens your device and its process since it comes with hardware and GPU accelerations. Thus, here are the steps on how to view metadata efficiently.
Step 1Launch the software after installing it using the Download buttons above. Then, go to its Toolbox menu and click the Media Metadata Editor tool.
Step 2After that, click the Plus icon you see from the new window that appears. This will enable you to upload the file you need to view.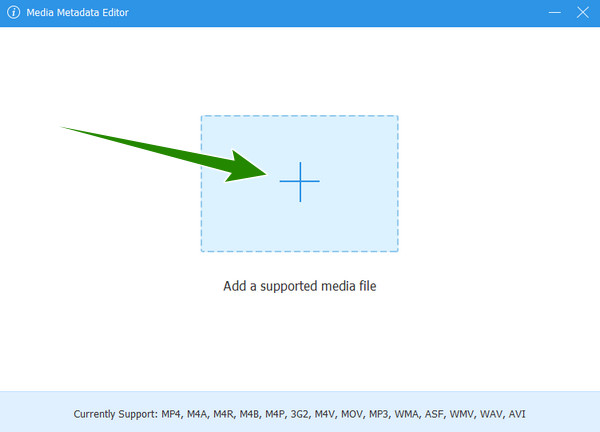 Step 3Once the file is loaded, you will get to view its metadata. Please note that the data you see are editable, and you can modify them accordingly.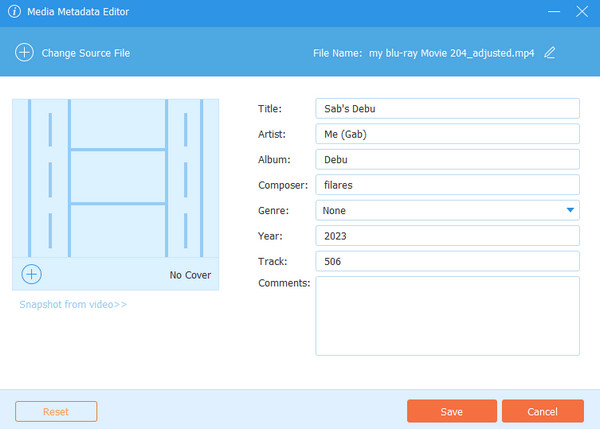 Way 2. Photoshop
Photoshop is one of the editing programs that professionals use. That said, you should not be surprised to know that you can view metadata in Photoshop since it comes with so many editing tools, and it is impossible not to have the tool you need to view the data. You also can use Photoshop to make a GIF. However, if you are a beginner, you may stick to the previous tool we offered, especially for other file editing tasks. Thus, if your agenda is only to view metadata, then here are the simple steps to follow.
Step 1Launch Photoshop on your computer and open the file you want to view.
Step 2Once the file is loaded, click the File menu and look for the File Info.
Step 3After that, a new window will appear, where you will see the file details.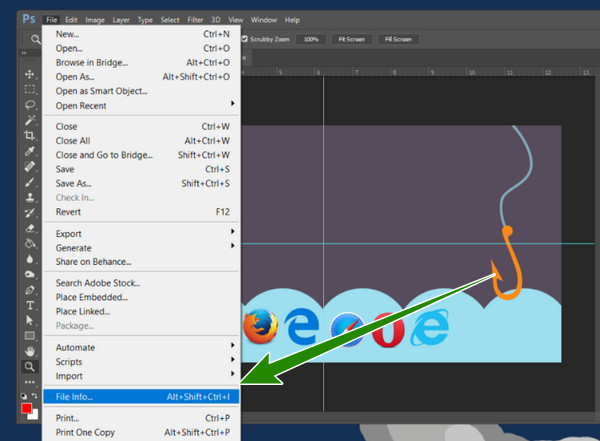 Part 4. FAQs about Viewing File Metadata
Can I see the year when my file was created in its metadata?
Yes. In your file's metadata, you will see the year it was created and the creator.
How to see metadata on the iPhone Photos app?
You can view the metadata by opening the file, then tap the i icon at the bottom of the screen.
Can metadata protect my file?
Yes. Metadata of the files can protect the ownership since all the owner's credentials of their files can be listed in the data.
Conclusion
There you go, the metadata viewers you can use on Windows and Mac. You can use your device's default way if you just need to view the metadata. However, there are better tools to use than these default ways to use when it comes to editing. For this reason, we provided the best alternatives, like the Tipard Video Converter Ultimate and Photoshop.