Best Metadata Removal Tools: How to Remove File Data on PC, Online, and Mobile
There are valid reasons to remove metadata from video and audio. One of the main reasons why is to keep the data information private. Many invaders tend to invade the files' metadata since this metadata has some information about the file and its creator. Furthermore, as video editor enthusiasts, we couldn't agree more on media data deletion for protection purposes. However, we have met some editors who, until now, do not know how to remove or delete their files' data. Therefore, to make this article a helping hand to those editors, we have outlined the guidelines of the proper ways to remove data using the default and the best ways on computers. In addition, guidelines to remove metadata online and on mobile are also included.

Part 1. How to Remove Metadata on Windows and Mac Computers
Using Video Converter Ultimate (Windows & Mac)
Multiple file editors are available in the market today, but not all of them allow you to edit and delete media metadata. With this being said, let's come up with this amazing file editor that you can use on both Windows and Mac offline, the Tipard Video Converter Ultimate. You can use this tool to remove metadata, which includes title, name, year, creator, comments, etc., from Mac and Windows files as easily as one, two, and three. This software is the best offline tool that provides you with excellent features and tools, allowing you to convert, edit, and enhance your audio and video. Furthermore, it comes with an intuitive and neat interface making you master its navigation easily and quickly even if you are a first-time user.
What makes it more amazing is that it supports more than 500 different file formats, giving you the assurance that you can work with any type you want. The advanced technology this Tipard Video Converter Ultimate provides. Wherein you can assure the ultimacy of using it for your device since it has hardware and GPU acceleration. Henceforth, please see the steps to delete your files' metadata easily.
Step 1Acquire the software by clicking the Download button above. After the installation, open the metadata removal tool and click the Toolbox menu. From there, please look for the Media Metadata Editor tool and click it.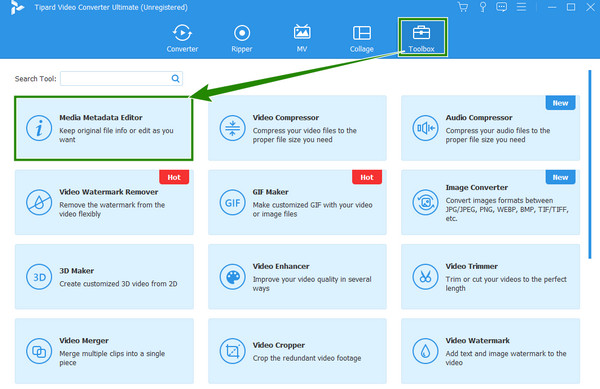 Step 2After that, you may upload your video by clicking the Plus icon you see at the center of the popped-up window. Please notice the swift importation process of this tool, making you work faster.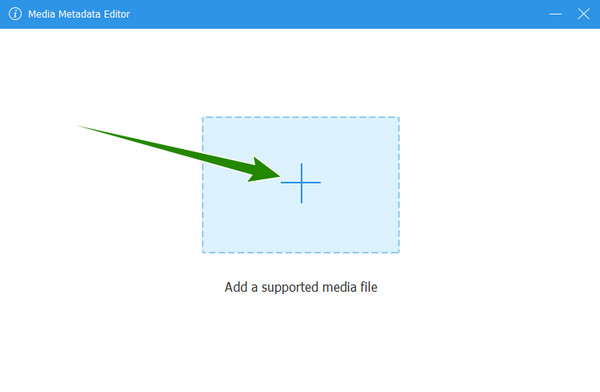 Step 3You will see all the metadata in the new window when the video is uploaded. To delete them, simply highlight the detail, and hit the Backspace or DEL key on your keyboard. Afterward, click the Save button at the bottom to acquire the changes. And that is how to clear metadata in a simpler and faster way.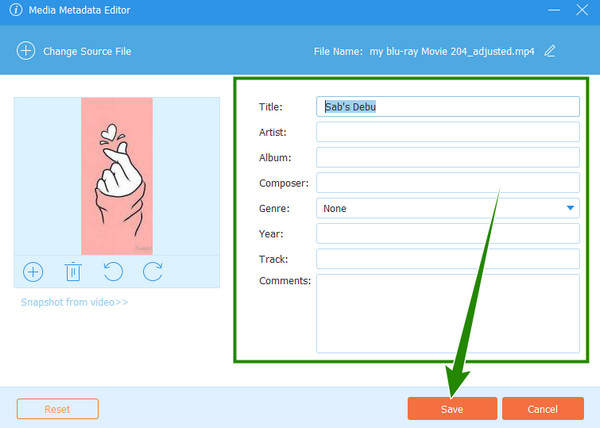 Using Windows File Explorer (Windows)
Another offline way you can use Windows is this built-in File Explorer. You can use it anytime for free without installing anything. You may not realize it at first, but this particular explorer allows you to view and delete the metadata of your media files. Part of its features, this explorer, lets you open media files to your preferred media player, copy the original file path, and compress to zip multiple files besides viewing and editing their properties. You can also edit your audio metadata with this tool. If this information excites you, let us see the steps on how to remove ID3 tags from MP3 files this time.
Step 1On your desktop, launch your explorer and look for the MP3 file you are about to work on. When you finally find the MP3 file, right-click your mouse and choose to click the Properties option.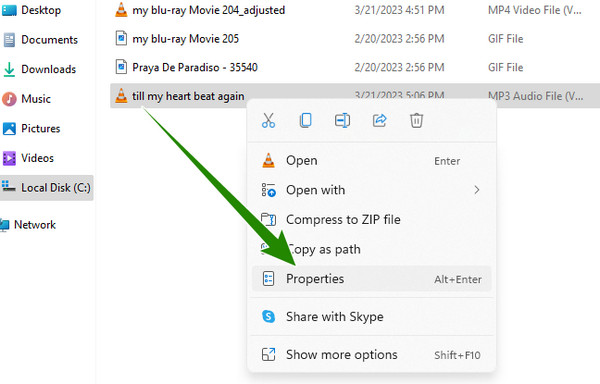 Step 2After that, a new window will pop up. From there, go to the Details section and hover to the bottom to hit the Remove Properties and Personal Information dialogue.
Step 3Then, on the other popped-up window, tick the Remove the following properties from this file option. Then, toggle all the properties you want to delete, and finalize it by hitting the OK button.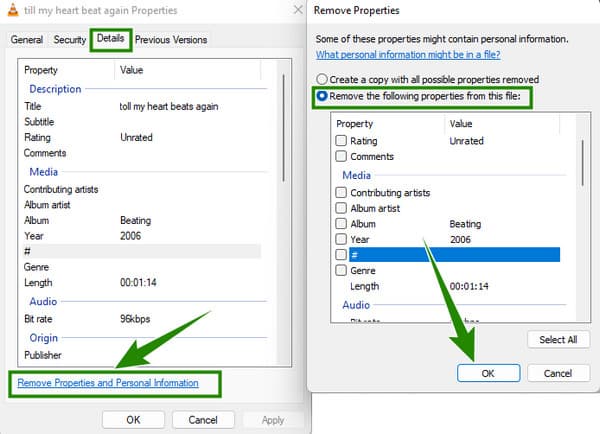 Using Finder on Mac
Let us now move on to removing metadata from Mac files. On this part, we are glad to inform you that you can use your Finder to do the task. This method is what we can say is the easiest way to delete parts of your file metadata. However, unlike the first two tools, this Mac Finder can only remove the location data information of your files. Hence, if you are willing to use it, follow the steps below.
Step 1Open the Mac Finder on the dock, then launch the Preview to open the file.
Step 2Then, start viewing the location data information of the file by clicking the Tools tab and choosing the Show Inspector option.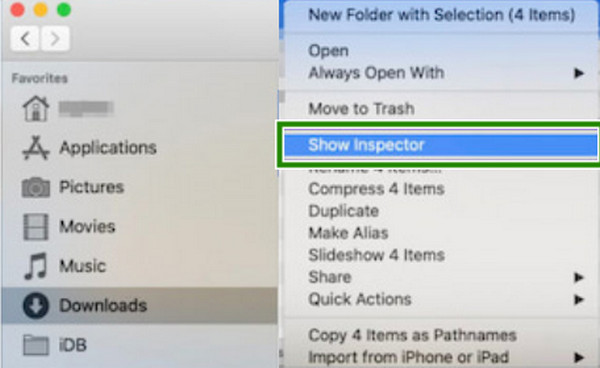 Step 3Afterward, go to the GPS tab and click the Remove Location Info option. And that's how to clear metadata on Mac the default way.
Using MetaClean Online( Windows & Mac)
Here comes the online way to remove your file's data with the help of MetaClean. This tool is purposely designed as a metadata eraser on the web. Furthermore, you can access this MetaClean on various online browsers such as Microsoft Edge and Chrome. As you cannot guarantee a safe or secure privacy invasion online, and therefore can avoid this by removing the personal information of the media files. And here is how to do it using MetaClean.
Step 1On your computer's browser, visit the official website of Metaclean. Then, hit the area where you can upload the file.
Step 2Once the file is loaded, a new window will appear. From there, hit the Get my File Clean button to remove metadata online.
Step 3When the metadata is cleared, you will notice that the file will be downloaded automatically.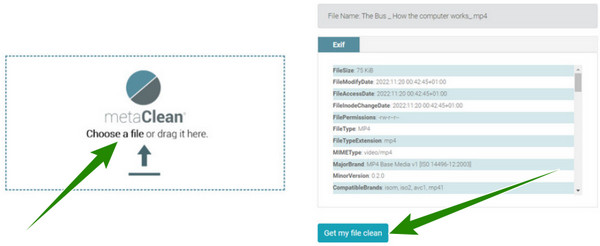 Part 2. Remove Video Metadata on Android and iOS Devices
This time, allow us to present to you this ViewExif app. It is a third-party app you can acquire on iPhone and Android. Furthermore, this app enables you to modify and erase the metadata of your files as it is its main function. However, this app is not a free metadata editor. As a matter of fact, you may acquire it with a price starting at $0.99 up to $3.99. Hence, if you are willing to use this tool to remove video metadata on Android or iPhone, follow the steps below.
Step 1Install the app on your mobile device and allow it to access your media files.
Step 2Then, select the file you need to edit and tap the Done button.
Step 3Once the file is opened, select this tool and tap the Remove Metadata tab.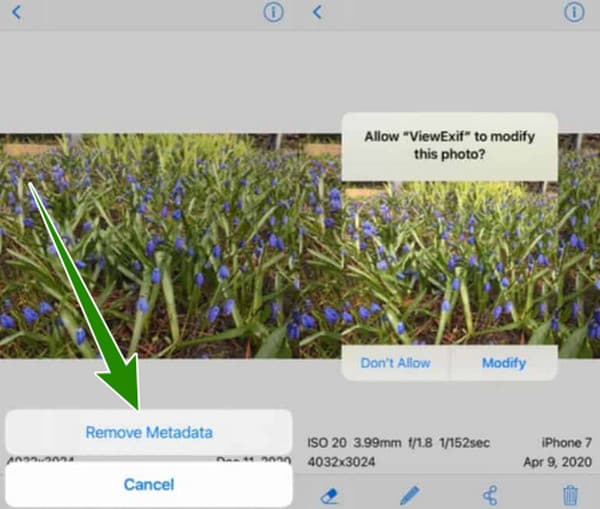 Part 3. FAQs about Removing Metadata
What are the types of metadata that I can delete?
You can remove your file's title, location, creator, and other elements.
Is the Photos app a metadata removal tool?
No. Unfortunately, the Photos app doesn't have a metadata editor and remover.
Are Exif and metadata the same?
Yes. It is just that Exif is the metadata that images have.
Conclusion
There are many ways to remove metadata, and the solutional methods you saw in this post are the most feasible. However, if you want a multifunctional tool, choose Tipard Video Converter Ultimate.