7 Best Final Cut Pro Alternatives for Windows and Mac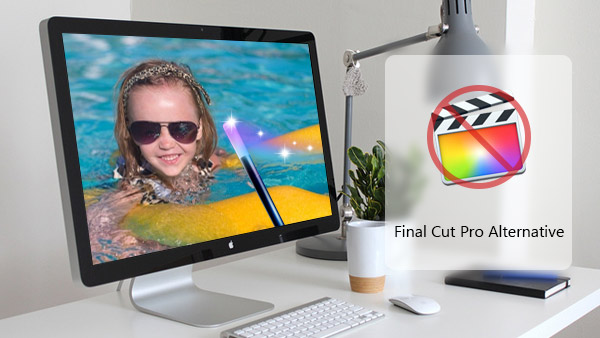 Final Cut Pro is always a great video editor for Mac users. The program includes advanced video editing features, such as multi-channel audio editing, clipping connections, compounding clips, 3D tiles and magnetic timeline 2. But there are also some drawbacks and shortage for Final Cut Pro, when you need to get more Final Cut Pro alternatives, you can read the ultimate article to find the suitable program for you accordingly.
Final Cut Pro Alternative Open Source
The open source utilities are always the best choices as Final Cut Pro alternatives. It is not only to get the program for free, you can also find some add-ons to make the utilities perfect. Just learn more detail about the open source programs for video editing.
VirtualDub
As mention of the Final Cut Pro Alternative open source program. VirtualDub should be the most famous one for Windows Operation system. Thanks to VirtualDub 1.10.4, you can use use the program with Windows 8.1 now. But the program has not been updated since 2014.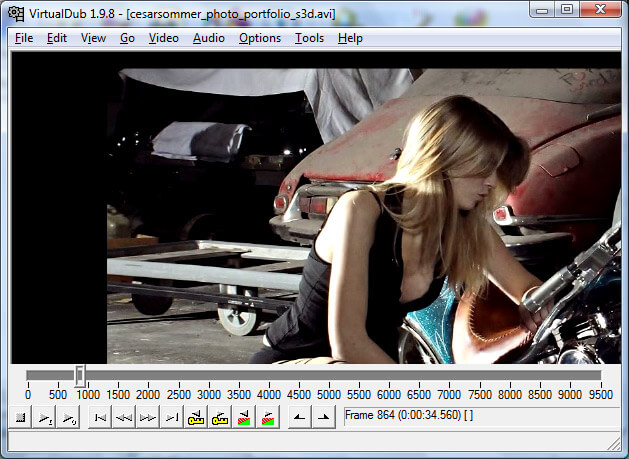 1. It is compatible with Windows 8.1 or lower system of Windows operation systems.
2. Deal with batch processing as well specially for dealing with AVI files.
3. Powerful video capture program to get videos with fractional frame rates.
4. Real-time downsizing, noise reduction, filed swapping and verbose monitoring, including compression levels, CPU usage and free disk space.
5. It is not only a video-editing program, but also helps you to clean up videos on your computer.
6. Another feature should be mentioned is the fast speed of the program.
7. When you take a capture video, trim the ends, clean up noise of them to make a video. You can also write your own SDK filter to make the program excellent.
OpenShot Video Editor
Just as the name of OpenShot video editor, it is an open source video editor with simply process and powerful functions. When you compound video, audio and photos to design a stunning video, you can take advantage of the exciting features of OpenShot Video Editor.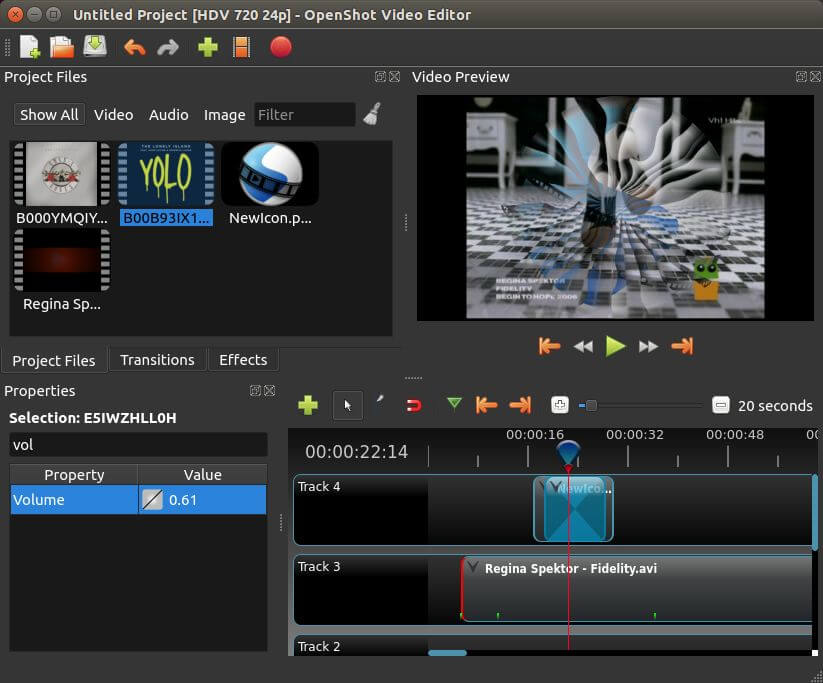 1. It is a cross platform program supports OSX, Windows and Linux systems.
2. Advanced timeline with Drag-n-Drop, panning, scrolling, zooming and snapping.
3. Powerful curve-based key frame animations, which is a drawing that defines the starting and ending points of any smooth transition.
4. Video encoding, resizing, scaling, trimming, snapping, rotation and cutting.
5. Audio mixing and encoding, you can add music from Pandora app and similar programs.
6. Compositing, image overlay and watermark.
7. Extensive editing and compositing features, and has been designed as a practical tool for working with HDV and AVCHD.
Final Cut Pro Alternative for Windows
If you want to use similar program as Fin Cut Pro on Windows, you can use the default Windows Movie Maker. Windows Movie Maker is a free program for all Windows users. And you can also get some professional video editing programs as Final Cut Pro as below.
Sony Vegas
Sony Vegas is an ultra-modern video editing features for all users. It is one of the best platforms to deliver the video effects without your imagination. Compared to Final Cut Pro and other FCP alternatives, it costs US$799.00 for VEGAS Pro 14 Suite, which is not affordable for ordinary users.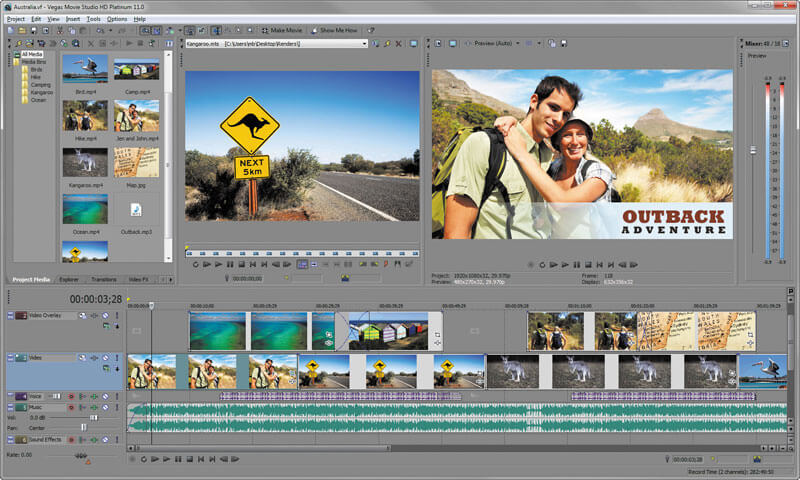 1. Download and install this app on your iPhone and launch it.
2. It works as an authoritative monitoring workstation for multimedia files.
3. Sony VEGAS Pro 14 Suite supports unlimited video tracks, advanced project archiving, 3D editing, masking, over 390 video effects, over 200 2D and 3D transition, credit roll, text animation, 4K files, multilayer PSD files as well as the basic features of video files.
4. The professional audio features are always the reason for choosing Sony Vegas as the alternative for Final Cut Pro. There are over 3.5 W/5.1 FX audio effects, support 5.1 surround and stereo AC3 encoding, ASIO driver, Time stretch and Red Book Audio CD mastering and burning.
5. Except for the above features, you can also use some excellent editing and media management features within the program. Just as 3D track motion and real-time event reverse are the favorite features for professional users.
6. And you can also access external control surface support, HEVC file editing, native ProRes and Smart Render.
Cyberlink PowerDirector
With the new release of Cyberlink PowerDirector 15, vertical video is a feature that I added to the program as one of the best Final Cut Pro alternatives. The Vertical Video is a special feature to work with videos shot vertically on mobile. And you can upload mobile video for YouTube, Facebook and Vimeo directly.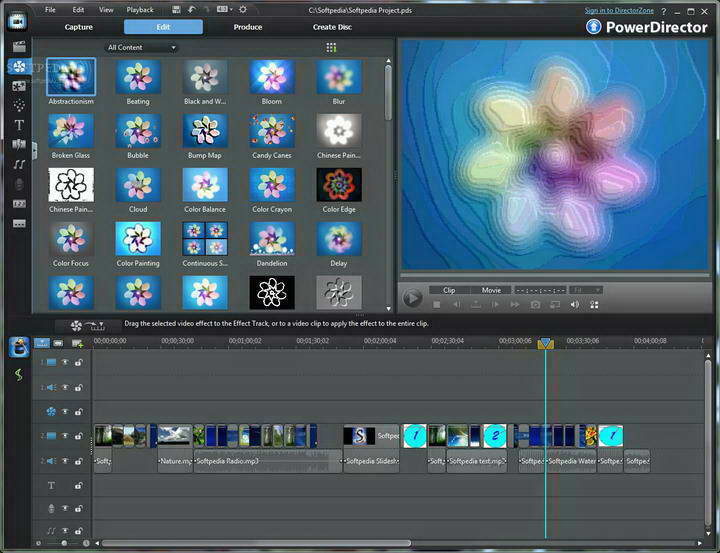 1. The intuitive design flow is the core of the program, which delivers an easy to use interface to edit video files as profession.
2. The express projects feature is the fast and easy way to create professional- quality video quickly.
3. Total 360° videos using the same intuitive design tools you know and love. It's a whole new perspective on movie making.
4. You can also access the leading-edge formats and performance, which cut edge video rendering and production technologies.
5. The high frame rate video editor supports the 120/240 fps slow motion footage from your iPhone, Go Pro and other action sport cameras.
6. Just as Final Cut Pro, you can also enjoy some excellent Ture-to-life color enhancement and customizable design tools within the program.
Final Cut Pro Alternative for Mac
As for the alternatives for Final Cut Pro on Mac, you can get the programs that compatible with Final Cut Pro. You can collaborate the project files with the video-editing program to design a great video file accordingly. Just check more detail as below.
iMovie
All Mac users will take iMovie as the first alternative for Fin Cut Pro, you are able to use the program on both Mac and iOS without problem. You can also import iMovie project into Final Cut Pro seamlessly, and then add more professional effects and features to make outstanding video files.
1. When you take videos with iPhone, you can import videos directly from iPhone to iMovie. And then use the video editing features to get a stunning result.
2. iMovie can fix any shaky video with stabilization effects and increast the size of the video clips, it is a nice features to edit videos taken by sport cameras or smartphones.
3. As the default program of Mac, you can also use the Magic Trackpad multi touch gestures when using iMovie.
4. iMovie also provides instant reply, precision clip editor and swap project and event.
5. The sport team editor enables you to use sport team theme video for sport event. It is useful for editing sport related videos.
6. There are a huge number of audio selection come with iMovie that you can combine with the video clips to make a stunning video file.
Adobe Premiere Pro
Adobe Premiere Pro is well known video editing program to make stunning video virtually anywhere. What is more important, you are able to make switch from Final Cut Pro or Avid. Just like the other service of Adobe, you need to pay a subscription charge with US$49.99 per month for Adobe Premiere Pro.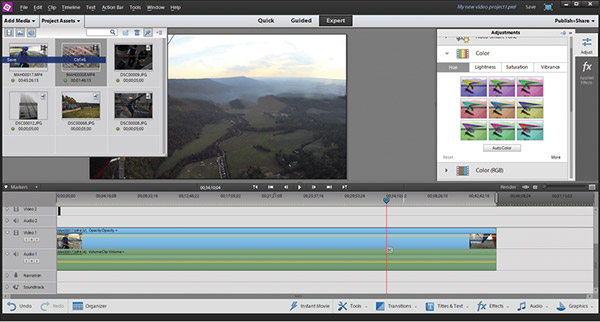 1. Premiere Pro is a part of cloud service. You can access the program from all your assets. It helps you put your idea into production with ease.
2. The Adobe stock built in provides 60 million high quality images, graphic, videos and 3D assets, which you do not have to worry about the sources.
3. Whether you need to edit 8K-footage in native formats or create lightweight files by yourself, it is always easy to switch between low resolution and high-resolution files.
4. Enhanced Lumetric color tools empower you to have new methods to use colors creatively.
5. As the support of cloud service, you are always easy to collaborate on shared sequences and compositions across Premiere Pro, After Effects and Prelude with Adobe Team projects.
6. When you are using other programs of Adobe, you can save time and stay in your creative flow with improved integration between them.
Tipard Video Converter Ultimate
Tipard Video Converter Ultimate is the one stop solution alternative for Final Cut Pro. Tipard Video Converter Ultimate just creates stunning videos from a blank. You can convert video and enhance the quality, edit the videos and apply stunning effects.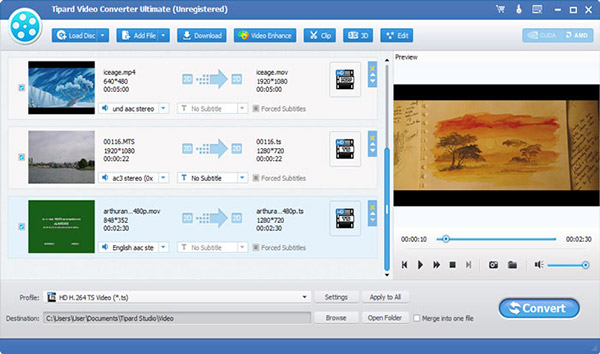 1. Simple and clear interface, easy to use program.
2. Capture your favorite video images when previewing the video, movie and then save them on your local disc as JPEG, PNG, and BMP format.
3. Convert video to 4K and HD files, which also enhance the quality of the original files.
4. The program empowers you to select audio track and subtitles.
5. Batch conversion function to convert DVD and video to desired formats within few clicks.
6. Excellent editing features to enhance video quality, crop video clips, add special effects and watermark perfectly.
Conclusion
Except the above alternatives for Final Cut Pro, you can also use VideoPad video editor, Pinnacle Studio and other programs according to your requirements. If you have any query related to the programs, you can feel free to share your comments with us in the article.