Top 5 Linux Video Editing Software You Will Like in 2023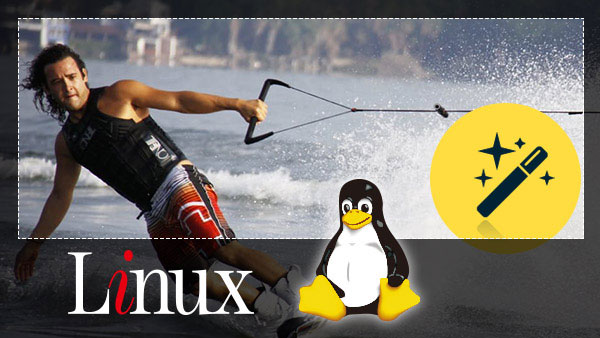 When we talk about video editors, the applications such as Windows Movie Maker and iMovie will appear in our mind. It cannot be denied that they are excellent video editors. However, this video editing software does not support Linux. And when we talk about video editors, we usually overlook the demands of Linux users. Considering the unique of Linux, there should be some special solutions to deal with the task of video editing on Linux. Therefore, this article will introduce some best video editing software that is available on Linux.
1. Kdenlive
Kdenlive is an open source Linux video editing software, so you can enjoy it freely. It does not only support Linux, but also run on Mac and FreeBSD. Kdenlive is built on QT and the KDE frameworks library. If you are a Linux user and have tried several video editors, you will realize that Kdenlive is the best Linux video editor for you. Here are the basic features of Kdenlive.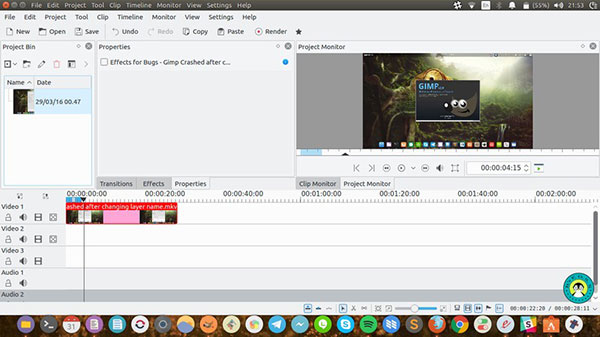 1. This Linux video editing application supports wide range of video formats, camcorder and cameras, like Professional camcorders, High resolution camcorder files, which including HDV and AVCHD camcorders, and Low resolution camcorder.
2. It has the ability of multi-track editing with a timeline.
3. Kdenlive also provides the tools to create, crop, move and delete video clips, audio, text and images.
4. A series of effects and transitions built in this Linux video editing software, like pitch shifting, audio volume adjustment, equalization filters, masking, distortions, rotations, blurring, and so on.
5. As an open source application, the function called Kdenlive Builder Wizard allows users to test the new features and report problems.
2. Blender
Blender is a professional open source Linux video editing software. Actually, it is a 3D graphics application and many professionals utilize Blender cross platforms. And some Hollywood movies, such as Spider Man Series, have used this Linux video editing software. This video editor is written with python, C and C++. Honestly, Blender does not have a cool skin and it just looks like a regular application. But almost all users will be attracted by its powerful abilities. In addition to create 3D modeling, just check other features include of the Linux video editor.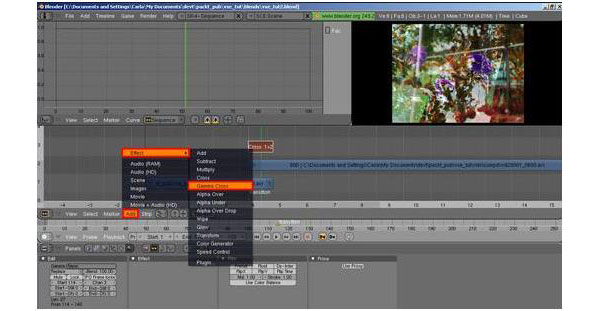 1. The functions related to video display, like live preview, luma waveform, chroma vectorscope and histogram displays.
2. Some audio editing tools, like audio mixing, syncing, scrubbing and waveform visualization.
3. The features related to video editing Linux, like speed control, adjustment layers, transitions, animating, compositing, keyframes and some filters.
4. It also has a special ability of scan-line ray tracing that could export in various system for internal render engine.
5. It also empowers you to arrange and save your custom interface layouts to fit your workflow. And you can also access to keyboard shortcuts to match your preference.
3. Flowblade Movie Editor
Compared to a beautiful skin, users may focus on utility and navigation of a video editor. Flowblade Movie Editor is an efficient Linux video-editing app with multitrack non-linear video editor released under GPL3 license. Whether you are a beginner or master, the video editor for Linux can always make your vision a reality of image and sound. Find more detail about some features attract you to use it: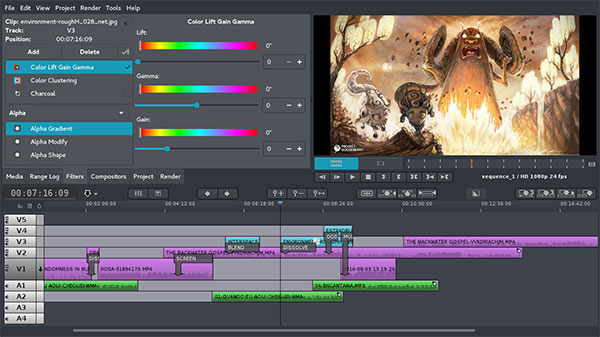 1. It is a simple video editor. We all know that video editors are usually complicated. However, this video editor has a clear interface and layout. So you will never lose in it.
2. Although it easy to use, its video effects and audio effects are rich. It even integrates the GMIC filters.
3. When users edit videos, playback is an important feature to preview the effect. This feature will be influenced by hardware. But Flowblade Movie could provide smooth playback experience.
4. Flowblade Movie is an excellent lightweight application as well. Lightweight is not a common feature among video editors.
5. This Linux video editing application has plentiful of options, for it use FFmpeg and MLT as the foundation technologies.
4. OpenShot Video Editor
OpenShot video editor is another video editor on the list of top Linux video editing tools. The program has attracted a large amount of followers. And the most advantage of this Linux video editor is its right balance on features and complexity. The simple features of OpenShot include: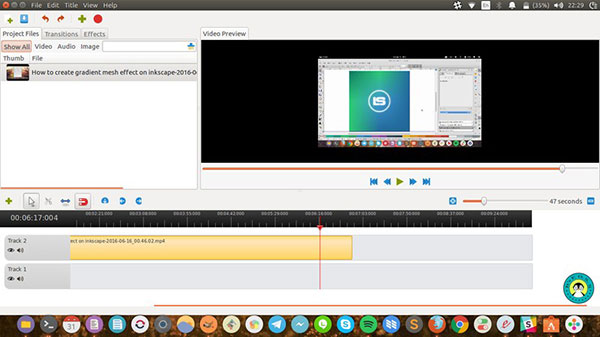 1. It provides some basic video editing options, such as 3D animation, curve-based camera motion, compositing, transitions, audio mixing, and vector titles.
2. Of course, users could use it to adjust the audio in the video clips.
3. It is compatible with most video formats and audio files. You can always edit any video format according to your requirements.
4. The concise user interface will give you a clear navigation, although it seems a little simple. So it is more suitable for beginners.
5. After editing, users could export the movie to DVD or share on YouTube. It also supports to export videos to other hardware, like Xbox 360.
6. It is a small Linux video editing application, which just needs 25 MB to download and 70 MB disk space to run.
5. Pitivi
Actually Pitivi is a non-linear Linux video editing application for Linux. Considering it is an open source non-linear video editor, it makes sense that Pitivi appears on the list of best Linux video editing software. You can learn more detail about the basic features of Pitivi or download the program to have a try now.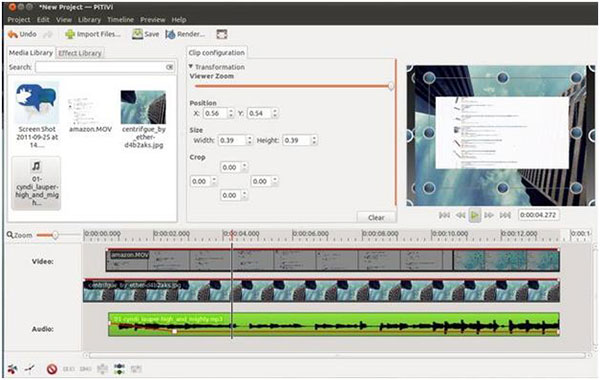 1. The Linux video editing software has hundreds of animated effects, transitions and filters. It is also able to crop, snap, trim and split the video clips.
2. Pitivi also provides the basic audio editing and mixing tools, which add true dynamism to your films by animating all the effects' properties over time with keyframes.
3. Users could use some shortcuts and scrubbers to command it.
4. It will separate and link the video and audio on timeline automatically.
5. The concise user interface also supports drag and drop operations.
6. This software has several languages version, so its users are around the world.
Bonus: Tipard Video Converter Ultimate
Tipard Video Converter Ultimate is the easy-to-use and powerful video editing and converting software for Windows and Mac. You can edit videos by cropping, rotating, watermarking, collaging, adding filter, adjusting effects.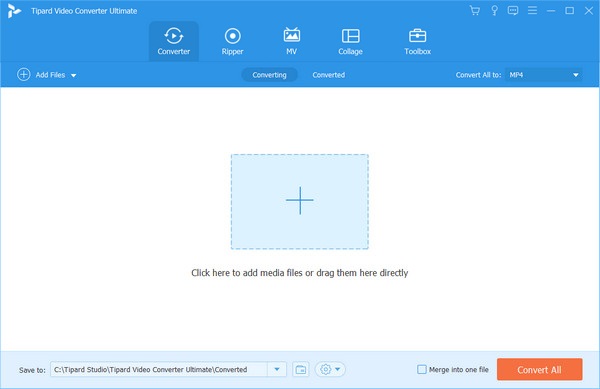 1. Convert video to 8K/5K/4K/1080p HD MP4, MKV, FLV, etc.
2. Rotate, trim, merge videos, add watermark, apply effects and filters.
3. Rip DVD to digital formats for smooth playback on any devices.
4. Make and create personalized music video in minutes.
5. Add multiple videos and pictures into one screen with video collage maker.
6. Edit ID3 tags, make 3D video, compress video, enhance video, make GIFs.
Conclusion
Based on the introduction above, Linux users could choose a suitable Linux video editing software among the list. If you are looking for a powerful Linux video editing software, Kdenlive is apparently the best choice. When you need an easy-to-use linux video editor, you can consider OpenShot to achieve all the editing features for you. As for creating 3D video, Blender could meet all your demands. And Pitivi is appropriate for non-linear video editing on Linux. In short, these best linux video editing software have their own characteristic and advantages. You can choose the appropriate one depending on your demands. If you have any other queries related to Linux video editing software, you can feel free to let me know in the comments.