Best Outlook Password Recovery to Use Effectively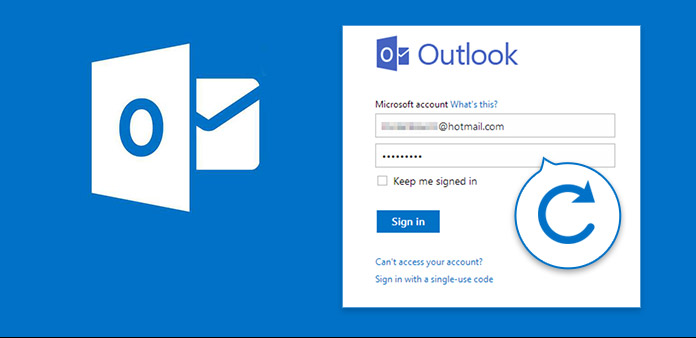 As the name of Outlook Password said, it is a dedicated Outlook passwords recovery program. Users could use Outlook Password to open encrypted Outlook storage files directly and recover their email account passwords. Outlook password is important to most Windows users, because Outlook password is also the key to go to other Microsoft services, like Skype, Microsoft account, Office Online and more.
Of course, you can try to contact Microsoft to recover Outlook password. However, the process is a little complicated. And it will take time to recover your password. If you are looking for some simple ways to find your forgotten Outlook password, you can utilize Outlook Password and its alternatives.
Part 1. Outlook Password review
As more and more people choose to set complicated Outlook password, they need an easy-to-use Outlook passwords retrieve program on their PCs, such as Outlook Password. Just learn more detail about the Outlook password.
1. Outlook Password supports to read the encrypted Outlook PST files, which contain all information of your Outlook accounts, including passwords.
2. It could extract the passwords to email accounts.
3. You can check other data related to your Outlook accounts, like user names.
4. Outlook Password is compatible with most Windows systems, from Windows XP to Windows 10.
5. All available versions of Outlook are supported by Outlook Password.
1. Pros & Cons
Every coin has two sides, so does Outlook Password. When you want to retrieve Outlook password with the solution, you can learn more detail about the cons and pros about the solution first.
Pros
1. Users could achieve Outlook passwords recovery with Outlook Password.
2. Outlook Password could help you to manage and retrieve Outlook account and other data too.
3. Outlook Password is an easy-to-use application without gorgeous features.
Cons
1. Outlook Password is a paid program.
2. You can only recover passwords from Outlook.
3. The process to export retrieved information is not easy.
4. You only could extract part of email account information from Outlook with Outlook Password.
2. How to recover Outlook password
Besides passwords managing, Outlook Password has the ability to get back Outlook passwords of email accounts that you have used in Outlook.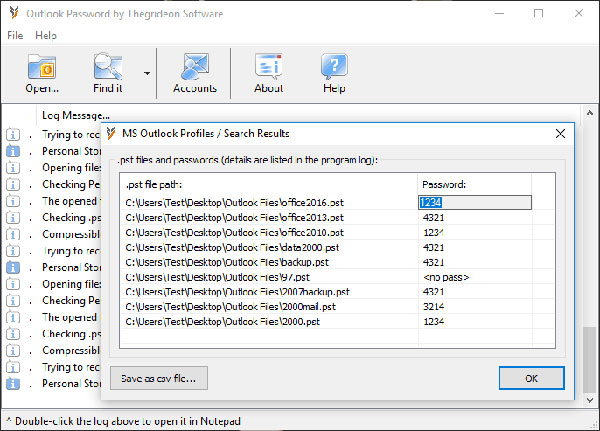 Step 1
You'd better to download Outlook Password installation from its official website, considering you will store passwords in this program.
Step 2
Follow the instruction and install Outlook Password on your PC.
Step 3
When you forget your email password, launch it on desktop.
Step 4
In the main interface, you can tap on Accounts menu. Outlook Password will show you all the accounts data available. Then you can check your email account and retrieve the password.
Step 5
You can also manage your Outlook Profiles within Outlook Password. Open Find it menu and choose List your MS Outlook Profiles option. Then you can check the location and other data of your Outlook Profiles.
After you get the password, you can press close button on upper right corner to close the application. Unfortunately, Outlook Password does not store port names, so you have to check them in Outlook. And after password recovery, you have to write it down, because Outlook Password does not allow you to export the data to a TXT file.
Part 2. Best alternatives of Outlook Password
Password managing and recovery is cybersecurity sensitive work, so you have to be careful when make decisions. We collect some safe PST password recovery programs, which have similar functions to Outlook Password.
1. Kernel PST Password Recovery
Kernel PST Password Recovery is a freeware to recover Outlook password. Everyone could use it to retrieve the forgotten PST password. You can recover email password with PST Password Recovery quickly, no matter how length and complexity of your password.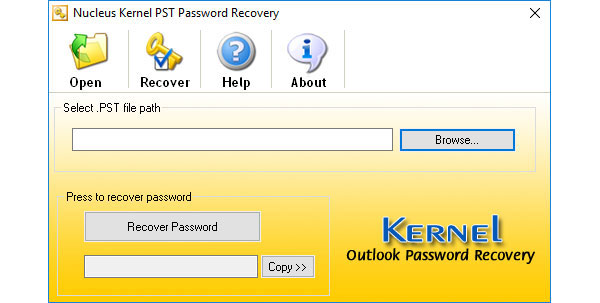 1. PST Password Recovery integrated a quick algorithm to retrieve lost passwords for users.
2. It has a user-friendly interface. You can recover email password simply.
3. You can unlock password-protected PST files instantly, no matter how complicated the password is.
4. PST Password Recovery supports Outlook 97 to Outlook 2016.
5. You can recover the multilingual passwords within PST Password Recovery too.
6. There is a technique support forum. If you have any questions about it, you can ask for help directly.
In short, Kernel PST Password Recovery is an effective application. Everyone could use it to recover lost Outlook password for free. Kernel PST Password Recovery is a free application. It has all the features that Outlook Password has. But everyone could use PST Password Recovery for free.
2. Recovery Toolbox for Outlook Password
Recovery Toolbox for Outlook Password is another powerful tool to achieve Outlook password recovery. According to the developer, the purpose of this utility is to help people around the world to fix password issues. Today, each person has many accounts and passwords to access email, social media, forums and other online services. Cybersecurity experts have suggested that people should set different passwords for different accounts. How to remember all these passwords becomes a headache problem. Recovery Toolbox for Outlook Password is a legal solution to retrieve forgotten password.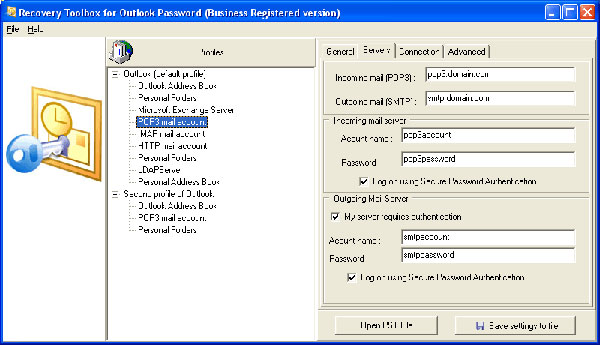 1. The basic feature of Recovery Toolbox for Outlook Password is to retrieve passwords from Outlook email accounts.
2. This Outlook Password alternative will recover passwords from PST files.
3. It also allows users to reset passwords from OST files.
4. You can backup Outlook account settings within Recovery Toolbox for Outlook Password.
5. And this tool has the ability to display settings of Outlook accounts and email profiles.
Recovery Toolbox for Outlook Password is a part of Recovery Toolbox suite. If you need a powerful tool, you can try Recovery Toolbox for Outlook Password. Recovery Toolbox for Outlook Password is one tool of the Recovery Toolbox suite. Although it is paid software, its powerful features are attractive. Recovery Toolbox for Outlook Password not only supports PST files, but also could read OST files. So you can use Recovery Toolbox for Outlook Password to retrieve more information about your email account.
Conclusion
Based on the introductions above, you might understand that Outlook password recovery programs are a solution to retrieve email password on PCs. Many people use Outlook manage their email accounts, like Hotmail, Yahoo, Gmail, and other accounts. We usually suggest people not to set the same password for different accounts. However, such suggestion will produce the problem of password forgotten. Compared to contact email providers, the tools are more convenient. We reviewed Outlook Password in the first section and discuss how to retrieve passwords with Outlook Password. If you usually use Outlook to log in emails, you should choose an application for your PC.