Top 5 Methods to Run Your Windows with Administrator Password and Account as Standard Users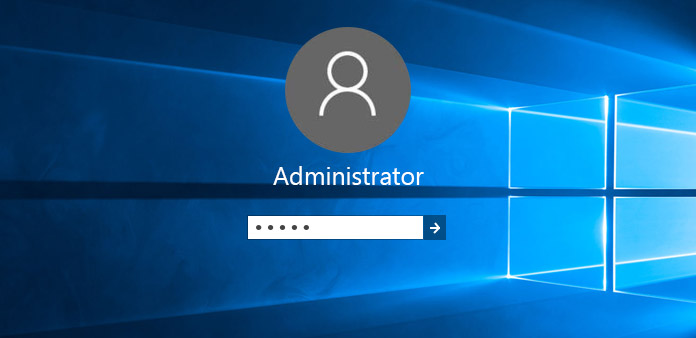 For every Windows user, administrator password is similar with iPhone screen lock passcode, which acts as a door of Windows computers. However, if you lost the correct key, it will be really headache to enter your computer, no matter you use Mac or Windows computers. As for Administrator account, it has been more unacquainted. The built-in administrator account is the real master of your Windows computers. Once you dig it out, you can manage all default Windows software without limitation. It sounds really attractive, to clean hard disk in free way. As a result, no matter you forgot administrator password or want to enable administrator account on Windows 7, you need to pay attention on this guide for several minutes.
Part 1. 3 Methods to Deal with Administrator Account
The user name shows during starting up your Windows 7/8/9/ 10/ XP/ Vista is not the correct administrator account of Windows 7. Sometimes you will face enable administrator account assess denied situations, but do not worry about that. You can get several ways to log in disabled administrator.
1. By Local Users and Groups
All Windows computers will set Administrator account as disable status, including Windows 7. Therefore, you need to remove one tick to control Windows 7 as Administrator.
1. Open Computer Management from the Control panel.
2. Find Local Users and Groups, and then click Users file.
3. Double click Administrator in the first place.
4. Uncheck Account is disable, click OK to save the Windows 7 administrator account with admin rights.
The default status of common people is at User, in Windows computers. Moreover, you can manage Storage and System tools under Computer Management too.
2. With local Security Policy
The reason your Administrator account is disabled is that your Windows computer has locked it in default way. Thus, you just need to switch the channel into Administrator to enable it.
1. Open the Start menu and then right click secpol.msc file.
2. Chose Run as administrator from the secpol list.
3. Open Security Options under the Local Security Policy dialog.
4. Click "Account: Administrator account status" option from the right pane.
5. Turn the Disabled little blue point into Enabled.
The secpol.msc has been hided too well, so that man people do not have any impression about it before. Though you operate differently, compare with the first methods. However, both of them have the similar characteristics of enabling Administrator account Windows 7 remotely.
3. Use Administrator Password
It may seem to be one programmer, for activing Administrator account of Windows 7. Actually, you just need to type few characteristics, which can restart your administrator rule again.
1. Open the Start menu and then search cmd, press the enter key to continue.
2. Right click the Command Prompt (Admin), to get Run as Administrator.
3. Tap Continue to move on administrator account active.
4. Type "net user administrator/active: yes" and then press enter.
5. Fill your administrator password when you see the administrator account icon, and then press enter again.
6. Type exit and log off the current user account to enable administrator account as standard users.
If you want to disable Windows 7 administrator account again, just turn the "net user administrator/active: yes" into "no". You will not see the login screen anymore.
Part 2. 2 Solutions for Administrator Password Resetting
If you forgot Administrator password, Windows 7 will deny you immediately. But do not set the Windows computers into Factory state directly. Actually, there are many ways you can use to bypass administrator password, with or without Administrator password breakers.
4. Use System Recovery Options
You can boot discs on someone's Windows computer to erase your forgotten Administrator passwords. After that, whether to use original Windows password or reset a new one depends on you.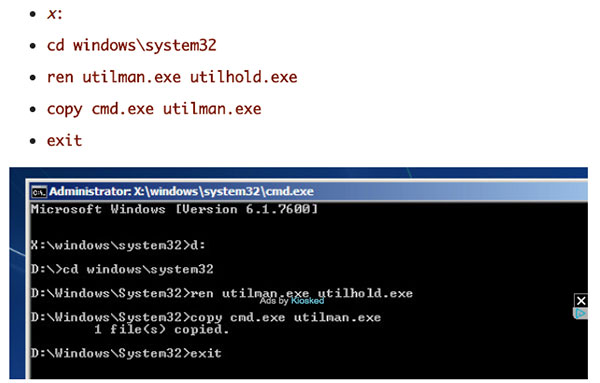 How to capture music from 8 tracks by Audacity
1. Open System Recovery Options dialog to know the OS location, click Next to move on.
2. Choose the last choice names Command Prompt.
3. You need to type some characteristics as engineers. "x:", "cd windows\system32", "ren utilman.exe untilhold.exe", "copy cmd exe utilman exe" and "exit" in the related places.
4. Remove the disc and then reboot the Windows computer.
5. Click Ease of access icon in the lower left corner.
6. Replace the current user name and password with new ones.
The final step is to close the window, and then type the new Administrator password and username to sign in again.
5. Try USB Cable
It is the idea with limitations, only those who have set USB Flash Drive to reset password before. But if you did at past, then things will be comparable easy to solve.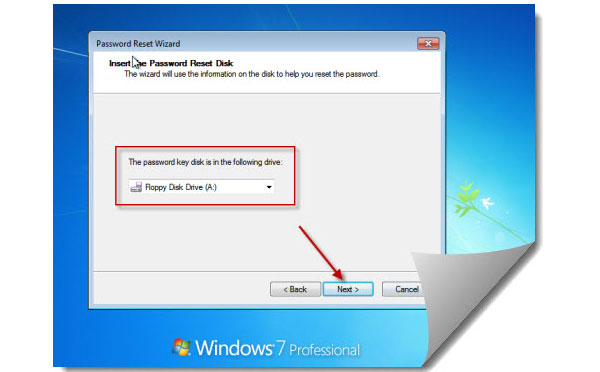 1. Click Reset password icon under your Windows Administrator account.
2. Plug in your USB port, and then choose Next after it is been scanned.
Then just wait for few minutes, you can regain the access to log in Administrator account again. But how to reset a administrator with USB disk?
1. Prepare one USB drive over 2GB, and install Windows Password Key Professional software.
2. Open the Windows 7 password reset editor and then burn the ISO images.
3. Choose the Windows hard disk you want to boot.
4. Click Burn to start.
For those who always forgot passwords, resetting Windows password and username by USB may be a nice choice. You can try other Windows administrator password recovery tools, too. Moreover, using CD to burn administrator password is also acceptable.
Part 3. Something More Out of Windows 7
To be more specific, you can try Safe Mode to date back your Windows computer in Windows Error Recovery to reset Windows passwords too. Press F8 first until you see the Windows Advanced Options menu, and then click Safe Mode. You can reset Windows 7 administrator passcode in Users Account in the Control panel. If you have administrator password and username problems on Windows 8, Windows 10 or later, there are more solutions you can get. Open Microsoft website and then turn to the Windows Live password recovery tool. There are three selections you can get, which are "I've forgotten my password", "I know my password, but can't sign in" and "I think someone else is using my Microsoft account". The only premise is that you need to link the Windows 8 or later with wireless connection.
As for Mac users, you can get many Administrator solutions too. Using Reset Password assistant is the frequently choice, when Mac users are denied to log in. With three similar choice as Windows 8 or later versions, or to use recovery key and create a new login keychain. Things are not complex, just be patient to face.