How to Burn a DVD Effortlessly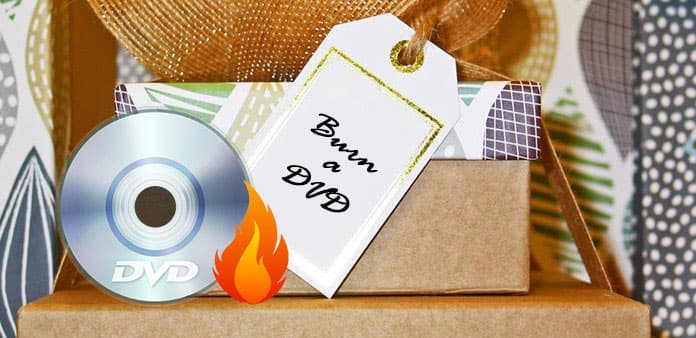 More and more people watch online videos on PCs and smartphones; however, larger screen is still more attractive and is able to provide better audiovisual experience. Download multiple hot movies and want to watch them with families on TV? The best solution is to burn a DVD and playback on DVD players. You might think that easier said than done. Indeed, it is still a challenge for some people to burn a video DVD since there are many parameters related to video quality. Therefore, we will share some methods and the guidance about burning a DVD on Windows or Mac.
Part 1. The easiest way to burn a Playable DVD
Before burning video to DVD, you have to do the following preparation. On hardware, you need an x86/x64 based Windows PC or Mac, an internal/external DVD drive, as well as several empty DVD discs (DVD-R/RW, DVD+R/RW). As for the software part, we suggest Tipard DVD Burner, the versatile DVD Burning software working on both Windows and Mac platforms.
How to Burn a DVD with Any Video File
Step 1
Download and install DVD Burner
Download and install DVD Burner Download the corresponding version of DVD Burner and follow the instructions to install DVD Burner on your computer. Then insert an empty DVD disc into DVD ROM drive.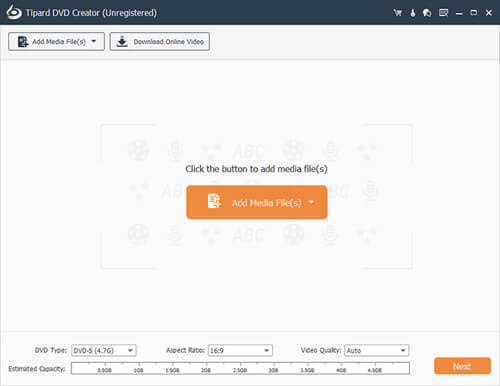 Step 2
Add videos to your DVD movie
Run DVD burner, click on the Add Media File button to load the videos you want to burn to DVD, or just drag and drop them into the program. You can either burn MP4, MKV, AVI, VOB, WMV, and other videos to DVD.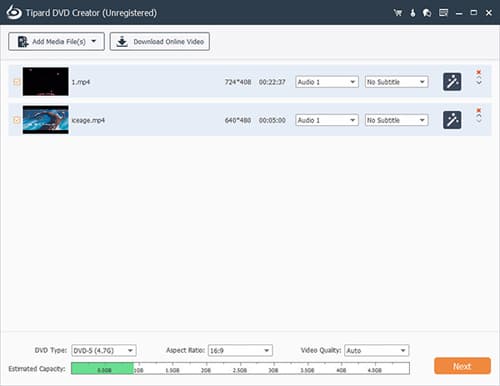 Click on the Edit menu under Menu tab on top of the preview window, then select your preferred DVD menu and define the name of each title in the pop-up editing window. Also, you can add background music, picture and opening film to the menu.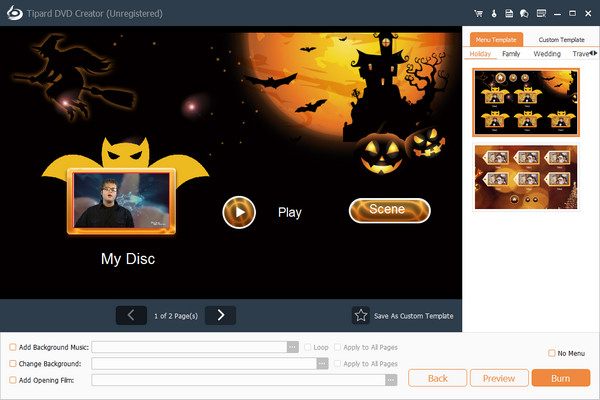 Step 4
Set output DVD volume label and destination
In Destination box at the bottom, choose the DVD drive in which you put an empty recordable or rewritable DVD disc, e.g. a DVD-R to be burned with videos. And name your DVD movie in Volume Label box.
Tips: You are enabled to burn video to DVD folder or ISO file. You have to define the output path if you need so.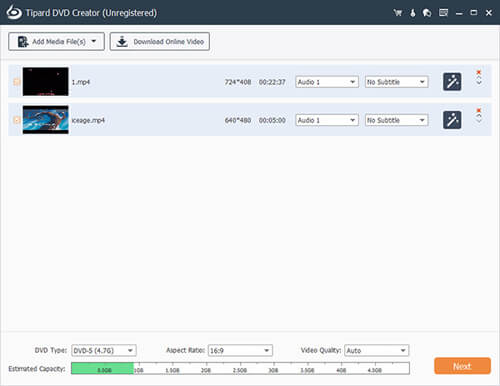 Hit the big Burn button to starting burning from the imported videos when all parameters and settings are done. DVD burner is able to transcode the video files and burning them to DVD automatically.
Soon you will be able to enjoy the DVD movies on widescreen with your family and friends.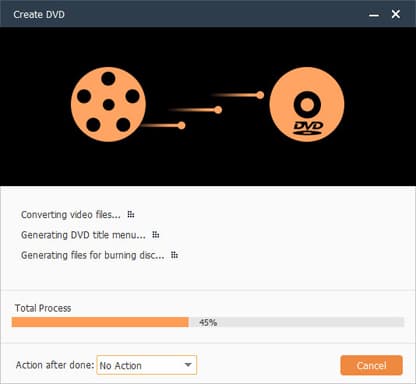 Part 2. Create a DVD on Windows
Although the built-in features allow users to create data DVDs, creating video DVDs are not feasible without third party tools on Windows. There are several open source DVD authoring programs available to Windows, like DVD Flick.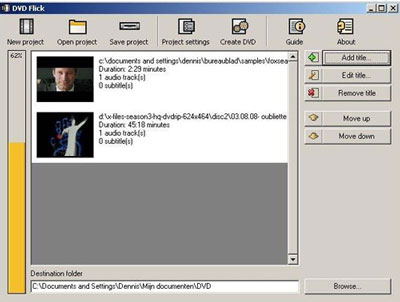 How to create a DVD on Windows
Step 1
Go to DVD Flick and click on the Add title button on the right side. When Windows Explorer opens, locate to the video files and select all the video clips you want to burn a DVD.
Step 2
Once you click on the Open button, the video clips will import into DVD Flick. After the video clips loaded, DVD Flick will calculate and display the amount of space required on the DVD.
Step 3
Then you can add audio tracks and subtitles in properties window evoked by clicking on the Edit title button.
To add a DVD menu, click on the Menu settings button and choose a menu style from the list. Check the Auto-play menu box and hit the Accept button to continue.
Step 4
Open the project settings window by hitting the Project settings button.
Go to General tab and pic a name, which will display on the menu as the title. And choose the size of DVD you want to create from the drop-down list.
In Video tab, choose a type of video system encode, such as NTSC, and set the quality of encoding.
Go to Audio tab and set the volume.
In Playback tab, choose a way to play video files on DVD.
And then check the box of Burn project to disc and choose your CD-ROM drive in Drive drop-down list in Burning tab.
Step 5
Click on the Accept button to close the settings window and hit the Create DVD button on top ribbon to start burning a DVD.
Part 3. Make a DVD on Mac
iDVD is a product of iLife that developed by Apple for Mac computers. Although it is not a pre-installed DVD burner, all Mac users could use iDVD to make a DVD on their computers. When it comes to the details, you can follow the steps below.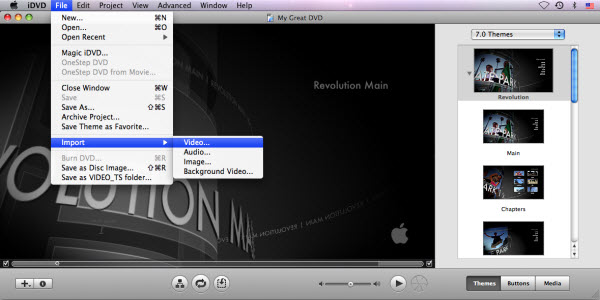 Step 1
Purchase iLife on Apple Store, double-click on the installation file and follow the instructions to install iDVD on your Mac computer. After installed, open iDVD in Application folder.
Step 2
Click on the Create a New Project button to start. Select a menu style and customize the DVD menu with iDVD prompts. iDVD also allows users to add music from iTunes library to the DVD menu.
Step 3
After created the DVD menu, drag the video clips you'd like to burn on the DVD and drop it to an appropriate location on the DVD menu.
Step 4
Insert a big enough blank DVD into your Mac computer.
Step 5
Check the settings again and click on the Burn button to begin making a DVD.
iDVD is able to render the project automatically. A few minutes later, you can enjoy the movie on DVD player.
Conclusion
In this article, we introduced multiple methods to burn a video DVD on Windows or Mac computers. For Windows users, DVD Flick is a free way to create a personal DVD. This DVD burner has the capacity to keep video quality by preventing bitrate from falling down 2000 kbit/s. And iDVD is a dedicated DVD maker released by Apple. The process to create a video DVD with iDVD is rather simple. It cannot be denied that DVD Flick and iDVD are better than other DVD burning software; however, DVD Flick is too complicated to ordinary people and iDVD does not provide extensive custom options. On the other hand, Tipard DVD Burner could meet most requirements to burn a DVD. This program is available on both Windows and Mac. And the easy-to-use features simplify the process to create a personal DVD.

Click here to join the discussion and share your comments