Best DVD Burning Software for Videos to Keep with a Walk Through Guide
We beg to disagree with those who claim to disregard the usage of DVDs. We cannot deny the fact that with the technology today, DVDs are slowly vanishing. But did you know that if you want to pile up your old videos kept on your computer device for so long, you can burn DVDs to keep them instead? Aside from storing, it will also make your movie watching more convenient, sitting or even lying on your couch rather than your computer chair. Thankfully, unlike the burning process before, we can do the job on our own, and that is because of the modern DVD creators we can acquire anytime. Yes, you've read it right. You won't need to visit a computer shop just to convert your videos to DVDs, for you can do it alone in the comfort of your home.
Fortunately, if you still do not know how to do it personally due to the lack of recognition of a tool, do not worry, for we have got you covered. Since you chose to read and be informed in this post, please prepare yourself as we unleash this generation's all-time favorite DVD burners. So, without any more adieu, let's get started.

Part 1. Best Way to Burn DVDs
Speaking of the best, if you want to create a DVD from your numerous videos, then this Tipard DVD Creator is what you should use. It is software that will give you the best experience in DVD burning. Why is that? Because even if you are a rookie for this task, it lets you work like a professional who quickly finishes his job. You will surely be glad to see its intuitive and easy-to-understand interface, to the point that you will never need some guides on how to burn a DVD with it. Furthermore, it holds good support for numerous video input formats such as, but not limited to, VOB, WMV, MOD, MP4, AVI, FLV, MKV, MKV, MPEG TS, MOV, MTS, etc. Likewise, for its output, you can freely choose among DVRD-R, DVD+R, DVD-5, DVD-9, DVD-RW, DVD+R DL, DVD-R DL, etc.
Aside from the burning DVDs, Tipard DVD Creator enables you to customize the menu template, such as the button, text, and frame, along with the dozens of templates available. In addition, if you want to merge your numerous chapters or videos into one, you can easily do so with this remarkable software. Surprisingly, those who want to edit their videos first can lavish on this DVD creator's editing features. Such editing tools are the video rotator, flipper, cutter, tools to crop, add filters, watermark, image, text, subtitles, and audio and effects adjusters. Indeed it is a fully packed software for your videos and DVDs. Hence, if you want to understand more about how this multifunctional tool works, please rely on the steps below.
Step 1Get the DVD Creator on Your PC
Initially, you must take a moment to download and install Tipard DVD Creator on your computer device. To do so, please rely on the Download buttons below. Click on the button that will complement the OS of your computer device.
Step 2Upload the Videos to Burn
Once the software is installed, launch it and immediately click the DVD Disc on its initial window. Then, click the Add Media File(s) button at the center of the main interface. You can now load all the videos or movies you want to burn. Yes, you can create a DVD from MP4 and other formats. Then, once the files are all in, hit the Next button.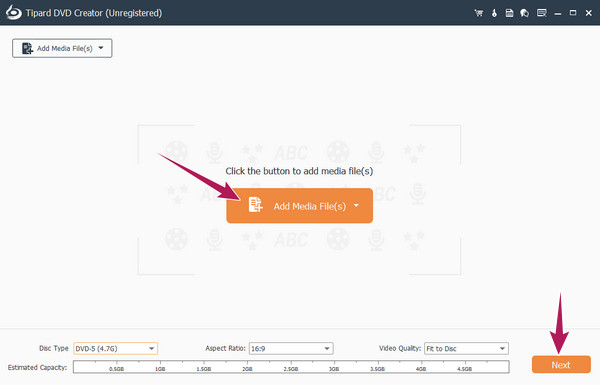 Step 3Set the Menu Template
After that, the tool will bring you to the next window, where you can customize the menu template for your DVD. Choose among the multiple templates under the Menu Template section.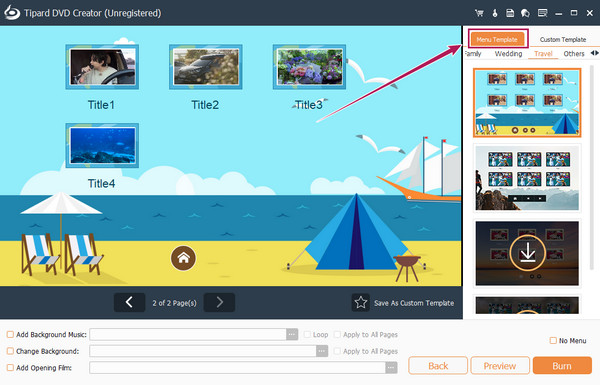 Note: You can also personalize the template by adding your preferred background music and changing the background display when you tick the specific boxes below the preview and upload your preferred choices. Once done, click the Star icon with a Save As Custom Template dialogue to keep your customized template.
Step 4Burn MP4 to DVD
From the last window, click the Burn button to transfer to the next. Make sure that the DVD is inserted on your disc track, then on the next window, toggle the Burn to disc selection and adjust the other presets available according to your taste. After that, click the Start button.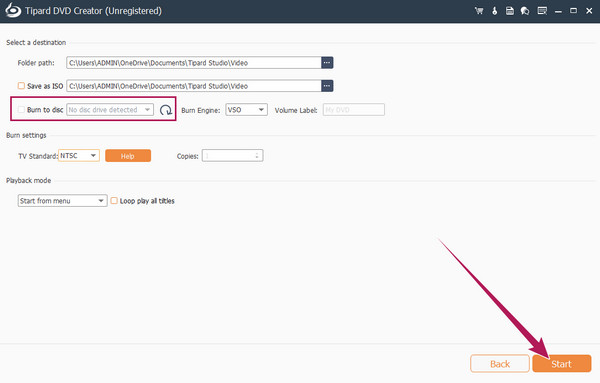 Part 2. Other Convenient Ways to Burn DVDs
Even though you have already found the best disc burner above, we still want you to have other options. Because, as the saying goes, the more, the merrier. Therefore, let's meet the other convenient built-in tools with the list of free DVD-burning software to help you with your task.
Burn the DVD on MacBook with Burn
With the demo we will present below, you will breezily get to your purpose using your MacBook for free. Thanks to the free and simple burner you can get on your Mac computer, which is called Burn. The Burn is software that is able to burn your videos and audio files into DVDs. However, to burn the audio and video files, you must first convert them to MP3 and MPG, and this conversion process will also be possible to do with the Burn app. Thus, if you are ready to claim your DVD on your Mac, then let the step-by-step guidelines below guide you.
How to create a DVD on Mac
Step 1Install the program that will help you turn your videos into a DVD. Then, once installed, please open it and begin the burning session.
Step 2To upload the videos you need to burn, all you have to do is to drag all the files into the interface of the burning software.
Step 3Then, you can immediately click the Burn tab once the files are in. Note that before the burning process begins, you must ensure the disc is already inserted into your Mac.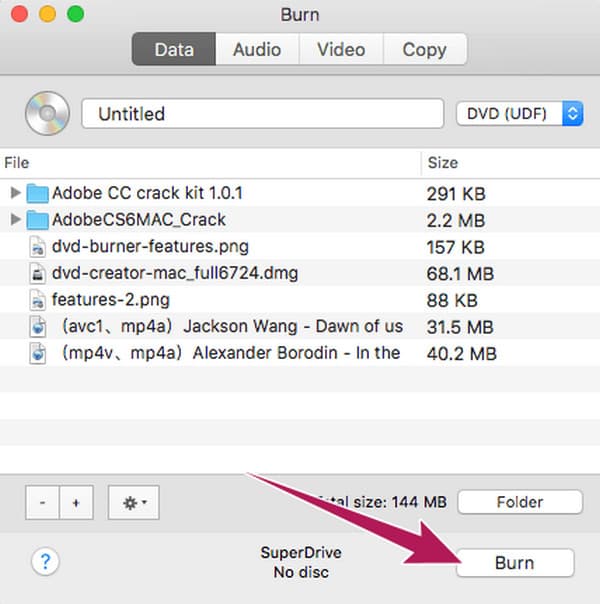 Burn the DVD on MacBook with SimplyBurns
Next on the list is SimplyBurns, another free software that will enable you to burn DVDs on Mac. SimplyBurns is a good burning tool with an open-and-shut kind on an interface. Furthermore, it makes your burning and ripping tasks easy, for it is one of its good attributes. Aside from burning videos, this app lets you burn and copy photos that you have on your system. However, it was reported that even with how simple and intuitive its interface is, when it comes to the burning process, it makes the users wait longer than usual. Hence, this is for you to find out when you follow the simple steps below.
Step 1Launch the tool after the acquisition. Then, click the Add button to upload your video files.
Step 2Once the video is in, click the Burn button at the right side of the interface, and a new window will prompt. You may customize the burn destination, and the other presets on the window.
Step 3After that, click the Burn button to begin the actual burning process.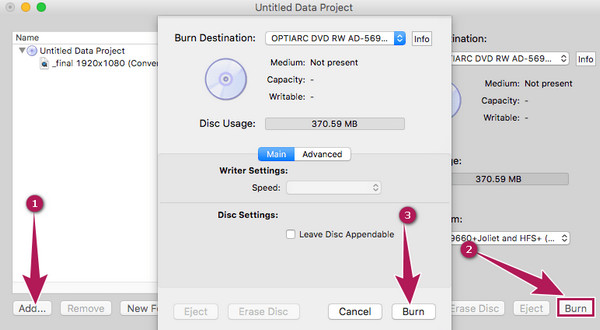 Burn DVD on Windows 11/10/8/7
This time, if you want to burn your videos to DVD on Windows for free, then let us use the simple built-in function. Yes, your Windows 11/10 is infused with a simple DVD burner that will allow you to burn videos and audio, TXT, GIF, and PDF files. However, please do not expect something special like other burners with extra unique features. Hence, here are the ways to transfer your videos into a DVD using the built-in burner of your desktop.
Step 1Insert the empty DVD into your computer, then launch your file explorer.
Step 2Look for the videos you want to burn and select them by highlighting all of them. Then, right-click the selected files, look for Send to the selection, and choose the DVD RW Drive.
Step 3A burn disc window will prompt where you need to tick the With a CD/DVD Player option. Then, finally, click the Next tab to start the burning process.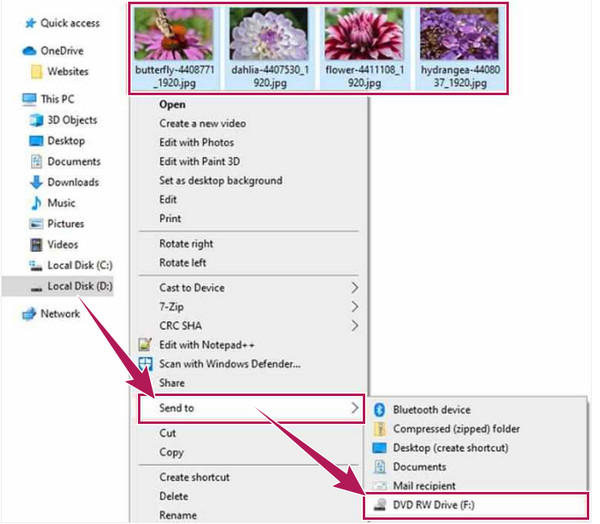 Extended Reading:
How to Rip DVDs to iPad Models Losslessly (Commercial/Homemade)
DVD to AVI – Rip DVD Movies to AVI with Lossless Quality
Part 3. FAQs about DVD Burning
Can I burn MP4 to DVD using Windows Media Player?
Unfortunately, Windows Media Player cannot burn videos and movies to DVD. However, it can burn CDs for audio which only contains music files.
Is it possible to burn ISO to DVD?
Yes. If you want to transfer your ISO files to DVD, you can use Tipard DVD Creator. Upload your ISO files, then click the burn button.
How long does it usually take to burn a disc or DVD?
It depends on the length of the videos or movies that you need to burn. Usually, it takes up to 15 minutes.
Conclusion
This article post outlined the description and guidelines of good DVD burners today. The built-in tool is quite advantageous, for you wouldn't need to install anything. However, if you want a faster DVD burning process and good editing tools, go for Tipard DVD Creator.