Comprehensive Guidelines to Rip Blu-rays to MKV With Ease
Is there a need for you to rip your ordinary Blu-rays or even the 3D Blu-rays to MKV, but you need to know how? You are blessed to find this article, for you will surely get the solution you need and can handily acquire. This article post contains comprehensive guidelines on executing the ripping process perfectly, using the best among the best Blu-ray ripping tools today. In addition, allow us to provide you with some tips worthy of following when ripping your Blu-ray movies. Good thing you won't need to be an expert to assimilate all the learnings here, for they were made for beginners. And so, to cut to the chase, let's start learning by reading the content below.

Part 1. Best Way to Rip Blu-rays to MKV
Allow us to provide you with the best Blu-ray to MKV converter that can easily rip your regular and 3D Blu-rays to your desired output format, the Tipard Blu-ray Converter. It is a dedicated ripper for Blu-rays and DVDs that comes with many outstanding features, such as a converter and a bunch of tools within its Toolbox. Aside from being a multifunctional ripper, it is also a multi-platform one you can install on a Windows and Mac computer. Meanwhile, you can ensure that whatever format you want for your output, you will surely have it since it supports all the popular ones and 500 more. The digital formats it supports are, of course, MKV, MOV, MP4, FLV, AVI, WMV, and even those for devices like Apple, Android, TV, Chrome, and many more. Furthermore, rip and at the same time convert your Blu-ray to MKV without quality loss, 30 times faster since this software is powered by acceleration technology.
Now, suppose you are curious about the tools that its Toolbox offers. In that case, you will be glad to see a video compressor, GIF maker, video enhancer, 3D maker, and media metadata editor in it. No wonder why it is placed as the best ripper, right? Therefore, let's take a look at the steps on how to use this amazing ripper to rip and convert your Blu-rays.
Step 1First and foremost, you will need to download this best ripping software on your computer. Please click the download buttons below to assist you in this part quickly. After downloading, please follow the safe installation process that prompts, then run this Blu-ray to MKV freely.
Step 2Once you reach the software's main interface, you will be presented on its Ripper page. Now is the perfect time to insert the Blu-ray on your disk drive, then click the Load Blu-ray button and upload the Blu-ray you have inserted. Also, you can click the Add icon at the center or drag the Blu-ray at the center to alternatively import the files.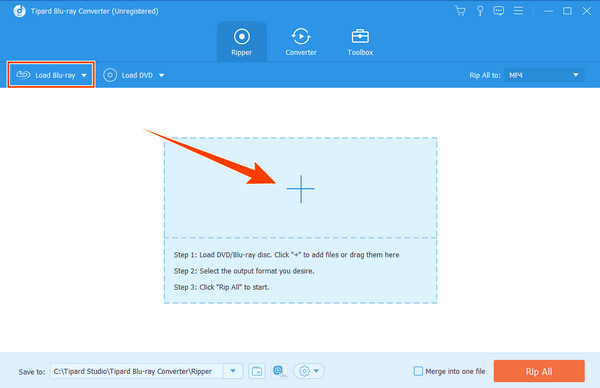 Step 3When the Blu-ray file is already prepared at the interface, click the drop-down Arrow button at the tail part of the loaded file or the one in the Rip All To section. Then, on the new window shown, select the MKV format and click on your desired resolution at the right.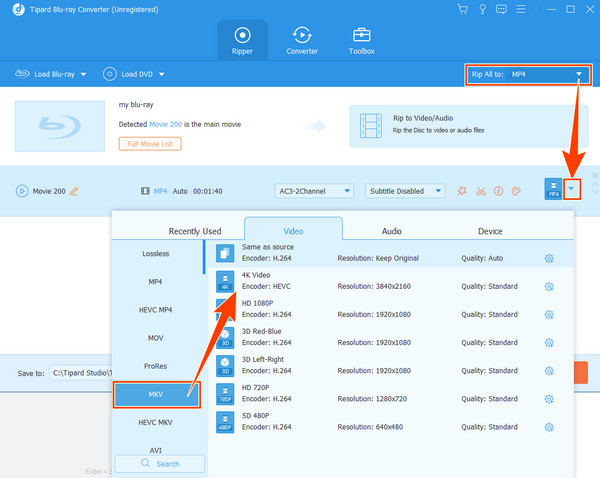 Step 4Before you turn your Blu-ray folder into an MKV video, you can edit it by enhancing, cutting, or adding a watermark. You can choose among the Star, Scissors, and Paint icons you see in the thumbnail. Suppose you want to add a watermark. In that case, click the Star icon, then the Watermark tab.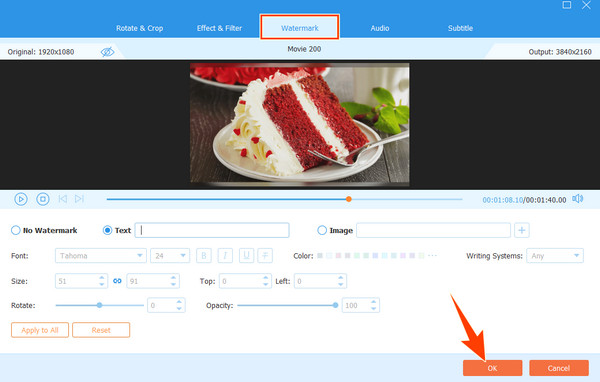 Step 5When all is good for ripping, you can adjust and decide on a destination folder for your output. If so, click the Arrow button in the Save to section and choose the Browse and Select Folder options to choose a folder. Then, finally, you can now click the Rip All button to begin the ripping process.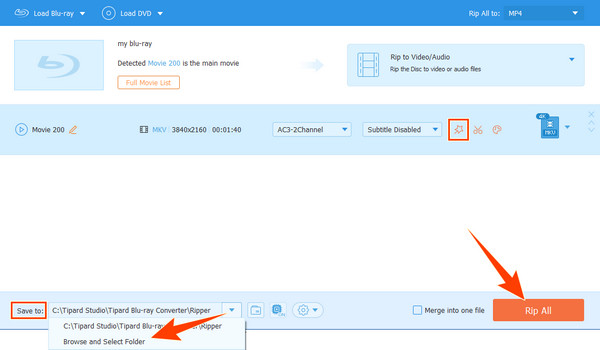 Part 2. Rip Blu-ray to MKV Using HandBrake
Another workable and amazing way to rip Blu-rays to MKV is HandBrake. Handbrake is a free and open-source video editing program that comes with a powerful ripper. It can rip Blu-rays, DVDs, folders, and ISO image files not only to MKV but to MP4, M4V, and other devices such as Apple TV, iPhone, iPad, and Android. Moreover, it offers you personalized presets for tracks, filters, formats, and more. In addition, it is also software that works on Mac, Windows, and Linux devices. However, for a beginner in video editing and Blu-ray ripping, you might find HandBrake a little heavier to handle. Hence, below are the steps you can follow.
Step 1Install HandBrake on your computer and run it. Then, initially import your Blu-ray file by dragging and dropping it at the center of the interface.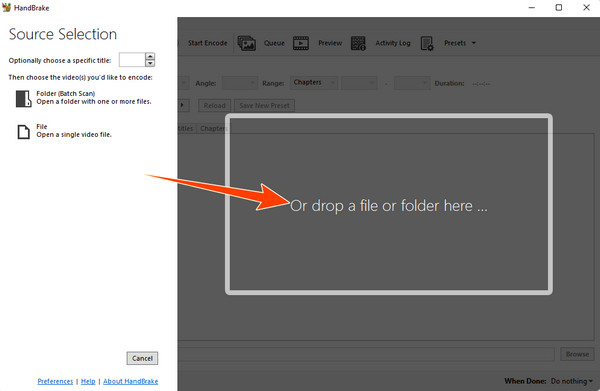 Step 2When the file is on the interface already, click the Arrow button of the Preset option, then select Matroska to have the MKV encoder options. After that, choose the MKV also in the Format section.
Step 3hen, when all is set, click the Start Encode button to begin the ripping and converting process. Click here to learn how to convert Blu-ray to MP4.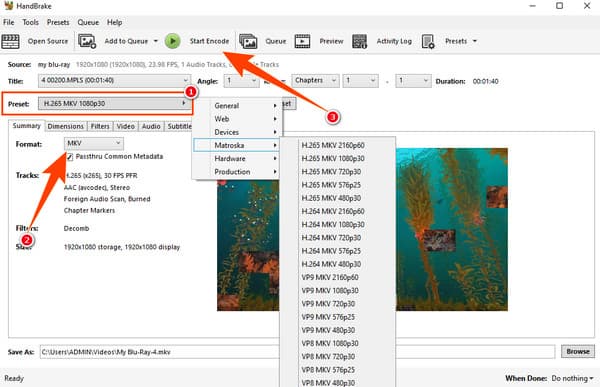 Pros:
• It comes with a straightforward interface.
• It offers a live preview.
• You can use it for batch conversion.
• Multi-platform and multifunctional tool.
Cons:
• It has difficult presets to navigate.
• The formats that it supports are limited.
• The ripping and converting process takes a longer time.
Part 3. Tips for Ripping Blu-rays
Here are some tips when ripping Blu-rays that you can bring along with your task.
When ripping Blu-ray ISO to MKV, have a backup copy.
Make sure to transcode the Blu-rays only with reliable software.
Rip Blu-ray contents slowly but surely.
Part 4. FAQs about Ripping Blu-rays to MKV
What does an MKV format have?
MKV format is a video file container that supports unlimited metadata, subtitles, audio, and images.
Is MKV good for my 3D Blu-ray movies?
Yes, the MKV format is good for 3D movies. This format can support the Multiview video codec or MVC that 3D Blu-rays use.
Can I transcode the Blu-ray to MKV on Mac?
Yes. Use the Tipard Blu-ray Converter to rip your Blu-rays into the MKV format on your Mac. To do so, get the Mac version of this software on your computer, and upload the Blu-ray you inserted on your Mac by clicking the Plus icon. Set the output to MKV, and then click the Rip All button.
Conclusion
There you have it, the two best ways to transform your Blu-rays to MKV videos quickly. Have sufficient time to grasp all the guidelines and tips presented in this article post and apply them to your real-time task. On the other hand, if you are still trying to decide which ripping software you can rely on, then you can always go for the more user-friendly, more powerful tool with more functions, which is the Tipard Blu-ray Converter.