Free and Smart Skype Video Record Apps on Windows and Mac

Well, there are many reasons for someone to record Skype videos and audios with another person. No matter you want to keep evidence or romance, I have to say that recording Skype videos without other people knowing is not proper. Therefore, tell your friends before recording Skype audios or videos is the way to respect others. If you need to record Skype calls on iPad or other mobile devices, it is also fine to download video recorders. As for this call recorder guide, there are many apps you can download on computer, no matter you use Windows or Mac. Moreover, you can even edit and output Skype videos to other digital devices too.
Part 1. Save Skype Video on Windows
Using Skype on Windows or Mac computers can get larger screen, with which you can get the realistic feeling more strongly. As for Windows users, there are many Skype video recorders you can install, with not only audio and video recording services.
1. Pamela
Pamela is tool to record Skype video on Windows with 30 day free trail. Users can manage chat histories during recording videos of Skype. In addition, you can set automatic Skype video recording and chat reply for every Skype conversion. The Skype answering machine will offer auto chat reply when you leave. And the Skype call scheduler on Pamela can organize Skype calls as a pro. The mono or stereo recording options enlarger your call recordation too. If you cannot figure out response, Pamela will create cool mood messages for you as well. The birthday reminder can release people from numerous trifles, without forgetting important days.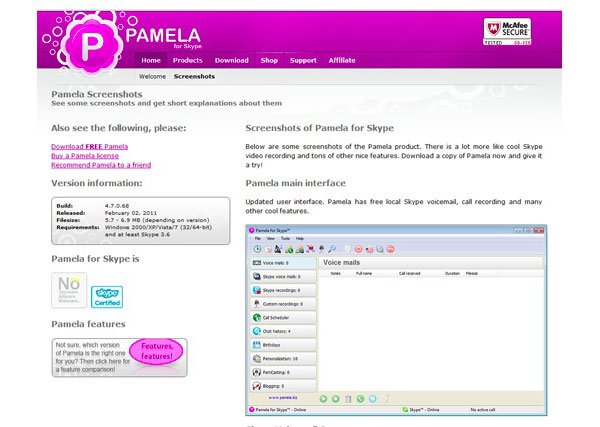 Pamela provides call transfer service as well. You can play background music while speaking recording Skype conversions. You can only get 15 minutes limitation. Thus, once you record Skype calls over 15 minutes, Premium will ask you to purchase $25 to get permanent ownership.
2. MP3 Skype Recorder
Being the total free Windows Skype recorder, MP3 Skype Recorder offers all call record services in free way. No matter you record Skype calls for private or commercial usages, MP3 Skype Recorder will not charge you one cent. Just as the name has shown, users will get all Skype calls on Windows in MP3 format. You can use MP3 Skype recorder to save P2P, SkypeOut calls and online calls. Even though you record Skype videos at the same time, it will also save videos separately.
There are two Windows Skype video record types, by automatic or manual modes. After you set automatic mode to record Skype calls on Windows, the recordation will start in the background once you connect the Skype. Users can set recording settings, recorder launch options and notification settings just by turning on and off options. As a result, using MP3 Skype Recorder to save Skype calls is very easy, because of its simple interface. Moreover, if you want to save recorded Skype videos and audios on Windows in OGG, WMA, WAV formats, it is also acceptable.
Part 2. Record Skype Video on Mac
Out of Windows Skype video and audio recordation, it is time to get Mac Skype call recorders. Though OS X users can choose FaceTime to make calls online, Skype has been another large online conversation make platform too. to record unforgettable moments easily, you can try the following two ways.
3. DVDVideoSoft
Without any exaggeration, DVDVideoSoft is the first free Skype video call recorder in the World. You can get more free space to save and edit Skype calls saving settings. For instance, there are three Skype recording modes, which are picture-in-picture, only video and only audio. The picture-in-picture mode means you can record Skype video on Mac with audio on the all side of the conversion. Moreover, the low CRU requirement has gathered more users. Even if you need to stop recording Skype calls, the pause feature does not limit users to record the whole call to get video recordation.
The live broadcast recording setting and pause recording enable users record any moment they like. Or you can understand that you can cut and merge videos and audios directly during recording at the same time. The small Facebook and Twitter icon means you can share recorded Skype video calls without saving. In addition, all Mac Skype calls recordation are in high quality.
4. ShowMore
ShowMore is the free call recorder online, with several record options you can choose. To be more specific, there are four audio record modes, by system sound, microphone, system sound and microphone or none. As for recording Skype video call on Mac, just tap the computer icon to start.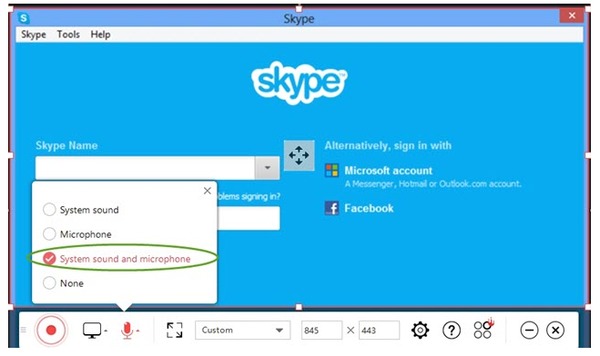 Step 1

. Open ShowMore page and tap the Start Recording icon to begin to record.

Step 2

. Set video settings including output format, hotkey recording, audio input and etc.

Step 3

. Click REC to start recording Skype call. (You can adjust volume, get recording length and do easy operation.)

Step 4

.Once you want to stop recording, just tap the pause icon.

Step 5

. Save Recorded Skype video and audio into optional formats, or you can set as GIF too.
There is a share icon for you to post Mac Skype record video, without saving to hard disk. Furthermore, you can upload audios and videos to manage separately, by free storage space. And the security protection of this free Mac Skype call recorder is also safe.
Part 3. Tipard Screen Capture – Record Skype Calls in High Quality
There is no rule that only phone call recorder can save Skype video and audio, screen capture can do the same or even better work. Tipard Screen Capture is the tool for Windows users to record videos and audios in more fun way.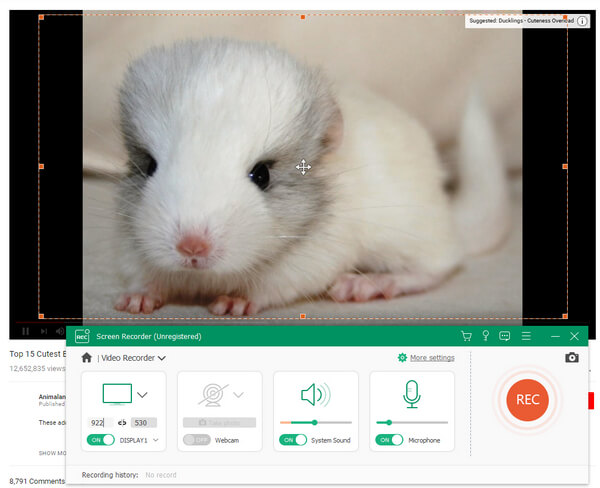 With the customize screen size, you can capture objects whatever you want. Every movement on your screen will be recorded in 100% original quality. It means your output Skype video call will be lossless, both in voice and video. To emphasize your key point, you can adjust volume for certain audio and add cursor to highlight or guide. The capture time setting offers users more edit space. The preview function enables people check recorded Skype calls. Or you can ignore it if you just need to catch Skype video on Windows.
Step 1

. Run Tipard Screen Capture and set the screen size you want to record.

Step 2

. Click REC red icon to start online phone recordation.

Step 3

. Tap the red square icon to stop recording process.
If you just need to record Skype audio call, it is also OK. Turn to sound record menu and choose whether to use system audio or microphone. Skype calls can get several selections by Tipard Screen Capture, you can choose according to your needs.
If you need to record Skype video calls on iPad or other mobile devices, you can still get video recorders.