What is OBS: Discover its Functions, Plugins, Guides, Pros, and Cons
OBS Studio is one of the offline programs you can use for recording and more. However, some users don't have any idea about the program. Also, they don't know what the program is capable of. In that case, if you are among the users who haven't encountered and used OBS Studio yet, this is the opportunity for you. In this post, you will discover a full review of OBS Studio. You will learn its definition, function, plugins, advantages and disadvantages, guides, and more. This way, you can learn everything about the program. Moreover, after discovering everything about the program, there are additional learnings you can obtain. The post will also provide the best alternative to OBS Studio. With that, you will have another program to use for some reason. Start reading the post to discover everything regarding the said discussion.

Part 1. What is OBS Studio
The OBS Project created OBS Studio, a free, open-source screen recording application. It can record videos from your display and take still pictures from your screen. This way, OBS is a great program on the market. Also, this free software appeals to many seasoned video producers. It has an immense learning curve for new users. Basic video editing tools are included with OBS Studio. Without installing a third-party program, you may switch between scenes and combine sounds from many sources. Plus, color correcting is an option. Additionally, you can edit your scenes in Studio Mode before publishing them. This program is designed for live broadcasting rather than video editing.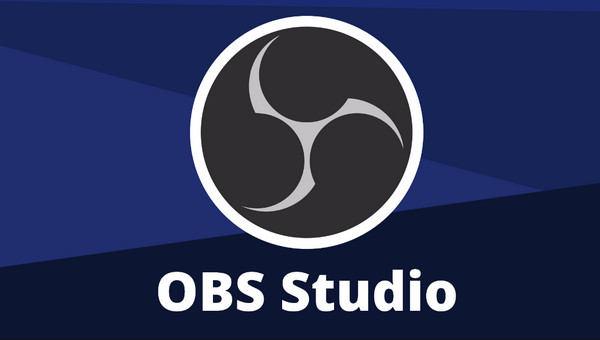 Moreover, OBS performs admirably but is a little program. It is a decent solution for users with older, powerful computers. It is because it could be more resource-hungry. It benefits users with many tasks operating simultaneously, such as streamers. This is especially true if you stream live on social media channels while running many games. Additionally, OBS Studio offers decent audio and video quality. For many streamers, the best resolution you can record is 1080p. But you'll need to choose a different application to up your video output quality to 4K. The preset audio quality is not the finest. But, by changing the audio settings, you may change your audio bitrate to 320. There are more things you can learn about OBS Studio. To know more, read the other part of this post.
Compatibility: Windows, Mac, Linux
Part 2. Key Functions of OBS Studio
Do you want to discover all the capabilities of OBS Studio? If so, we will provide all the features you can experience using OBS Studio.
• The program allows users to stream on various social media platforms.
• You can record games, screens, webcams, and other sources.
• It provides an unlimited number of sources and scenes.
• The program offers customizable hotkeys. You can start or stop the recording, mute audio, hide any video source, switch between scenes, etc.
• The OBS Studio lets up to two audio sources while recording. The audio mixer lets users customize source settings and levels when editing a recorded video.
Part 3. Common-used OBS Plugins
1. OBS.Live Plugin by StreamElements
We are all aware that each streamer has many things they need to track while streaming. In that case, the OBS.Live Plugin By StreamElelements was created to help customize how your OBS looks. This way, you can see everything you need during broadcasting. In addition, with the help of this plugin, it will be easy for you to track any aspect of your stream. Furthermore, the plugin can offer chat integration, alert management, a view count meter, and more.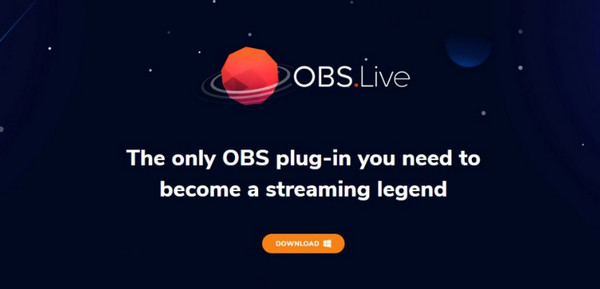 2. OWN3D Pro Plugin
When streaming, the best thing you need to consider is the design. It is one of the most essential aspects of the channel. OWN3D developed a plugin that offers essentials to brand the channel. When using OBS, OWN3D Pro Plugin allows you to access 570+ overlays. It also provides designs to make your stream shine. In addition, the plugin consists of preset stream labels, a chatbot, and Twitch chat, making it more useful for users.

3. VST Plugins
If you want to stream with high-quality audio, VST Plugin is perfect. It also comes with various control features. It includes compression, control background noise, and microphone EQ. With this plugin, you can ensure that your stream will become better, especially when talking about having great audio quality.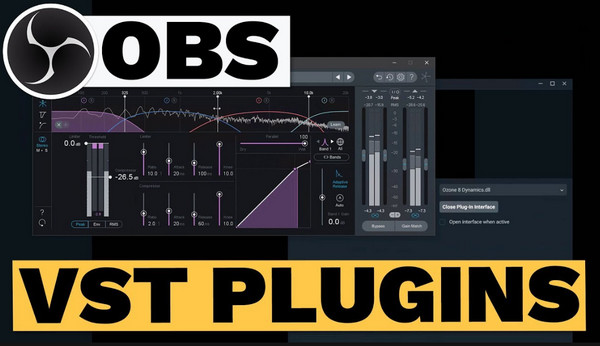 4. OBS Websocket
This plugin lets your OBS communicate with third-party software to change transitions, scenes, and more. Also, you can use OBS Websocket on two programs. The first one is the Touch Portal. It works with Mac, Windows, Android, and iOS. You can also connect it with various streaming apps. The second program is Deckboard. It can connect to applications and platforms seamlessly.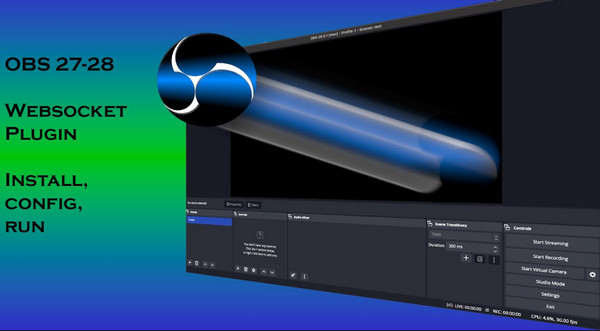 Part 4. Easy Guide to Use OBS Studio
If you want to use OBS Studio to record your computer screen or gameplay, follow the simple tutorial below.
Step 1Download OBS Studio on your device. Then select Run as administrator. Once done, launch the program on the device.
Step 2After launching the program, click the Plus icon on the lower part of the interface. Then, select the Display Capture option to see your computer screen.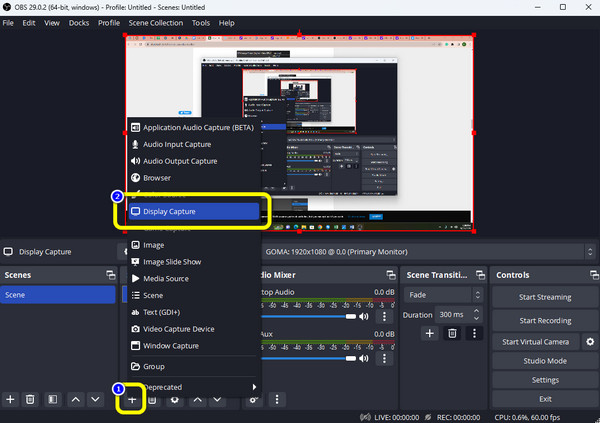 Step 3After that, right-click the Display Capture to see more options. Then, select the Transform option and click Fit to Screen.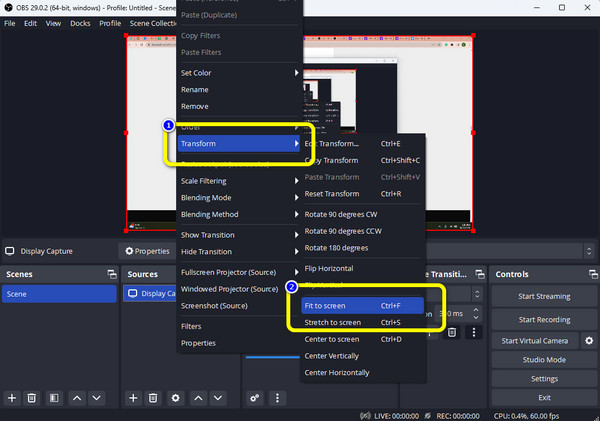 Step 4The next thing you need to check is the audio. Go to the Audio Mixer section to check if the bar slider is adjustable.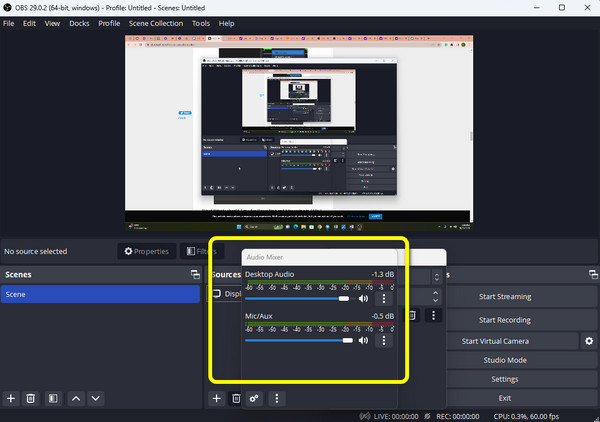 Step 5Click the Start Recording button to record your game or computer screen. Then, when you're done recording, click the Stop Recording option.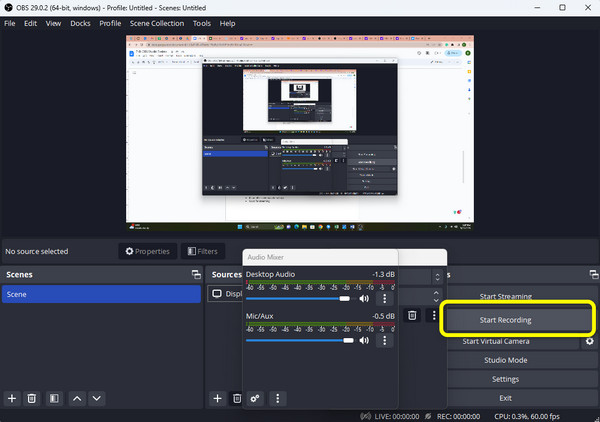 Part 5. Pros and Cons of OBS Studio
Pros:
• The offline program is simple to download
• Accessible to Windows, Mac, and Linux.
• It can offer customizable hotkeys.
• Good for streaming.
• It can record videos and games.
• It can support various filters.
• The program can provide good video and audio quality.
Cons:
• The program's interface is unsuitable for beginners.
• OBS lacks editing tools for improving videos.
Part 6. Alternative to OBS Studio
The use of live streaming has become more widespread in recent years. Reviews of Open Broadcaster Software (OBS) are sought after by creators worldwide. But, the UI is not slick, and it is not intuitive. It lacks several essential video editing features. In that case, the best alternative to OBS Studio is Tipard Screen Capture. This offline tool is easier to operate and accessible to Windows and Mac Operating Systems. In addition, its interface is intuitive, making it understandable for users. You can do more things with this offline program. You can use this as your game recorder. You can also record a video with audio if you need. Aside from that, you can modify the screen based on your preferred size. Another feature you can encounter when recording is you can take a screenshot while recording. This way, if you want to capture some scenes while recording, you can do so.In addition to that, you can also insert text during the recording process. It is with the help of the bag icon you can see on the interface.
Another function you can use is its trimming function. In the preview section, the tool lets you trim your video based on your preference. After that, you can already save the final output. Moreover, Tipard Screen Capture is perfect for all users. It doesn't need you to be skilled or talented to utilize it. So, if you want to enjoy more about its full feature, maybe it's time for you to try Tipard Screen Capture.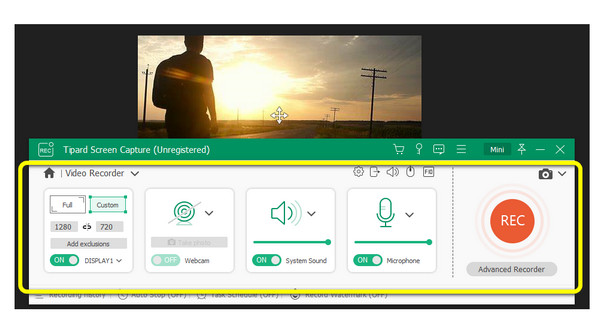 Extended Reading:
Steps of Using Quicktime Screen Recording with Audio
Methods to Record A Video on Computer Using Great Software
Part 7. FAQs about OBS Studio
Where does OBS save recording?
You can see the recorded video of where you save the OBS program. Another way to see the recording is to go to the File menu from the main interface of OBS. Then, select the Show Recordings option. After that, the file folder with the recorded video will appear on the screen.
Why is OBS game capture not working?
The reason is that the Game capture requires permissions. You need permission to successfully record the visual data from your system. Some system accounts don't need permission. Others, though, want an administrator's approval. So, after the download process, always run OBS as administrator.
Is OBS Studio better than OBS Classic?
Of course, we suggest moving to Studio. Studio has more features, so that explains why. It offers a multi-platform support feature and an improved API if you need to use it on OSX or Linux. The future belongs to OBS Studio. It will replace OBS Classic and be phased out or discontinued.
Conclusion
The information above is the full review of OBS Studio. You will learn its definition, functions, pros, and cons. Also, you can learn about recording a video from your computer screen. You can say that OBS Studio is reliable. However, its interface is confusing. This way, some users, especially beginners, find it complicated. The post also introduces the best OBS alternative. So, if you want a program with an intuitive interface, use Tipard Screen Capture.