8 Best Lecture Recorder Apps to Help You Save Important Lectures
A lecture recorder app is important for college students to save important moments with their computer or mobile devices. Although there are less classes than high school, students cannot understand all content in classes immediately. After the class, students cannot find the professor too. After doing dozens of hours of research and testing, we identify the best apps for most people interested in capturing meetings, lectures, dictation, interviews and more.

Part 1: Top 5 Lecture Recorders for PC/Mac
Top 1: Tipard Screen Capture
Almost every student has a computer and many people are even using multiple machines with different systems. Tipard Screen Capture is the best lecture recorder software for both PC and Mac. Plus, the intuitive interface lets beginners get what they want quickly.
Pros
1. Turn computer to lecture recorder.
2. Enhance audio quality automatically.
3. Record online lecture.
4. Add audio comment in real time.
Cons
1. After the free-trial, you need to purchase a license.
How to Record a Lecture on PC
Step 1Install lecture recorder
Launch the best lecture recorder once you install it on your computer. It is compatible with Windows 10/8/7 and Mac OS X. Then choose Audio Recorder to open the main interface.
Tip: By default, it will record lectures in MP3 and save to your computer. If you wish to change the options, click the Gear icon to open the Preferences dialog.

Step 2Record a lecture
You can see two options in the main interface to perform different tasks:
Make sure to turn on the Microphone option and adjust the volume if you want to record a lecture in classroom. To add background music, toggle on System Sound; otherwise disable it.
To record an online lecture, enable System Sound while disabling Microphone.
Click the REC button to begin recording the lecture immediately. Then you will get a toolbar.

Step 3Save lecture recording
When you want to stop the lecture recording, click the Stop button on the toolbar. Then pre-listen to the audio file with the built-in media player. Finally, click the Save button if you are satisfied.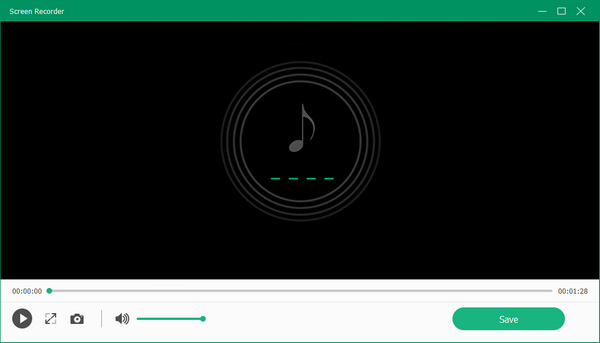 Top 2: QuickTime Player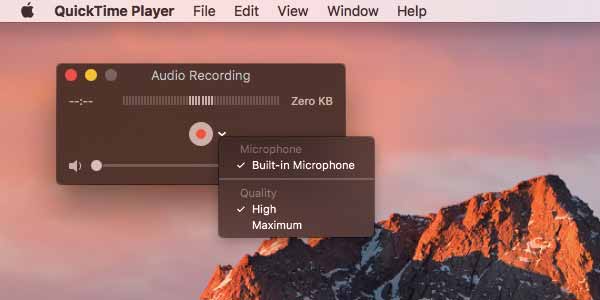 QuickTime Player is the preinstalled media player on Mac. However, it is far more than a simple video player. It offers an audio recording feature to turn your MacBook into a lecture recorder.
Pros
1. Record lecture with built-in microphone.
2. Free of charge.
3. Work smoothly o Mac.
Cons
1. It is too simple.
2. The lecture recorder is not available to PC.
Top 3: Adobe Audition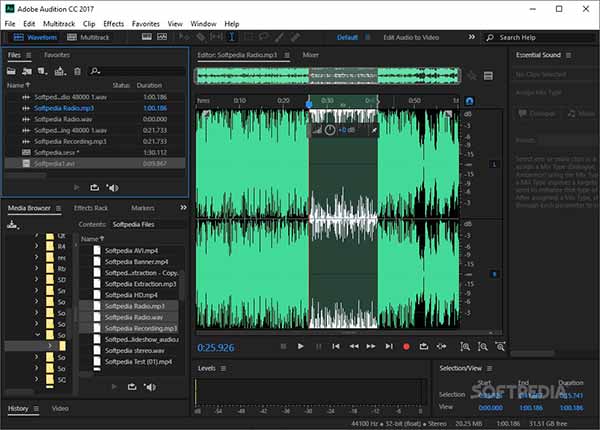 Adobe Audition is a professional lecture recorder. Many studios use it to create albums and other audio products. It also can record lectures online or in real world. It even offers a full audio editor.
Pros
1. Record lectures on timeline.
2. Edit lectures after recording.
3. Compatible with PC and Mac.
Cons
1. It is expensive.
2. The learning curve is not friendly to beginners.
Top 4: Audacity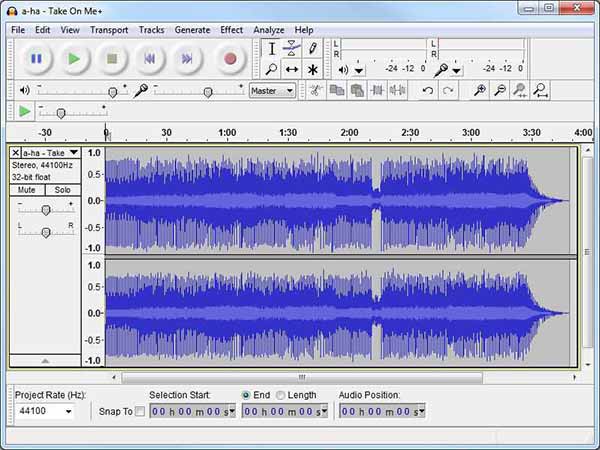 Audacity is an open-source lecture recorder. In fact, it is used as an audio editor primarily. In another word, you can edit your lecture recordings on timeline within the same program directly.
Pros
1. Free of charge with no limit.
2. Record lectures in MP3.
3. Include a full audio editor.
Cons
1. The configuration is difficult.
Don't miss: Top 5 Audacity Alternatives for Editing Audio Files
Top 5: Windows 10 Voice Recorder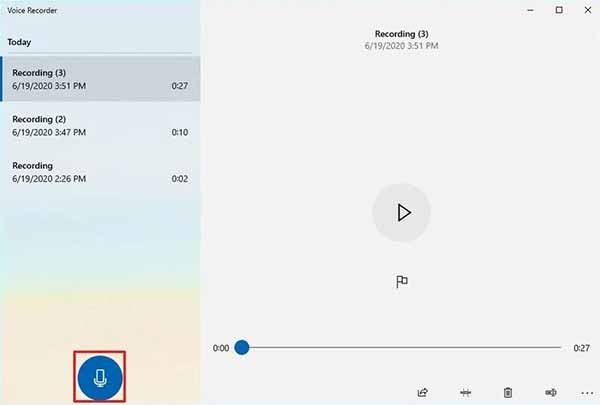 If you have updated your PC to Windows 10, you will get many new features including a Voice Recorder app. It is able to change your PC into a lecture recorder and save what you want without extra software.
Pros
1. Built in Windows 10.
2. Record lecture in one click.
3. Save lecture recordings in MP3.
Cons
Part 2: Top 3 Lecture Recorder Apps for iPhone/Android
Top 1: Voice Memos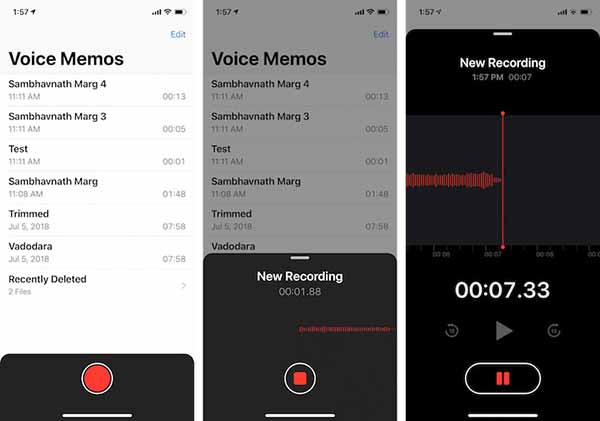 Platform: iOS 10.0 and above
Price: Free
Voice Memos is the preinstalled lecture recorder app on iPhone and iPad. For iOS users, it is the easiest way to record and edit lectures and other sound around you without paying a penny.
Pros
1. Totally free of charge.
2. Record lectures on iPhone.
3. Trim unwanted clips.
Cons
1. It is not available to Android.
Top 2: AudioNote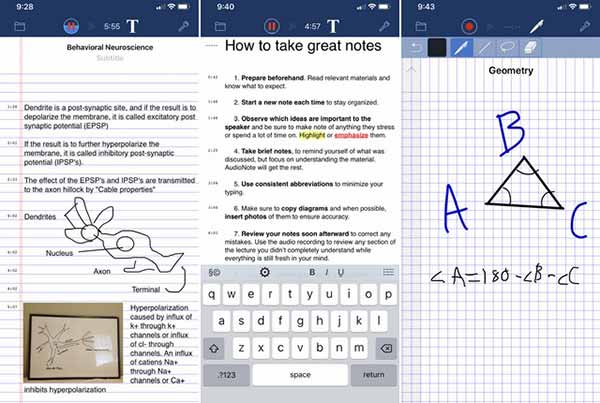 Platform: Android 2.1 and up or iOS 12.0 or later
Price: $12.99
AudioNote is a lecture recorder app for both iPhone and Android devices. The biggest advantage is to transcript your lecture recordings into text file, so that you can view them directly.
Pros
1. Record lecture without lag.
2. Produce high-definition recordings.
3. Turn recordings to text.
Cons
1. You need to purchase the app.
Top 3: Rev Audio & Voice Recorder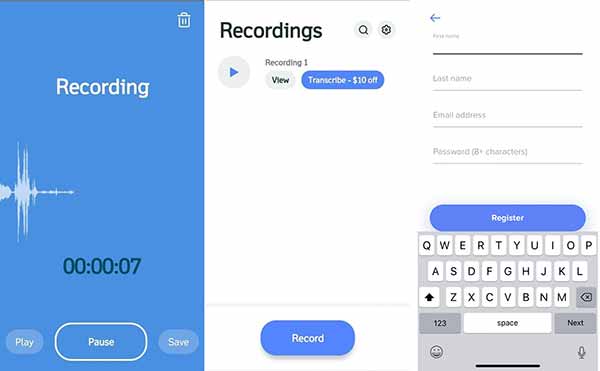 Platform: Android 5.0 and up or iOS 10.0 or later
Price: Free
As its name indicated, Rev is a lecture recorder app to record voice and audio on iPhone and Android smartphone. It is able to sync your lecture recordings to cloud servers without taking memory.
Pros
1. Record lecture in background.
2. Share recordings directly.
3. Transcript recordings via email.
Cons
1. It records up to 30 minutes for free.
Part 3: FAQs about Lecture Recorder
Can I record a lecture without permission?
Lectures are usually public. It is okay if you just want to listen to the lectures later.
Is lecture recorder app free?
Not all lecture recorder apps are free to use. Some of them are free with limit and others ask you to purchase.
What voice recorders do students use?
For students, free voice recorder software is the best choice. However, some software with affordable price is also a good option.
Conclusion
Android devices. They all have unique benefits and advantages, like transcript your lecture recordings to text. You can use them based on your need and preferences. Tipard Screen Capture is the best choice if you mind the quality of lecture recording. Plus, it is easy to use. More questions? Please leave a message below this post.