How to Record Webcam with Top Best Webcam Recorder Software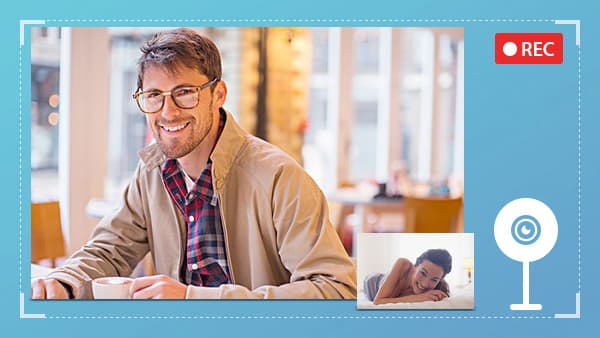 Webcam is already a necessary accessory for every computer, no matter the embedded camera or external camera. However, if you want to create a video message or a video record, you also need a great webcam recorder and how to use it. There are many screen recorders. But the software that supports to capture images from webcam is not much. The powerful webcam recording software is even less. On the other hand, these may have some unique settings and operations. Therefore, we will introduce some best webcam recorders and show you how to take high quality videos with these programs.
1. Best Webcam recorder on Windows
There are many webcam recording software available to Windows. But if you want to produce high quality videos, you need a powerful tool, Tipard Screen Capture should be one of the most popular programs. The largest advantage of Screen Capture is to capture 100% original quality videos and save them as HD videos or 4K videos. Screen Capture will maximize the performance of your webcam. And it is easy to use.
How to record webcam with Screen Capture
Step 1

: Before recording, you have to prepare your webcam and fix it on your computer, if your computer does not have a built-in webcam.

Step 2

: Launch Screen Capture and customize the record size depending on your requirements. Screen Capture offers three recording size options. If you want to capture a large size video, you can select Full screen in SelectRecording Area. Otherwise, choose Custom and move the control points or enter dimension values to decide an area size to record.

Step 3

: Located to Screen Device section and enable webcam option, which is a lens icon. Then you will discover that your webcam is open.

Step 4

: Before recording, you have to set the audio inputs as well. Screen Capture supports to capture system audio and your voice from microphone. If you just want to record your voice, enable Microphone Audio and disable System Audio at the same time.

Step 5

: If you need this webcam recorder to shut down webcam and stop recording automatically, you can set a length in Duration.

Step 6

: After settings, click on red REC button to start recording. When webcam recording finished, tap on Save to save the recorded video to your computer.

2. Top webcam recorder on Mac
Although Mac computers have built-in program, it seems too simple to capture a great video. So, more and more Mac users use third party tools to capture videos through webcams. VLC Player is a super media player that could play any media files, including online videos. VLC Player is also a webcam recorder. Moreover, it has the ability to create high quality videos.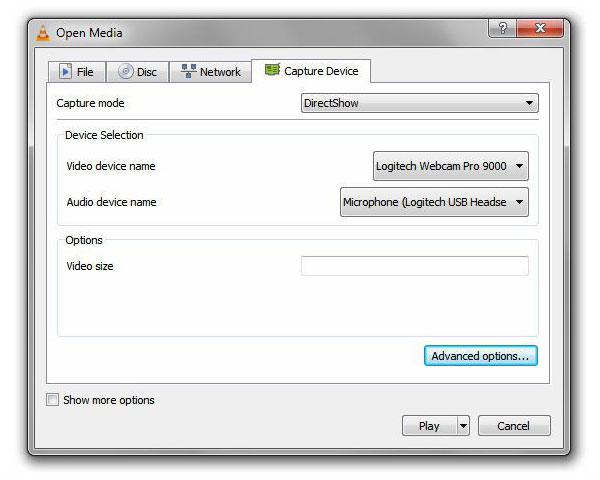 How to capture webcam via VLC Player
1

: Open VLC Player on your Mac computer and located to top ribbon.

2

: Select Open Capture Device option in Media menu to go to the settings dialogue.

3

: There are several parameters that you have to reset in settings dialogue. Drop down the list of Capture mode and select DirectShow. In Device section, choose your webcam and microphone in Video device name and Audio device name drop-down lists.

4

: Then press Advanced options button to open advanced options box.

5

: You can adjust the parameters in advanced options box. Frame rate is an important parameter. The higher the frame rate, the higher the video quality. You can adjust it according to your demands. If you check the box of Device properties, this webcam recorder will modify these parameters based on your hardware. After setting, click on OK button to continue.

6

: 6. VLC Player offers two webcam recording modes: live feed and direct save. If you want to capture webcam in former, just click on Record button and then Play to activate live feed mode. If you just click Record button, direct save mode will start up.
3. Best online webcam recorder
Many people prefer to online services, for they are portable and convenient. And there are some online webcam recorders. Although you do not need to install software on your computer, they will ask you to open your webcam. That may lead to some problems about privacy security. So before open your webcam online, make sure that is trustful. When it comes to the process, we will use Video Recorder of 123APPS as the example.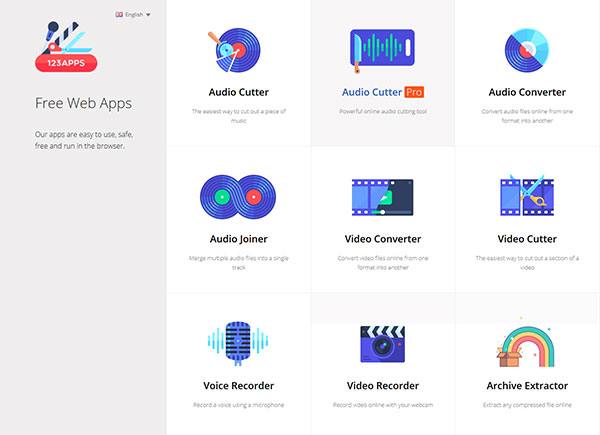 How to record webcam through online webcam service
1

: Type 123apps.com in your browser and press Enter to access the website. 123APPS is a collection of various media tools.

2

: Choose Video Recorder in the home page to go to video recorder page.

3

: Once video recorder page opens, a pop-up box will show up. Select Permit and close it. Then your webcam is open and you will appear on the screen.

4

: Tap on the settings icon shaped as a gear to adjust some parameters.

5

: You can reset the video and audio input sources in settings box. This online webcam recorder provides two recording sizes, including Mirror and Full Screen, and three quality options. You can make your decisions based on your situation.

6

: After settings, tap on gear icon again to back to recording screen.

7

: Click on the red circle button, it will start recording.

8

: Tap on stop button until recording finished.

9

: Finally, you can preview the video and press Save to export the video to your local drive or cloud services.
Conclusion
Based on the introductions above, there are at least tree best webcam recorders in the market. VLC Player is a versatile one. It not only is competent to play any videos, but also could capture videos from various inputs, including your webcam. Moreover, VLC Player is an open source program, so everyone could enjoy its powerful features for free. They are another good choice to record images and audio from your webcam. However, as cybersecurity issue is increasingly sensitive, it seems not a great idea to frequently open your webcam online.
If you are looking for an easy-to-use webcam with extensive features, Tipard Screen Capture seems to the best choice. Screen Capture has diverse functions, like audio recording, video recording and screenshots. Although it integrates so many functions, Screen Capture is straightforward software. Anyone could follow the guidance in this article and use it to record webcam easily.

Click here to join the discussion and share your comments
How to Record Webcam with Top Best Webcam Recorder Software