Top 3 Screen Recorders to Capture Clash of Clans Gameplay
Clash of Clans (COC) is a popular multiplayer strategy game that contains various elements of attack, defense and cultivation. It is launched by Supercell on August 2, 2012. In Clash of Clans, you can build a clan, train troops, and attack other players to earn trophies.
You can see lots of recorded Clash of Clans gameplay videos uploaded on YouTube. Are you looking for a good Clash of Clans screen recorder to make game videos and share your strategies, troops or skills?

Clash of Clans is one kind of multi-player mobile game which mainly designed for iOS and Android phones. But with the help of Android emulator software or some Clash of Clans for PC version, you can play the game on your computer. Considering that, this post like to recommend 3 great Clash of Clans replay recorder tools to capture your gameplay on both desktops and mobile devices.
Part 1. How to Record Clash of Clans Gameplay on Android
Google Play Games is an essential app for mobile gamer that carries many gaming features. It allows you to explore favorite games, instantly play full games with no installation, save progress, create custom gamer ID, unlock achievements, record game playing, and more. Google Play Games app can be the best Clash of Clans screen recorder for Android users.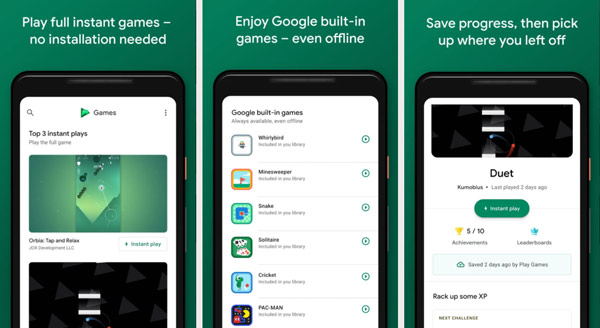 Step 1
Before you capture your Clash of Clans gameplay on Android phone, you should free download this Google Play Games app first. You can go to Google Play Store to install it.
Step 2
Open this Clash of Clans screen recorder and tap on the 3 horizontal lines icon in the top left corner. Choose My Games option provided in that menu. When you enter it, you can locate the game which you want to record.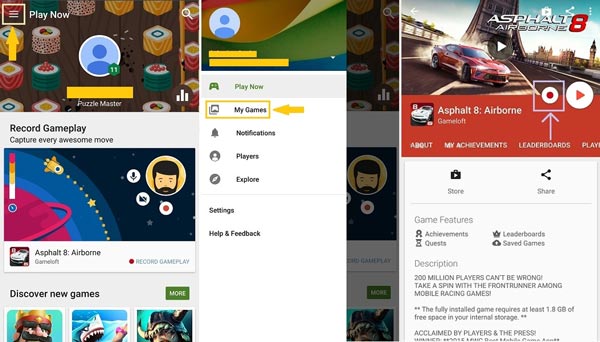 Step 3
When you find the Clash of Clans game, you can tap the Record button. You can choose to record Clash of Clans attacks with 720P HD or 480P SD. Tap Next and then Launch to confirm your operation.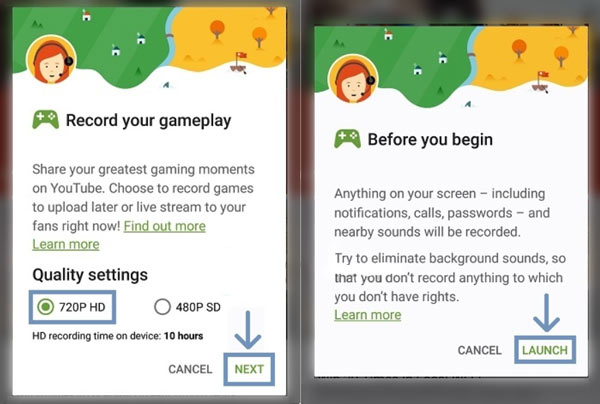 Step 4
When you enter the main interface of this Clash of Clans screen recorder, you can custom various recording settings. It enables you to capture yourself while the game playing. After recording, you can directly edit the recorded video and upload it on YouTube.
Part 2. How to Record Clash of Clans Gameplay on iPhone and iPad
iOS device has a built-in screen recorder to help you capture any activities happened on the screen. If you want to capture your game playing on Clash of Clans, you can give it a try.
Step 1First, you should add this screen recorder to the Control Center. Open Settings app, choose Control Center, tap Customize Controls, locate the Screen Recording option and add it to Control Center.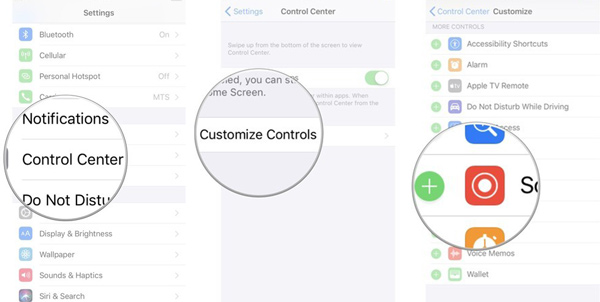 Step 2When you play Clash of Clan on your iPhone or iPad and want to capture your game playing, you can arise Control Center and choose this screen recorder to start the recording with ease.
Besides the built-in iOS Screen Recording feature, you can use other third-party apps to record iPhone screen to capture the gameplay.
Part 3. How to Record Clash of Clans Gameplay on Desktop
There are some ways that can make you play Clash of Clans on computer. If you want to capture Clash of Clans on your desktop, you can rely on the powerful game recording software, Screen Capture. It is specially designed to deal with high-quality screen and audio recordings. This game recorder is able to capture gameplay in 60fps with high definition even up to 4K.
Step 1First, you can free install and run this Clash of Clans screen recorder on your desktop. Choose the Video Recorder feature to record your gameplay.

Step 2Before the Clash of Clans attacks recording, you can custom screen and audio recording settings. You can freely adjust the video recording region. Moreover, you can turn on Webcam to add your face to the captured video. This game recorder allows you to capture audio from system sound, microphone or both.

Step 3When you want to create a Clash of Clans gameplay video, you can click REC button to start the recording process. You can add arrow, text, line, rectangle, ellipse and more annotations during and after the recording.
Step 4When the game recording is finished, you can directly view the captured video and edit it. After that, click Save button to store it on your computer in MP4, MOV, FLV, AVI, or another format you need.
Apart from recording gameplay, you can also use this software to record meeting, videos, and more.
Part 4. FAQs of Clash of Clans Screen Recorder
Question 1. Is it possible to play Clash of Clans on PC?
Yes, you can play Clash of Clans on your desktop with some Android emulator software like LDPlayer Android emulator. Also, there are some third-party Clash of Clans for PC versions for you to play.
Question 2. Is Clash of Clan banned?
No, Clash Of Clans is not banned. You can freely play it on your mobile phone.
Question 3. Can I transfer my Clash of Clans account to another email?
Yes. You can contact Supercell team to do it from Help and Support option of the game. They will take 4–5 days to transfer your Clash of Clans account to another email.
Conclusion
You can build your clan with troops, castle, wall, towers, and expand clan through war on Clash of Clans. This post shares 3 methods to help you capture gameplay on Android phone, iPhone, iPad and computer. You can choose your preferred COC replay recorder to get the attacks recording.