Best Android Screen Captures to Take Screenshot on Android Phone

It is very common that friends send screenshots to each other, to communicate and convey message. But the screen capture images have classifications too. For instance, the tablet snapshots taking do not matter too much. But if you need to take the whole webpage, just pressing the Android buttons is not enough. It is true that you can press different option combinations to take Android screenshots for free. But you can only take a screenshot with your phone without editing filters. Thus, to capture Android screen in easier method, you need to get one good Android screen capture apk.
Part 1. Direct Way to Take A Screenshot on Samsung Galaxy
It is true that use built-in button to take screen capture on Android is quicker than using third party app. The most frequent way is to pressing power button and volume button simultaneously for several sends until you see the screen flashes. And you can find Android screenshots in the Gallery application automatically. Though you may not screenshot your Android successfully the first time you try. But not all Android devices suit volume-down and power icons pressing way. For instance, Samsung's Galaxy S-series have home button, so things become little different.
If you want to take a screenshot on a Galaxy S7, then you can hold the home button and volume-down button together. As for screenshot on Galaxy 8, it is better to press the power button and volume-down button simultaneously. In addition, for Samsung Galaxy screen capture taking, there is another way in setting. When you tap Setting, you can see Motions and gestures choice, click it to see the gesture allowance. Turn on Palm swipe to capture option, and then you can try new way to take a screenshot on Samsung mobile phone.
When you take a screenshot on your Samsung Galaxy mobile phone, you can actually see four icons below. They are scroll capture, draw, crop and share, you can see functions from their related name. It is the way to capture the whole web page on Samsung Galaxy phone without merging.
Part 2. Free Android Screenshot Taker APK
The following screenshot capture application on Android free all free to use. Even though some of the Android screen capture app may contain in-app purchase, but the free part can support you capture and edit your screenshot already.
Screenshot Ultimate
There is no need to root your Android if you run Screenshot Ultimate for snapshot taking, but if have rooted, it is also OK. You can get over 16 capture methods on the Android screen capture application. To trigger screenshots, Screenshot Ultimate offers many methods, by visible overlay icon on the top, shake, sever icon click, audio, webserver, power connect or not and etc. And you are able to edit taken Android snapshots with many built-in tools, like text, add info, switch color, overlay, effects and so on. After editing Android screen capture images, you can pick some and create zip to send, share and upload. For repeated screen capture edit on Android, Screenshot Ultimate allows users to batch add screenshot adjustments.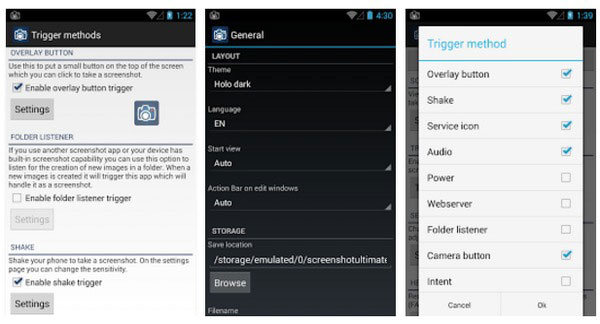 Screenshot Pro
There are two main parts on Screenshot Pro, which are screenshots and gallery. Before you taking screen capture on Android phone, you need to activate the free Android screen capture app first, by turn on the top right corner option. And then choose from Settings, you can see only contain three objects, they are Tap & Hold on Any Sides/ Left Side/ Right Side. If you still not know snapshot taking by Screenshot Pro, then you can watch the Android screen capture video guide in the help page. With all these have done, you are able to make screenshots on Android freely.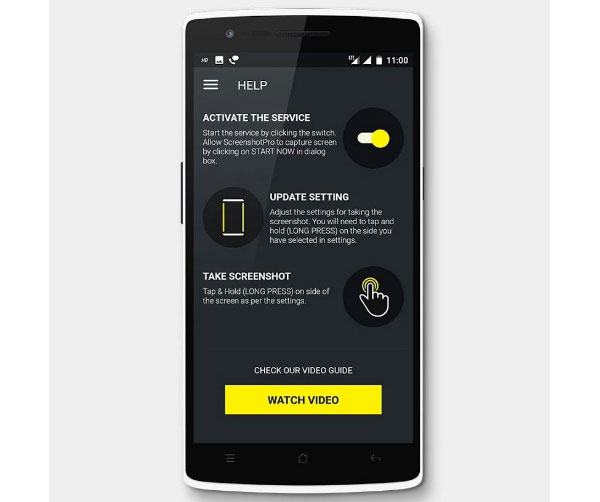 Screenshot Easy
Screenshot Easy makes it easy to take tablet screenshots, and you can view, edit and share them directly. When you open Screenshot Easy app on your Android mobile phone, the whole page is clean and concise. There are five snapshot turn-off options and the start capture icon on the top. The five options are overlay icon, notification icon, shake, camera button and button combo. Therefore, the way you combine them depends on the snapshot you take on Android screen capture apk. What's more, there are button trigger too, by hold power and volume-down for 2 seconds, or press power and home buttons simultaneously.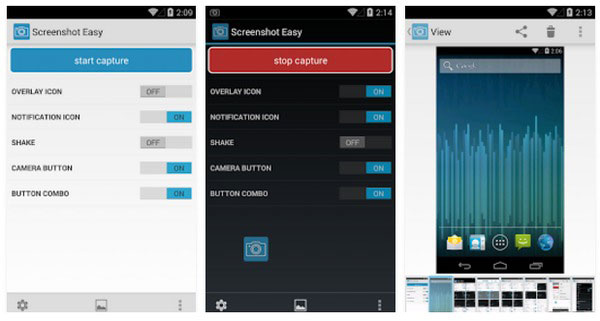 Wondershare Mobilego
Wondershare Mobilego is the all-round Android manager, you can organize music, photo, video, message, contact and files. With the essential toolkit on Wondershare Mobilego apk, you are able to backup and restore data too. To transfer files on computer, you need to install Windows or mac version on desktop first. To get Android screen capture snapshots, you have to link PC and Android by lightning cable. And then tap the screenshot option below. After that, you can start to take screenshot on Android, with screen capture editor to use on desktop version.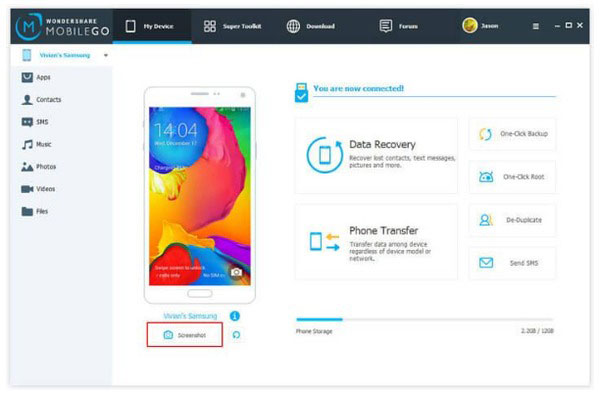 Part 3. Tipard Screen Capture – Windows Desktop Recorder
For people who want to capture Windows desktop activities, Tipard Screen Capture is a good choice. With easiest video and audio record tools to use, there is not difficulty to capture Windows screen. As for scenarios, Tipard Screen Capture can suit most screen capture actives. No matter you want to record streaming audio and capture Skype video calls, or to save Xbox360 gameplay on PC, Tipard Screen Capture can always offer 100% original quality screen recording service. And you can save recorded video and audio files to computer directly, or to share to friends and post online.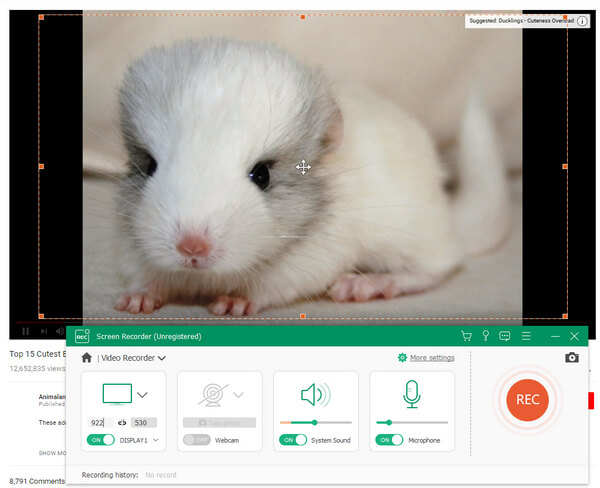 To start with, you can get screen customize tool to drag the area you want to record. If you think it is kind of rude, there are also width and length blanks for you to adjust accurately. And then you need to choose audio inputs. In the Windows screen capture software, you can record system audio or microphone simultaneously or separately. If you want to record screen capture video with no sound, you can also turn them off together. The record timer enables users to set start time and stop time on movies, or to begin screen recording later automatically. During screen recording, the cursor effects allow users to highlight and emphasis your key points in more obvious way. At the time of stopping Windows screen capture, it is time to choose from multiples video and audio formats. But before that, Tipard Screen Capture will preview your video automatically. It is also the way to check your work, you can also ignore it if you do not need.