Record BlueJeans Meetings With or Without Notifying
BlueJeans is a secure video conferencing platform that helps users create visual meetings, live video calls, online conferences, webinars and more. It enables you to host online meetings with HD video and Dolby Voice audio.
BlueJeans is able to improve productivity with functions like meeting highlight, transcription and simplify management. If you often conduct meetings in it, you may want to record BlueJeans meetings.

In fact, it's quite easy to record meetings in BlueJeans. BlueJeans has a built-in recording feature to automatically or manually record BlueJeans video call, video conference, or conference call. This post will show you how to record BlueJeans meetings in detail. Moreover, we like to introduce you with a third-party recorder to get the BlueJeans recording.
Part 1. Common Way to Record BlueJeans Meetings
BlueJeans is designed with a built-in recording feature. So, when you need to capture video conferences, online meetings, or calls in BlueJeans, you can use it. One thing you should know is that, this record feature is limited to moderators.
Step 1You can use BlueJeans online through a browser, or download the BlueJeans software on Mac or Windows PC. To record BlueJeans meetings, you should open it and start a meeting first.
Step 2As a moderator, when you are having a BlueJeans video call, you can click on the red record button on the bottom right to start the BlueJeans recording.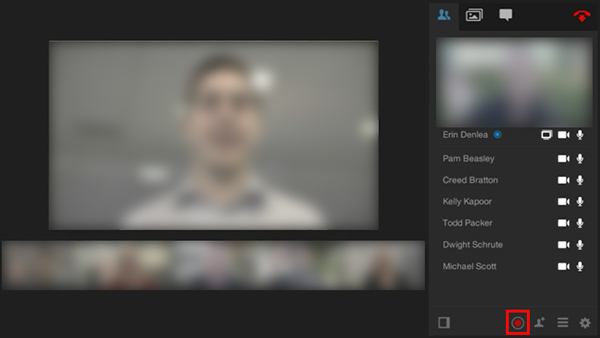 When you conduct a meeting in BlueJeans, you can click Start Rec button on the top-left corner to perform a recording. All participants will be notified that recording is on, with both a visual and audio notification.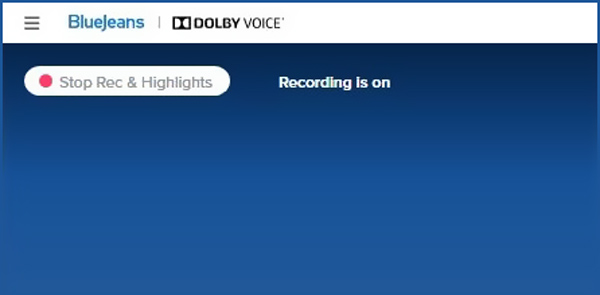 Step 3When you want to finish the recording process, you can click the record button again or end the meeting. The recording will be automatically stopped as soon as the meeting is over.
Every moderator in the BlueJeans meeting or conference call can stop recording at any time. The captured BlueJeans recording file will be accessed in your account files.
Like BlueJeans, other meeting recording services, like WebEx, Zoom, Google Meet, etc., also offer the built-in recording feature.
Part 2. Record BlueJeans Meetings Without Notifying
If you are not the moderator of BlueJeans meeting, or you prefer to record BlueJeans meetings secretly, you can rely on the powerful BlueJeans recording software, Screen Capture. It has the capability to capture any conference videos, audio, online meetings, and more happened on your computer with high quality.
1. Record BlueJeans meetings, conference calls and webinars without notifying.
2. Record BlueJeans meetings with full screen, active window or selected region.
3. Capture 4K high-quality BlueJeans videos from computer screen and webcam.
4. Capture BlueJeans audio through system audio card, microphone/speaker, or both.
5. Powerful BlueJeans recording features and export recorded file in any video/audio format.
Step 1This Screen Capture enables you to record BlueJeans meetings on either a Windows 10/8/7 PC or a Mac. Make sure you install the right version based on your system.
Step 2Launch this BlueJeans Meetings recorder and choose the Video Recorder feature. It also carries audio recorder, screenshot, and other functions.

Step 3You can adjust the screen recording region based on BlueJeans meeting window. To capture your own face, just turn on the Webcam. During this step, you can also select the audio recording source from System Sound, Microphone, or both.

For more BlueJeans recording settings, you can go to the Preferences window. Here you can custom recording hotkeys, select output format, and do more operations.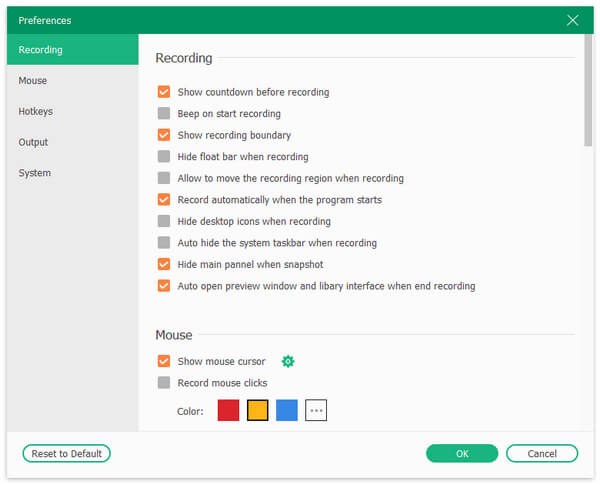 Step 4Click the REC button when the BlueJeans meeting is taking place. While the capturing, you can freely add text, line, arrow, labels and more to the recorded video.
Part 3. FAQs of How to Record BlueJeans Meetings
Does BlueJeans notify when you record a meeting?
Yes. When a moderator starts the BlueJeans recording, other participants will get the notification that the recording is on.
Is BlueJeans video conferencing free?
No. BlueJeans is not a free video conferencing platform. It offers a 14-day free trial to get unlimited access to BlueJeans Enterprise, with no credit card required. After that, you need to pay at least $9.95 per month to use its service.
Where to find my BlueJeans meeting recording?
BlueJeans will render the recording and send a download link to your email once the recording is finished. You can directly access and download the recorded BlueJeans meeting there. Also, you can find your recording file under the Recordings tab.
What's the different between Basic Recording and Enhanced Recording of BlueJeans?
Compared with the Basic Recording of BlueJeans, Enhanced Recording has more features including Online Playback, sharing with URL and more.
Conclusion
After reading this post, you can get 2 easy ways to record BlueJeans meetings. You can free download the recommended Screen Capture and have a try. It can help you capture any activities happened on your computer with high quality.