Top 5 Audio Recorder Software in 2023 to Record Audio File Easily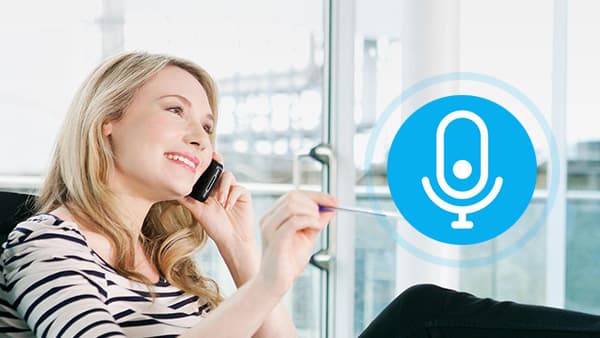 Audio recorders are useful when you want to download some music and listen to them offline. Streaming audio is increasingly popular and attracts many audiences. Unfortunately, almost streaming audio services do not support download feature. However, you can record any music you like or find online without pay a penny. That sounds attractive.
If you search audio recorder or audio downloader in Google, you will find out there are so many different Software and applications. It is a waste of time to try everyone. So, how to find the best one for your computer? Below, we have listed the top rank software based on tests.
Tipard Screen Capture
Tipard Screen Capture is the smartest audio recorder. Its interface is friendly, so every user could navigate within it easily. The most impressive feature of Screen Capture is to record audio with highest quality. So you do not need to worry about the issues about muffler and noise. Here are the other smart features of Screen Capture.

1. It promises to record audio with 100% original quality.
2. Screen Capture supports to capture system audio and microphone audio simultaneously or separately. Users could decide to record the system audio or microphone sound through enable and disable the options.
3. This audio recorder does not have limit on recording length. And it allows users to monitor the length of the recording in real time.
4. Screen Capture is available to most Windows systems, including Windows 10.
5. It supports to export the output to high quality audio formats, like MP4, AAC, M4A and WMA.
In a word, Screen Capture could meet all your requirements about audio recording. When you discover your favorite music online, just use Screen Capture to record it. A few minutes later, you will get whatever you want.
Audio Hijack for Mac
Audio Hijack for Mac is a dedicated audio recorder on Mac computers. With it, you can record any sound, including the sound from microphone and music. Moreover, it has integrated some special features to combine with other applications of Mac OS. If you want to capture audio in high quality audio on your Mac computer, you can use Audio Hijack for Mac. Find more about the basic features of Audio Hijack for Mac.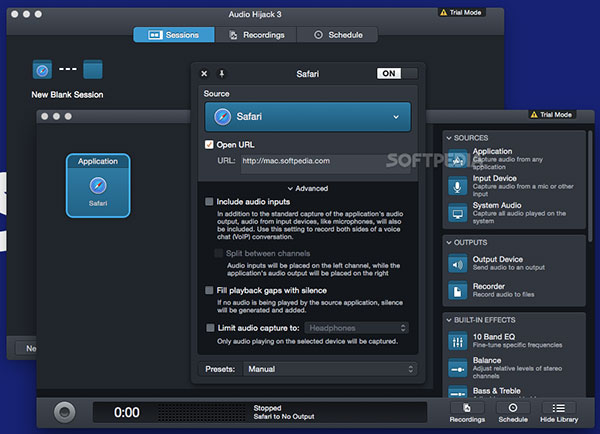 1. Audio Hijack for Mac is an easy-to-use software. Once click on Record button, it will capture all audio available.
2. It supports various input sources, like computer system, microphone, QuickTime Player, iTunes, Safari, DVD player, iChat, Skype and more.
3. The built-in Timers will trigger the program to start recording automatically. That is a useful feature to record audio.
4. It permits users to control the audio recording totally. You can set the length of every piece of recording, tags and other effects.
5. Besides common audio formats, like MP3, Audio Hijack for Mac also supports to save the recording to an AIFF file. This format is used to burn a CD.
Audio Hijack for Mac is a special one. Compared to other audio recorders, it combines with Mac OS better. You can play stream audios on iPod and let Audio Hijack for Mac to record them through iTunes.
Aktiv MP3 Recorder
Aktiv MP3 Recorder is a free audio recorder. Its interface is not as concise as others, because it deploys all settings in one window. Fortunately, the layout of its interface is clear. It separates the different kinds of settings with borders. So you can explore its extensive features if you are not in a hurry. And here are the principal functions of Aktiv MP3 Recorder.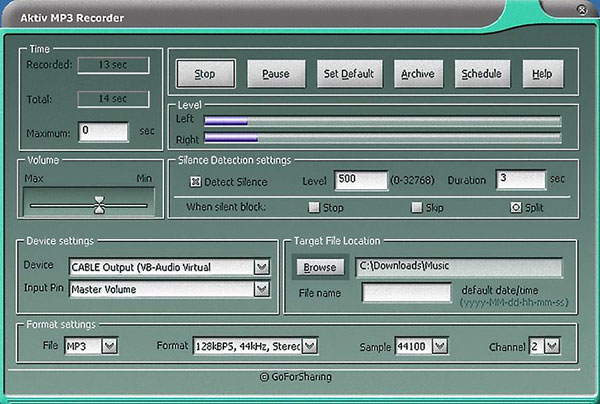 How to capture 8tracks with Adobe Audition CC
1. When you are listening to a streaming audio service, Aktiv MP3 Recorder will record the audio through your soundcard with only one click.
2. Once install and open Aktiv MP3 Recorder, it will detect your hardware and preset automatically.
3. It provides multiple parameters to let your control recording, like the volume of left and right channels, input, output format, quality, sample rate and so on.
4. It has a unique feature called silence detection. You can set to stop, skip or split, when Aktiv MP3 Recorder meets silence during recording.
5. The recording length will show up on Time section in real time when Aktiv MP3 Recorder works. And you can set the maximum recording length early.
After recording, you can encode the output to WAV, MP3, WMA, OGG, AU, VOX or AIFF and save it to your computer.
Screamer Radio
Screamer Radio is a special audio recorder. Compared to others, it is simpler and CPU-light. But it could capture any format. When it works, you can minimize it in your system tray and hardly feel it is running. Although it does not have gorgeous skin, it is easy to use. Once you press recording button, it will capture the music and encode it with artist and song data automatically.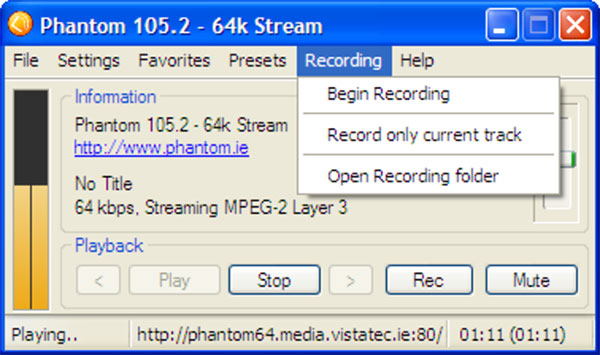 The simple features of Screamer Radio include:
1. It is only available to Windows users.
2. This software is very light on resources.
3. You can record the audio from its built-in radio stations or entered URLs.
4. All audios recorded will be saved as MP3 files automatically.
5. Besides music, Screamer Radio will encode the artist information and other music data within the recording files. So you can search the music album that contains the recording later.
6. It has the ability to save the songs in separate files during continuous recording.
If you are looking for a simple one for your computer, Screamer Radio seems a good choice.
Streamosaur
Streamosaur is a portable audio recorder. Users do not need to install it on their computers. After unzip the file in a folder and open the exe file, you can enjoy all its features without registration. Just learn more detail about the basic features of Streamosaur.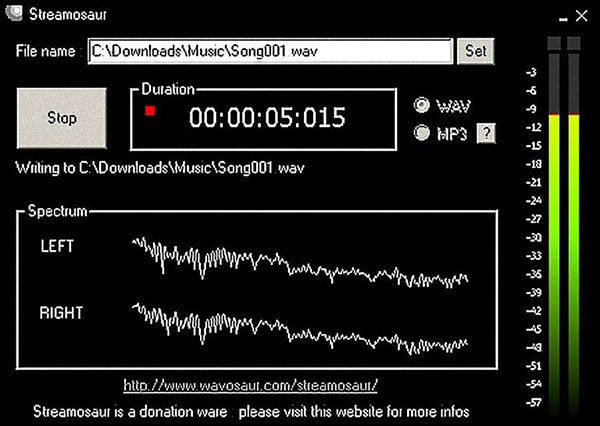 1. It is very easy to use; all you need to do is press the record button.
2. Streamosaur supports to capture any sound on your computer.
3. You can preset the destination to save the recorded file.
4. Streamosaur allows you to save the output as MP3 or WAV.
5. It will show you the length of recording and the volume in real time.
6. Streamosaur could record unlimited broadcast.
7. After recording, click on Stop button, it will save the output automatically. If you do not like to install Software on your computer or you are sensitive to cybersecurity, Streamosaur is a great choice to record audio.
Conclusion
This article has introduced top 5 music recorders. They all have some unique features. Audio Hijack for Mac, for instance, combines many Mac applications. Aktiv MP3 Recorder embeds a silence detection function that could trigger some actions. Screamer Radio is a CPU-light audio recorder. And Streamosaur does not ask users to install it on hard drives. While if you need to record music and produce high quality file, Tipard Screen Capture is your best choice.