3 Ways to Record Pokemon GO on Android, iPhone, and Computer
Are you looking for a screen recorder to record Pokemon GO gameplay on an Android or iOS device for sharing with others?
Pokemon GO is a very popular Augmented Reality mobile game developed by Niantic in collaboration with Nintendo. It uses the GPS on your portable iOS/Android device to locate, capture, and battle virtual creatures, called Pokémon. While the daily playing of Pokemon GO, there are many beautiful moments that you want to share with friends. Now we back to the question, how to record Pokemon GO on Android or iOS?

Pokemon GO can be played on both iPhone, iPad and Android phone. With some iOS and Android SDK software, you can even play it on a desktop. So when it comes to the gameplay recording, we like to share 3 screen recorder tools to help you record Pokemon GO on different devices.
Part 1. How to Record Pokemon GO on Android Phone
What is the best screen recorder for Pokemon GO?
If you want to capture your Pokemon GO game playing on an Android device, you can give the powerful Mobizen Screen Recorder a try. It provides you with a free and high-quality way to record anything displayed on your Android screen. Besides the Full HD screen recording, it also allows you to record Pokemon GO in 2K QUAD HD. This part will guide you to record Pokemon GO on Android with it.
Step 1
First, you should go to Google Play Store, search for and install the Mobizen Screen Recorder app. You can freely use it without rooting.
Step 2
Open this screen recorder for Pokemon GO and go to the Settings interface. Here you are allowed to custom video/audio recording settings, recording mode, front camera, countdown, watermark, and more.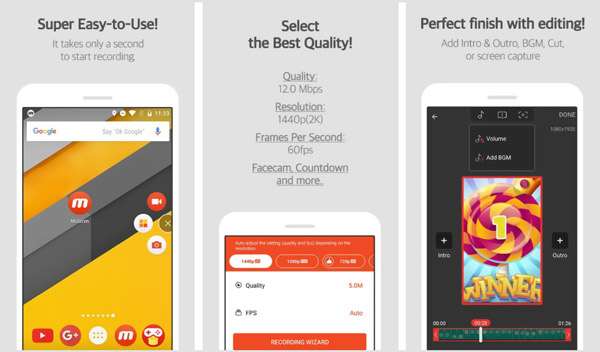 Step 3
When you want to record Pokemon Go gameplay, you can tap the Mobizen icon to arise the recording tool. Then tap the Record button to start the recording. It enables you to capture your reactions through Facecam function.
Part 2. How Do I Record Pokemon Go on iOS Device
Thing will be much easier if you want to record Pokemon Go on an iOS device like iPhone or iPad. iOS is designed with a built-in Screen Recording feature which can help you capture any activities happened on your iPhone or iPad screen.
Step 1First, you should check if you have added this recorder feature to the Control Center. If not, you can go to Settings app, tap Control Center, Customize Controls and then locate the Screen Recording option. Tap the + icon ahead of it to add it to Control Center.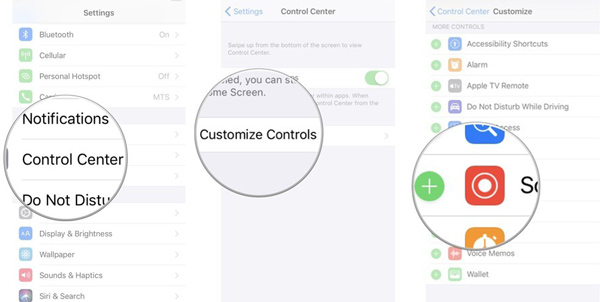 Step 2While the game playing on Pokemon GO, you can simply swipe your finger from the bottom part of screen to display the Control Center and use Screen Recording to capture Pokemon GO.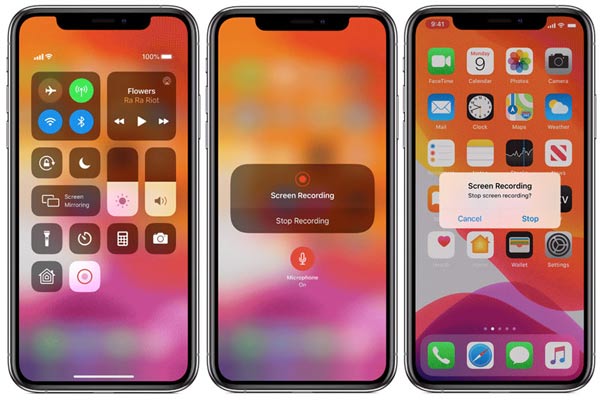 Step 3When you want to stop the recording process, you can tap the red status bar on the top screen and then choose Stop. The captured Pokemon GO gameplay video will be automatically saved in the Photos app.
More iOS screen recorders are here.
Part 3. How to Record Pokemon GO on Computer
Can I play Pokemon GO on a desktop?
As it mentioned above, with some Android or iOS SDK, you can play Pokemon GO on computer. If you want to record Pokemon GO on a Windows PC or a Mac, you can use the all-featured gameplay recording software, Screen Capture.
1. Record 4K Pokemon GO gameplay on both Windows 10/8/7 PC and Mac.
2. Capture game playing on Pokemon GO with full screen or selected area.
3. Record game audio through system audio card, microphone, or both.
4. Capture your own face from webcam and add it to the game recording.
5. Support advanced accelerate technology and Blue-light real-time HD video encoding.
Step 1Double click on the download button and follow the instructions to free install and run this Pokemon GO game recorder on your computer. When you enter the home window, choose the Video Recorder option.

Step 2Before the Pokemon GO recording, you can freely adjust various video and audio recording settings based on your need.

Step 3Click REC button to start recording Pokemon GO gameplay. During the recording, you can add annotations like arrow, text, line, rectangle, ellipse and more.
Step 4You will be guided to the Preview window after recording. Here you can view and edit the captured video. After that, click Save button to save the recording file in MP4, FLV or another output format you need.
For more game recording software, you can check it here.
Part 4. FAQs of How to Record Pokemon GO
Question 1. How to download Pokémon GO?
Pokémon GO is a free mobile game. You can download it from App Store on an iOS device or Google Play on an Android phone.
Question 2. Can I play Pokemon GO on a PC?
Yes, you can play the Pokemon GO on a desktop with the help of some Android or iOS SDK. Also, you can download some Android gaming platform like BlueStacks for the game playing.
Question 3. Can you still fake GPS Pokemon GO?
You need GPS on your mobile phone to locate, capture, and battle virtual creatures. For now, it is possible to spoof a Pokémon GO location. You can rely on a VPN and GPS spoofing app to do so.
Conclusion
Whether you play Pokemon GO on iPhone, iPad, Android phone or desktop, you can find a screen recorder from this post to capture your gameplay with ease. For more questions about how to record Pokemon GO, you can leave us a message.