Top 10 Screen Recorder Apps on iPhone/iPad/Android to Record Screen Easily
As using mobile phone has been one important part of people's daily life, it is obvious that smart phones are essential to most people. For instance, one person can spend whole day long without opening computer. However, it does not mean that he or she can ignore iPhone or Android too. Playing games or shooting videos and photos to social platform by smart phone is normal part to consist one person's day. Thus, recording tutorial and videos with screen recorder app is more convenient, because of easy to take and instant shooting features during your hanging out. To improve users' screen recording experience, this review has gathered top ten Android and iOS recorders, you can read and pick.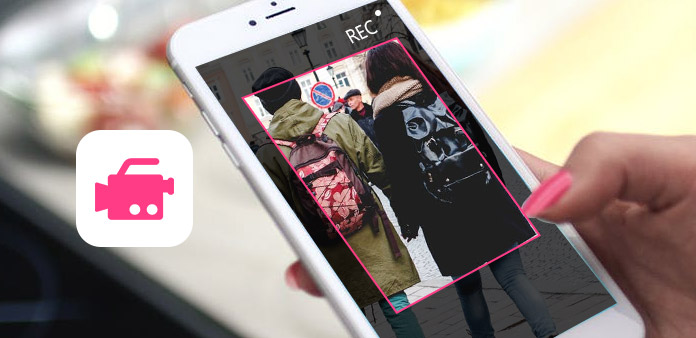 Part 1. Android Screen Recorder APK
If you installed Google Play Games, you can record gameplay directly, with the installation from it. The normal method to get Android screen recorder is USB connection. Or you can try the following apk to simplify recordation.
1. AZ Screen Recorder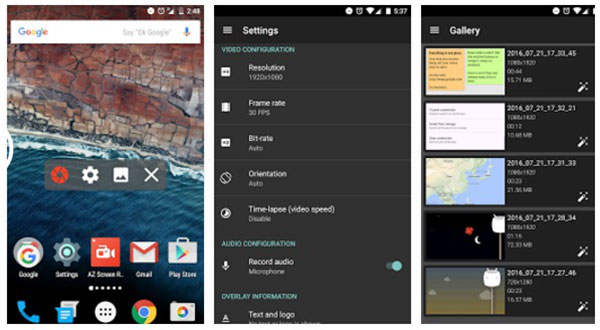 AZ Screen Recorder allows users to pause and resume during recording. You can output Andorid screen record videos without watermark, root require and time limitation. Moreover, it enables users to convert HD to FullHD and add audios easily. The floating screen capture window can make sure users get any screenshot. In addition, AZ Screen Recorder provides video editing filters and effects for you to choose. You can set video resolution, choose overlay, draw on screen, use countdown timer and other filters. Furthermore, you can trim and merge videos after recording Android screens.
Requires Android: 5.0 and up
In-app Products: $1.49 -$2.99 per item
2. Mobizen Screen Recorder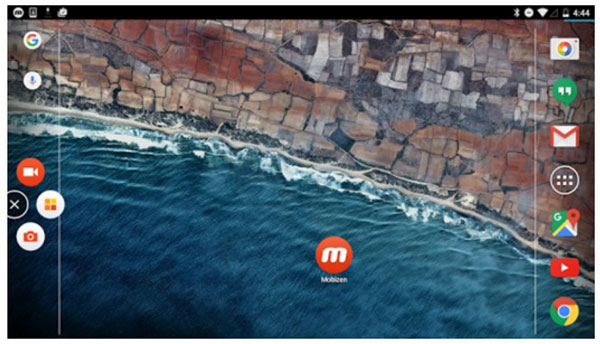 Mobizen Screen recorder offers clean interface and easy to use operations without rooting. You can get 1080p video resolutions, in 12.0Mbps and 60 FPS. Even though someone want to use Android screen recorder to take long videos, Mobizen can save the recorded videos to SD card with external memory room. With various basic and updating video filters on Mobizen Screen Recorder, you can remove watermark from videos with latest Android screen capture apk version. Therefore, you can apply Mobizen Screen Capture to record daily experience and gameplay in free way.
Requires Android: 4.4 and up
In-app Products: $0.99 -$8.99 per item
3. Unlimited Screen Recorder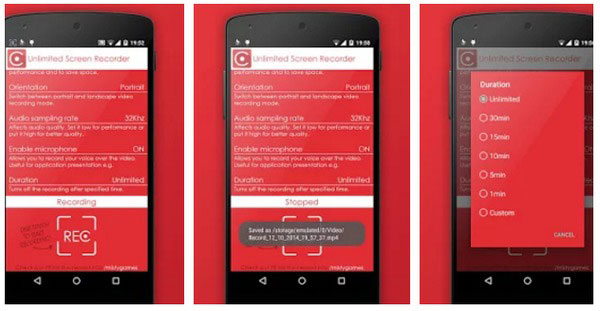 Just as the Android screen recorder apk name has shown, you can shoot videos as long as you can. The unlimited video recording length enables users to record enough to videos. Or you can set the approximate shooting time period at first. Moreover, once you want to record videos on Android, just click the shoot icon in red square. The output Android recordation will not contain any watermark or ads. With simple and easy video recording interface, it is enough to shoot with Unlimited Screen Recorder.
Requires Android: 5.0 and up
In-app Products: $0.99 -$2.99 per item
4. Telecine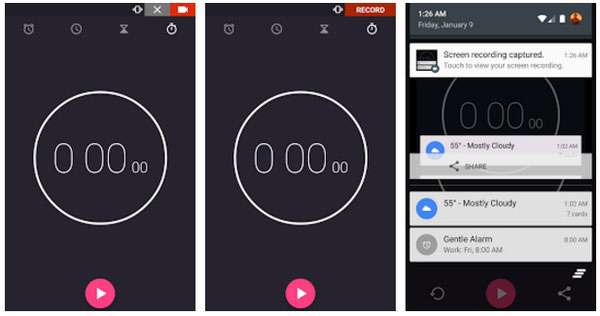 There is no need to link Android with your computer, just for recording screen shots. You can set timers to count down recording time. To remind yourself the recordation has became, you can set three-second countdown option before. After you press recording icon on the overlay, everything you have done will be recorded on the Android screen record apk. Once you want to finish recordation on Android, just press the same the same place the past overlay has been. Do not worry about that, your record icon is just turned transparent, so it is still be there.
Requires Android: 5.0 and up
In-app Products: none
5. SCR Screen Recorder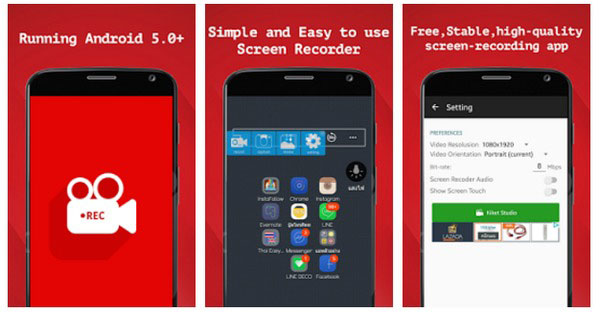 SCR Screen Recorder is the free Android screen record apk with fast speed and simple consistent. You can pause and resume at any time during screen recordation. Moreover, SCR Screen Recorder allows users use front camera to record videos. Thus, it means you can record videos about yourself. It is also acceptable to add external audio to the recordation to explain. Or you can say during record Android screen. After you have done recordation, you can share online videos from YouTube, Vimeo, Vevo, DailyMotion, TED, Facebook and more. And it enables you to
Requires Android: 5.0 and up
In-app Products: none
Part 2. iOS Screen Recorder APP
As Apple does not support users install any screen record app from App store. Thus, some people find that there are also some other record ways available. QuickTime is the media player from Apple developers. You can apply both on Windows and Mac computers to record iOS devices. Or some people choose to link iOS with computers by USB connection, to use screen recorder app on Mac computer. If you are tired of these old ways, you can learn new following ways to record videos.
6. RecordMyScreen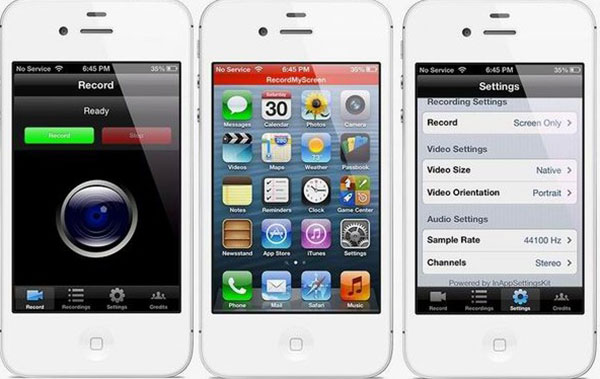 RecordMyScreen is the free open screen recorder both for jailbroken and non-jailbroken iOS devices. It supports 1/2 screen size or full screen. To customize recording settings, RecordMyScreen allows users to adjust video size into 50% or 75% for Retina iPad. Even though you have to run safe mode on iOS devices, you can still record iPhone and iPad screen. To trim or merge videos, you can open recorded videos on other video-editing app. Though RecordMyScreen iPhone screen recorder does not offer too much video edit filters.
Requires iOS: 5.0 and up
In-app Products: none
7. BB Rec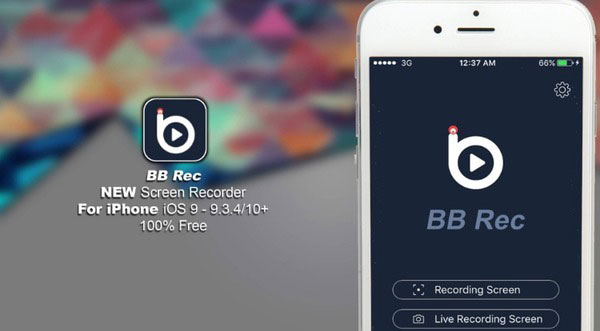 BB Rec requires you link your iOS devices with computers for screen recordation. Thus, you need to install the screen recording app as well. Once you open BB Rec, you can get four main screenshot settings, which are recording screen, live recording screen, camera and my video. It is obvious what their video recording functions are. There is one thing you need to remember that you need to use Cydia Impactor to sideload BB rec to record iPad screen.
Requires iOS: 9.0 and up
In-app Products: none
8. Reflector 2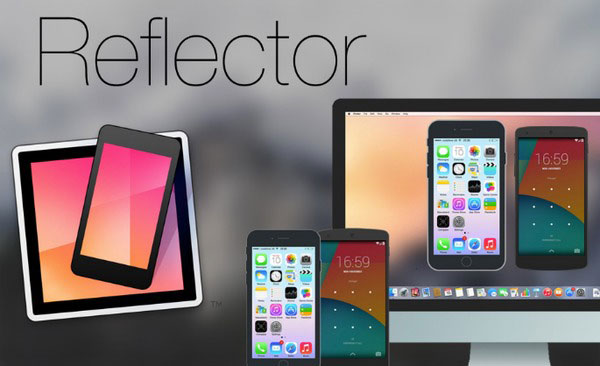 Reflector is the video recording tool, which you can reflect files among Windows, Mac, iOS and Android. Without wireless connection, you can still link all devices in free way. Thus, using Reflector can mirror what you have doen on other devices. You can stream iPad screen recorder with computers, because of Google Cast, AirPlay Mirroring. The remote video reflecting can give you different experience, compares with other screen record apps.
Requires OS: Windows, Mac, iOS, Android
In-app Products: $14.99
9. Apowersoft
Apowersoft is the video capture recorder both for iOS devices and Mac/ Windows computers. You can reset the screen size by your mouse manually. Moreover, it is also available to set auto screen record mode with Apowersoft. Before recording on iPhone or iPad, you can set video format, or convert media formats after as well. The record format includes WMV, MP4, MKV and so on. As for audio types, you can select from MP3, OGG, WMA, WAV and etc.
Requires OS: Windows, Mac, iOS, Android
In-app Products: $40
10. AirShou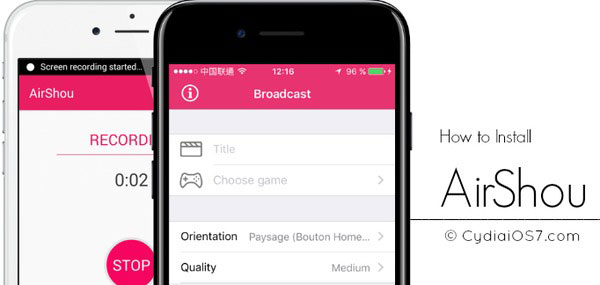 AirShou allow you get away from USB connection and jailbreak. You need to do something more before recording iPhone and iPad screens. Turn on Trust from Profiles & Device Management under General of Settings. After verified AirShou, then you can start recordation. To record iOS screens successfully, you need to sign up orientations of your digital devices. You can get mirroring feature to send anything you want to an Apple TV in wireless way. No matter you want to save to Camera roll, or share with Facebook and other media platforms, the recorded iOS videos are all in high quality.
Requires iO: 9.0 or up
In-app Products: none