3 Ways to Record CSGO Gameplay on Windows PC and Mac
CS:GO (Global Offensive) is a popular and leading shooting game which attracts millions of gamers. You can see lots of CSGO game playing videos uploaded on YouTube. Are you also want to record CSGO gameplay and share highlight reels of some triumphant moments or instructional techniques?

There are many game recorders offered on the market that can help you capture CSGO gameplay on computer. This post like to introduce you with 3 great ones to help you record CSGO clips on either a Windows PC or a Mac.
Part 1. Record CSGO Gameplay with Game Bar
Xbox Game Bar is a built-in gameplay recording tool in Windows 10. It can record videos and take screenshots while playing PC games. You can use it to record CSGO gameplay clips on a Windows 10 PC with ease.
Step 1First, you should ensure the Game Bar has been enabled. It is turned on by default. But before you start the CSGO gameplay recording, you'd better check it. Press Windows key to arise the Start menu. Choose Settings menu, Gaming and then Game Bar. Here you can turn on it.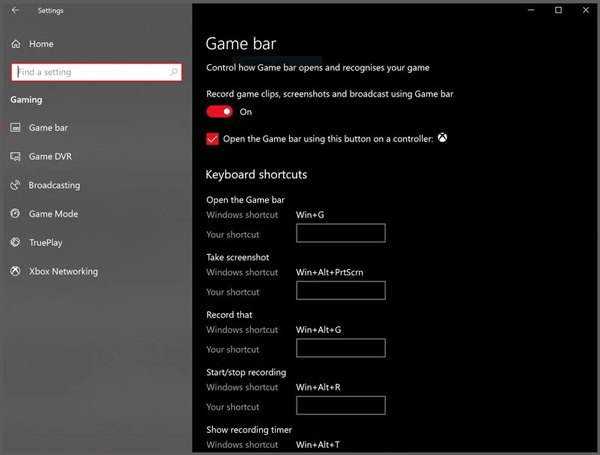 Step 2When you want to record CSGO gameplay, you can press Windows + G keys to arise Game Bar. If you are using the Xbox controller, just simply press the Xbox button. Then click the Record icon to start the recording process. Here you can also press Win + Alt + G to start or stop the CSGO gameplay recording. Learn how to upload a video to YouTube.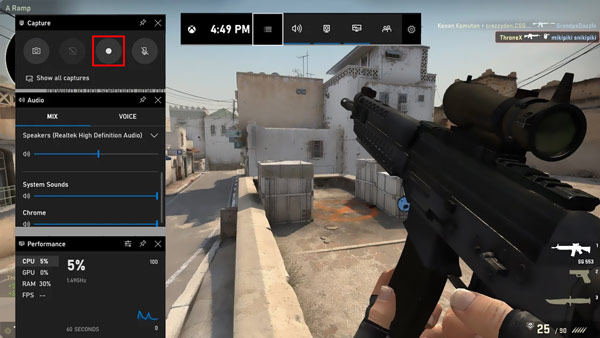 Part 2. Record CSGO Gameplay with QuickTime Player
If you like to play CS GO on a Mac, you can rely on its default screen recording software, QuickTime Player to capture your CSGO game playing. QuickTime is the official media player for Mac, and it also carries the basic recording feature.
Step 1Open QuickTime Player on your Mac. Click File on the top menu bar and then select the New Screen Recording option. After that, you can see the main recording window appears on the screen.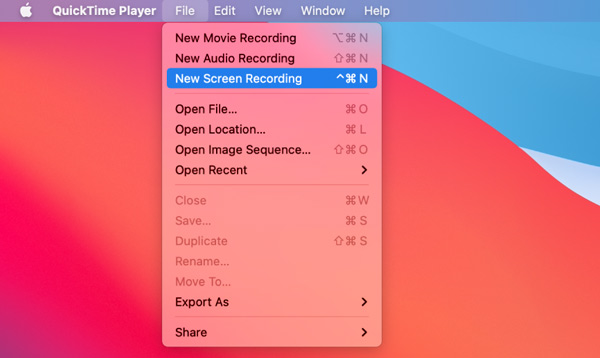 Step 2Click the Record button to start recording CSGO gameplay video on your Mac. When you want to stop it, you can click Stop on the QuickTime menu bar to do that.
More information about QuickTime screen recording is here.
Part 3. Better Way to Record CS GO Gameplay on PC and Mac
Game Bar will slow your gaming performance by recording CSGO gameplay in the background. And QuickTime Player can only capture sound from microphone. So if you want to capture high quality CSGO gameplay videos, you should turn to the professional game recording software, Screen Capture.
It is specially designed to capture high quality videos. With the adoption of the advanced Blue-light real-time HD video encoding technology, it can record CSGO gameplay in 60fps with high definition. What's more, it supports the latest accelerate technology to ensure you have a real-time 4K game recording with low CPU, GPU and RAM.
Step 1Free download, install and run this CSGO gameplay recorder on your Windows 10/8/7 PC or Mac. Select the Video Recorder feature to record CSGO gameplay clips.

Step 2Before the recording, you can freely custom the screen recording region and choose the audio recording source. If you want to capture your own face, you can turn on the Webcam.

Step 3When you want to record CSGO, you can simply click on the REC button. While the gameplay recording, you are allowed to edit the captured video and add arrow, text, line, rectangle, ellipse and more to it.
Step 4After recording, you will be guided to the Preview window. Here you can check the recorded gameplay video and do more editing operations. After that, click Save button to save the recording file on your computer.
The recorded CSGO video will be saved in MP4 format by default. You can go to Preferences window, click Output to change it.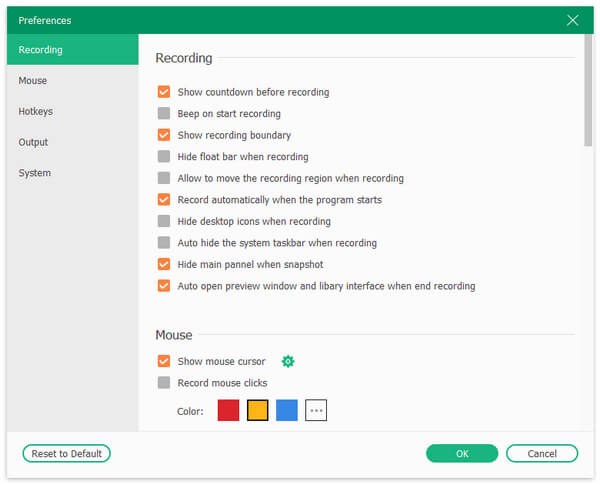 Part 4. FAQs of Recording CSGO Gameplay
Does Game DVR affect gaming performance?
Yes, both Game DVR and Xbox Game Bar will use hardware encode on GPU to perform the recording. So, you may see the videos look very compressed at times or the gameplay is lagging.
How do I record CSGO gameplay without losing FPS?
You should know that, all recorders will cost some CPU, GPU and RAM to make the recording. That will definitely affect your game playing experience. But you can use some professional recorder tool like Screen Capture to record CSGO gameplay without losing FPS.
How do you talk in CSGO without pressing the button?
While playing CSGO, you can just press F1 once to start speaking, and then press F1 again to finish the talking.
Conclusion
How to record CSGO gameplay ? Whether you play CS Go on a Windows PC or a Mac, you can find a right game recorder to capture your game playing on CSGO. For more questions about the CSGO and CSGO game recording, you can leave us a message.