Top 5 Game Capture Software in 2023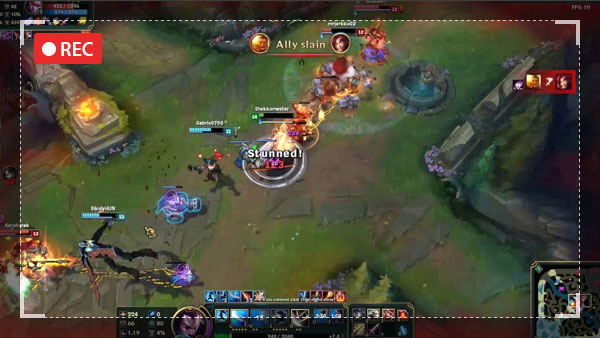 Game capture software is a handy tool for game players. They can record the new skills and share the game videos with friends. And game videos are also used to discuss strategies with other game enthusiasts. However, recording games, especially video games, is not as simple as screencasts. Firstly, when we play video games and run other software at the same time, CPU may be difficult to load and delays will become serious problem. Moreover, it is annoying that the cursor appears frequently when we playing games. So a program must be CPU light and smarter than other screen recorders. This post will recommend top 5 game capture software based on tests. You can pick up the desired one according to your requirements.
1. Tipard Screen Capture
Tipard Screen Capture is one of the smartest screen recorders; so game players could use it to capture games. It has a user-friendly interface. Everyone could navigate within it easily without tutorials. To gamers, the most attractive feature of this software is to capture all your actions within video games as a highest quality video. You do not have to face the problems about frame missing or images blurring. And more smart features of Screen Capture as below.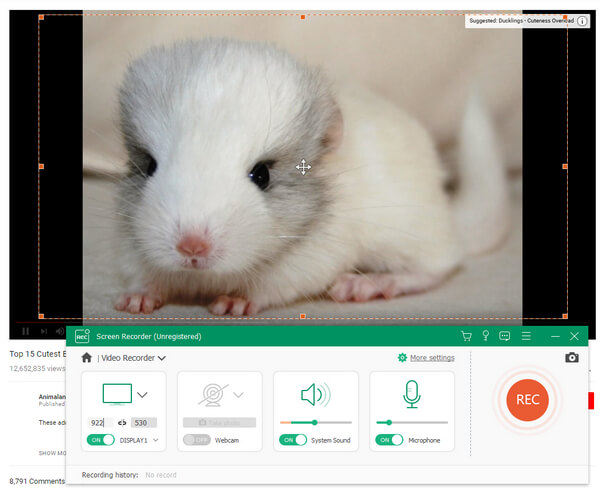 1. It could capture the audio along with the game video and provide 100% original quality.
2. Screen Capture supports to capture system audio and your voice from microphone simultaneously.
3. It embedded powerful technology that could cut noise in the game video.
4. The duration feature allows users to set the length of the recording.
5. Screen Capture has no constraint no recording length.
6. Users could use hot keys to control Screen Capture when it is minimized.
7. After recording games, you can preview the video with Screen Capture player.
8. This game capture program is compatible with most Windows systems, including Windows 10.
9. Gamers could export the game videos in high quality video formats, like 4K videos and HD videos.
2. Mirillis Action
Mirillis Action offers all functions to create high quality videos of gameplay. According to the research, Action will not hog system resources when it works. You might not feel that Action is capturing screen when you play video games. Besides recording features, it also offers live streaming to social websites directly, like YouTube, Facebook and more. Moreover, it is also a remote program. You can control it from an Android handset.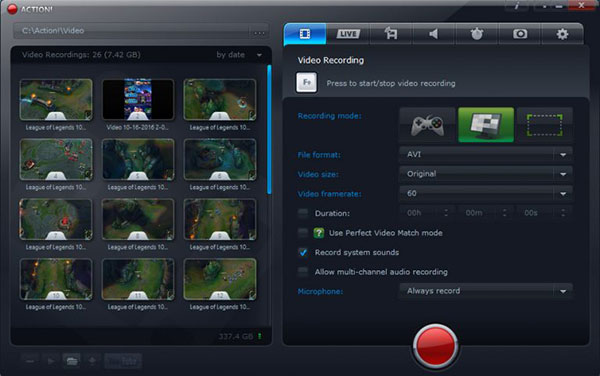 Here are some basic features of Mirillis Action:
1. It could produce 240p to 1080p recordings with live sound. You can choose the solution based on your demands.
2. With Action, you do not need to worry about frame rate, cutting out or voice blending.
3. It supports to capture three different areas.
4. It has the abilities to detect your games automatically.
5. The built-in benchmarking tool makes calibration easily.
6. Its remote function is pretty useful. With Action, users could turn their Android phone to controller. So they will not be distracted by press keys.
7. The capture experience is smooth, for it does not seize many system resources.
3. D3D Gear
D3D Gear is dedicated game capture software that helps gamers to record gameplay. D3D Gear could meet all gamers' needs: capture accurate data on graphics performance in real time. D3D Gear is a freeware that supports DirectX and OpenGL. It has the ability to measure and display the 3D frame rate of your games. So D3D Gear is popular among 3D gamers. All you need to do is start it up and then you can play game and capture it. Check more detail about the basic features of D3D Gear.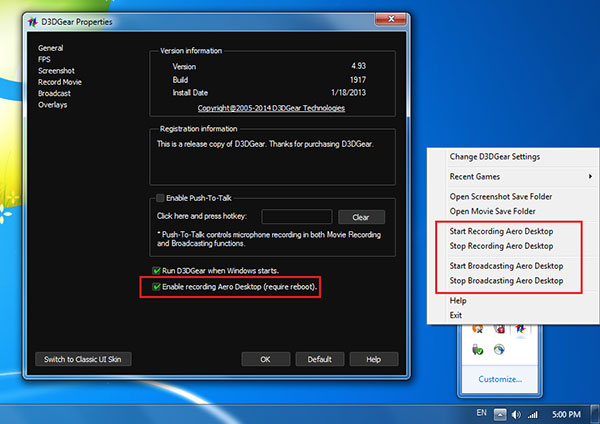 1. It provides various parameters, like frame rate, front color and more. It allows you to control the game videos.
2. Users could use keyboard shortcuts to control D3D Gear and record games.
3. Besides videos, It is also a screenshot recorder.
4. It supports various output formats, like BMP, JPG, GIF, PNG, and most video formats.
5. Gamers could post the game videos to a certain URL or social networks.
6. You can set to blend your voice from microphone with the game video or separate into different files.
4. Bandicam
Bandicam is another best game capture program. It supports to capture game videos and screenshots. Although Bandicam provides diverse custom parameters, it is straightforward to use. Even beginners could enjoy its excellent software experience with its default settings. And advanced users could explore its potentials through adjusting the parameters. And you can access the main features of Bandicam.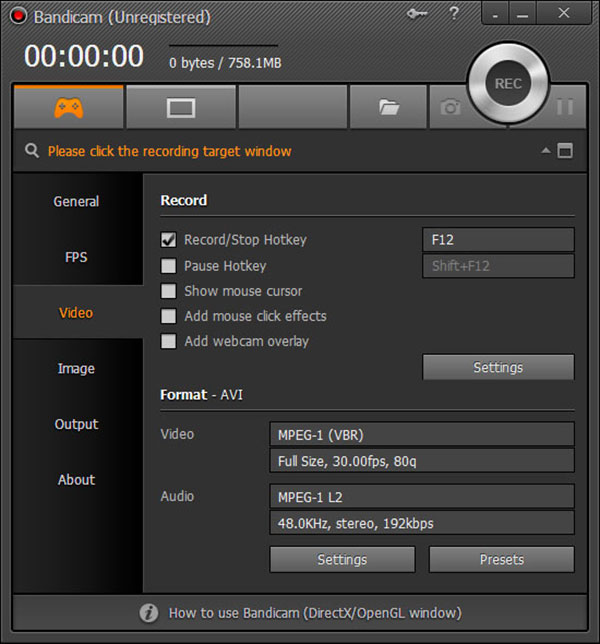 1. It permits users to control it process and output. You can reset various recording parameters, like video and audio formats, recording screen size and more.
2. It supports to hotkeys during recording.
3. You can decide to display your cursor or not when capturing games.
4. Bandicam has the ability to capture videos from both web camera and computer system. It is able to blend them into one video.
5. You can also take an image screenshot during game capture.
6. Bandicam could detect your primary audio device and web camera automatically. And it will pre-set these parameters according to your hardware. So when you need to capture your game, just open Bandicam and let it works alone.
5. Fraps
Fraps is a famous game capture program. Firstly, Fraps is competent to capture a wide range of games, including DirectX and OpenGL. Moreover, another popular feature of Fraps is recording timestamps and counters automatically. That is useful to gamers to target a certain event.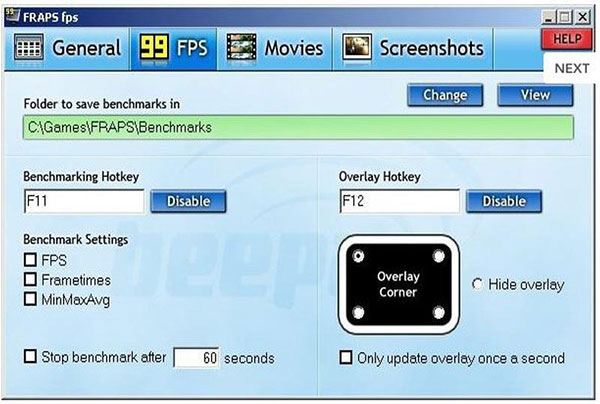 The significant features of Fraps:
1. It supports to capture both game videos and screenshots.
2. Gamers could use hot keys to control Fraps when capturing games. Besides recording and pause, it provides plentiful hotkey options, like Benchmarking, Overlay and more.
3. You can capture a certain area or the entire screen.
4. It allows you to reset various parameters about it, including size, frame rate, video and audio quality, and so on.
5. it will save the video as AVI files, which is a standard video format without compression.
Conclusion
This article has introduced top 5 game capture programs. They all have some unique benefits and advantages. Mirillis Action is a CPU-light it. D3D Gear and Fraps support DirectX and OpenGL games. Bandicam has the ability to detect and preset parameters to capture the best videos. And if you need a smart software that can produce highest quality game videos, Tipard Screen Capture is the best choice. It also shares the advantages of other best software. So when you need a game capture tool, you can choose one from the top 5 game programs introduced in this post. Or else you can also share about your favorite programs in the article with us.