Samsung Kies? Your Samsung Mobile Device Manager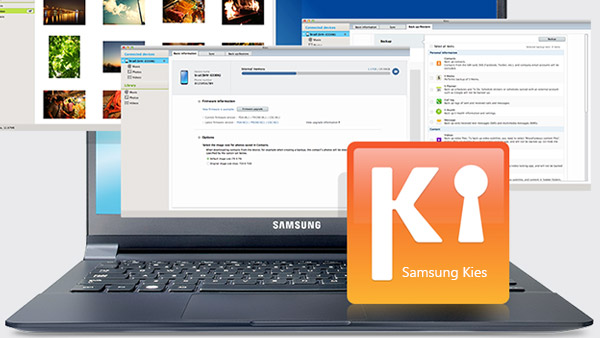 What is Samsung Kies
Samsung has developed the so-called Kies free software, used to communicate between a Samsung device and Windows/Mac computer for Samsung users. With Samsung Kies, you can manage the content stored on mobile device, such as transfer music/videos/photos and backup important data.
There are different versions of Samsung Kies for Windows and Mac. For Windows, you can download Samsung Kies 3 (support all Samsung Galaxy devices running Android 4.3 or later like Galaxy A9/ A5/ A7/ A8/S6/S5/S5/S3/Note 5 /Note 4/Note 3, etc.), Kies 2.6 (Support devices launched before September 2013). For Mac operating system, three Samsung Kies are supported: the Kies 3 are same as Windows version, Samsung Kies Air (support all devices running Android OS 2.2-4.1), Samsung Kies Mini (only particular Samsung devices are compatible like Samsung Vibrant, Captivate or Infuse).
How to use Samsung Kies
Connect your computer via USB or Wi-Fi
It offers you two ways to bridge Galaxy devices to computer. You can plug the mobile in PC by USB cable. If you have no USB cable in the side, connect your Samsung to Kies with wireless.
(Note: You'd better make a connection between Kies and Samsung Galaxy handsets via USB because Wi-Fi connection is not supported if you need to upgrade firmware.)
Keep your device up to date
When you connected your Samsung device to the software, you can see the firmware information on the main interface. It will prompt you "This is the latest firmware" if they have no need to update.
If the new firmware is available, you will see the "Firmware upgrade" button shows you. Just in two simple steps, easily get your Samsung Galaxy device firmware upgraded with the free Samsung Kies.
1. Click "Firmware upgrade" button and read the advisory information, check "I have read all of the above information", click the "Start upgrade" button.
2, Click "OK" to complete the process when it done.
Transfer Samsung data directly to computer with Kies
As a Samsung data manager, it has ability to handle music, photos, videos, story album and more data of your phones. Like directly transfer, add and delete data stored in Samsung devices on computer by Kies.
1. Click device name like Galaxy s4, you can see a list of file kinds like music, photos on left interface.
2. For instance, if you need to manage your photos and choose "photo" item to preview them on right interface. On the top interface of Samsung Kies, you can see "Add", "Delete" and "Save" button. Click "Add" button, you can transfer data from computer to mobile directly. Click "Deleted", you can throw the determined one. Click "Save" button, you can save selected photos to PC straightway.
Backup and Restore data from computer
It is one of outstanding functions of Samsung Kies for users. With this function, you can backup photos, messages, contacts, videos and more data from phone to computer.
1. If you hit "Back up/Restore" column and "Data backup", you can select needed backup item free.
2. Then click "Backup" button at top right corner. When finishing it, preview and check your data location by hitting the magnifier icon. "OK" to end the process.
If you did backup the content in advance, you can restore the data through Samsung Kies from computer with several clicks.
1. Click "Back up/Restore" column and "Restore data".
2. Select the backup file to restore from your computer. Click "Restore" button and "OK" to complete the restoration.
Sync contacts with Outlook
You can sync Samsung contacts/calendar/tasks with outlook via Kies easily. When you connect your phone to the Samsung Manager successfully, click "Sync" at the top of main interface.
1. You can see "Personal Information", select your needed item from contacts, calendar and tasks.
2. Hit "Sync" button at top-right corner.
Library management and keep data on PC
This excellent function is also used by Samsung Kies as iTunes. You can add file and folder from computer to Kies to save it. If you get a new Samsung phone, you can transfer all data existed in the Library to the new one in simple way.
Or if you look forward to an easier way to transfer data between Android phones directly, Phone Transfer software can help you a lot.
Main features of Samsung Kies and how it works are listed above. But there are some specific experiences that Samsung Kies can't provided for you, such as transfer data between Samsung and iPhone and recover Samsung data directly. You can use Phone Transfer and Android Data Recovery to solve them.
You May Like the Hot Software
Super Samsung Kies alternative to transfer data between Samsung
Also move content between Android and iPhone (or iPad/iPod)
Transfer photos, music, messages and more data between iOS devices
Support Samsung Galaxy A9/ A5/ A7/ A8/S6/S5/S5/S3/Note 5/Note 4/Note 3, etc.