Top 20 Clean Master for Android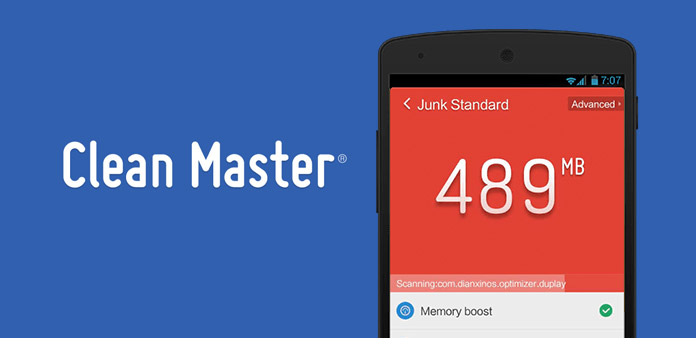 Are you tired the slow speed of your phone's boot process? Are you still worried about there is no storage you can use on your phone? Or are you impatient with the phone's running speed? Fortunately, here we recommend 20 best clean master for you to solve these problems. Keep reading and have a smoother phone with these amazing clean masters for Android.
Part 1: 10 Best Clean Master for Android
Top 1: Clean Master
Clean Master is an all-in-one clean tool for Android devices. It is regarded as one of the best clean and maintenance applications which are so necessary that Android users can't have faster devices without them. It has powerful functions and is easy to use, so that it is the most widely used clean tool. Except the colorful and interactive interface, the biggest reason of why it is so popular is that it does not cause your battery drainage. But for expert users who are looking to explore the capability of their Android devices, Clean Master may not have much benefit, while for normal users, it is really a good choice.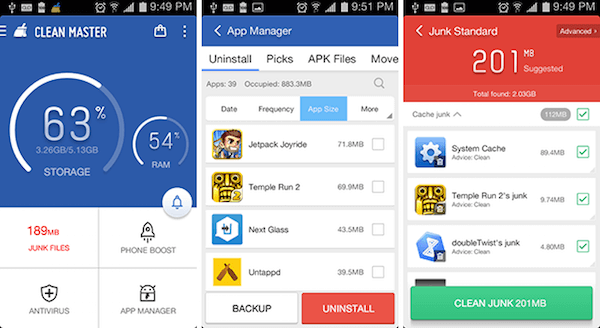 Top 2: CCleaner
CCleaner is also a good clean master we want to recommend to you in this article. Just like Clean Master we introduced to you before, CCleaner is a multifunctional app which does its best to analyze and clean up the unwanted files that take up your precious Android devices' space. What's more, it has some additional features like pp manager, CPU, RAM and storage meters, battery and temperature tools for Android users to use. And these features make it great storage cleaner tool to get in your Android devices. The disadvantage of this clean master is same with the first tool we recommend to you. For expert users, it is not a good tool to get more out of their devices.
Top 3: App Cache Cleaner
As the name called, App Cache Cleaner is a clean master which allows you clear the cache files stored by different kinds of applications in your Android devices. These cache files that stored by the apps you download are used for a quick re-launch, while these files tend to pile up over time and then they will take the memory of your Android devices. When you have such a problem, App Cache Cleaner is wonderful tool which can help you solve this question. It can identify the junk files and set the reminders to let you know when you need to clean the cache files. But the biggest disadvantage of it is also obvious, it only can clean the cache files stored by your apps.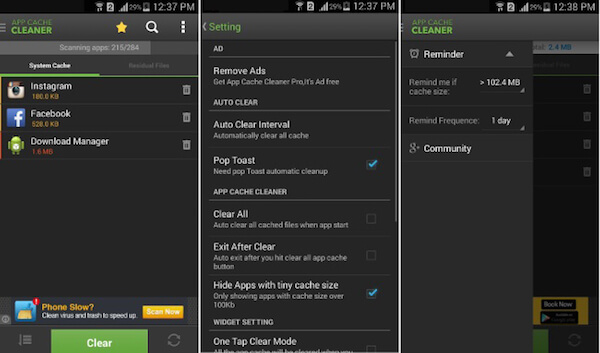 Top 4: DU Speed Booster Cache Cleaner
This software is also a comprehensive clean master which are popular with many Android users. DU Speed Booster Cache Clean do a lot of help when you clean junk and cache files from your Android phones. It is said that this tool can increase your phone's speed by up to 60 percent. What's more, it also equipped with anti-virus and Trojan scanners. All these functions make it a great all in one tool for Android users to clear their phones.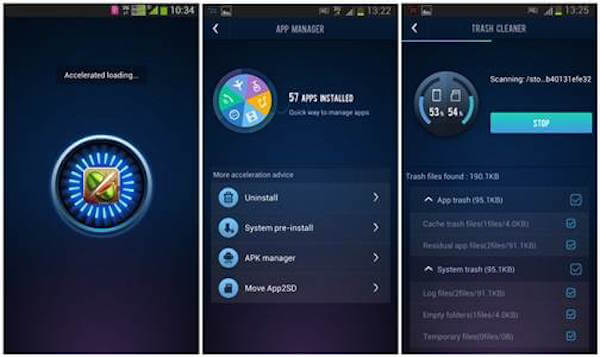 Top 5: Startup Manager
For most Android phones, the process of the phones' rebooting always take a long time. And it is because Android can be configured to start certain apps during the booting and loading process. However, the things you don't realize is that many apps add themselves to the "start list" and make the rebooting time much longer. Startup Manager is such a clean master you can use to remove the unnecessary apps from the list and speed up your phone's boot time. And it is easy, safe and free to use so that it is recommended to Android users.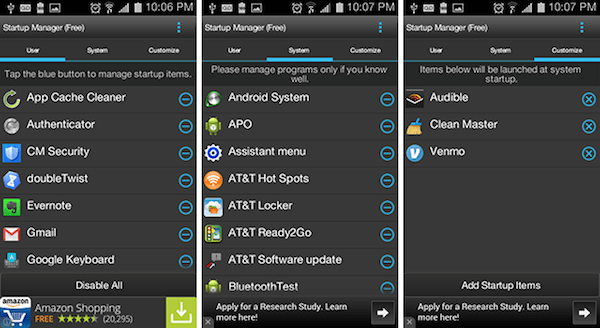 Top 6: History Eraser
If you are worried about your personal history in your phone is known or snooped by other people, History Eraser is a wonderful clean master that can do a lot of help for you. It can automate all of that for your convenience so that you can clear your history or personal data with a single tap. With History Eraser, you can clean many history including browser history, call logs, text messages, search history, download history, clipboard data and much more. But there are some advertisements in the free version. If you want to remove them, you can upgrade to the paid version.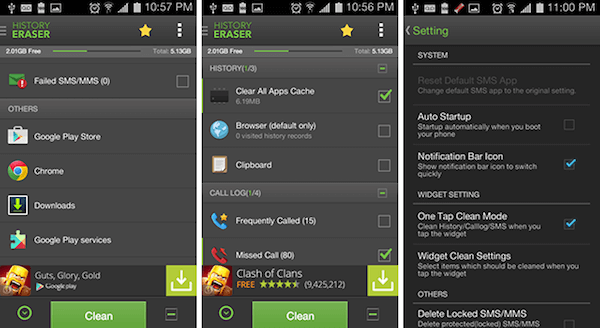 Top 7: Duplicate Contacts & Ultimate
Duplicate Contacts & Ultimate is a clean master which is focus on manage your contacts, and it is very suitable for those who have hundreds, even thousands of people in the contacts list. With this application, you won't waste your time on finding, or managing your contacts. Except the Exact Duplicate Removal and Merge Duplicate Contacts features are only available in the paid version, the rest of the functions are completely free for you to use. Such as Duplicate Number Removal, Duplicate Name Removal and so on. It is really easy to use and take a lot of convenience, so that it is popular with a large number of users.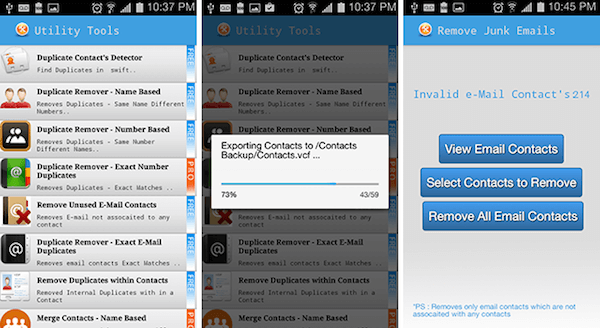 Top 8: Teebik Apps Mobile Security & Anti Virus for Android
Teebik Apps Mobile Security & Anti Virus for Android is one of the useful software which provides protection for your Android device from all kinds of Trojan, spyware, malware and viruses. After you download Teebik Apps Mobile Security & Anti Virus for Android, it will scan all the apps you download and remind you to keep undated about the devices security. It also can remind you to focus on the apps which take a lot of space and delete those unnecessary ones. However, it can manage the cache files and other junk files.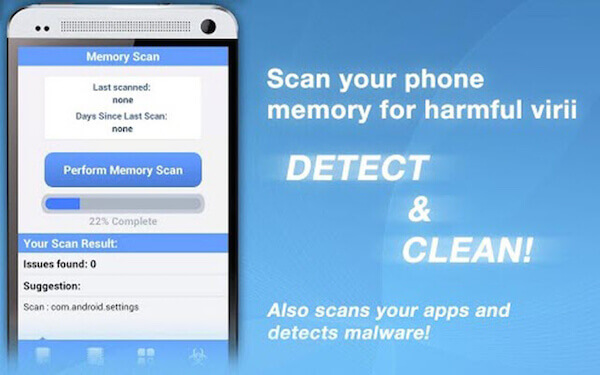 Top 9: Booster for Android
Booster for Android is really a popular clean master. According to the statistics, this app has been downloaded by more than 50 million Android users. To help you clean your Android devices, this powerful application will quickly scan your devices at first and then show all the percentage of the devices' memory which are occupied with unnecessary files. Apart from it, this tool will also give you the suggestions on how to deal with these files. All you need to do is according to what it said to delete the junk files. But this tool will keep on working in the background and it is disliked by some users.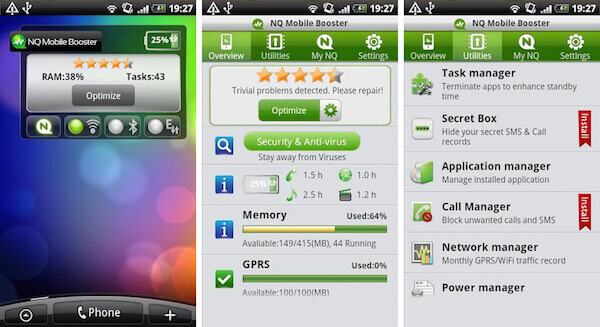 Top 10: Adguard for Android
Just like the name called, Adguard for Android is an intimate software which focuses more on helping Android user to get rid of unwanted and disliked ads, malicious websites and surveillance. What's more, Adguard for Android successfully reduce the time of website loading, and speed up your phones as well. Unfortunately, it has some requirements on the versions of Android devices. It only compatible with handsets which work with 4.3 versions of Google's software or up. And it isn't available on Google Play. If you want to download this app, you must install it as a third party app.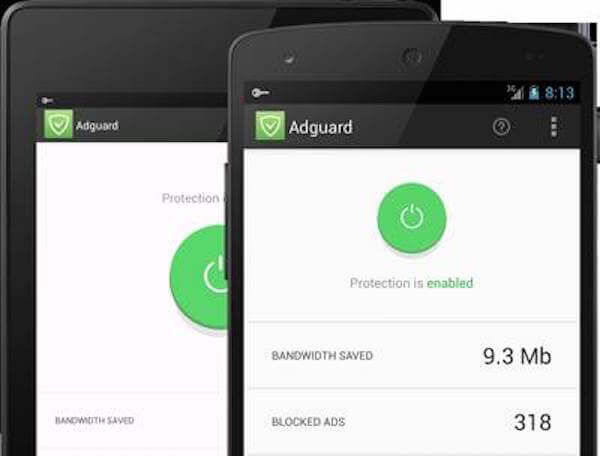 Part 2: Other Good Clean Master for Android
Clean Master
Feature
Price
Rate
1 Tap Cleaner
Just like the name indicating, it is a powerful clean master you can clean your Android with one touch.
Free
4.3
SD Maid
A file maintenance app which acts as a file manager.
Support track widowed folders and purge the system.
Free
4.5
Cleaner eXtreme
Free and easy to use.
Very safe and no fear of losing data.
Free
4.5
Root Cleaner
Require root permission to Android devices.
Support two modes including quick clean and full clean.
$4.99
4.4
CPU Tuner
Allow you both underclock and overclock to save battery.
Require root permission to run.
Free
4.6
Device Control
Allow Android users use their Android devices to their best.
Free
4.1
BetterBattertryStats
Help you detect the app which prevent a device from entering sleep mode and use battery resources.
$2.89
4.5
3c Toolbox / Android Tuner
Allow users temper with the Android system settings.
Feature a task manager to manger or kill the apps on your devices.
Free
4.7
Mobogenie
Support function to manage your text messages.
Help you make some extra space in your Android phone.
Free
4.4
AirDroid
Focus on offering data transfer and file management.
Free
4.5
Conclusion
In this article, we recommend 20 best clean master for Android to you. All of them are really good clean master which can help you manage your phone and make it much smoother to use. Hope you can gain something helpful in this article and find the most suitable clean master. If you have other thoughts or you want to share some different clean masters, just write down in comments.