Things You Should Know About AppLock for Android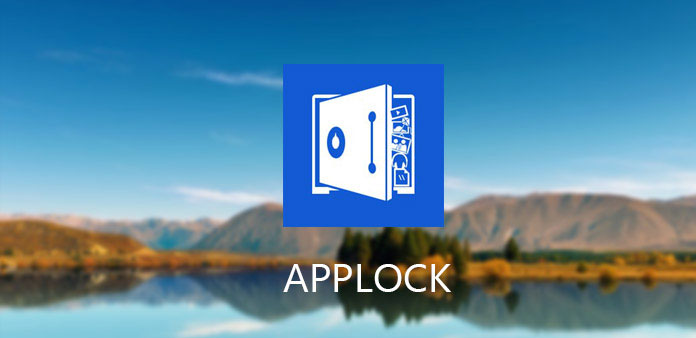 AppLock for Android should be an important program for Smartphone. As we all know, the security of Android device is the one of the most significant issue we constantly faced with. We need to make sure that our Android phones are secure even if you have a screen lock for Android. What about locking individual apps or settings? AppLock for Android should be the omnipotent application to protect the security of Android devices.
Introduction of AppLock for Android
What is AppLock for Android? It is a method to lock away your deepest and darkest secrets on Android. The program is able to make specific PIN, as a third party app, AppLock can help to lock down selected apps. It is of great convenience. Also, it is widely admitted that AppLock is the best application for Android, which is available and easy and quick to utilize. It should be one of the best applications for Android.
Features of AppLock for Android
1. Over 300 Million users and supports 32 languages. You can always find a suitable language to operate the program with ease.
2. Lock a large number of applications, such as Facebook, Whatsapp, Messenger, Snapchat, Instagram, SMS, Contacts, Gmail, Settings, incoming calls and any app you want to choose. You know, no pin, no way.
3. Enter a numeric password or you can choose to have a pattern lock. AppLock for Android has the capacity of avoiding unauthorized access and guard privacy, so it certainly ensures the security of your Android device.
4. AppLock for Android can conceal pictures as well as videos. Vanished from Gallery, hidden pictures and videos are only visible in the photo and video vault. Therefore, it can easily protect private memories.
5. Possessing random keyboard and invisible pattern lock, AppLock for Android can be trusted for the reason that others will not be given any chance to peep your pin or pattern. It should be one of the best Android Applications you should try.
Plus, in order to be the best AppLock for Android, except for locking apps with password lock, pattern lock, or fingerprint lock, it owns terrific designed Themes to offer better vision effect. For instance, with customized background, you can select whatever pictures you like. What's more, rights are bestowed on you to set different locked app groups and change lock quickly for customized profiles. Last but not in the least, AppLock occupies low memory usage. We can see the salient features of AppLock from above. It not only provides powerful functions to safeguard crucial data of your Android, but also easy to download, install as well as use.
How to Download and Install AppLock for Android
In order to help you have a better knowledge of AppLock for Android, the article introduces the specific and easy steps to download and install the program. Just learn more detailed process as below.
Step 1
Search for AppLock for Android
Actually you can download AppLock from different channels. If you cannot find the program you can open your Google Play and search for AppLock for Android.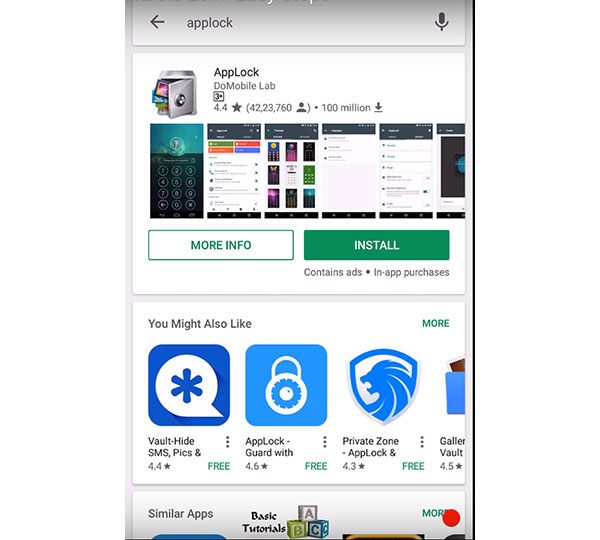 Step 2
Install the program on Android
And then you can tap "Install" button to download the program from Google Play. You should click the "Accept" option to confirm the terms of the program.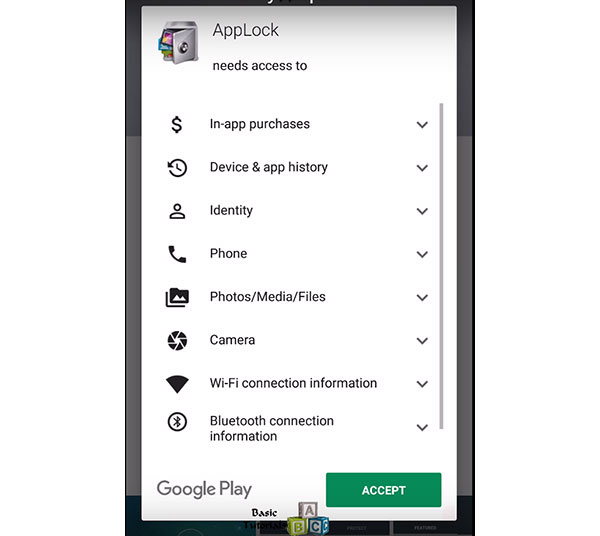 Step 3
Download AppLock for Android
It takes a few seconds to download the program on Android. You should install the program according the process before using. And then launch the program.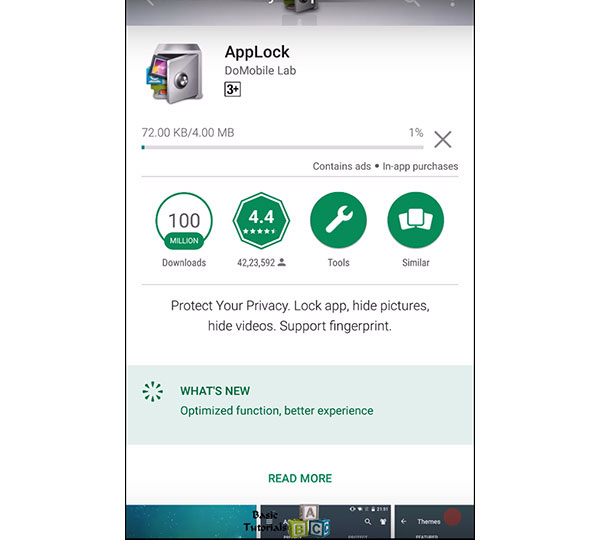 Step 4
Draw an unlock pattern
Once you install the AppLock for Android, you can draw an unlock pattern after finishing. And you need to draw pattern again to confirm.
Step 5
Enter security email
After that you can enter a security email to confirm the pattern, just click "Save" to save the settings and use the AppLock for Android.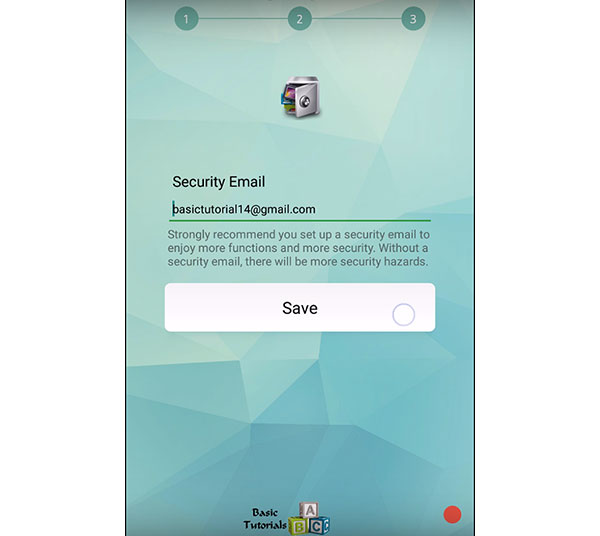 Step 6
Use AppLock for Android
Now you can use your previous pattern to unlock AppLock. You can begin experiencing features as mentioned above.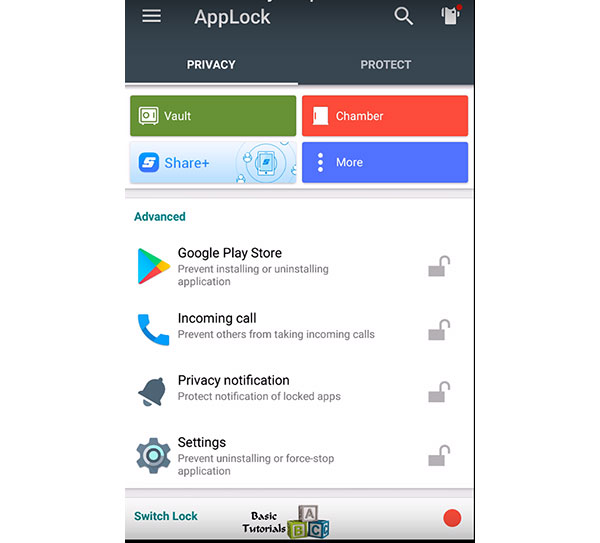 As you can see above, it is convenient and easy to have access to AppLock for Android. After downloading and installation, another thing you must do is that you should have a good command of how to use the program.
How to lock application with AppLock for Android
When you need to keep something important in an Application, you should use AppLock to encrypt the files. The part just takes WhatsApp for example to show you how to lock application with AppLock for Android.
Step 1: Choose apps you want to lock, such as WhatsApp.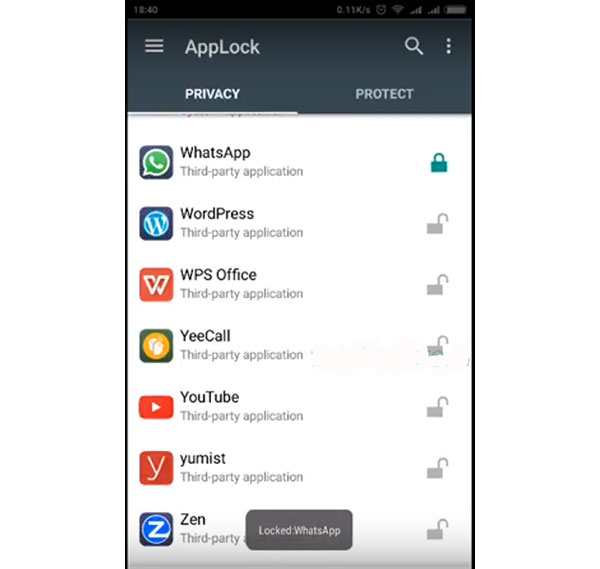 Step 2: Click "PERMIT" button to use AppLock feature.
Step 3: Allow access by touching "OK". And then WhatsApp is locked.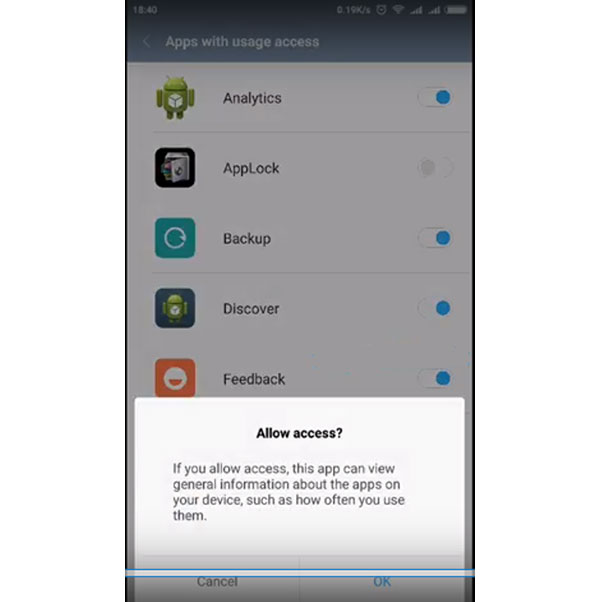 Step 4: Go to AppLock again with your previous password or pattern to unlock.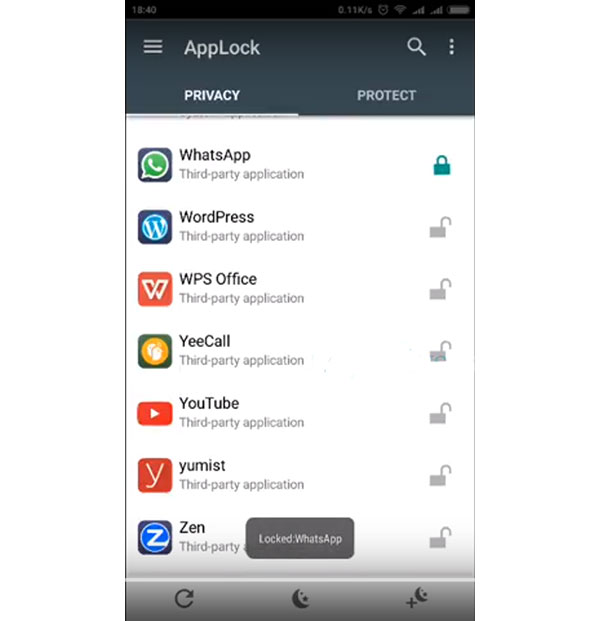 Step 5: Tap "PROTECT" and "Unlock Settings".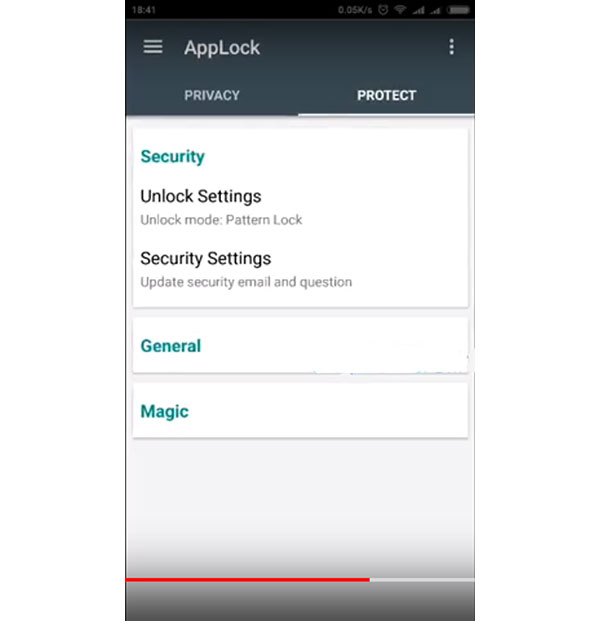 Step 6: Set up new password and re-enter it. Click "SETTINGS" after you do that. You can also draw a pattern and again to confirm. Then your app is totally locked.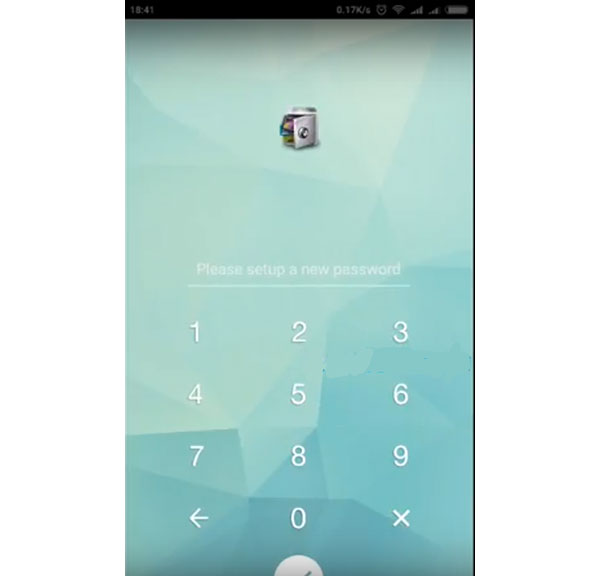 It seems easy to protect your important and private data. And because AppLock can lock system applications, third-party apps, and settings as well as stop people from installing/uninstalling app, AppLock has become increasingly popular among people. Not a bad idea to have the best app like AppLock for your Android.
Common worries about AppLock for Android
1. What should I do if I forget my password?
When you forget your password, AppLock will send a code to your email address.
2. How to add an additional level of security?
If you are eager to add an additional level of security, you can create a cover. The cover is a fake screen tells you that the application has come to a halt and your fingerprint is needed.
3. How to open AppLock if I hide AppLock icon?
There are two ways:
1. Enter password in your dial pad, and tap "Call" button.
2. Open domobile.com/applock in the browser.
Conclusions
AppLock for Android should be one of the best applications for Android if you need some extra security for your Android phone. It is an excellent choice for you to protect private and sensitive information in your apps in spite of the fact that it cannot take place of the screen lock. We sincerely hope what we said above can help you a lot and your private space can be protected better.