Solve the Problem of iPod/iPhone won't Sync Music files with iTunes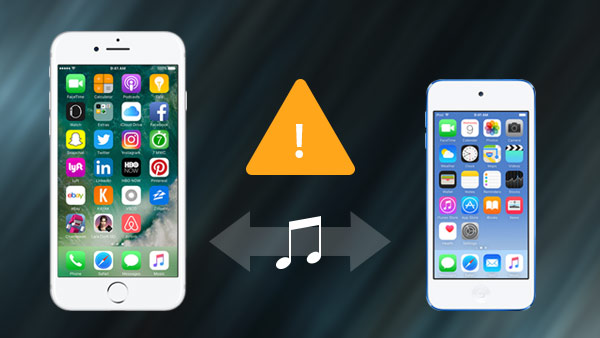 "Yesterday I added more music onto iTunes to sync to my iPod. However, this new music refuses to sync onto my iPod. I've tried to recheck them but have no avail, I have no idea and I'm afraid to delete any music of my iPod now. Any help?"
"I have iPhone 6, and I am disappointed with the fact I can't sync all of my music onto iPhone. I have tried syncing all music, removing everything, restoring iTunes, and nothing works."
These questions are putted forward by Apple users on Apple Support Communities.
It's really frustrated that iPod or iPhone won't sync music with iTunes. Don't worry, sometimes iTunes will act like this, this article will show you some tips to fix it.
Analysis about Music won't Sync to iPod, iPhone
1. Check your songs on your iTunes. Do they have same folder location as before? Sometimes iTunes doesn't point out which songs can't be found if you do not select them. Music in your library which iTunes can't locate won't be synced to your iPod and iPhone.
2. When you select your iPod in iTunes, if you go to "Music" tab, and choose "Entire music library". Then go to music column of iTunes library, click on the check mark next to the "Name" column header (to sort by checked music) and scroll to the bottom. Any unchecked music won't sync.
Solution 1: Sync Music to iPod/iPhone with iTunes Alternative
If the music you want to transfer is on your computer, iPod, iPhone and iPad, you can skip iTunes which won't sync to music to your iPod and iPhone and transfer all songs to your iPod (iPhone, iPad) directly.
An iTunes alternative will help you solve "music won't sync to iPod, iPhone" issue. And has more functions than iTunes without any data loss. In addition, you can transfer music from iPod to computer and to another iDevice without limits. For detailed steps, you can click "How to Transfer Music to iPod/iPhone without iTunes."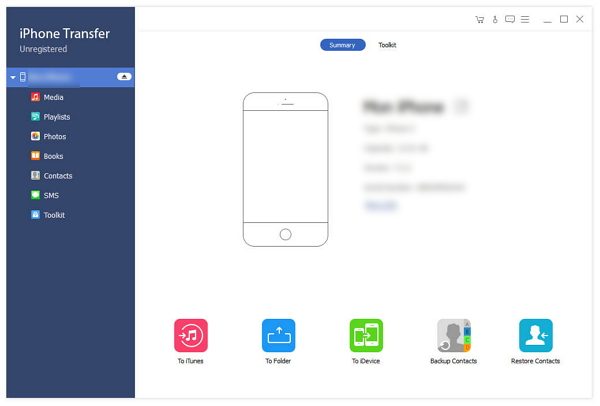 Solution 2: Check the iTunes Version and Update to the Latest iTunes
Sometimes, the iTunes version might cause the iTunes won't sync music issue. The first thing you can do when iPod and iPhone won't sync music to iTunes is to check the iTunes version on your computer. If there's a newer version available, you ought to upgrade iTunes to the newest one.
Solution 3: Sync iTunes with iPod/iPhone via WiFi
We usually use USB cable to sync music to iPod and iPhone. However, you can try to use WiFi to fix iPod won't sync music. In your iPod summary dialog in the iTunes on the computer, tick sync with this iPod over WiFi. Then on your iPod, tap "setting"-"general"-"iTunes WiFi sync "–"sync now".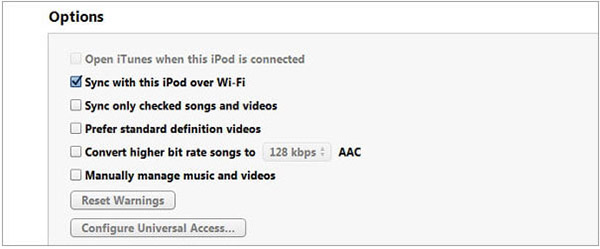 Solution 4: Restart Computer and iPod or iPhone
You may feel it is annoyed to restart the computer, but you must recognize that sometimes restarting the computer will fix the problem to make iTunes work miraculously. And you can find turn your iPod/iPhone off and reboot it again if your iPod or iPhone are not behaving properly, when they turn on again, you can try to sync music with iTunes.
Solution 5: Authorize iTunes and computer
It's necessary to make sure that your computer is authorized if your iTunes won't sync with iPod, especially connect your iPod or iPhone to a new computer. Open iTunes, click store to show its pull-down menu. Click" authorize this computer" and input your Apple ID. If you have ever authorized the computer, you can first deauthorize this computer and reauthorize for a second time.
You May Like the Hot Software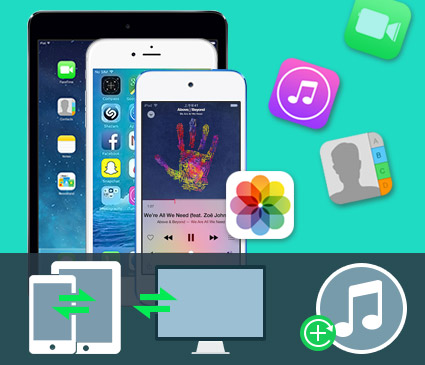 Copy music from iPod Touch/Nano, iPhone SE, iPhone 6s/6s plus/6/6 plus/5s/5/4, and iPad to computer and sync music to iTunes with one click.
Sync music to iPod, iPhone and more iOS devices from computer without any loss.
Besides music files, it also help you sync videos, photos and more data among iPod, iPhone and iPad.