Best Solutions to Fix iPhone Won't Sync with iTunes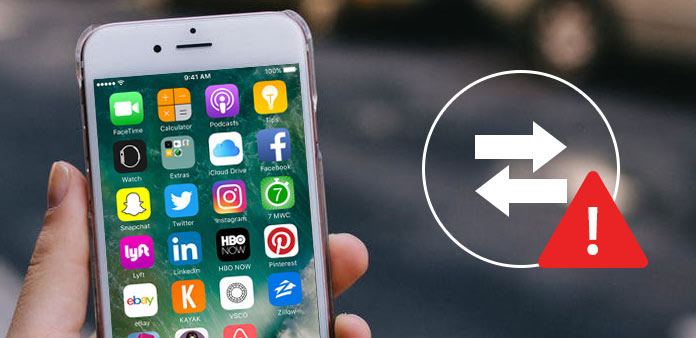 According to a recent survey, 90% of iPhone users complaint that memory storage was not enough. It makes sense, when you considering that more and more people take HD images and videos on iPhones. In order to expand internal memory and prevent from data loss, Apple has integrated sync feature into iPhone. All photos, videos and other personal data could sync to computers through iTunes. And then you can clean up the handset and free up iPhone memory. But if iPhone won't sync with iTunes, it will become a disaster. When you accumulate some files, your phone will slow down and you even cannot use some features normally. Don't worry! We are going to offer the top methods to fix the issue that iPhone won't sync with iTunes.
Solution 1. Basic troubleshooting on iPhone won't sync with iTunes
When you discover iPhone stops sync with iTunes, you can troubleshoot with the basic steps below.
Step 1: Replace USB cable
Apple suggested users to connect iPhone and computer using the original USB cable. But if it is broken or damaged, you have to purchase a new one.
Step 2: Update iTunes
In order to fix various bugs, Apple releases new version of iTunes for both Windows and Mac. You can go to Apple official web and install the latest iTunes to your computer.
Step 3: Authorize iTunes
After update iTunes or use it on a new computer, you have to authorize iTunes on your computer. That is important to sync iPhone successfully.
Open iTunes after installed and sign in with your Apple ID. Go to "Account"-> "Authorizations" on top ribbon and choose "Authorize This Computer".
Step 4: Reboot devices
Sometimes, simply reboot both your iPhone and computer could fix the iPhone won't sync problem.
If iPhone sync stops working still, you have to move to the next part.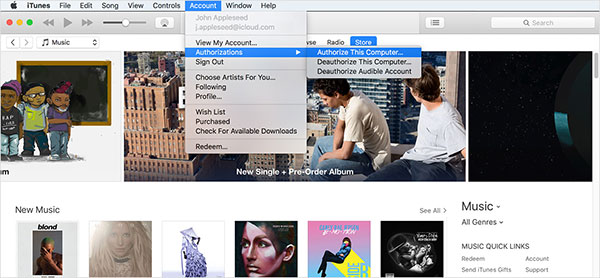 Solution 2. Get rid of iPhone won't sync with iTunes on Windows
Windows is different from Mac operating system, so the solutions to fix iPhone won't sync with iTunes on Windows are different with Mac too. According to our lab testing, outdated driver is the principal factor of iPhone sync disable.
How to update driver for Apple device
Step 1: Press both the Windows and R keys on the keyboard to evoke the Run command.
Step 2: Input "devmgmt.msc" into the field and click on the "OK" button to open the "Device Manager" window.
Step 3: Find out and unfold the "Universal Serial Bus controllers" option
Step 4: Right-click on the "Apple Mobile Device USB driver" on the list and choose "Update Driver Software".
How to re-install iTunes on PC
If you simply uninstall iTunes from your PC, some data is still on your computer. And the next time your install iTunes, it will read these old data automatically. After that you can find the iPhone won't sync problem will be solved.
Step 1: Right-click on iTunes icon on desktop and choose Uninstall from the menu list.
Step 2: Delete the folders below manually.
The "Apple" folder in C:\Program Files\Common Files;
The "Apple" folder and "Apple Computer" folder in C:\User\Username\AppData\Local;
The "Apple and Apple Computer" folder in C:\User\Username\AppData\LocalLow;
The "iTunes" folder in C:\User\Username\My Music.
Step 3: Restart your PC, access Apple web in your browser and install the latest version of iTunes for PC.
Step 4: Launch iTunes and sign in your Apple ID. Connect your iPhone to the PC and sync iPhone files as you wish.
Solution 3. Fix iPhone won't sync to iTunes on Mac
When we talk about iTunes, we usually mean its desktop client. The iTunes have to work with an operating system to sync an iPhone. In order to fix iPhone stops syncing issue, you should check iTunes status on Mac first.
How to check iTunes status
After setting up, you need to add your personal information to iCloud Keychain iOS if you want your iPhone to add your account information automatically. And the specific steps are as follows:
Step 1: Go to "Spotlight" on Mac and find out the "Activity Monitor".
Step 2: Open Activity Monitor and locate to the "All Processes" tab. Check if iTunes Helper process is running.
Step 3: If you cannot see it on the list, you will need to re-install iTunes to Mac.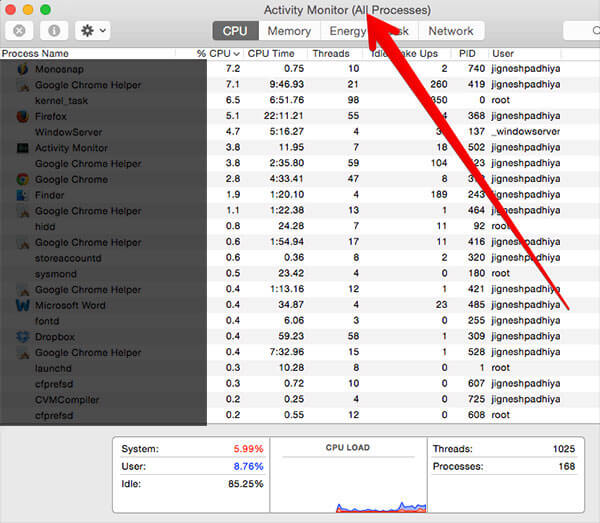 How to re-install iTunes
Step 1: Open the "Terminal" app. You can find it in "Spotlight" too.
Step 2: Type the following commands in Terminal app to force uninstall iTunes from Mac.
cd /Applications
sudo rm -r iTunes.app
Step 3: Then go to Apple web in Safari, download and install the latest version of iTunes to your Mac computer.
Step 4: Open the latest iTunes and sign in your Apple ID. Then you can sync iPhone without problems.
Solution 4. Sync iPhone to iTunes with Tipard iPhone Transfer
If you believe it is too complicated to fix iPhone stop sync to iTunes client, you can try the best alternative tools, such as Tipard iPhone Transfer. It use advanced technology to detect, backup and transfer iPhone data.
1. It has the ability to backup all personal data and files from iPhone to PC in one click.
2. iPhone Transfer Ultimate is compatible with both Windows and Mac, including Windows 10.
3. This iPhone tool supports almost all iPhone models and iOS versions.
4. With it, you can enjoy the highest iPhone data backup and transfer speed.
5. Moreover, you can sync iPhone to iTunes within iPhone Transfer Ultimate easily.
How to sync iPhone to iTunes
Step 1
Plug your iPhone to your computer using a USB cable.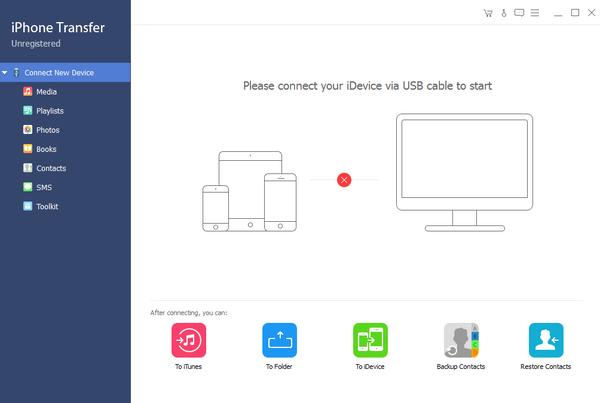 Step 2
Run iPhone Transfer Ultimate after you installed it on your computer. It will detect your phone automatically.
Step 3
Select the files you want to sync to iTunes Library by tricking each checkbox.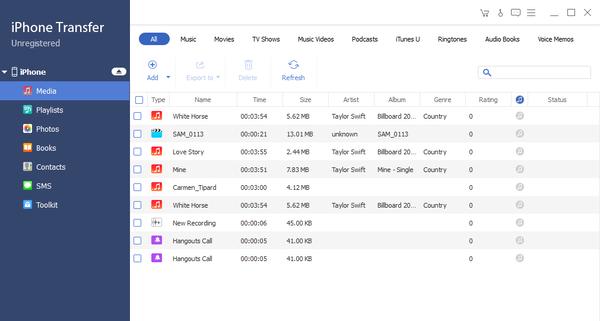 Step 4
Unfold the "Export" menu on top ribbon and choose "Export to iTunes Library". A few seconds later, the selected data will sync iTunes Library.
Tip: If some files already exist in iTunes library, iPhone Transfer Ultimate will skip them automatically.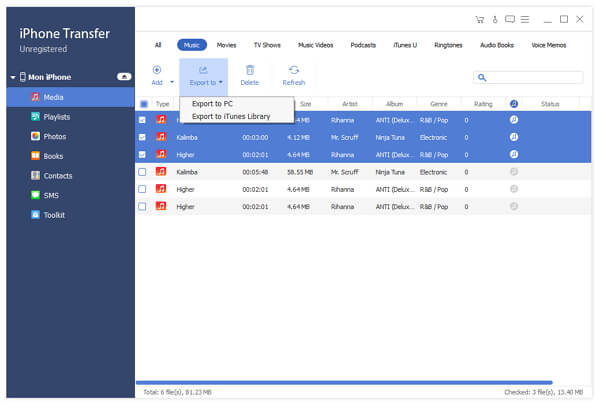 Conclusion
In this post, we have introduced what you should do when iPhone won't sync with iTunes. The iTunes is one of useful software for iDevice. Besides purchase digital content, it has the capacity to backup iPhone data. More importantly, if you turn on automatic sync feature on iPhone, it will back up your phone once connected to Wi-Fi network. But iTunes is not perfect. When iPhone stops sync with iTunes, it is rather frustrated. Our guides could help you fix this problem easily. Even though iTunes desktop application does not work, you can still back up your data to PC with Tipard iPhone Transfer Ultimate.

Click here to join the discussion and share your comments