Differences Between Xbox Series S and X: Which is Better to Buy?
Both Xbox Series X and Series S may seem to be identical, but in fact, they are remarkably different. Factors such as the price, specs, and designs are all distinctive, making this Xbox Series S vs. X born. Now, to end the speculations about their vital differences, allow this article to be your guide to grasp which console you will consider before you dive into getting one. Thus, let's begin the guideline by reading the particulars below.
Part 1. Xbox Series S vs. X
What is Xbox Series X Console?
The Xbox Series X is one of the most powerful gaming consoles today. It has detailed graphics, rapid loading time, fluid frame rates, and many other features. Furthermore, this console has an awesome game library with compatibility for original and senior Xbox. When it comes to its design, Xbox Series X has a major departure from the earlier ones. Its design on an upright tower is similar to desktop gaming, but you can also lay the Xbox horizontally as you wish. Furthermore, it measures 15.1 x 15 x 30.1cm and 4.45kg in its weight. Also, this console has a cuboid shape and is matte black all over with a hue of green internally, making it to vent cool designs.
What is Xbox Series S Console?
Xbox Series S and X's release date is almost the same in 2020. The Series S is the other behalf of the X for being the next-gen gaming console made by Microsoft. It has a smaller build and is packed with features that quality it to be a bonafide gaming device. Furthermore, it has support for one of the defining punches of consoles, which is the ray-tracing tech. If you are bargaining for a gaming device, this Xbox Series S seems likely to be your perfect choice compared to the Series X. It is because it is more affordable, giving an entry point for users to acquire. Meanwhile, the Xbox Series S has a customed AMD CPU with eight-core 3.6GHz and 4 teraflops of processing power for its GPU. Another reason to like this gaming device is that it takes upgrades from an HDD to an SSD.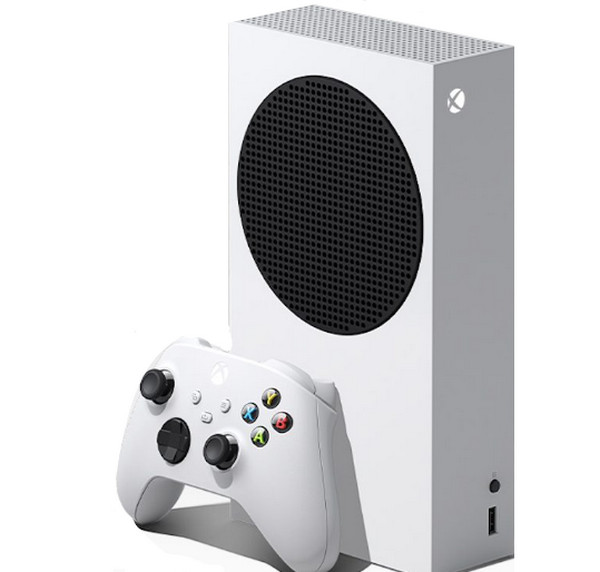 Comparison Chart About Xbox Series X and S on Specs
| Specs | Xbox Series S | Xbox Series X |
| --- | --- | --- |
| Resolution | It targets up to 1440p or 2K gaming resolution. | It targets up to 4K gaming resolution. |
| Disc Support | It doesn't support discs since it lacks a disc drive. All games are plates played digitally. | It supports optical discs for gaming and streaming. |
| Audio Output | It supports mesmerizing spatial sound technologies for enhanced sound gaming. | It supports mesmerizing spatial sound technologies for enhanced sound gaming. |
| GPU | With a powerful GPU for lower gaming resolution. | It has a more powerful GPU for advanced visual effects and high-resolution graphics. |
| Battery Life | Not a battery-based console. | Not a battery-based console. |
| Weight | 4.25 lbs or 1.93kg. | 938 lbs or 4.4kg. |
| Price | $299. | $499.99. |
| Storage | Around 512GB. | Xbox Series X is 1TB. |
Differences Between Xbox Series S and Series X
Another group of blueprints that will differentiate the Xbox Series X and S consoles are identified with detailed information below.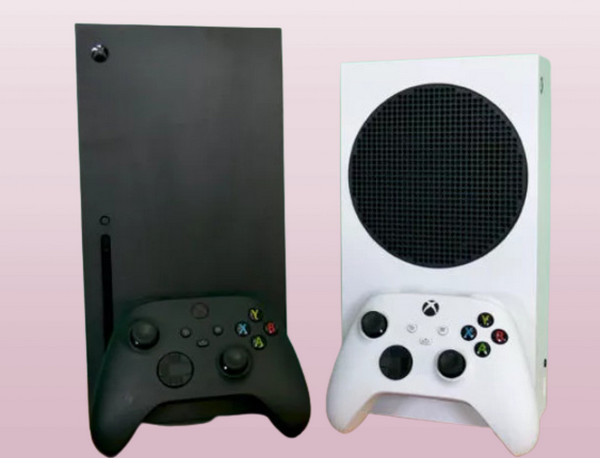 Xbox Series X and S Release Date
Both series of Xbox consoles have the same release date, which is on November 10, 2020.
Xbox Series X and S Sizes
The two gaming consoles have different sizes even though they were given birth on the same day. The Xbox Series X has a height of 301 mm or 11.85 inches, a width of 151 mm or 5.94 inches, and also a depth of 151 mm or 5.94 inches. Meanwhile, the Xbox Series S has a height of 275mm or 10.8 inches, a width of 151 mm or 5.94 inches, and a depth of 63.5mm or 2.5 inches. With these particulars, it is proven that Xbox Series S is tinier.
Xbox Series X and S Power Supply
Xbox Series X and Series S both have their own power supplies made as built-in. In other words, their power supplies are integrated into their physical design directly, and this eliminates the need for other or external power bricks, unlike in previous Xbox generations. This integration makes the overall designs of these Xbox Series compact and tidy, simplifying and making the consoles more convenient to store and use.
Xbox Series X and S Framerate
Both are designed to have high frame rates to support smoother and more engaging gaming experiences. However, the specific frame rates they support may vary depending on the game, the display used, and the console's optimization. Xbox Series X and S are both capable of running at 60 fps, but the Series X can target up to 4K resolution compared to Series S, which only targets up to 2K. Even though Series X has a higher hand in this aspect, both have equity when it comes to the technologies they are infused with to enhance the gaming experience. Both use Auto Low latency Mode or ALLM and Variable Refresh Rate or VRR.
Xbox Series X and S Exclusive Games
Either the Xbox Series X or Xbox Series S have the same partition of the Xbox ecosystem. Thus both share the cross-platforms and exclusive games in the same library. Microsoft was considerate to offer a unified experience in gaming across its gaming devices and even on Windows PCs. Meanwhile, to give you the list of the exclusives of Xbox Series X/S, here are some of the released games below.
• Adios.
• The Artful Escape.
• Ark 2.
• Redfall.
• Stalker 2: Heart of Chernobyl.
• Starfield.
• Unexplored 2.
• Warhammer 40K.
• Forza Horizon 5.
• Halo Infinite.
• Psychonauts.
• Crossfire X.
• The Anacrusis.
• The Ascent.
• Avowed.
One of their biggest differences in terms of games is that Xbox Seiers S does not support disc games, for it is a digital version and allows digital games purchased online alone.
Xbox Series X and S Backwards Compatibility
Xbox Series X is made to have full backward compatibility with the original Xbox games, Xbox One, and Xbox 360. Both the physical and digital copies of the games are included. Higher resolutions, loading times, and smoother frame rates on the Series X hardware improve many of these games. As a matter of fact, some games might even get graphical enhancements such as HDR support and improved texture. Additionally, the Xbox Series X model is more advanced than other models for its Blu-ray compatibility, while models like Xbox 360 cannot play Blu-rays at all.
Conversely, the Series S of Xbox also offers backward compatibility with Xbox 360, Xbox One, and the original Xbox older game library. Although the Series S's backward compatibility allows you to play some Xbox One games, Xbox One can play DVD, while Series S cannot. Despite having a lower level of graphical prowess than the level Series X, the Series S still enhances the experience for these older titles using its other performance enhancements and improved loading times.
Xbox Series X and S Internal/External Hard Drive
The two use custom NVMe SSD storage solutions, which causes them to deliver improved performance and faster loading times compared to typically older hard drives. However, the storage capacity of the two differs as the Xbox Series X comes with a built-in 1TB NVMe SSD while the Series S is with 512GB as the stated capacity. This said internal storage is used to store apps, games, and system data.
On the other hand, if you want to expand their storage capacity, you can use external storage devices such as expansion cards and USBs. However, you cannot use those external drives to store or play the optimized games for Xbox Series X/S. Instead, you can use them for storing and playing games from previous generations. Also, you can use them as cold storage for Series X/S games, where you would need to move your games back to the expansion storage or to your internal storage to play them.
Xbox Series X Reviews: Pros and Cons
Pros:
• 4K gaming.
• High performance.
• Fast loading.
• Backward compatibility.
• Storage expansion using Seagate.
• HDR and ray Tracing technology.
• Quick restart.
Cons:
• More expensive compared to other Xbox consoles.
• It is heavier.
• With potential game library gaps.
• High electricity consumption due to powerful hardware.
• With heat management.
Xbox Series S Reviews: Pros and Cons
Pros:
• Budget-friendly.Budget-friendly.
• Pleasing graphics and visual effects.
• HDR and ray Tracing technology.
• Xbox Series S storage can be expanded using Seagate.
• Compact physical design.
• Backward compatibility.
• Vast game library pass.
Cons:
• It has a lower performance compared to Series X.
• It has storage limitations.
• It is not appreciatable with 1080p TVs due to its 1440p support.
• With limited 4K games.
Verdict: Which One is Better and Can Play More Games?
To determine which is better between the two consoles, you need to depend on your gaming priorities, preferences, and budget. The Series X and Series S of Xbox have advantages and disadvantages. If you disregard the budget and want to focus on your performance needs, then based on the factual information above, the Series X dominates the Series S.
Bonus: Play Disc Media on Xbox S Using External Hardrive/USB
Xbox Series S's disc-less feature may seem to be on digital trend, but how about when you want to play your media saved on optical storage? You can use a hard drive or a USS stick to grab the content and transfer it to your console for playback. But to grab the disc's content, you must first extract it using our highly recommended Tipard Blu-ray Converter. It is a powerful program that enables you to convert your Blu-ray and DVD into a digital file to fit your device. Tipard Blu-ray Converter supports hundreds of media formats and devices added with many features and functions to enhance your content to rip. You will surely adore this software as it allows create GIFs, 3Ds, enhance, compress, and edit the videos you want. Meanwhile, below are the steps you need for ripping your DVDs/Blu-rays with an ultrafast conversion.
Step 1Click the Download button below and install the program on your computer. During installation, you can insert the disc on your drive and connect your USB already.
Step 2Fire up the software and click the Plus button at the center to upload the disc from your disc drive.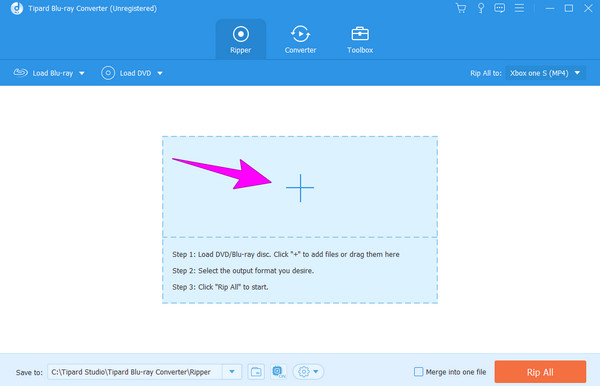 Step 3Next is to set an output format for your content to rip. To do so, click the Arrow button on the Rip All To section, and choose a format on the next window.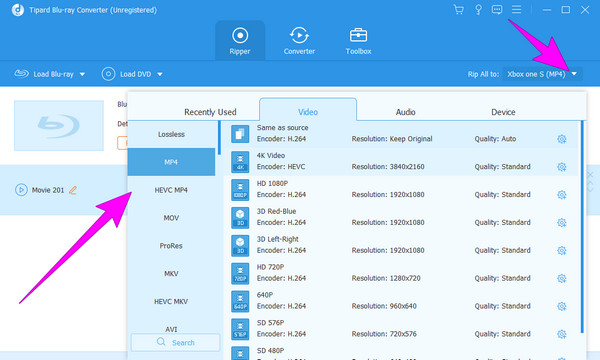 Step 4After that, set the file destination to your USB storage by clicking the arrow button on the Save To section, and choose the Browse and Select Folder. Then finally, hit the Rip All button to start the process.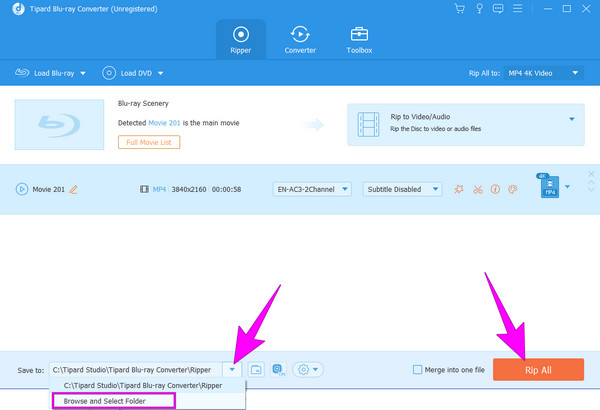 Part 2. FAQs About Xbox Series X and Series S
Can Xbox Series S do 4K?
No, Xbox Series S doesn't support 4K; it only works on 2K.
Does Xbox Series X have exclusive games?
Yes, Xbox Series X has exclusive games with a subscription approach.
Is Xbox Series S better than PS4?
The choice of which between the two is better depends on their capacities and specs. PS4 has a higher hand when it comes to good gaming resolution.
Can I play Xbox One games on Xbox Series S?
Yes. Series S has a backward compatibility that allows users to play Xbox One games.
What is the latest Xbox model?
As of this writing, the Xbox Series S and X are the latest.
Conclusion
This post has generously given you information about Xbox Series S vs. X. Both have their own strengths and weaknesses, but if you want to go for a more beneficial quality, the Series X is better. On the other hand, if you are out of budget, Series S gives a finer choice. And if you choose it so, you can also consider the Tipard Blu-ray Converter for ripping discs to play on your console.