Xbox 360 and Xbox One Not Reading Discs [Solved]
Having an Xbox, not reading a disc, is such a show-stopper. Discs are not only for games but also for movies and music, and there are several reasons why this problem exists. But how will you fix this problem without the need to replace the entire gaming console? This is the essence of reading this article, as it contains practical solutions and rationales. To add on this helpful basis is the best alternative to play your DVD and Blu-ray that is also included.

Part 1. Reason Why Your Xbox Has Error in Reading Discs
There are several reasons why Xbox One won't read discs, the same as the Xbox 360. And to provide you with these reasons, please see the list below.
Dusty Disc or Xbox
We might overlook this, but a dusty or dirty console and disc can cause errors in playing. The dirt on the disc makes it difficult for your gaming console to read the disc's data.
Cracked Disc
Once the disc is cracked, damaged, or even scratched, the tendency of unreadability is high. Hence, if your disc is physically good, then the problem is not on its side.
Faulty on Disc Drive
If your discs are clean and still in good condition, then you may want to check the disc reader for the Xbox series. The mechanical parts of the console's disc drive might be faulty over time. Thus, be alert to assess if the drive is still working fine.
Outdated System
An outdated system will hinder your console from functioning well. On some occasions, the console is even stuck if it is not taken to action.
Part 2. How to Fix When Xbox Not Reading Disc
This part that outlines how to fix Xbox One disc drive not reading will provide you with practical solutions that you can easily discern. Since you have seen some of the causes of the problem, it will be easier to follow the solutions below.
• Examine the disc to see if dirt and scratches are embodied. If they are evident, then you need to clean the disc with a cotton or soft towel and try to re-insert it.
• If the disc is clean, then have time to inspect and also clean the disc reader of your Xbox. Please note that you must carefully clean it, especially when wiping the laser lens.
• Reboot or restart your Xbox by pressing and holding the power button for 30 seconds. Then, turn it on using the same procedure.
• Try other types of discs to play on your gaming console, such as DVDs or Blu-rays. Know that Xbox has a laser lens that is dedicated to 360 and media discs. Therefore, if your original Xbox is not reading discs such as Blu-rays and DVDs, then your console has that limitation problem.
Part 3. Alternative to Xbox on Playing Blu-ray and DVD
If your Xbox is limited to playing DVDs and Blu-rays, then it is better to look for a better media player to feed your appetite for watching DVD/Blu-ray movies. That being said, we highly recommend you use our best choice player, the Tipard Blu-ray Player. It is a special software adaptable to acquire Mac and Windows computers while enjoying its rapid and facile download process. This amazing player doesn't only play Blu-rays in 3D and 4K quality, but it also plays DVD ISO, folders, and IFO files. On top of that, it superbly gives a lossless and cinematic playback performance, making you lavish more than what an ordinary Blu-ray player can provide you.
Moreover, this Tipard Blu-ray Player lets you navigate through its elegant, simple, nice, and neat user interface that provides you with an easy and understandable process. In addition, the playback control lets you quickly pause, rewind, forward, skip, and stop the movie you play. Thus even though your Xbox series X is not reading discs, you won't be bothered anymore since you have this Tipard Blu-ray Player.
What's more? This Blu-ray player offers you extra features that can be applied to your movies. It has a snapshot tool that allows you to capture screenshots of the remarkable scenes from your movie. Plus, you will surely be amazed at the vibrancy or the excellency of the photos produced by this tool! Aside from that, it is also infused with options to add subtitles, crop videos, deinterlace, edit aspect ratio, and edit effects such as brightness, saturation, hue, contrast, and Gamma the movie. Enough of its amazing attributes. This time, let us see how to play your disc by following the steps below.
Step 1Install the Blu-ray Player
To begin this procedure, you must hit the Download buttons below to acquire the player on your PC freely. Click what is only applicable on your OS.
Step 2Insert and Import Disc
After installation, get the disc not reading on Xbox One and insert it into the computer's optical drive. After that, launch the player and hit the Open Disc button to import the disc you inserted.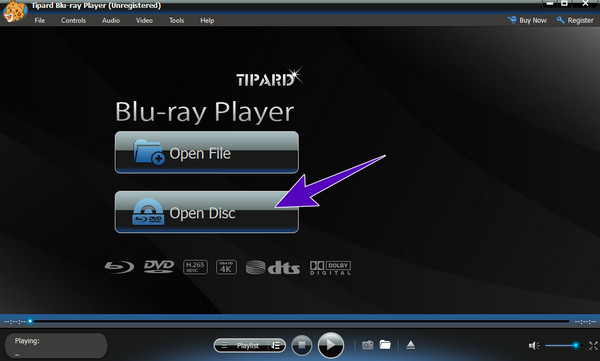 Step 3Control the Playback Navigation
When the disc is opened, the content will automatically play. Now, you will see the playback control at the bottom of the interface that you can navigate anytime. Along with the playback control are the playlist, volume, and snapshot navigation.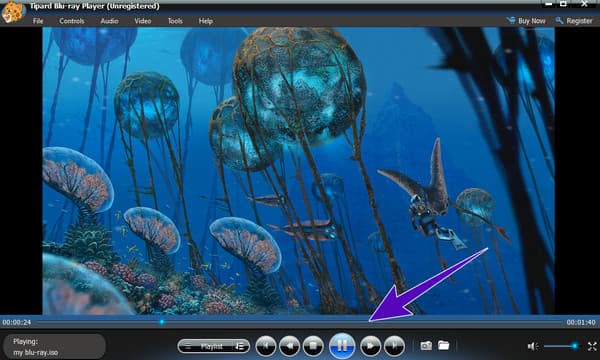 Step 4Adjust the Effects (Optional)
If you want to adjust your movie's saturation, gamma, brightness, contrast, and hue, you can do so. How? Go to the Tools tab menu and click the Effects button. Then, on the prompted window, start adjusting your desired customization. You can. When done, click the Reset button to save the changes.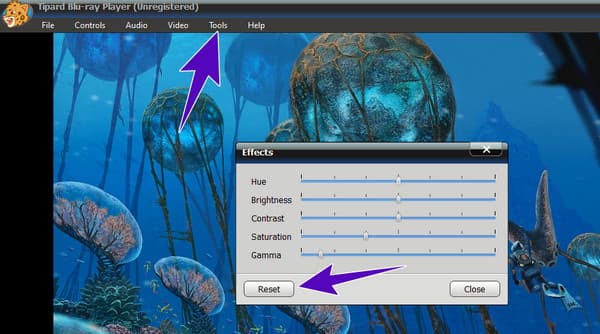 Part 4. FAQs about Xbox and Errors in Playing Discs
How do I clean my Xbox One disc reader?
To clean the disc reader of the Xbox One, you must use a soft towel and gently wipe it.
Why is my Xbox not playing games?
There are various reasons why. But the main factor that causes this problem is because of the technical aspects of the console, such as the internet connection, system update, and storage.
How to do a hard reset Xbox One?
To reset the Xbox One, press hard and hold its power button for a minimum of 10 seconds until it powers off. Then, after a few seconds, turn on the console again.
Conclusion
Now you know why the Xbox is not reading discs. Truly, when this problem comes, you will need to check the disc itself and your gaming console after. Remember that even a dusty disc can be stopped from playing on Xbox. This is why, if you are already annoyed with this circumstance, it is better to have an alternative, the Tipard Blu-ray Player.