Can You Use Xbox One Play DVDs

Xbox One is one of the most popular video game consoles, which is developed by Microsoft and the successor to Xbox 360. Microsoft described its new game console as an all-in-one home entertainment system. Indeed, Xbox One improved a lot, compared to Xbox 360, especially on DVD playback. Before Xbox One released, many customers asked can Xbox One play DVDs. The answer is yes, Xbox One does play DVDs, CDs and factory made Blu-rays. So, Xbox One is not only a game console, but also a DVD player and home theater center.
Part 1: Play DVD on Xbox One
Like I said in the very beginning, Xbox One has upgraded the DVD playback. But that not mean Xbox One can play any DVD. Before insert the disc into Xbox One, you should figure out whether the disc is under protections, like region code, copy protection, CSS encryption, Sony ArccOS protection and more.
If the disc is not encrypted or has gotten rid of the protection, you can play DVD on Xbox One directly. To play DVD on Xbox One, you will need the Blu-ray and DVD player. There are various methods to install the DVD player app on your Xbox One.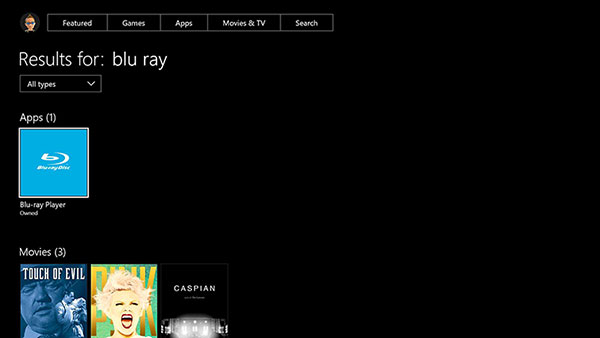 Method I
Step 1
Power on your Xbox One and connect it to Internet.
Step 2
On Xbox Home screen, go to Store.
Step 3
Select Search and input Blu-ray in the search bar. Hit the Menu button with three horizontal lines and choose the Blu-ray Player.
Step 4
Then press Install to download and install Blu-ray and DVD player into your Xbox One.
Method II
Step 1
Keep your Xbox One connected to Wi-Fi and say Xbox, Bing to open the Bing app.
Step 2
When the Bing app appears, say Blu-ray player app to search it in Bing.
Step 3
Then select the Blu-ray player and hit Install to complete disc player installation.
Method III
Step 1
Insert a DVD, your Xbox One will detect it and pop up Blu-ray player app page, if you do not have one on your Xbox One.
Step 2
Press Install on the disc player app details page.
Step 3
A few seconds later, the disc player app will be installed correctly. After the optical disc player installed, you can put the DVD movie you want to play into your Xbox One and watch the DVD movie on Xbox One.
Part 2. Troubleshoot
Although Microsoft announced that Xbox One can play various physical discs, including Blu-rays, many users reported their Xbox One not working correctly when play DVDs.
If Xbox One shows a message said Can't play DVD: Family settings restrict playback of this DVD when you insert your DVD, you will need to reset parental controls. When the parental controls turned on, your Xbox One cannot play R-rated DVD films. You will have to go to Settings and choose the Adult Defaults option under Access to content and apps.
Similar to DVD players, Xbox One also has region code restriction. If you see Can't play DVD: Wrong region code, you will need to double check the region codes of your Xbox One and the DVD.
Moreover, Xbox One cannot play commercial DVDs with CSS encryption, Sony ArccOS protection and other copy protections. The alternative solution is to rip DVD for playback on Xbox One.
Part 3: Rip DVD to Xbox One
As we discussed before, users may face various challenges when they play DVDs on Xbox One. And the ultimate solution is to rip DVD to Xbox One. When choose a DVD ripper, we expect that it could rip DVD to high quality videos compatible with Xbox One. From this point, we recommend Tipard DVD Ripper.
How to rip DVD for Xbox One
Step 1
Install Tipard DVD Ripper
Go to the official website, download and install the latest version of Tipard DVD Ripper according to your operating system. Insert the DVD you want to play on Xbox One and run DVD Ripper.
Step 2
Load DVD to the program
Press the Load DVD Disc from the Load Disc menu button on top ribbon to scan your DVD drive and load the disc in a few seconds. Then select all movies and video clips you want to rip on the playlist.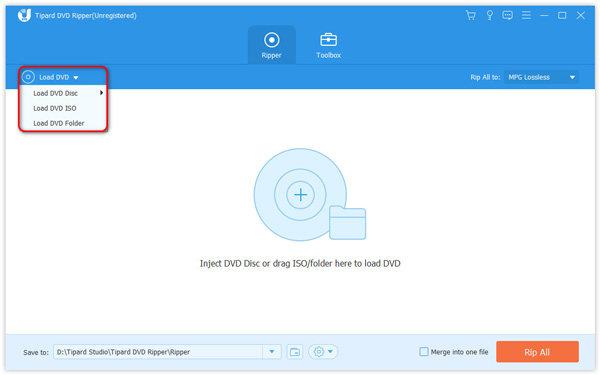 Step 3
Select output format
Choose the Xbox One compatible video format from the drop-down list of Custom Profile. You can reset other parameters or leave them default.
Press the OK button to confirm changes and back to the interface.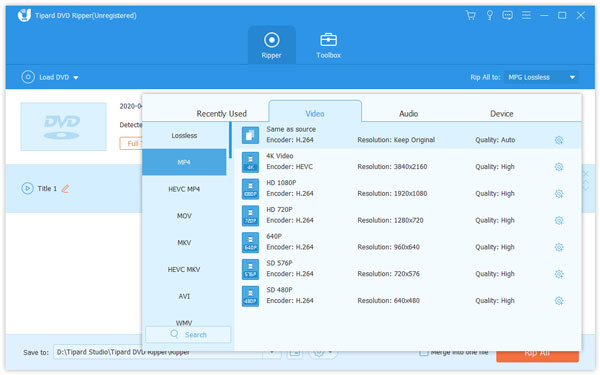 Step 4
Edit videos
If you want to edit the video, you can click on the Edit button and open video editor. Here you can crop, trim and merge videos, add text and filters on DVD videos.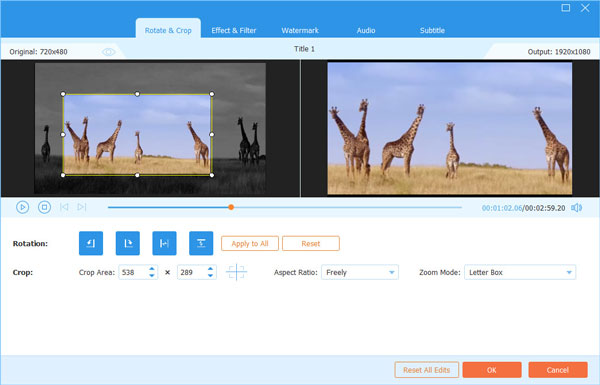 Step 5
Start ripping
Once you are ready, click on the Rip All button to start ripping DVD for playing on Xbox One. DVD Ripper will enhance the video output quality as much as possible.
Part 4: Play ripped DVD on Xbox One
Of course, you can copy the ripped video to USB flash and play it on Xbox One. If you do not have USB flash, you can stream the ripped videos to Xbox One directly.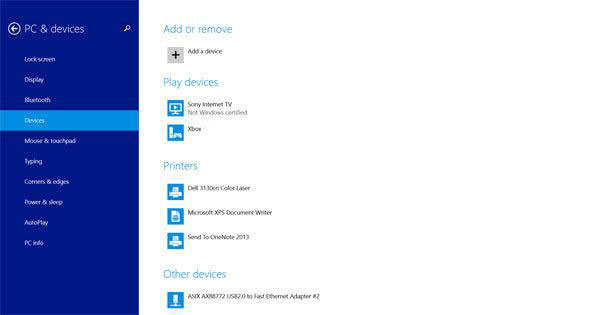 Step 1
Enable streaming
Connect your Xbox One and computer in the same network. Go to Settings menu on Xbox One, choose Preferences option and enable the Allow Play To streaming by tricking the checkbox.
Step 2
Begin steaming
Just follow up the chart to streaming the video files in order to play DVDs on Xbox One.
| | |
| --- | --- |
| Windows 7 | Go to Devices and Printers section in Control Panel and press Add Device. Choose your Xbox One and click Add this device. Locate to the ripped video, right-click on it and choose your Xbox One from the Play To list. |
| Windows 10 & 8.1 | Navigate to PC & devices and choose Devices option. If your console is not on the list, add it by hitting Add a device. Then open the Xbox player app and play the ripped video. |
Conclusion
In this tutorial, we discussed about how to play DVD on Xbox One. Xbox One does have the capacity to play DVDs. But depending on the type of DVD, it may be not as easy as you thought. Compatibility, region code and copy protections are the biggest problems. That means you have to remove these restrictions from DVD and encode DVD movies to Xbox One supported formats. Tipard DVD Ripper is the ultimate solution, because it is able to rip DVD to video formats compatible with Xbox One. Moreover, it has the capacity to keep the original image and audio quality during ripping DVD.

Click here to join the discussion and share your comments