Xbox Series S Disc Drive: Console Analysis and Digital Emphasis
Public opinion trends have existed about the Xbox series S and X since they debuted. Many have favored the S series of Xbox due to its affordable price and tiny design. As a matter of fact, this compact console has won a lot of praise due to some reasons other than the previously mentioned factors. However, many who want to acquire a flexible gaming console have this "Does Xbox series S have a disc drive" question in mind. Thus, in this article, you will find the answers to the additional solutions you may need while using your Xbox console with discs.

Part 1. Does Xbox Series S Have a Disc Drive
No. There is no disc drive on Xbox Series S because this is an all-digital gaming utility. This means that optical-based games and movies are not playable with it now, and there is a low chance of having a disc edition of Xbox Series S in the future. On the other hand, if you want a console that supports discs, you may want to try other editions of Xbox Series X, such as the Xbox One X and Xbox 360.
The elimination of the disc drive from this Xbox version indicates a backward compatibility restriction to its peers, such as the Xbox Series X. This incompatibility may be the same for Xbox Series S, but on the subscription contents such as Xbox Game or EA Play Digital Pass. However, this elimination has also brought an advantage, making the console much more affordable than the others. The cost was lowered to more or less $50.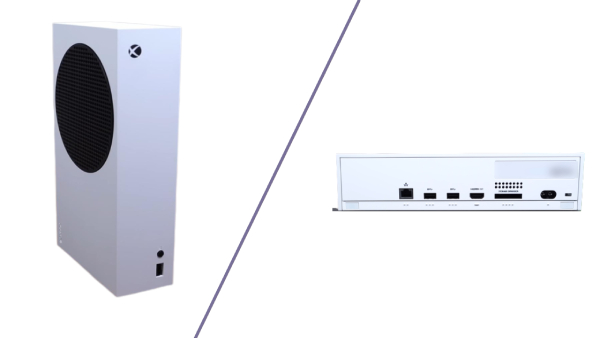 Part 2. How to Play Disc Games on the Xbox Series S
Since Xbox Series S doesn't support discs due to their lack of disc drive, then how to play disc games on Xbox Series S?
Can you play the disc games on the Xbox Series S with an external disc drive?
No. External disc drives are not supported by the Series S of Xbox. Thus, you cannot find any disc drive for Xbox Sereis S. However, you can still use an external SSD or hard drive for transferring games and watching movies on Xbox Sereis S. Yes, you can connect and use external USB stick hard drives to your Xbox Series S. However, some requirements must be met before you can use an external drive. You must also take note of the limitations of the space or storage you want to use on your gaming console. Furthermore, external hard drives have extended space storage that can assist you in loading more games and saving each of those games onto the hard drive. Therefore, since external hard drives offer ample space and storage, acquiring one is a nice idea, but only that works well with Xbox Series S.
What supported hard drives can you connect to your Sbox with Series S? There are numbers of drives you can use, but the options listed below are the perfect choice to get a job well done.
• Seagate Expansion 2TB.
• Toshiba Canvio Basics 1TB.
• Samsung T7 500GB.
• Western Digital 4TB Elements.
Microsoft's Patent
While the fact of how a hard drive can work on your gaming console still doesn't change the fact about the limitations of Xbox Series S to take disc games. For that reason, here is the solution you can adopt to allow you to play your desired games from optical storage. Microsoft has released a patent, a method where you can trade your physical disc games for a digital counterpart. This method has been reported by GameRant, where it shows the way how you can insert the disc into an Xbox gaming console and upload the game's license to a kind of server for you to be able to utilize the said game on a digital system the Series S utilizes.
Although no more detailed information was given on what would happen to the physical disc version after that, it is a good solution to attach. Well, the disc may still be usable as usual. However, it would be best to still periodically check in to utilize the digital copy, or perhaps Xbox will still plan to render the useless disc after transferring the content to a digital version.
As this patent may seem beneficial for the users of the Xbox Series S without a disk drive, we still cannot deny the bluff of others. As usual, patents are the fruits of ideas that basically never become the users' reality. Regardless, if you want to try this, you have to acknowledge the validation of the rightful ownership of a disc game. After all, digitizing disc contents is not a new concept for many of us, but this trading game is definitely new.
Part 3. How to Let the Xbox Series S Take and Play DVDs/Blu-rays
Suppose it is not the games but the DVDs or Blu-rays you want to play on your Xbox. Since there's also no Blu-ray drive for Xbox Series S, here's where digitizing Blu-rays/DVDs takes place. With this method, you will be able to play the disc content on your console with the help of a hard drive that it supports. But please note that only the Xbox Series S, X, and One are the only Xbox consoles with built-in ability to play Blu-rays content. Meanwhile, you must not only consider the process of playing it but also initially consider the medium to process the digitization. For this reason, you will need a faultless tool to bring this procedure excellently.
Tipard Blu-ray Converter
You can make the process of digitalizing your DVDs and Blu-rays easier yet more remarkable by using this Tipard Blu-ray Converter. It is an exceptional converter that converts Blu-rays and DVDs into more than 500 video formats and devices that, includes the Xbox Series S. From MP4, AVI, MKV, MOV, WMV, ASF, DIVX, HEVC, FLV, to Xbox One, Series X, PSP, Wii, and many other more. Furthermore, this software rips your movies to UHD and 4K without a quality loss. You will be amazed at its ultrafast technology that is powered by a level 3 GPU acceleration which allows you to rip at 30 times faster speed. So, expect no leisure time to be made here since it works productively fast in providing your Xbox Series S with Blu-ray content.
Other reasons to love it are the features and tools added on top of its conversion function. With it, you can compress, enhance, create 3D, GIF, rotate, crop, add filters, effects, watermarks, subtitles, segments, etc., the output you are about to produce. In other words, this program is your all-in-one solution. So, we do not see any reason not to use it for this task of yours. However, we see your need to know how to use this Tipard Blu-ray Converter to convert your disc to digital. Therefore, below are the steps to follow.
Step 1Program Installation
Initially, you need to install this program clicking the Download button below. Then, follow the installation prompt for the smooth acquisition.
Step 2Disc-Content Importation
After installation, you may insert the disc into your computer's disc drive and launch the program afterward. Then, hit the Plus button at the center to bring your disc in.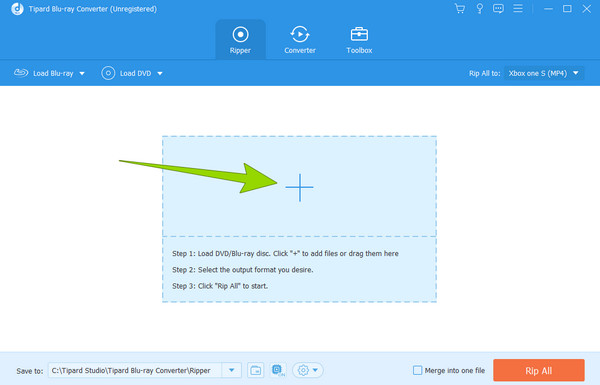 Step 3Output Selection
Once the content is uploaded, click the Arrow button in the Rip All To section and choose your desired output format from the Video options. However, you may also go to the Device selection and choose the one for the Xbox S.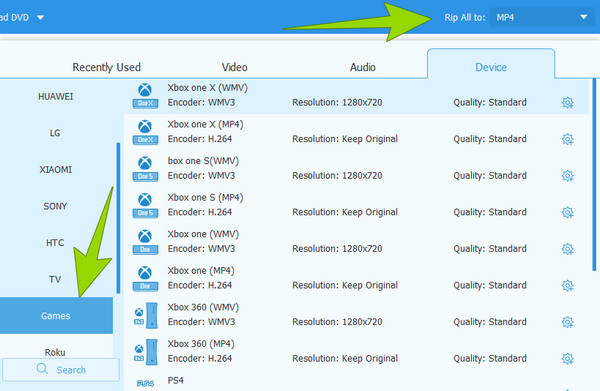 Step 4Initiate the Conversion
Finally, you can now hit the Rip All button to initiate the conversion process. Wait for the process to finish, then check for the digitized Blu-ray and play it on your Xbox Series S console.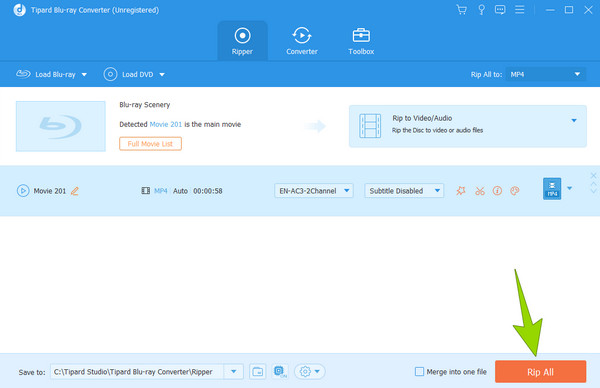 Tip: The above guide not only works when you want to use Xbox Series S to watch DVD/Blu-ray movies, but also when your Xbox is not reading the disc, regardless of its series (Sereis X, S, One, or 360), tjhis Blu-ray can always help you out and convert the disc videos to Xbox-compatible formats.
Part 4. FAQs About Xbox Series S
Do Xbox One games work on Xbox Series S?
Yes, there are some Xbox One games supported by the Series S. However, only the ones without licensing issues can be worked on.
Is the Xbox Series S worth it?
With the performance, price, game library, storage, and resolution display of the Xbox Series S, yes, it is worth it.
Is the Xbox Series S only digital?
Yes, the Xbox Series S is a digital-only gaming console that lacks a disc drive.
Can you transfer disc games from Xbox One to Series S?
No. Transferring disc games from Xbox One to Series S is not possible. But if you purchase digital games, then you can transfer them to the game library of Series S.
How do you buy games on Xbox Series S?
You must be connected to the internet, then sign in to your Microsoft account. Search for the games, and purchase one using your payment credentials. Once paid, you can already download them.
Conclusion
There you have the analysis of the Xbox Series S and disc drive. Yes, it doesn't have one, wherein you cannot play disc games, but you can still play your desired Blu-rays with it by converting them using Tipard Blu-ray Converter.