Steps and Tips on How to Change PS4 Region to Open Region-Locked Discs
Perhaps you want to maximize the utility of your PS4 and open the region-locked games or even movies using it. If that's the case, you may want to learn how to change the region on PS4. Did you know that you can access region-locked games and videos from streaming apps if you know how to change your profile's country code on your PS4? Some apps and game versions are only available in other countries, which are different or sometimes even better than the ones your actual location offers. Thus, if those games or contents are locked by their regions, you won't be able to play them unless you know the techniques this article teaches you.

Part 1. Is There a Region Lock on PS4?
PS4 is a region-free console, which gives you an answer no to your question if there's a region lock on this console. However, Sony, the developer of PS4, recommends that all its users get discs and games from the same region to help them ensure the best performance from the console. After all, a user can only access his desired downloadable digital services and content regionally tied to his original online PS ID. This is because of the fact that when a user creates a PSN online/store ID, the PSN will remain tied to the region code of one's PlayStation 4 console. One misery solved regarding the PS4 region, if you want to know more about your console's playback ability, here are more articles you might be interested in.
Extended Reading:
Best Solution to Play DVDs on PS4
Does PS4 Play Blu-ray: How to Play Blu-ray on PS5/4/3
Top 4 Methods to Watch DVD on PS4
Part 2. How to Change the Region on PS4
I can't change my region on PS4. What shall I do?
Sad to say, you cannot just change the region code of your current PS Network account. However, as a piece of good news upfront, you can, fortunately, create a new PS Network account as a way to change your region. However, please remember that the credit of the PS Store cannot be transferred to your new account or from one account to another. On the other hand, creating a new PSN account will only take a few minutes of your time. Hence, to explain to you exactly how to do this action, here are the steps as the representations.
Step 1Turn on your PlayStation4 gaming console, and instead of signing into your existing account, select the New User option. After that, please accept the User Agreement prompt, then scroll until you reach the bottommost of the page to select New to PlayStation Network selection.
Step 2Now, create an account and choose your desired region from the dropdown tab menu. Please ensure to choose the same country where you want to get the content and games from.
Step 3After selecting the region and language on PlayStation4, you may enter your details, such as the address and email address, with your chosen password. However, you can't use your old account's email address, so quickly create a new one.
Step 4Then, you can now create your new profile. Also, choose your new avatar, ID tag, and the other settings. Then, click the Submit button, and an email verification will follow.
Step 5After that, you can now visit the PSN Store. From there, you will find that the currency required has also been changed as it matches the location you chose. Also, you may find that the text is in another language, but the store's layout is still the same.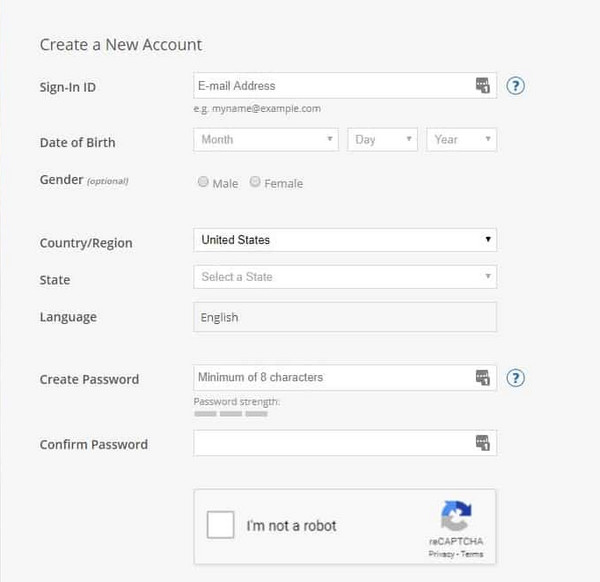 Part 3. How to Create DVD-Region Free for Playing on PS4
Since the information above says that some PS4 games are region-locked and must require you to create a new PS Network account just to change your region, why not create a region-free DVD for your PS4? You can attain region-free DVD optical discs if you decide to rip them using Tipard DVD Ripper, then freely play the content via USB to connect to your PS4.
The said DVD ripper is a flexible commercial program solution that is designed to convert DVD content from an optical disc, ISO, and folder into digital formats. It equips you to extract the video and audio from your DVDs while offering you a wide range of formats as your output. You can choose popular formats like MP4, WMV, FLV, AVI, MKV, and more, including audio formats such as MP3, WMA, WAV, AAC, etc. It is a good solution when you know that PS4 can't play Region 2 DVDs. Moreover, Tipard DVD Rippe also provides presets and editing tools like a compressor, enhancer, media metadata editor, GIF maker, and 3D maker. Besides that, Tipard DVD Ripper is popularly known for its easy-to-use interface along with its efficiency in ripping without affecting the good quality of content.
Features:
• Ultrafast ripping process.
• Disc and folders reader.
• High quality of output.
• Toolbox of special makers and editors.
• 500 different video, audio, and device outputs.
• Chapter, subtitle, and audio track reader and editor.
• Effects, filters, rotator, cropper, watermark editor, and a preview.
Step 1Install Tipard DVD Ripper on your computer. While installing, you may insert the DVD on your optical drive as part of the preparation.
Step 2When the interface is shown on your computer screen, click the Add button and upload the DVD content from the disc you inserted.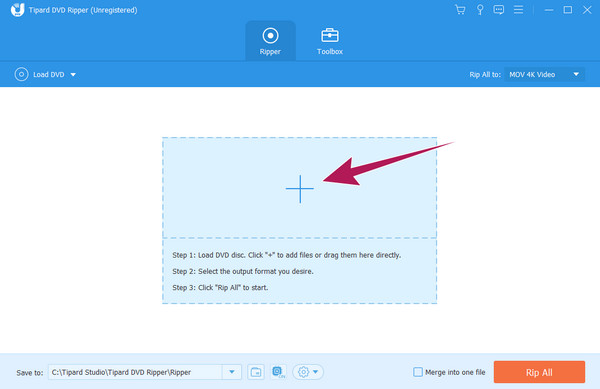 Step 3Once the DVD is loaded, you can now set the output format that PS4 supports, such as MKV, MP4, AVI, AVCHD, XAVC, MPEG-2 TS, and MPEG-PS. To do so, go to the Rip All To section and click the arrow button there. Then, from the new window, choose one of the mentioned formats.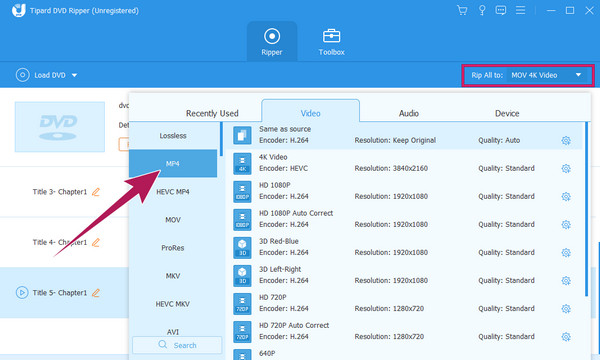 Step 4After that, hit the button saying Rip All, and the ripping process will begin. Wait until the process finishes, transfer the digital video to your USB, and play it on your PS4.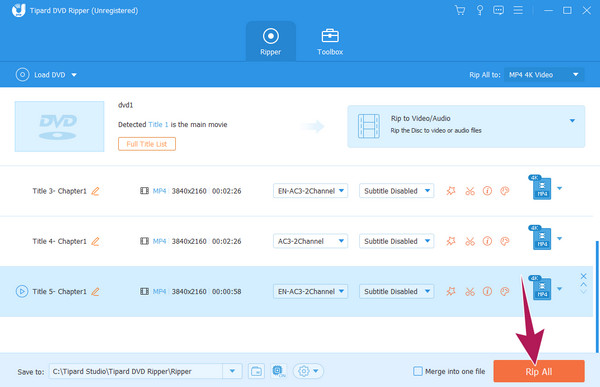 Part 4. FAQs about PS4 Region Lock
Can US PS4 play UK games?
Yes. PS4 is a region-free console that allows you to play UK games in a US PS4.
Are PS4 games regions restricted?
Some PS4 games are region-restricted, but most of them are not.
How many times can you change the PS4 region?
The specific number of changes in the region code in PS4 varies over time. For now, Sony allows you to only change your PSN or PlayStation Network account in a limited number.
How do I know my region on PS4?
To know your region on your PS4 console, you need to go to your home screen and navigate to the settings. Then, access the system and view the system information. From there, you will check the region code you are with.
Conclusion
This article provided you with the steps on how to change the PS4 region by creating a new PSN account since it is the only way to do so. In addition, a good tip was also given, and that is to create a region-free DVD for your PS4 with the help of Tipard DVD Ripper.