VUDU Disc to Digital: List of Steps and Information About It
You probably have heard about VUDU's disc to digital service, that's why you are on this article. Years ago, VUDU indeed offered this program for those who own DVDs and need to convert them to digital copies. The said program from VUDU lets you play, scan, and then convert the DVDs to get a bigger space in your house since you can carry the disc contents with different devices. Learn more about it by reading the entire article below.

Part 1. What is VUDU
VUDU is a digital media delivery and video streaming service that was initially launched in 2007 as a renting and purchasing platform for TV shows and movies in a digital format. Moreover, suppose users rent or buy digital codes from VUDU for its wide variety of TV shows and movies. In that case, they can stream them on various players and devices, including computers, smart TVs, tablets, and smartphones. One of the notable features VUDU has is its capacity to support HD and even up to 4K UHD quality content, making it a pleasing option for you who value such a level of quality for video and audio. Additionally, VUDU supports digital copies of films bundled with physical Blu-ray and DVD purchases, allowing you to access the optical content digitally.
What VUDU Disc to Digital Means?
One of the services VUDU has rolled out is its disc to digital VUDU app. It was a service that was available on Windows-based computers via the VUDU To Go app that was later introduced to mobile devices along with the M2D or Mobile-To-Disc. This service is not a free service, as it offers various conversion options with their corresponding amount, depending on the quality of the digital output. Withi such a service, you won't need to take efforts in converting DVD or Blu-ray to digital. Instead, simply redeeming the disc on VUDU allows you to access your movie's digital version conveniently.
Advantages:
• It allows you to rip the DVDs and Blu-rays into digital copies, making you easily access your collection of movies on your handy devices.
• It offers a convenient conversion process.
• It is portable and easy to access.
Cons:
• It is a paid service that will require you to pay even for your own movies for conversion. In other words, VUDU converts DVDs to digital with a price.
• The conversion process has a limitation of 100 as the maximum.
• The app is only available in Mexico and the United States.
• It requires a barcode or UPC on the DVD cover to convert it. And when the code is lost or damaged, it will create inconvenience.
Part 2. How to Redeem Digital Version of DVD/Blu-ray on VUDU
Suppose you want to know how to convert the rented or purchased collections of Blu-ray or DVD into digital copies using the subject app. In that case, here are the simple steps to follow.
Step 1Install the VUDU's disc to a digital app on your mobile phone by getting it from the App Store or Google Play.
Step 2Register an account for free by signing in or signing up after the installation.
Step 3On the main interface, tap the Disc to Digital option. Then, allow the app to access your phone. You will also need to enable your service location for the disc, enable the phone camera, connect your Ultraviolet account, and get a piece of payment information.
Step 4Get your DVD or Blu-ray, then scan the barcode or the UPC code on it. Then, proceed to convert the disc to digitize it. After that, you can already watch it.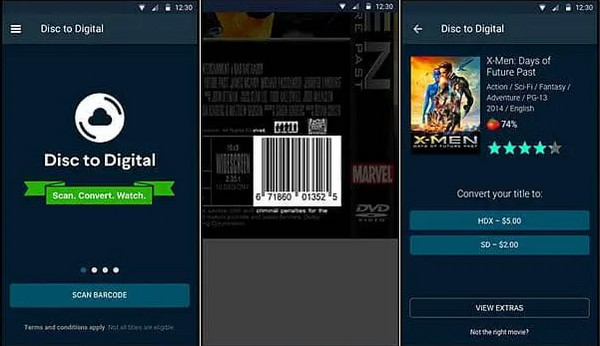 Part 3. Solution When VUDU Disc to Digital Not Working
There is a big chance that the VUDU disc to digital will not be working as you expect due to its limitations. Such limitations are the errors in the login process, desc verification, and even downloading. Hence, if you already have the disc at hand, yet you can't convert it with the app, then the best solution is to have an alternative converter. Thus, below is the best Blu-ray and DVD converter software that we can recommend.
Tipard Blu-ray Converter
Tipard Blu-ray Converter is a software that caters to Blu-ray and DVD conversion without a quality loss. With this converter, transforming movies into digital copies has been easier and more flexible because it offers a simple and easy-to-master interface, along with hundreds of video format choices. Not only that, but it also lets you convert the contents to various devices for easier access. Unlike the process of Blu-ray to digital VUDU, Tipard Blu-ray Converter allows you to edit and enhance the content first to meet your desired parameters. Then, expect a 60x faster conversion speed because the software is infused with Ultrafast technology. We have provided you a quick and simple steps on how to convert an optical disc to digital without the VUDU app.
Step 1Install the software on your personal computer. Then, prepare the disc you want to convert and insert it into your computer's disc drive.
Step 2Open the software and click the Plus button at the center to load your inserted disc. Alternatively, you can also click either the Load Blu-ray or the Load DVD button.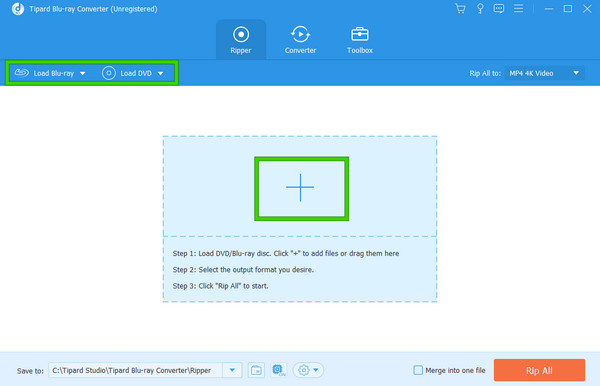 Step 3Now click the Format option at the tail part of the uploaded content, and choose your desired digital format.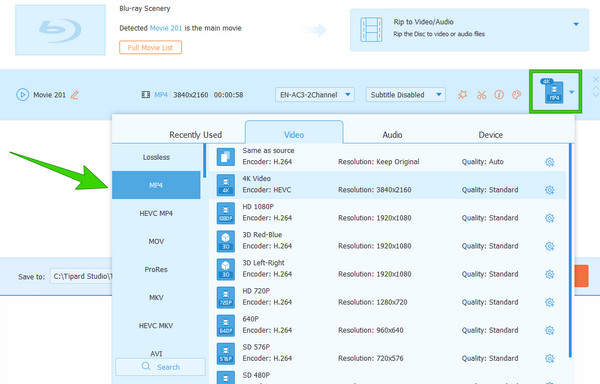 Step 4Afterward, click the Rip All button to initiate the conversion process.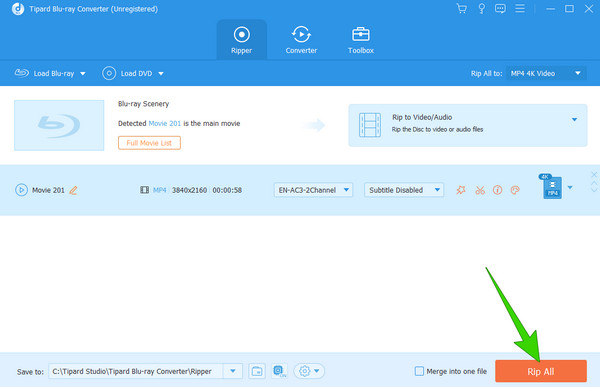 Part 4. FAQs About VUDU and DVD Conversion
Is there an app for VUDU disc to digital service?
Yes. To use the disc to digital service, you will need the VUDU app.
Is VUDU disc to digital discontinued?
The discontinuation of the VUDU service for the disc to digital was effective on desktops only. Hence, the app still continues on mobile.
How much does VUDU charge to convert Discs to digital?
VUDU charges $2 per DVD to SD conversion, $5 for DVD to HDX, and $2 for Blu-ray to HDX.
Is it worth converting DVDs to digital?
In the kind of technology we have today, the answer is yes. It is recommended to convert the DVDs to digital for convenience. If your DVd contents are turned to digital, you can access them anytime without the need of a DVD player hardware.
What is the yearly limit for VUDU discs to digital?
VUDU limits its disc to digital conversion into a maximum of 100 discs. This means you can only digitize a total of 100 DVDs per calendar year.
Conclusion
The VUDU disc to digital service is a good service, but it comes with limitations that might hinder your full delight in it. Unfortunately, it is no longer available on desktop, but on mobile phones alone. Good thing the Tipard Blu-ray Converter was introduced to still provide you with a good converter on a desktop.