Region 2 DVD: Meaning and Ways to Change the Region to Fit Your Location
DVDs are one of the most used discs all over the world. Even with how innovative our technology is today, some users still use DVDs. One of the facts about DVDs is that they have Region codes. And these Regions prevent users from playing them beyond the supported locations that the specific Region matches. The region code is a wayto control the release date of the DVD. On the other hand, Region 2 DVD is one of the current available Regions for DVDs, and this article will focus on it, as it shows the definition and ways to change it to other Regions. So, without further adieu, let's begin by reading below.

Part 1. What is Region 2 DVD
Release date control is only one of the reasons why there are region codes. Another reason for DVD region codes is because of digital rights management. This is to provide the DVD owners with the control rights of the distribution and its parameters, including the pricing and content. Many types of regions are included, and Region 2 is just one of them. But what does Region 2 DVD mean? Region 2 is a type of DVD region code that can only be recognized or played in Europe, the Middle East, Japan, Greenland, and South Africa. This Region format is encoded with Phase Alternating Line or PAL.
That means if you are in a region-1 location but want to watch the region-2 DVD, you will need a region-2 DVD drive or player to do it. Therefore, let's say you are in the United States, part of the Region 1 DVD, and you want to play your DVD there, which unfortunately has Region 2. Can you convert DVD Region 2 to 1 if that's the case? Find out below.
Part 2. Convert DVD Region 2 to 1
If you are located in Region 1 and want to play your DVD that is encoded with Region 2, then here are the things you can follow. Because as you know, converting DVD region codes cannot be done straightforwardly.
1. Buy a Region-Free DVD Player
A region-free DVD player allows you to play any DVD in any region. Since it is not region-locked, you can easily play a Region 2 DVD at any location.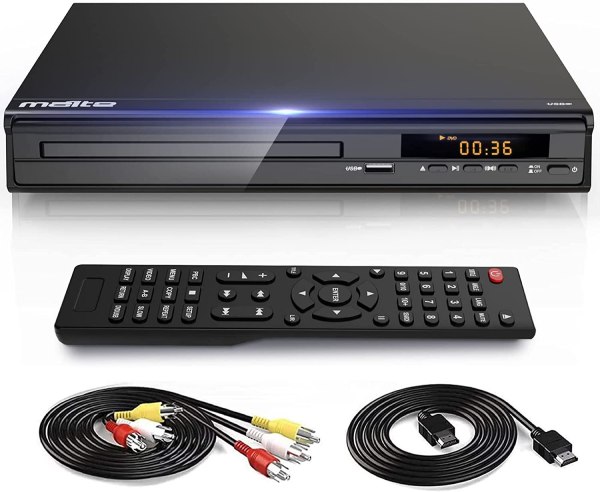 2. Have a Software-Based DVD Player
If you cannot buy a physical player, you can grab a software player instead for your computer. But make sure to grab only the one that supports all regions.
3. Extract the DVD Content
Another good alternative way to convert is to extract or rip the Region 2 DVD to Region 1. In actuality, ripping will let you have a free-region DVD.
Part 3. How to Rip Region 2 DVD
With the above ways to convert the DVD Regions, ripping is one of the practical to do. If you agree, then try to use the Tipard DVD Ripper. It is a ripping software with a neat easy-to-navigate interface, allowing you to rip your DVD without hassle. Furthermore, this software has a great Toolbox that contains powerful editing tools such as a media metadata editor, 3D maker, video compressor, GIF maker, and a video enhancer powered by AI. In addition, it allows you to rip Region 2 DVDs on Mac and Windows into more than 500 various video formats, including devices to fit in your player.
On top of that, it provides ultrafast technology that works to rip and convert at a 30x faster speed. Then, your DVDs by adding rotating, cropping, adding effects, filters, watermarks, subtitles, and audio files, and cutting them easily before you rip them. Thus, here's a glimpse of how to use this software to rip your DVDs.
Step 1Click the Download button below to grab the software on your computer. Please make sure to use the button that will supply the version on your computer device. Then, proceed to the next steps of how to rip Region 2 DVDs
Step 2Insert your Region 2 disc into your optical drive and launch the software. Clicking the Plus or the Load DVD button to load the DVD.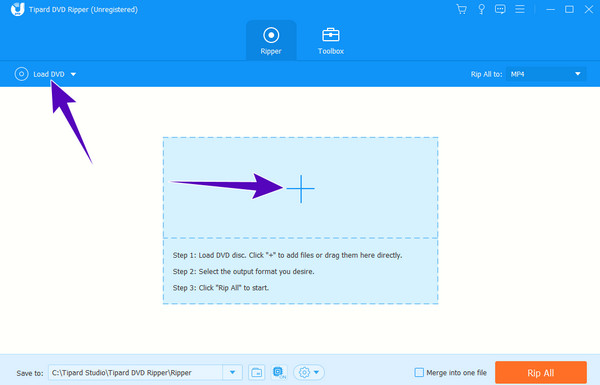 Step 3Then, select your desired video format output at the Rip All To button. Then, to start the ripping process, hit the Rip All button.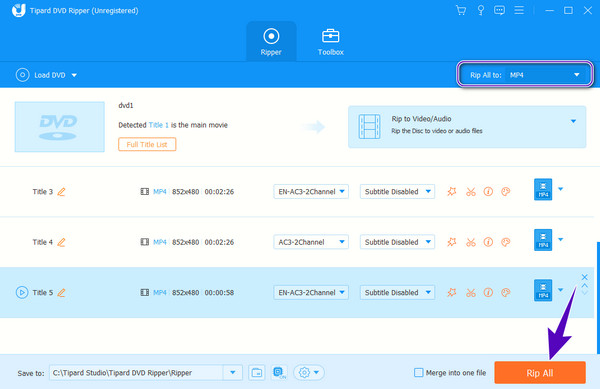 Part 4. How to Copy Region 2 to Region
Fortunately, if you do not want to rip the DVD to a digital video but to an ISO and folder, then do not worry, for we have got you covered. You can use the Tipard DVD Cloner to copy the Region 2 DVD to Region 1 DVD-like ISO. This software is as good as the ripping tool since it also works like a pro to provide you with excellent DVD outputs. Back up your movies by cloning and burning them most easily and quickly while choosing from the various copy modes that it supports, including Customize, Full Copy, and Main Movie. Also, you can navigate the writing speed, number of copies, and target size as well.
Step 1Make sure the Region 2 DVD is inserted in your drive before you launch the cloner after installing it. Then, click the File tab menu to select your loaded DVD.
Step 2Then, navigate to the Target Size. Next is to choose a copy mode and click the Next button.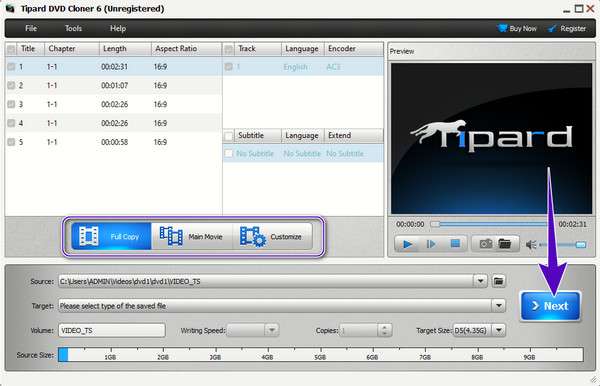 Step 3Now, navigate to the Target section and choose what type of folder you want to produce. As simple as that. You can already hit the Start button to begin copying.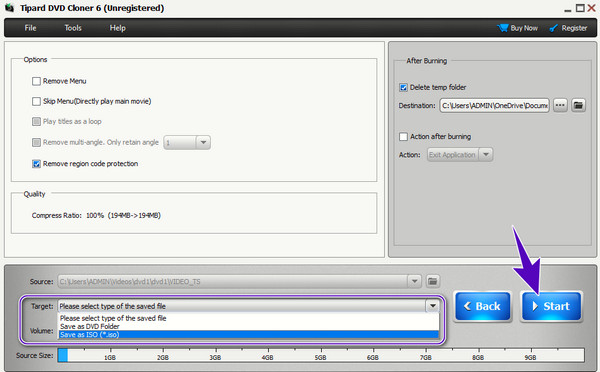 Part 5. FAQs about Region 2 DVDs
How to play Region 2 DVD in North America?
To play the DVD with a Region 2 coding to Region 1, you must first decode the DVD by ripping it using Tipard DVD Ripper. This is the practical way to access the DVD with a Region 2 outside its location.
How do you tell if a DVD is Region 1 or 2?
You can easily identify the Region of the DVD by checking its packaging labels.
Are DVDs still region locked?
Yes. All DVDs are locked with Regions to restrict and control the playback.
Conclusion
DVDs are unsurprisingly region-locked due to copyright reasons. And since you have made it to this conclusion, we assume you already have the knowledge about what a Region 2 DVD is. Unfortunately, you cannot directly convert the Region code to a different one directly. It is why we presented alternative ways to do so, such as having a region-free player. However, if you cannot afford a player, you can rely on the extracting process with the help of Tipard DVD Ripper and Tipard DVD Cloner.