Top 5 DVD Players with Key Features and How to Pick
With the kind of technology we have today, it is amazing that we won't need to purchase hardware just to watch our favorite movie on DVD. In other words, if you have tons of DVDs at home and would like to reminisce by watching them but don't have working DVD hardware, you won't need to purchase a new one. Don't get us wrong, DVD players are great, but the kind we had before were solely for DVDs and CDs alone. Today, we are lucky to have the innovation in which even such players are included. As a matter of fact, we are already enjoying players' software that allows us to watch any kind of movie, even in DVD form. However, as it is impressive to learn or even experience, black is still in the beans. What we mean is that there are still players who don't really give what is supposedly due.
For this reason, we have extended a helping hand to assist you in acquiring the right player for you. And to align with this innovation, we have gathered the best DVD players for laptops, desktops, and Macs. So, if this excites you, let us have the top players to bring you a reliable and affordable experience in watching DVDs.

Part 1. Top 5 DVD Player Software
Top 1. Tipard Blu-ray Player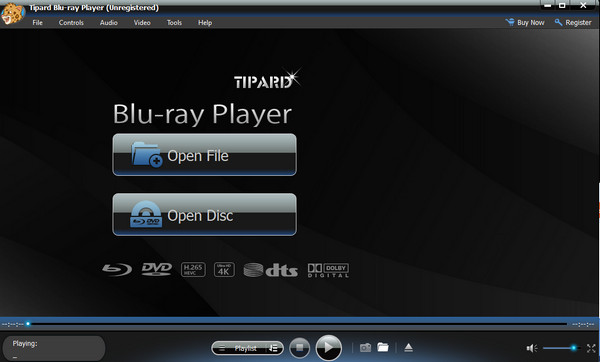 Speaking of innovative software that can play your DVDs without a hassle, Tipard Blu-ray Player has all it takes. Its availability on Windows and Mac and tons of beautiful features and functions are the reasons why this Tipard Blu-ray Player made it the best DVD player. It is a player for DVDs and the best 4K, Ultra HD, Blu-ray, ISO, and a region-free player capable of providing you with a lossless watching experience anytime, anywhere. Furthermore, this amazing software is infused with advanced technologies making it extra powerful, and such technologies are DTS, Intel, and Dolby that make matchless output quality by using this player. Furthermore, it provides a neat, simple, and user-friendly interface infused with adaptable playback controls. In addition, it offers you multiple selections and options to customize your DVD movie while on the play. These include speed and volume control, with the video's effect settings for saturation, brightness, contrast, hue, and gamma.
Overall, this 4K DVD player is the perfect deal for everyone to acquire, especially rookies. Thus, make time to scan the player for you to believe what this review wants to say.
Compatibility: Windows and Mac
Price: $16.00 for a monthly license and $32.00 for a lifetime license.
Key Features:
A snapshot tool that helps users capture the best moment of the playback.
Nice array of playback controls.
All-in-one player for DVDs, Blu-rays, and ISO files.
Advanced technologies to support DVD playback.
Various video formats are applicable for playback aside from DVDs and Blu-rays.
Playlist creator, with a significant size of the library.
Play DVDs with subtitles to support you.
Pros:
• It comes with a neat, elegant, and intuitive interface.
• It is a flexible DVD player.
• It comes with advanced tools.
• High-quality sound and image display to enjoy.
Cons:
• You will need to purchase it after the free trial.
Top 2. PlayerFab DVD Player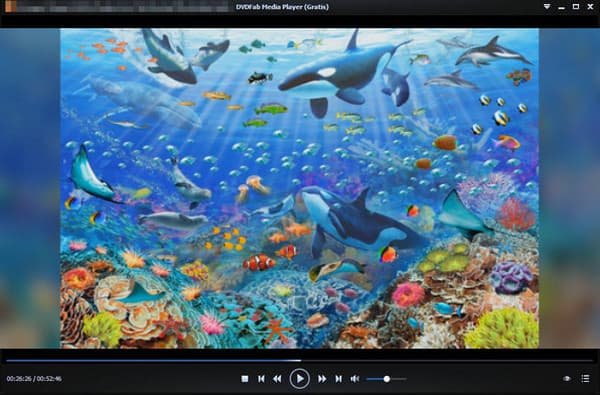 Another advanced software player that comes on top is the DVDFab Player. Furthermore, we can say that this, too, like the first one, is a great media player that is worth your try. It comes with the same elegance and neatness on the interface that will inevitably impress you, and it also supports Blu-rays, DVDs, and 4K movies. In addition, it also playbacks high-quality audio from DVD movies, for it also comes with powerful support from Dolby and DTS.
Compatibility: Windows and Mac
Price: $49.99 for one year license and $69.99 for a lifetime license.
Key Features:
Support famous media file formats aside from DVDs and Blu-rays.
With a playlist creator and a library to organize your files.
Subtitles are available to support your audio tracks.
It supports 4K videos.
Pros:
• It allows you to play DVDs on the computer smoothly.
• With a massive playlist library.
• It allows you to capture the playback screen with its snapshot tool.
• It is simple and user-friendly.
Cons:
• It has a free trial, but it is limited.
• You will need to subscribe if you want to use its aces attributes.
Top 3. DivX Video Player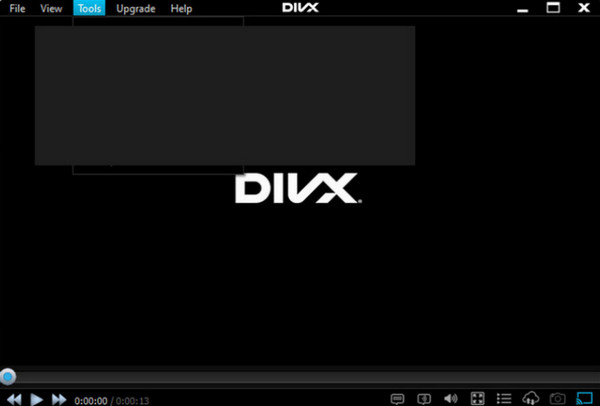 Here comes DivX Video Player, the next top player that excellently runs DVDs. It is a flexible multimedia player that supports many various video formats and even videos in UHD, 4K quality, and DVDs. Similarly, It has a clean dark interface that can surprisingly cast movies on your Mac and Windows computer screen and even to larger screens like on TVs. On top of that, this DVD player software provides multiple additional features, such as enhancing audio, burning videos, connecting to Cloud, and many more.
Compatibility: Windows and Mac
Price: $34.19 for the Pro version.
Key Features:
Stream the videos to third-party screens.
Video converter that transforms videos into numerous formats.
Subtitle track creator.
4K video playback.
Pros:
• It comes with an intuitive interface.
• It is highly recommended for rookies.
• Contain accelerated technologies.
• It is a flexible and powerful tool.
Cons:
• ts free trial only lasts for 15 days.
• The free version has minimal features.
• It is challenging to install.
Top 4. Leawo Blu-ray Player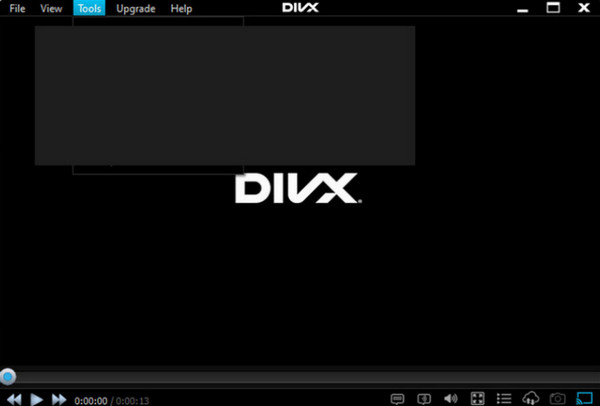 Leawo Blu-way Player is the next on our listing today. It is a DVD player for Mac and is infused with numerous helpful features and tools to see in its user interface. However, you might need help to see its many selections, for they are hidden. Hence, by exploring the interface extensively, you will be surprised how this simple software hides many various presets for playback, skin, file type, subtitles, hotkeys, and other audio-video settings. Meanwhile, this Leawo Blu-ray Player lets you load bulk files that come from your DVDs and Blu-rays, making your playback simultaneous without interruption. If you are unsatisfied with this tool, you can find Leawo Blu-ray Player alternatives.
Compatibility: Windows and Mac
Price: $44.95 yearly license and $99.95 for a lifetime license.
Key Features:
Optical and digital disc player.
It is a tool that can add external subtitles.
Swift importation process.
Numerous adaptable playback menus.
Pros:
• Its interface is intuitive.
• You can load bulk files at the same time.
• Many audio decoding selections are available.
Cons:
• It lacks an upscale ability.
• It comes with ads even on its paid version.
• It is challenging to create a playlist.
Top 5. CyberLink PowerDVD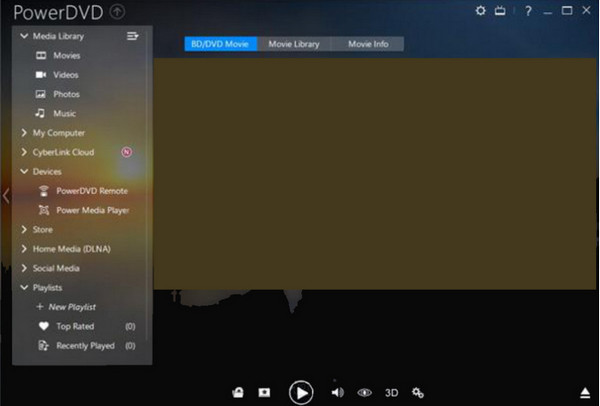 Lastly, a tool that falls on the fifth rank DVD player to download included on this list is the PowerDVD of CyberLink. This software is a good media player that supports upto 8K movies. In addition, this assists you in watching your DVDs and your 4K to 8K videos on larger screens like TVs besides the one you use on your desktop computer. Similar to the previous players above, this CyberLink PowerDVD has a nice and elegant interface, making it the best tool for non-experienced users. Plus, we can attest that this tool helps them to easily experience professional-like HD video playback refined in a smooth and hassle-free way.
Compatibility: Windows
Price: $59.99 for a lifetime license of the standard version and $69.99 for a lifetime license for the ultra version.
Key Features
With a stream and share process.
Significant cloud library space.
Pros:
• You can have 30 GB of free cloud storage for your first year.
• It supports 8K movies.
• Many input media formats support this.
Cons:
• The paid versions are pricey.
• You will need robust hardware before you can acquire it.
Part 2. How to Select a Suitable DVD Player
If you need a DVD player and still need to learn how to select the best for you properly, then we have a few tips for you to follow.
Determine the kind of DVD media player that you need. Decide if you want hardware or software, you need to acquire. Thus, if you want an affordable one, then choose software instead.
Scan the review of your prospect player. Consider the kinds of DVDs you have, then find out if your prospect software supports them.
Next is to consider the computer device that you are using. The software you must have should be compatible with your computer device.
Go for the player that will enable you to do seamless playback. Select the player with marvelous features.
Part 3. How to Play DVDs on a Computer
This part will help you learn how to play DVDs on Windows 11/10 using one of the best players in the list above. And to help you more easily, let us use Tipard Blu-ray Player and learn quickly below.
Step 1Install the DVD player on your computer quickly. Then, launch it after the installation process. This time, insert the DVD into the optical disc drive of your computer. Otherwise, you can connect an external DVD drive if your computer doesn't have one.
Step 2Once the software is launched, click the Open Disc button at the center of the interface. Then, choose the DVD file that you have inserted from the popped-up window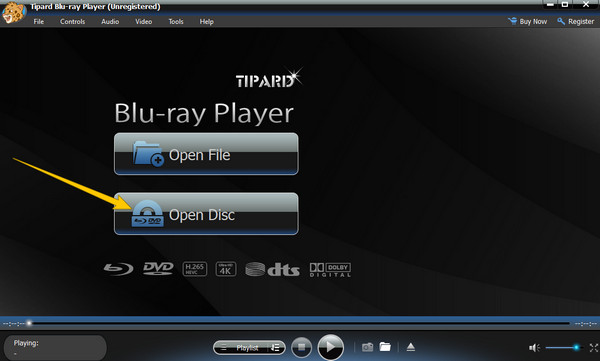 Step 3
And voila, you can now enjoy your DVD movie playing on your screen. Please note that you are free to navigate the controls, tools, and other ribbons from the menu tabs.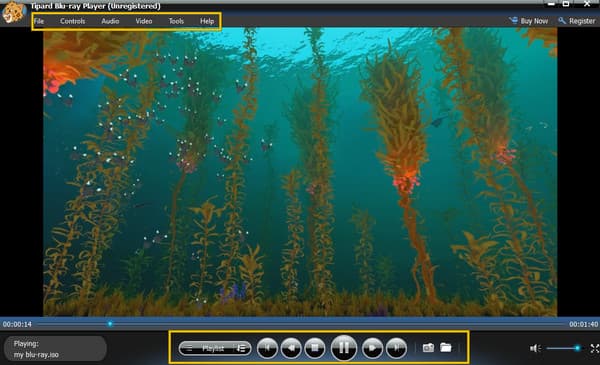 Part 4. FAQs about DVD Players
Are DVD players software region-free?
Yes. The players that were presented in this article are free of region codes. Therefore, you don't need to worry if your DVD won't play with one of them.
Do all DVD players support 4K videos?
Most of all, the latest DVD and Blu-ray players support 4K videos. Unfortunately, there are still some that don't.
Why is it more beneficial for me to use software than a hardware player?
First of all, software players are more affordable than hardware players. Secondly, with the software, editing your DVD display is easier.
Conclusion
To conclude, the DVD players presented in this post are the ones that you shouldn't miss. We assure you that their reliability and functionalities are way better than the other players. In addition, they will surely provide you with a smooth playback that will let you relax and enjoy your favorite DVD. Want to have the greatest one? Then, use Tipard Blu-ray Player and have the cinematic display of playback.