Everything You Know About Region Code and Rip Region 1 DVD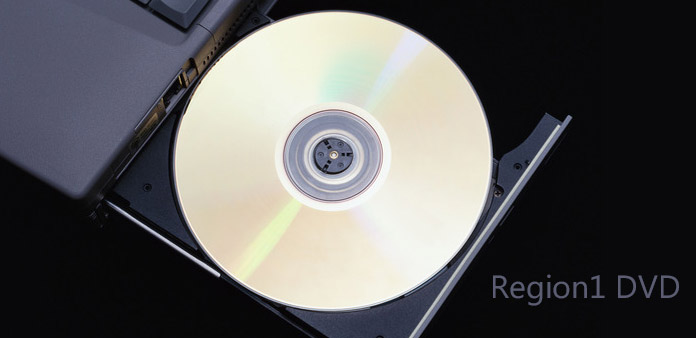 Watching DVD is one of the most popular form of entertainment at home as it makes home become a theater. However, there's many restricted conditions. For example, when you bought a DVD in America and would find out that it couldn't play when you were in Japan. It can attribute to the DVD region codes which means the DVDs themselves are encoded for a specific region. And how to avoid this problem to achieve watching region 1 DVD anywhere you like? Then this article will give you the satisfying answer.
Part 1: What are the DVD region codes and other knowledge
1. What are the DVD region codes?
DVD Region Codes are pieces of data that are embedded into DVD Discs to act as a restriction to protect copyright and film distribution rights. It is also used by governments and religious groups to censor content that is considered to be unethical or improper. The DVD region code is only read by the local manufactured DVD player. That is to say, these DVDs themselves are encoded for a certain geographical locations. For example, region 1 DVD discs can only play on the region 1, region 2 DVD discs can only play on the region 2, and so on.
2. How many DVD region codes in the world?
There's 6 DVD regions codes.
* R1 Region 1 ~ U.S.A., U.S. Territories and Canada
* R2 Region 2 ~ Europe, Japan, the Middle East, Egypt, South Africa, Greenland
* R3 Region 3 ~ Taiwan, Korea, the Philippines, Indonesia, Hong Kong
* R4 Region 4 ~ Mexico, South and Central America, Australia, New Zealand, Pacific Islands, Caribbean
* R5 Region 5 ~ Russia, Eastern Europe, India, Africa (excluding South Africa), North Korea, Mongolia
* R6 Region 6 ~ China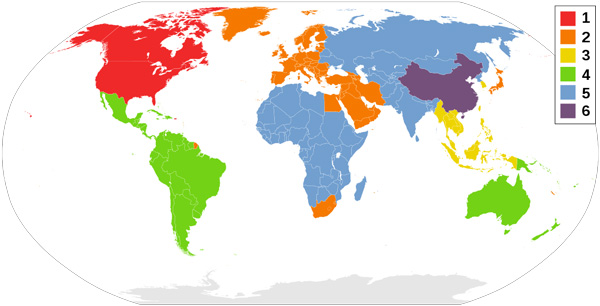 3. Why are there 6 DVD regions?
As we known, movies are released on DVD at different times around the world.To achieve the maximum of the profits, the US made DVD region codes to restrict other districts which means that all DVD players sold in the U.S. are made to play region 1 DVD. In general, America and Canada were the first one to release, then, six months later, it was released in Japan, and Europe 12 months later... Due to the high quality of DVD and the prosperous film industry in Hollywood. America is the region 1. And other 5 regions were establish to prevent people from watching Region 1 DVD movies before they were released on Regions 2-6.
4. Are there any solutions to resist the restriction of DVD region codes?
There are many solutions to avoiding this problem. You can use tools to "hack" your current DVD player using a series of remote control commands to enable it to play DVD from other regions. And there are also DVD players which can be made region code free without this restriction. What's more, you can rip region 1 DVD movie with a DVD ripper to any other formats and watch it on your mobile devices.
Part 2: How to rip region 1 DVD disc with best DVD Ripper
If you are encountered with these problems made by DVD region codes. Here will introduce you a good tool to avoid these problems. This tool is Tipard DVD Ripper, which enables you to rip your region 1 DVD to other formats you like. And you can play it on your iPhone, iPad and any other your devices.
Tipard DVD Ripper is one of the best DVD Rippers which enables you to rip DVD to MP4, AVI, MOV, WMV, MKV, MP3 and more than 300 formats. You can rip your region 1 DVD to any other formats on your iTunes, iPhone, iPad, Apple TV, Android, Samsung, HTC, PSP, and online sites, etc. You can easily rip region 1 DVD with a fastest speed(6X faster speed than others) in a great quality.
Step 1
Download software and insert region 1 DVD disc
Launch Tipard DVD Ripper, insert your region 1 DVD disc then click "Load disc" button to load your region 1 DVD movies you want to convert.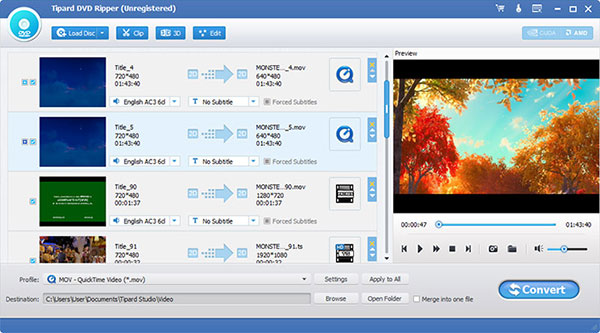 Step 2
Choose the output format you want
After download region 1 DVD movies. Click "Profile" drop-down arrow, then you could choose your needed 3D and 2D format in the "Profile" list. Or you can directly input your needed format in the quick search box, and then select one from the list that the program shows you.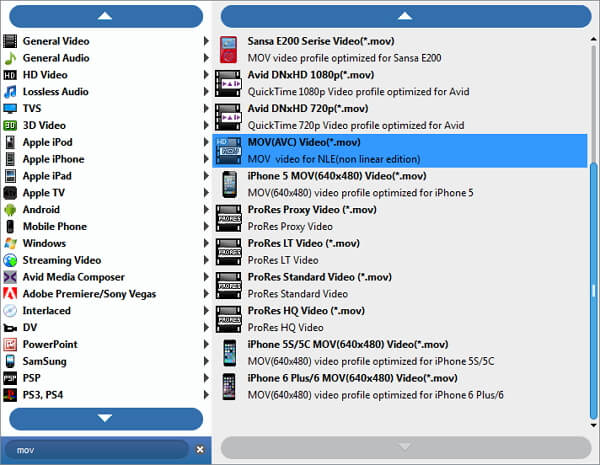 Step 3
Rip DVD to videos
Click "Convert" button to begin to rip DVD movies to video. It will be very fast with Tipard DVD Ripper. All you do is to wait for the process.
With these steps. You are capable of watching region 1 DVD at any corner of the world. Then enjoy your region 1 movies!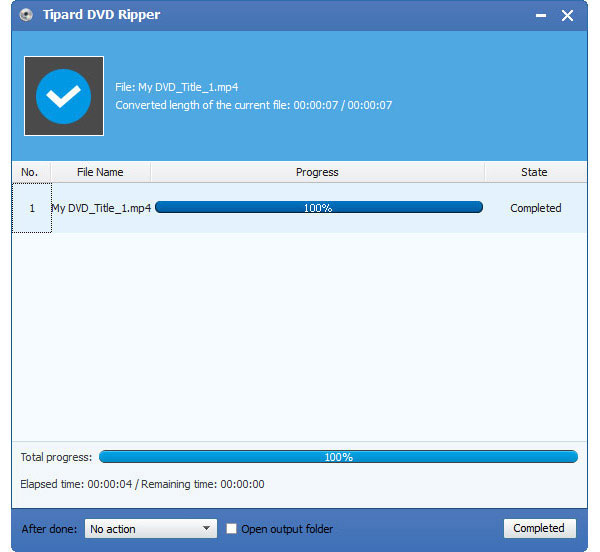 Attention: according to the copyright laws. Please refer to the copy right laws in your countries in order to not violate copyright owners. So, do not use it in a commercial way.
Conclusion: Everyone likes movies, with the development of globalization, people are more interested in other countries' movies. Even though there are DVD region codes to restrict people from other countries to play region 1 DVDs, there are also many solutions to achieving to resist the limitation. Tipard 1 DVD ripper is a good tool for you to watch region 1 DVDs limitlessly.