Choose the Right DVD Recorder for Different Usage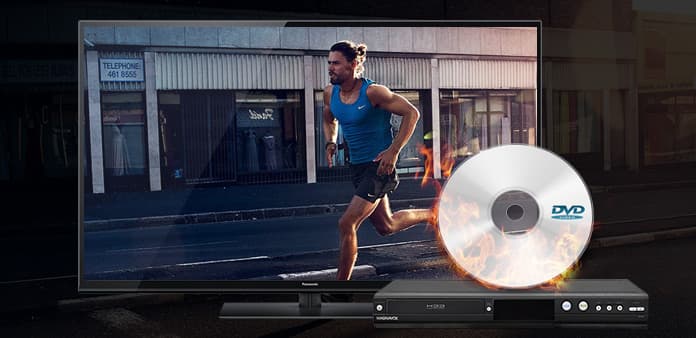 Most people always try to find a better way to enjoy their entertainment in their homes. One of their attempts is to improve the quality of home movies. Having a perfect home theater system with the latest technology seems to be attractive. And the best way to enjoy interesting shows and movies on your TVs can be achieved through a professional DVD recorder. DVD recorders have been a popular way to convert your large collection of VHS tapes into DVD. And you don't have to repurchase movies on DVD, so you will not waste your space for viewing them later. All of DVD recorders now in the market provide the service of recording, viewing, and copying. You can buy these DVD recorders on eBay or Amazon. Here, the article introduces some suggestive ones that are all easy to use, and among them. There are 4 kinds of different DVD recorders, VHS Conversion, TV Recoding, Blu-Ray Recorder and DVD Content. And you will find the perfect fit for your home entertainment
Part 1. VHS Conversion
1. Toshiba DVR620 DVD/VHS Recorder
If you want to buy a powerful DVD recorder at a budget price, then you can choose Toshiba DVR620 DVD/VHS Recorder. This unit will help you to convert your ancient VHS tapes into a DVD format, which can save your unforgettable memories in a modern and safe way to store. And it is equipped with one touch recording that makes your recording a simple and easy process. Apart from recording DVD-R, DVD-RW, DVD+R, DVD+RW formats, it also offers the option of playing back MP3, VCD, JPEG and DV with a 1080P input up conversion. To all the users, it must be good news that the DVD recorder comes with a year warranty on parts and a 90-day warranty that includes labor.

Main features:
1. Record DVD-R/-RW/+R/+RW formats
2. Provide auto finalizes with undo
3. 90-day labor warranty and 1-year parts warranty
4. Record and playback DVDs and CDs without problems
5. Offer function of transforming videotapes into high DVD picture quality of 1080p
2. Philips DVDR3545V/37 recorder
Philips DVDR3545V/37 recorderz is a versatile recorder for both DVD and VHS. The DVD Recorder also enables you to convert VHS to DVD, or vice versa. HDMI output of Philips DVDR3545V/37 also enables up-convert signals to 1080P. The progressive scan and built-in digital tuner are also outstanding features for the DVD Recorder.

Main features:
1. Promise perfect image quality with progressive scanning.
2. Connect easily with only a cable with HDMI digital.
3. Play any media format you need.
Part 2. TV Recording
3. Samsung DVD-r155
Samsung DVD-r155 is similar to TV DVD combo, which can take the signal from the TV tuner and burn the video to DVD directly. You do not have to wait for the DVD of your favorite TV Show episodes. You can also up-convert signals to 720P or 1080i with the DVD Recorder.

Main features:
1. Offer the service of transforming any TV to a Smart TV.
2. HDMI Upconversion
3. Flexible for multi Format recording
4. Efficient and quick.
4. Toshiba DR430
If you are tired of VCR tapes, the Toshiba DR430 will be the best solution. This powerful DVD recorder has the ability to capture all kinds of videos from you TV or DVD discs. And it offers DVD-R/-RW/+RW format that record with Auto Finalization. The HDMI converter will help you to get up to 1080p resolution, giving you a high-level experience. It is a device that can not only record, replay your DVD videos, but also can improve the quality of the output with clear pictures. Most users give a positive review that it does the best in efficiency and functionality. However, the DR-430 doesn't have a built-in tune, so you must use an external cable or satellite box to record the TV program. Choose this DVD recorder, and you will have an amazing enjoyment anytime you want.

Main features:
1. With one touch recording that ensures the safety of recording different audio and video files
2. Convert and archive home movies and television shows directly into DVDs
3. Offers many playable disk types: DVD+R, DVD+RW, DVD-R, DVD-RW, Video Up conversion, 1080i, 1080p, 720p, HDMI, and CEC
4. Offer various kinds of input and output options.
Part 3. Blu-Ray Recorder
5. Panasonic DMR-BWT740
Panasonic DMR-BWT740 is not only a HD DVD Recorder or Blu-Ray Recorder, but also a PVR (Personal video recorder) with 1TB hard disk. There are two tuners for free view HD, you can watch TV show while recording the other or record both at the same time.

Main features:
1. Provide perfect image and audio quality.
2. Handle 4K up scaling.
3. With a built-in digital tuner.
6. Sony BDPS3700 Streaming Blu-Ray Disc Player with Wi-Fi
Sony BDPS3700 Streaming Blu-Ray Disc Player with Wi-Fi is multifunctional DVD Recorder and Player that provide fast and high-definition service. It can record content from your smart phones or computers to your TV and enable you to enjoy Blu-Ray Disc Movies in Full HD.

Main features:
1. Designed for a more powerful and faster wireless connection.
2. Upscale you own DVDs into high quality.
3. Offer lossless sound.
4. User-friendly and instructive interface.
Part 4. Record Content
7. Magnavox ZV427MG9 DVD Recorder/VCR Combo
Magnavox is a trustworthy brand and this top DVD recorder can play and record VHS, DVD, whichever formats, and get your old tapes dubbed to DVD. You can use it to play DVDs, DVD-R/RW, CD-R/RW, DVDR-R/RW, Audio CD and MP3 discs. And it only takes only a little time to set up, which has been one of the most terrific features of this DVD recorder. What's more, it provides you with a 1080p Up Conversion so through the device, you can watch your favorite movies or videos on your home DVD player without the worries about destroying the quality of pictures and sound. Just enjoy your home entertainment time!

Main features:
1. Provide a DVD dual recorder and 4 head H-fi stereo VCR
2. Support DVD+R/RW, DVD-R/RW, VCR, CD-RIRW, MP3, Audio CD and Recordable Disc
3. Compatible to most of top HDTV
4. Offers 1080p video conversion
8. Magnavox MDR537H/F7 HDD/DVD Recorder
The Magnavox MDR537H/F7 HDD/DVD Recorder is a high-rating recorder in the market. It records from HD to DVD and it includes 1 TB HDD built in memory, which means you have large enough space, about 1000GB, to record as much as you want without the worries about storage. What's more, the DVD recorder offers a 1080 Up Conversion, providing a high-resolution DVD recording with clear pictures. We all know that some of the DVD recorders doesn't have a built-in tuner, while this one has a ATSC Tuner that can record even you are away from home. The size of the Magnavox MDR537H/F7 HDD/DVD Recorder is 11.5×16.6×2.4 inches which promises you a freer choice to store it. Weighing about 7.3 pounds, you are easy to change location.

Main features:
1. 1080p Up Conversion
2. With ATSC Tuner
3. Small size and light weight
4. 6 Hour auto record buffer with a 36 Hour timer for recording program
Conclusion:
If you want to record your shows and video files into a durable DVD format, DVD recorders might be the best choice. With affordable price, DVD recorders can fulfill your requirements of recording and playing back. They are all compatible to most of popular formats and it doesn't need professional skills. You can finish recoding with ease by yourself. the DVD recorders above can be bought on online shops or stores, just enjoy it.