10 Best Free DVD Creators to Create DVD Easily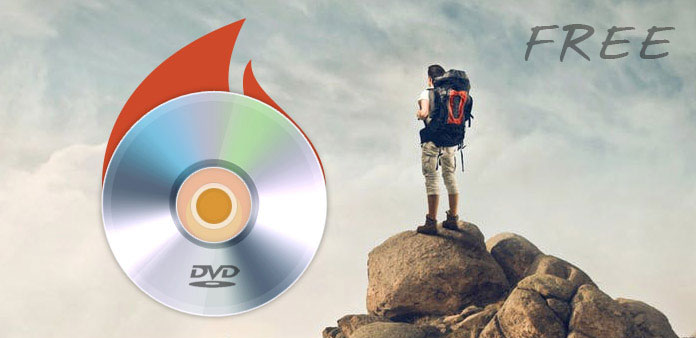 Actually we trend to use the cloud service to backup video and photos. But for some important and precious videos, you should still use DVDs for backup in order to avoid the leak out the files. As for the case, you need some free DVD creators to burn DVD files. The article introduces 10 great free DVD creators for you to make DVDs.
Part 1: Best Free DVD Creator alternative for Windows & Mac
When you need a professional DVD Creator to burn new DVD disc, Tipard DVD Creator should be the best for you to take into consideration. It can burn DVD with videos, so, you do not need to download videos beforehand. On the other hand, Tipard DVD Creator supports almost video and photo formats, such as MP4, MOV, FLV, AVI, etc. More than this, you can also add audio and subtitle to the file in the DVD disc, it should be the most powerful and professional free DVD creator alternative.
Step 1
Download and Install Tipard DVD Creator
Firstly, download Tipard DVD Creator and install it on your computer. And then you can launch the program.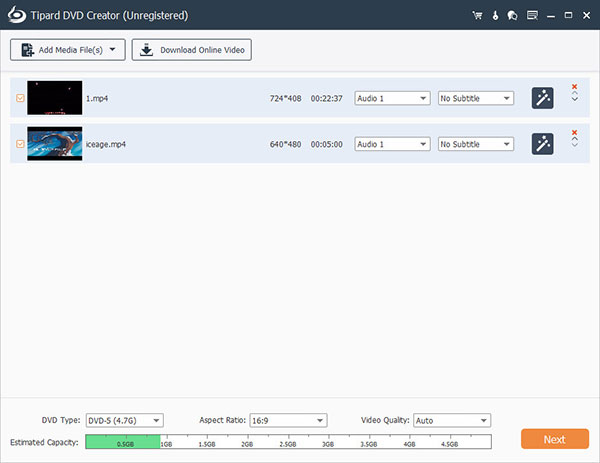 Step 2
Select the Files and Start to Create
Insert a blank DVD disc into your computer. On the interface, import and edit the video files, edit audio track and subtitle, and then start to create the DVD disc.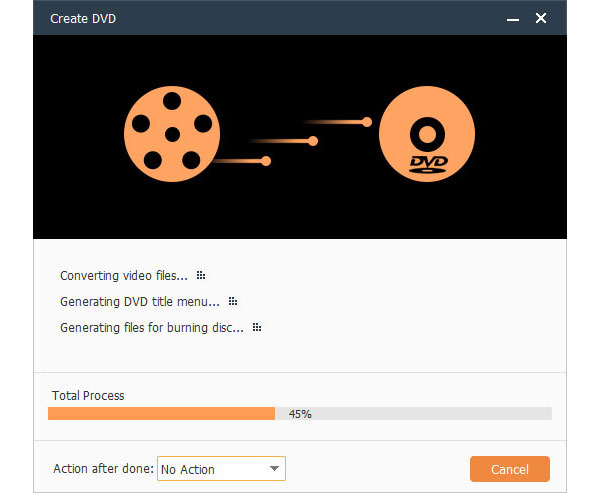 Part 2: Top 9 Free DVD Creator apps you really want
1. WinX DVD Author – Free DVD Creator for Windows
Creating DVD disc on Windows10, WinX DVD Author will be the first one free DVD creator you have to choose. No matter what purpose you want to make, personal library or professional DVD disc for sale both are OK with WinX DVD Author. It runs very quickly and efficiently. So, you don't need spend a long time to wait during burning.
On the other hand, you can use it to add chapter titles, subtitles, even organization through the creation of contents pages. If the controlling system of your computer is Windows10, it is also an all-in-one program. It supports AVI, MP4, MKV, MPEG, VOB and FLV etc.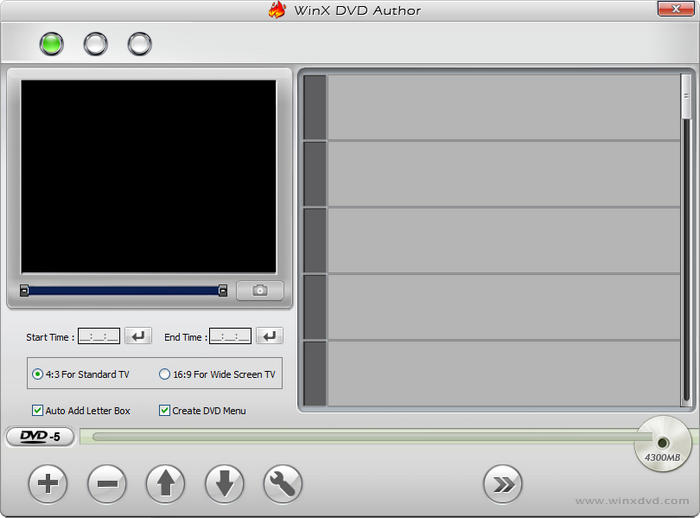 2. Free Burning Studio – Free DVD Creator for Windows 10
With a great free DVD creator, you can do a lot of things if you use DVD usually, such make DVD disc, keep your personal date etc. If you are going to burning DVD disc or back up date, you can have a try with Free Burning Studio, it can easily and effectively burn audio. Videos and date to CD, DVD, Blu-ray. Of course, it supports widest range of media formats.
Except burning DVDV disc as a DVD creator app, Free Burning Studio can also create disc ISO image with premium quality, sometimes you might want to make ISO files from DVD disc, you can choose Free Burning Studio. It will never let you down. So, what are you waiting for?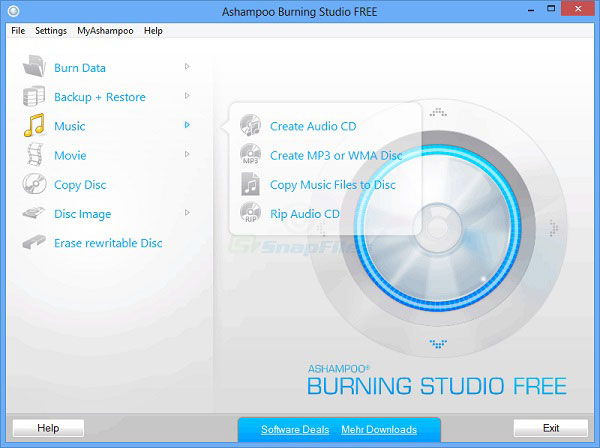 3. DVD Styler – Free DVD Creator for Windows
When you are looking for a giant and free DVD creator for your videos, DVD Styler can offer you a lot of functions to create a DVD disc. You are allowed to burn DVD videos with interactive menus, add subtitle and audio on your DVD disc. Of course, you can also make photo slideshow by DVD Styler, it is a very wonderful method to keep important photos.
As a free DVD creator, DVD Styler is totally free but powerful. Actually, it supports almost formats of video, such as MP4, AVI, MOV, etc. So, you will not need to change the format of video before creating a DVD disc, it is really convenient.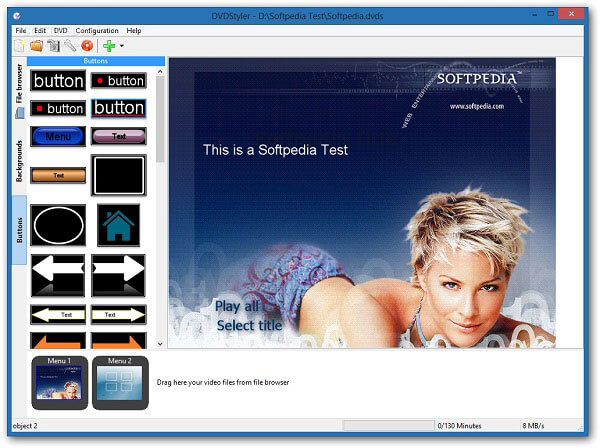 4. DVDFab DVD Creator – Open Source DVD Creator
DVDFab DVD Creator is a free DVD creator app, which is very useful for you. It supports all controlling system includes Linux. If you are using Linux computer, DVDFab might be your first choice. On the other hand, it also supports all sorts of videos. It is also a high-end DVD films maker app. You can use it to make DVD disc/ISO files/DVD folder from download videos from any website.
There is a giant function of DVDFab DVD Creator, it allows you to create a DVD menu, creating DVD menu can help you a lot on creating DVD disc, so, you can make your own DVD disc better with this free DVD creator software. With those functions, DVDFab could do a better job even than some paid DVD creator.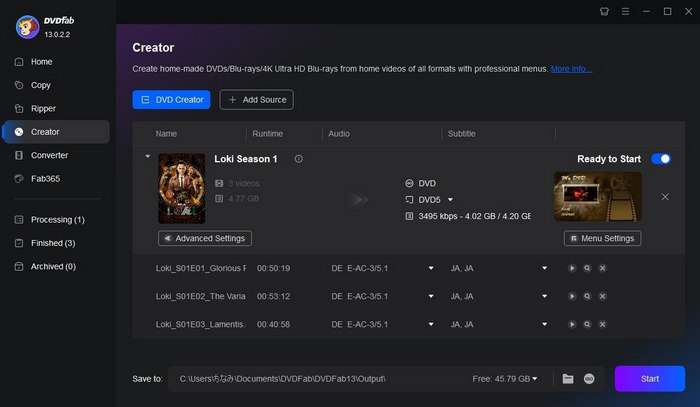 5. DVD Flick – Free DVD Creator for Windows
A good DVD creator is the basic of burning an excellent DVD disc, of course, it is better if you find a useful and free DVD creator, fortunately, DVD Flick is the one you are looking for. It can burn any video into DVD dis, the program supports over 45 files formats, over 60 video codecs, over 40 audio codecs, it is means that you can back up and protect almost of your files into DVD disc.
Except formats of files, there are more functions will make you happy, with this free DVD maker app, you can add a menu and subtitle on DVD disc you want to burn, it is very useful but rare on a lot of free DVD creators. And you will find it is very easy to operate on computer, interface will guide you to finish all steps you need to do. What's more, it totally free for users, without any adware, spyware or limitations.
6. GMT DVD Maker – Free DVD Creator for Windows
A lot of DVD lovers who use Windows computer will not feel strange about GMT DVD Maker, because GMT DVD Maker is very useful and small when you download it. As a free DVD creator for Windows, you will find that GMT DVD Maker is very small when you try to download the program. In fact it is just 1.2 MB. So, you do not need to speed a lot of time and computer space for it.
It supports Windows 98/2000/XP, Win7 X32, Win7 X64. So, no matter how old your computer is, GMT DVD Maker can offer you professional functions to create DVD disc.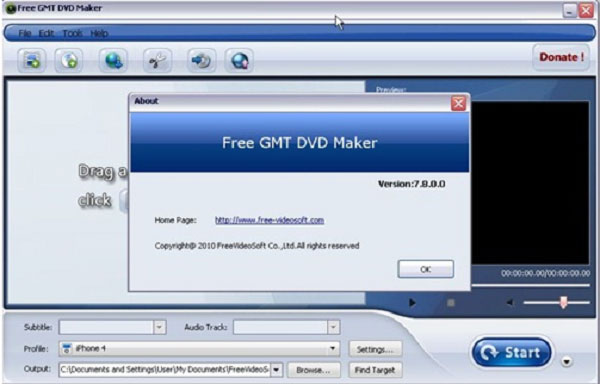 7. BurnX Free – Free DVD Creator for Mac
If you are tired with the slow speed of some DVD creators, BurnX Free is the new free DVD creator software you must have a try. The program offers a very fast speed, so, you don't need to wait a long time. Of course, you can also use it to create multisession HFS+, ISO96600, Joliet CDs. But unfortunately, it just can be used on MacBook with OSX.
Another excellent feature of the free DVD creator app is lightweight. The program requires less Drive space than other programs. It is wide used in many countries, such as USA, UK, Japan. There are 3 different languages can you choose: English, French and Spanish. You can set up its language in the settings.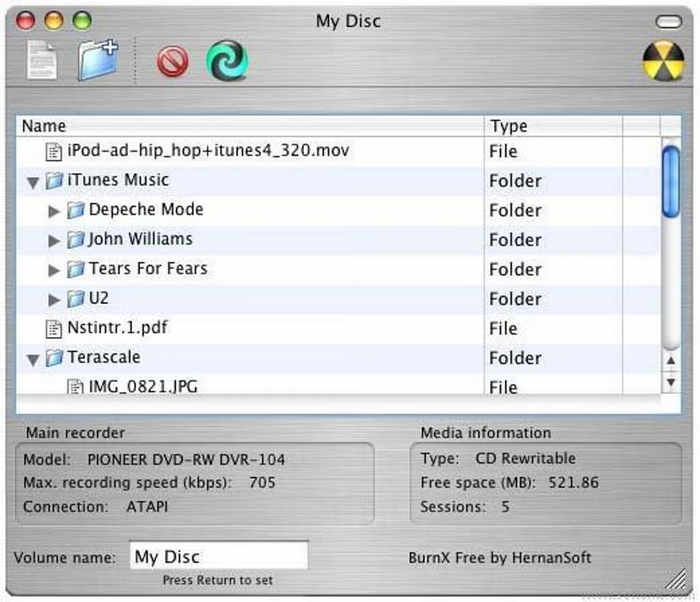 8. LiquidCD – Free DVD Creator for Mac
If you want to find a free DVD creator on Mac to burn DVD disc with a large size, you should have a try with LiquidCD. It is very useful when you create a DVD disc with huge size. You can also burn personal hybrid discs with LiquidCD. But the program can be used on Mac only, you can't use it to burn DVD disc on PC.
Now, LiquidCD have updated for some time, the new version fixes a lot of bugs. It allows you to burn DVD with MDF/MDS, DAA, GBI and b/6i/b6t files. It also fixed a bug with erase panel, burn verification, info windows. So, if you want to use free DVD creator to deal with files with big size, why not try LiquidCD?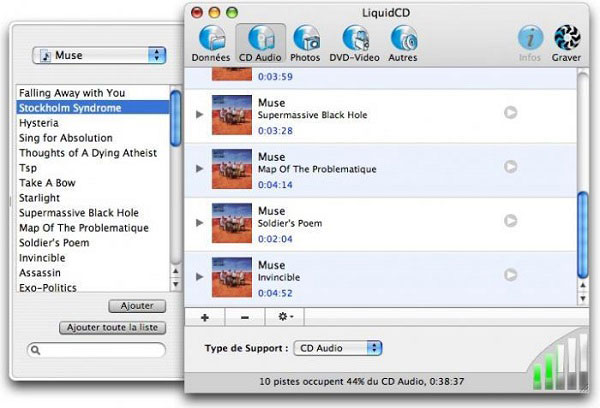 9. Disco – Free DVD Creator for Mac
With so many powerful and professional functions for creating DVD disc, Disco can help you to create DVD disc with almost video formats. But actually, it is a totally free DVD creator on computer. It can work on Windows and Mac. So, there is no question for controlling system when you try to create a DVD disc.
As a free DVD creator, Disco can help you to back up important files on DVD disc. When you are burning video files to blank DVD disc, you can add subtitle and audio if you like, so, you can easily tell files when play DVD disc on computer.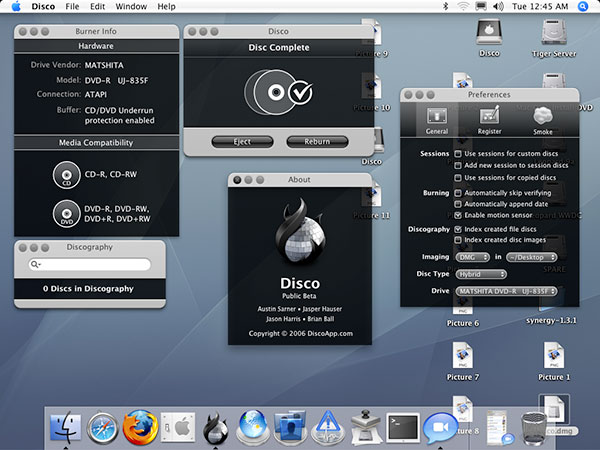 Part 3: FAQ about Free DVD Creator
What is the best DVD Creator software?
It must be Tipard DVD Creator. It can create DVD with video in various formats, like MP4, MOV, MPEG, FLV, WMV, MKV, AVI, etc. Furthermore, Users can also edit video files by trimming, cropping, adding watermark, adjusting effect, and add audio track and subtitles to DVD and merge/split chapters. It can work on both Windows and Mac.
Is Windows DVD Maker on Windows 10?
NO. Windows DVD Maker isn't supported on Windows 10. To create DVD-Video discs, you would need find another DVD burning software. Here, you can try Tipard DVD Creator we mentioned above. It is easy to use and can make DVD according to your needs. Its editing function and fast speed can give you wonderful experience.
How do I make my own DVD?
To show the DVD is made by yourself, the best way is to add your unique icon or name to videos. for this, Tipard DVD Creator can help you with its editing function. This DVD Burner allows you to free customize menu template including frame, button and text. You can input your own element by this way.
How to burn an AVI file to DVD?
Insert a blank DVD disc to computer. Run DVD Creator and add AVI files by clicking Add Files. Click Next. Then you can customize your AVI videos before converting to DVDs. The edit function can help you adjust brightness, saturation, volume, contrast and hue on original video. You can also add watermark personally. Click Apply to save settings. Finally, click Convert button to start burning an AVI file to DVD.

Click here to join the discussion and share your comments