Get 12 Stylish DVD Storage Ideas with Low Cost and Less Space
Most of you have a fairly extensive DVD collection. There is no way to throw away outdated DVD discs. You can see questions about DVD storage ideas for small spaces in many forums.
Generally speaking, you want to store DVDs in a way that you can keep your space clean and elegant, and at the same time you can find your DVDs easily, right?
Fortunately, you can get stylish storage ideas for DVD discs here. Organizing your DVD collection is not a headache question anymore. Just read and make your DVDs well organized without too much cost.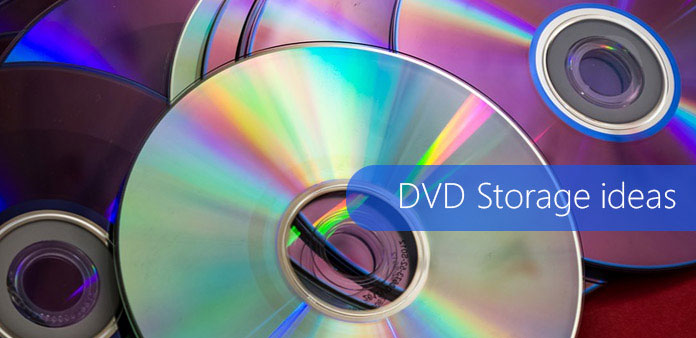 Idea 1. Convert DVDs to Digital Files and Save to Portable Hard Drives
It's good news that you do not have to make a room for your numerous DVDs when you choose the DVD storage idea to hard drive, cloud service, flash drive and so on. In this way, what the DVD collections take up is virtual space. So, it is acknowledged to be one of the most economical and easiest ideas to store DVDs. What you should do is to find a good DVD ripper to rip your DVDs into files.
In order to achieve the DVD storage idea, you should know the method to rip DVD into digital formats. Tipard DVD Ripper should be your first choice. It is the powerful and trustworthy DVD ripping software that can freely rip DVD to MP4, AVI, MOV, WMV and more than 300 formats.
It offers professional solutions for DRM protections. In this way, you can rip your DVD collections into video files and store you DVDs in a wise way to your DVD storage idea.
Main Features of the Best DVD Ripper Software
1. Rip protected or commercial DVD to any video or audio format with 12x faster ripping speed than others.
2. Rip homemade DVDs to common video or audio files with 1:1 clone.
3. Convert DVD to iPhone, iPad, Android phone and other portable players.
4. Customize video effects and output setting.
5. Select the audio track and subtitle according to your preference.
How to Rip DVDs to Digital Video Formats for Playback
Step 1
Load DVD disc/files
Download, install and launch the best DVD ripper. Then click the "load disc" button and load the DVD disc you want to edit.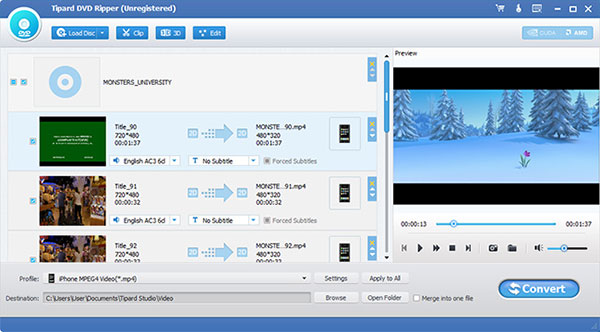 Step 2
Set the DVD output format
You need to choose the 3D and 2D format after clicking "Profile" button. There are many profiles you can get.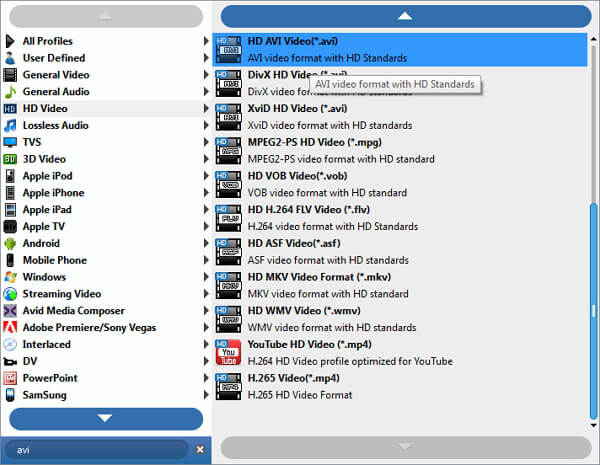 Step 3
Apply video editing effects (optional)
Click "Edit" on the top menu bar. Here you can adjust the direction, video frame, video effect, volume and add watermark as you like.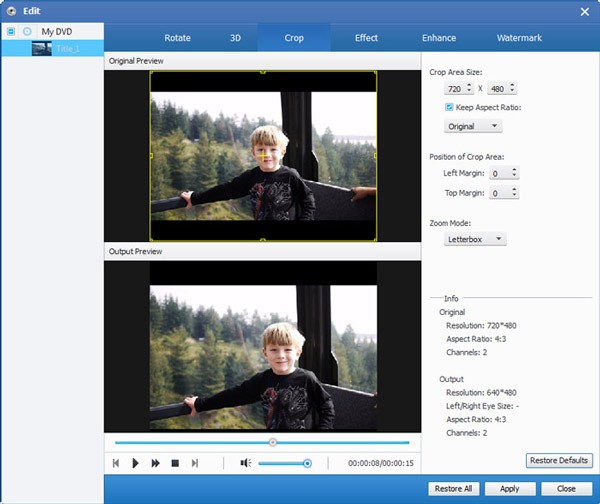 Step 4
Rip DVD to digital
In the "Profile Settings", you are free to adjust the output parameter. At last, click the "Convert" button to start ripping DVDs to offline videos. You will get the output file in minutes. So you can set out to do as the following DVD storage ideas.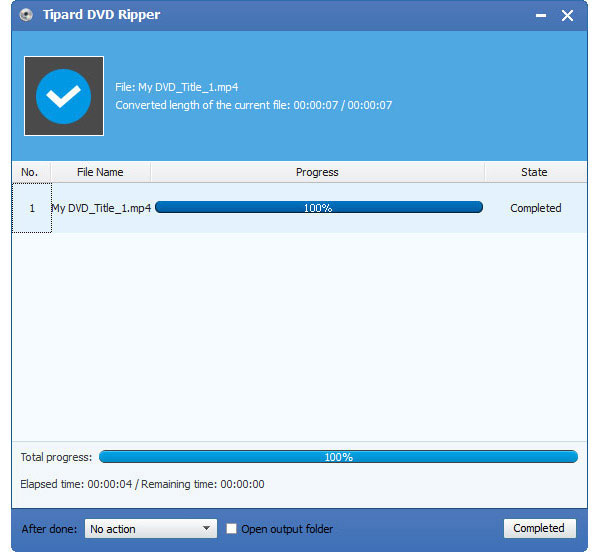 Idea 2. Use a DVD Storage Stand or Shelf
If you have a big size collection of DVDs or CDs, you are advised to use a DVD storage stand or shelf, which can hold about 100 pieces of DVDs. One of the features of this DVD storage ides from IKEA is that you are flexible to choose the size of it.
You would select a narrower stand or a smaller shelf provided your home has little space. Likewise, buying a wider and bigger one if you are blessed with a big house.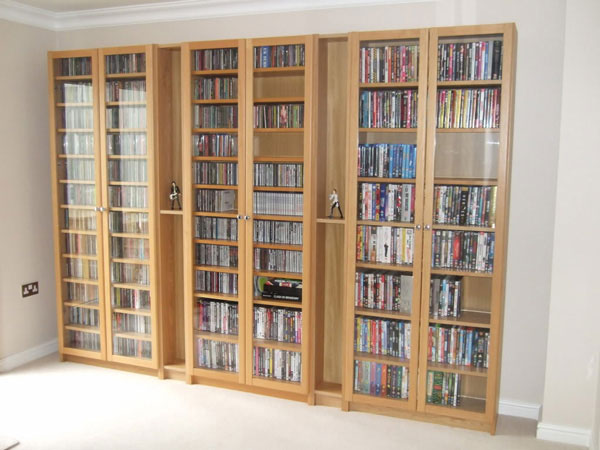 What's more, choosing a DVD storage shelf with separate units will let you classify your CDs and DVDs easily, with which you can find your needed one quickly. Apart from being a storage tool, an artful shelf can also serve as a decoration of your room.
Idea 3. Store Your DVDs into Binders
Firstly, you can separate your DVDs into different groups. For instance, you can put DVDs into TV shows, movies, homemade DVDs and more. When you put a DVD into the binder, make sure there is a divider between each show. As a result, you can find which DVD disc you need quickly.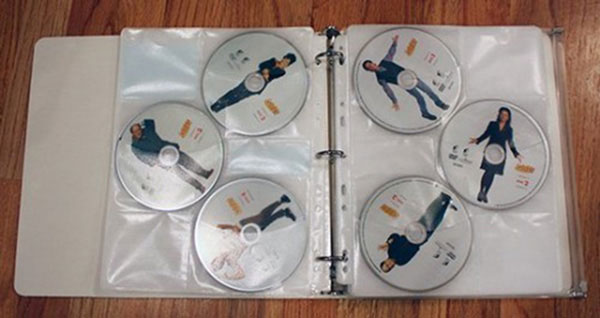 In addition, you can try the alphabetical organization as your DVD storage idea. It is also a good idea to sort out discs thematically. You can add disc labels for absent DVD discs too. In common cases, one 1.5-inch binder can hold about 120 DVDs or CDs. Thus, you can add, replace and organize all DVD discs in order easily.
Idea 4. Put DVD Slips in a Basket or Drawer
Each pocket can hold two DVDs tightly. If you have a large collection of DVDs, you may find that your house is full of bulky DVD cases. During this time, you can take out the DVD label.
If you want to keep the DVD pocket, you can fold it along the previous crease. Later, you can slip it in the primary pocket of the sleeve. Well, you can put DVDs with the same type that have one disc only into the same sleeve. After that, you can put DVD sleeve and cover art together.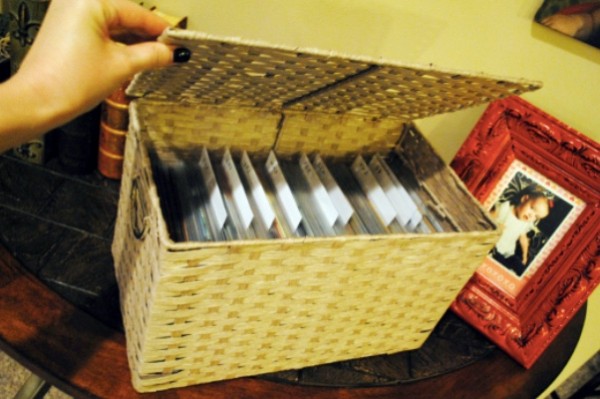 If you have any basket or drawer, you can put all those DVD sleeves in order. This is not the end of the DVD storage idea. To distinguish DVDs, you can add labels or use sticky notes. Thus, there is no need to take out all DVDs from the box. Actually, a small box can hold almost 200 DVDs. You can put a lid on the top of DVD storages to keep dust away.
Idea 5. Keep DVD Collections Underneath Bed with Other Storages
Looking around your room, you'll find your trunk bed gives you a DVD storage space. It should be an excellent DVD storage idea for small space. Buy some dividers, classify your hundreds of DVDs and put them neatly into the drawer under your bed according to their functions.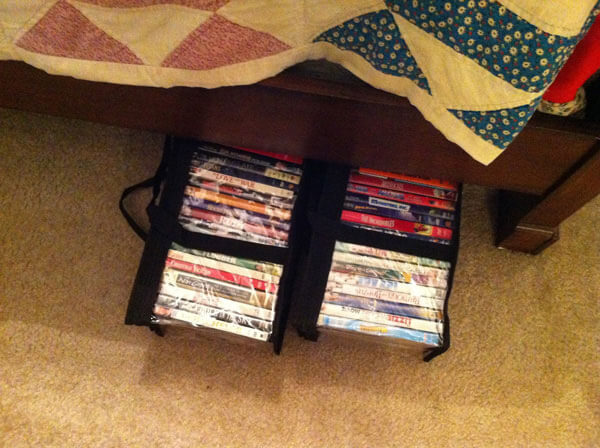 When you get some DVDs for other uses, add some dividers to the drawer. In this way, these massy and untidy DVDs will out of your sight. And you won't be confused and dizzy when you need them.
Idea 6. Store DVDs on the Wall
If you want to store DVDs without cases, it's a novel idea to put them on the shelves or cabinets pinning on the wall. But are you hesitated at choosing which wall to store you DVDs? I recommend the narrow wall between two doors, where you can't put any other furniture or bookcase for its limited space.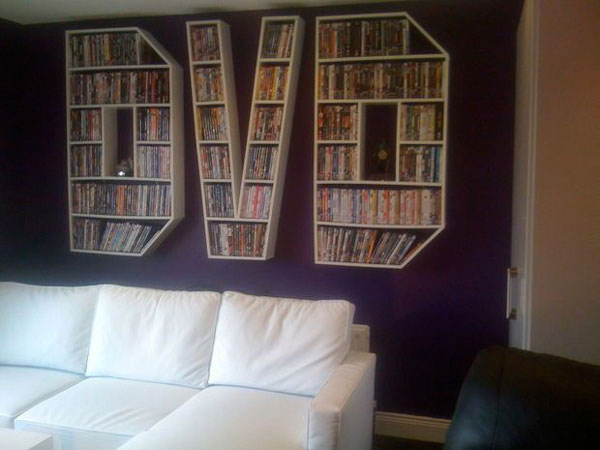 DIY a floating shelf between the two doors. It will make your room tidy and stylish. This DVD storage idea can help you to save space as well, and it can serve as the decoration if you design it in an artful way. You can store books, tapes and others to the narrow wall as well.
Idea 7. Design a Curtain with Unwanted DVD Storages
Designing a DVD curtain should be a novel DVD storage and organization idea that you've ever heard. Making a DVD curtain sounds really complicated to finish. But it can accomplish on your own at ease. Buy some clear pockets to put DVDs in, and connect them together into a curtain that fits your window.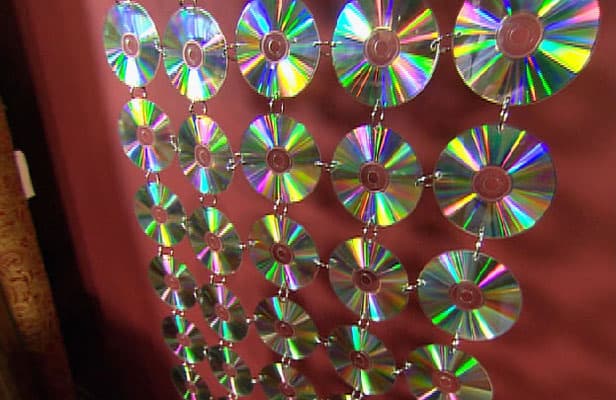 This DVD storage window must be a unique sight for the guests to your home. Just make the DVD curtain colorful and beautiful to attract visitors. Be aware that you need to extract DVD information to hard drives before making DVD storages as a curtain.
Idea 8. Add Labels to DVD Organizers (Storage Boxes)
You can see many DVD storage boxes and DVD holders in Amazon, eBay and other sites. Of course, you can buy plastic or cardboard DVD storage boxes in Walmart, IKEA and local stores too.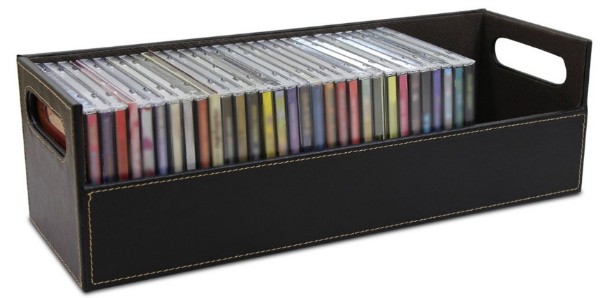 You can keep DVD storages by color. If you want to make DVD storage boxes to be more organized, you can add labels to the same place. If you are good at DIY, you can use cartons to store DVDs without costing a dollar.
Idea 9. Make a DVD Storage Tree
Don't fancy the traditional and boring DVD storage and organization idea? Maybe you can try this creative tree. This storage idea is designed by Belgian studio Defact, who said that it was a symbol of the Tree of Knowledge of Good and Evil. The branches of the tree are made from a bunch of metal shelves and arranged according to a tree.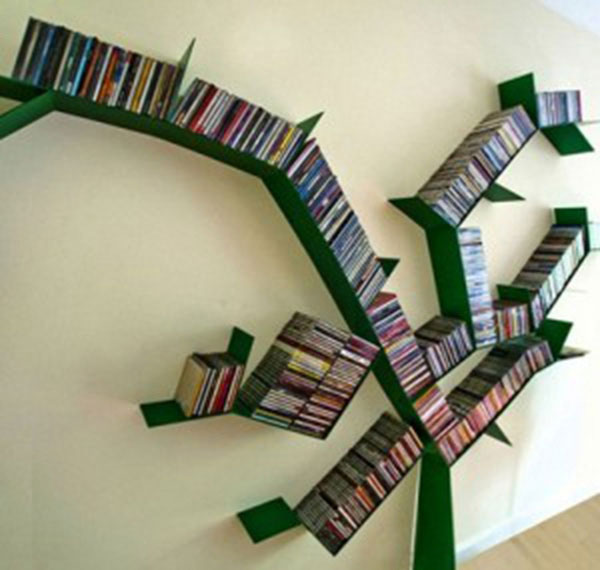 However, it seems to be complicated to assemble. The best solution to solve it is to plan on how to arrange the shelves on the wall ahead of time. If you are creative enough, you can design it by yourself. All in all, this DIY DVD storage idea adds beauty to your room and helps you tackle the problem of your mountain-like DVDs.
Idea 10. DIY A Narrow Wall with Floating Shelves for DVD Storage
It is quite common to see a narrow wall between two doors. Though the narrow space is too small for furniture or bookcases, you can hold DVDs with floating shelves on your narrow wall. You can buy shelves from IKEA or from unwanted furniture. Remember to measure the inside of shelves.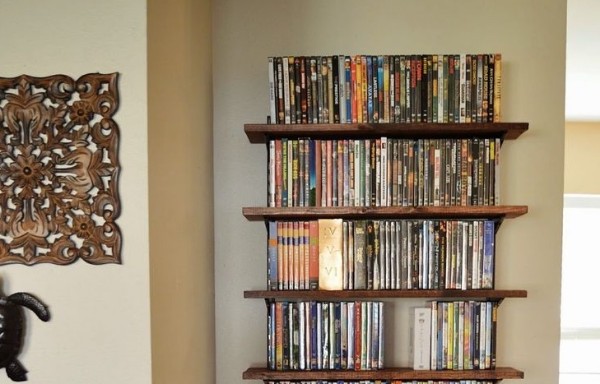 All DVD storage ideas aim to keep DVD discs in order and decorate your house. Thus, you can use wallpaper to hide holes and the raw brown of the material. Later, slide shelves into places. You can add a little support underneath the shelves to hold DVDs and other stuffs.
Idea 11. Use Your Stairs to Store DVD Collections
Do not overlook the available space under your stairs. Actually, you can make your room to be more artistic than before by taking fully advantage of stairs. There is no such a fixed solution for DVD storage ideas with staircases.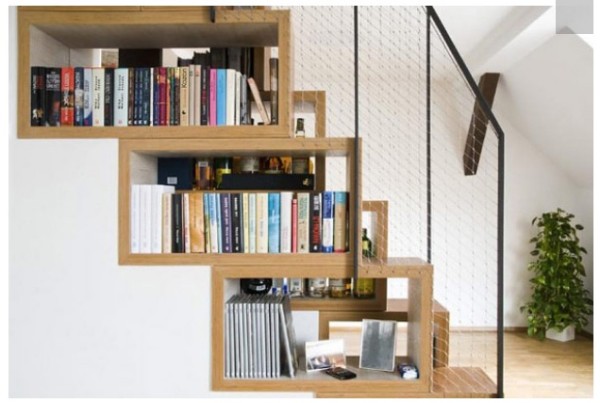 For most people, DIY a bookcase with staircase space is the common choice. You can add elements and materials you like based on your need. No matter you live in a traditional or modern house, you can keep your home tidy and clean without too much effort.
Idea 12. Use a Pullout Drawer for DVD Storage in Small Spaces
Putting lots of DVDs into pullout drawers is one of the excellent DVD storage ideas for small spaces. You can hide hundreds of DVDs, CDs, books and other small things secretly. As a result, you can make a pullout library of yourself.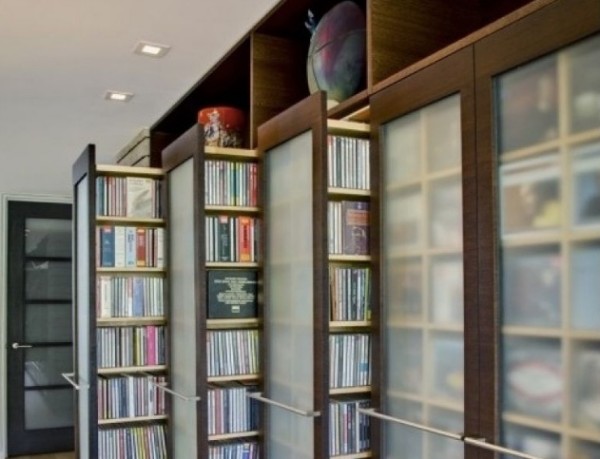 Furthermore, you can use the DVD bookcase as a hidden door. Well, almost all DVD organization ideas can be illuminated by your daily life. Just regard DVDs as your common collections. You can decorate your home with DVDs freely.
These are some DVD storage ideas that you may not think before. No matter you live in a small apartment or villa, you can get the perfect designs here. Generally speaking, saving DVDs to computer is a great idea. If you have any other good idea to manage DVD collections, please don't hesitate to share in the comments below.