The Best DVD Label Maker Software to Use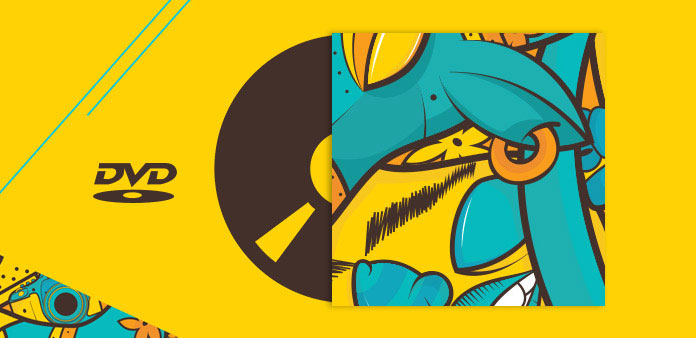 Most blank DVDs have the similar covers. And after you burned family videos, photo slideshows, your favorite movies and data on DVDs, you would found that you cannot distinguish these DVDs at all. Every time you want to watch movies, you have to put every disc into your computer and check whether it is movie DVD. If you only have several discs, it is not a big problem. But if there are dozens or hundreds discs, it is a disaster to check every one. So, you'd better make a unique DVD label for every disc once your burn something on it. There are many DVD label makers on market could help you design, create and print DVD labels easily. Today, we will show you how to use the best to design wonderful DVD labels.
Part 1. The best DVD label maker for Windows
Microsoft Publisher is believed one of the best publishing software and DVD label maker for Windows, which is a part of high-end edition of Microsoft Office. MS Publisher has excellent layout and typography tools. Another benefit of it is extensive templates. For beginners, it is difficult to design or create a DVD label all by their own. The templates make DVD label making simpler and faster.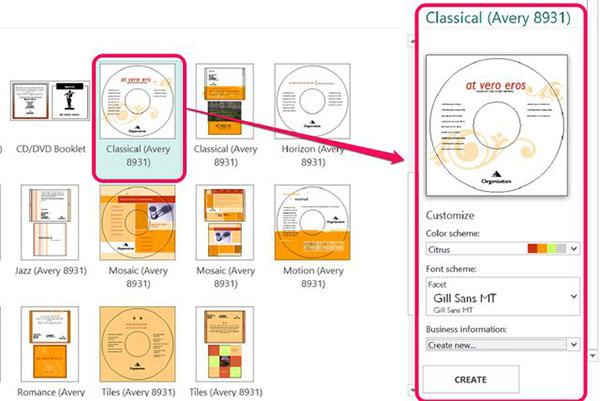 How to make DVD label with MS Publisher
1. Open MS Publisher on your PC and go to the

New

menu on left side. Click on the

BUILT-IN

button to open the built-in template window.
2. Locate to

Labels

tab and choose

All Media

folder in

Media

section. Scroll down to

CD/DVD Labels

area and select your favorite DVD label template from the list.
3. When you select a template, the custom dialog will pop up on the right side of your screen. Here, you can adjust the parameters related to color

schemes

and

fonts

.
4. Choose

Create new

option in

Business information

menu and reset the options, such as name, title and more, on the settings dialog. Then click on the

Save

button to save the settings and close the settings dialog. And press the

CREATE

button on custom dialog to confirm the changes.
5. After settings, MS Publisher will take you to the template edit window. You can click into each field on the template and reset the

DVD Title

and other information you want to write on DVD label. You can use the

Text Box Tools

on top ribbon to reset the

font style

,

font color

,

font size

and more. The

Drawing Tools

are available to doodle on your DVD label.
Finally, you can save the customized DVD label on your PC or print it in MS Publisher directly.
Part 2. The top DVD label maker for Mac
Mac OS X does not have the publishing tools such as MS Publisher; but there are several dedicated DVD label making applications compatible with Mac computers, such as CD/DVD Label Maker.
It is able to help you design DVD label, DVD cover and DVD case with templates or personal pictures. There are thousands of professionally designed DVD label templates. Moreover, you can import playlists from iTunes or Finder to CD/DVD Label Maker directly. And compared to MS Publisher, this Mac DVD label maker offers more picture editing tools, like picture filters, masks and more.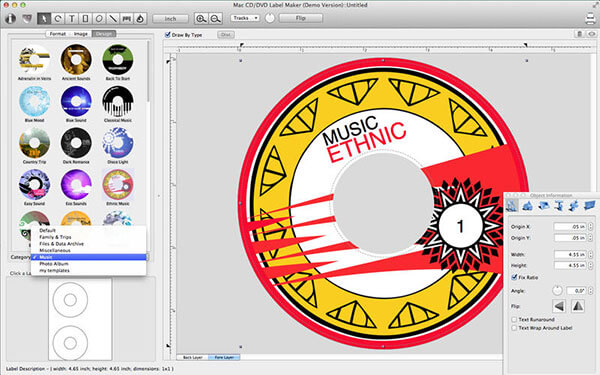 How to design DVD label on Mac
1. Download CD/DVD Label Maker from iTunes and follow the instruction to install it on your computer. And then open this software.
2. Go to the

Designs

tab, browse the DVD label templates and discover your favorite one. Or you can view the templates by choosing a certain collection in

Category

list.
3. Choose a DVD label template and locate to right editing panel. Click on the

Background

button on bottom left corner of the editing panel; then you can replace the background of the template with your picture. And you can polish the background picture with picture filter tool.
4. Press the

Foreground

button and select the

Text

tool to add DVD title and other information on your DVD label. Once you select Text tool, the settings dialog will pop up and allow you to customize various parameters, like font style.
5. If you are satisfied with the DVD label, you can go to

File

menu and decide to save it to computer or print directly.
CD/DVD Label Maker has an intuitive interface and simplified the process of DVD label making.
Part 3. Create personal DVDs
DVD labels could help you organize and search for personal DVDs quickly and conveniently. You can make a DVD label with the best DVD label makers in a few minutes. But when it comes to DVD creating, things are not so simple. People have higher demands for best DVD makers, like extensive input and output formats supported, high quality of outputs, faster speed and more. Tipard DVD Creator could meet all these demands and offers more features.
How to make DVD with Tipard DVD Creator
Step 1
Download Tipard DVD Creator from official website and follow the on screen instruction to install it on your computer.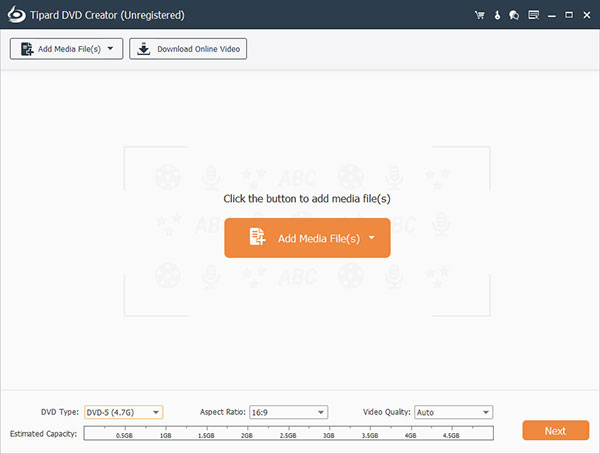 Step 2
Access DVD Creator, drag and drop all video files you want to write on DVD into this DVD maker. You can click on the Add Media File(s) button to import files or download online videos by hitting the Download Online Video button.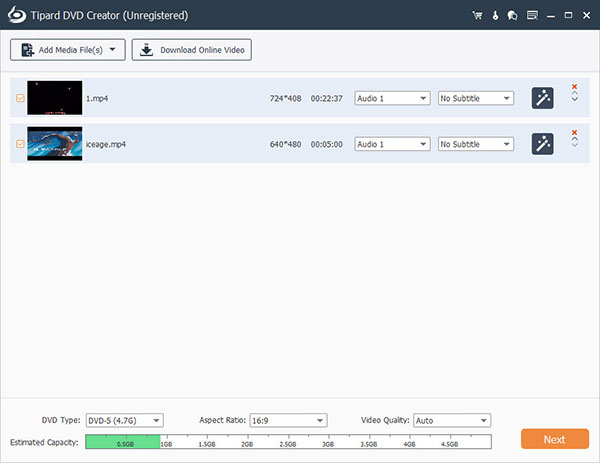 Step 3
Then click on the Edit Menu button to go to menu template window and design personalized DVD menu as you wish.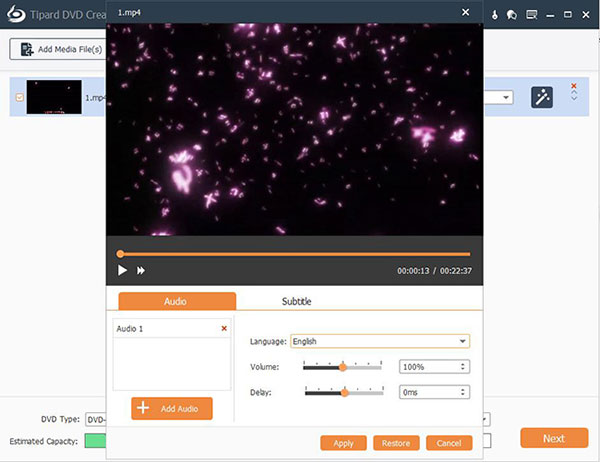 Step 4
Finally, click on the Burn button to complete the DVD making process.
As you can see, it is simple to make personal DVDs with DVD Creator. And the output quality is highest among DVD makers.
Conclusion
Before making DVD label, you must want to learn the best way to create high quality DVDs. A poor disc cannot become a better one, no matter how beautiful DVD label it has. From this point, we suggest to use Tipard DVD Creator to make DVD, for this DVD maker could generate DVDs with original quality as fast as possible. After you made several DVDs, you should design some DVD labels. In this article, we identified the best DVD label makers for Windows and Mac OS X and shared the necessary knowledge to make a personal DVD label. With these DVD labels makers, you can manage your discs better. And when you need a certain disc, you can find it quickly by looking at the DVD labels.

Click here to join the discussion and share your comments